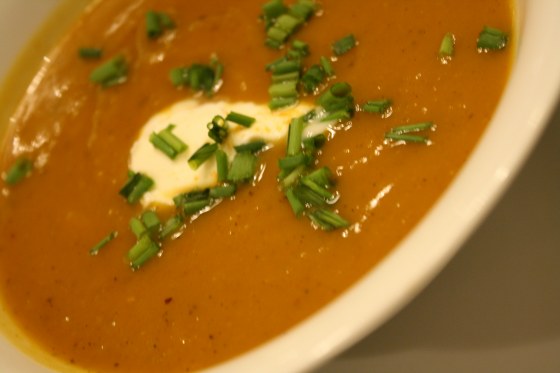 I'm more of a sweet potato soup-gal, but this soup knocked my socks off.  I turn to sweet potato as the basis for creamy hearty soup time and time again and never stop to think about sweet potato's more pear-shaped cousin, butternut squash. And how could I forget about a fellow pear-shaped gal?
That's the funny thing about complacency.  You're okay with how you've been doing things for a while, then all of a sudden, you're not.  You're not okay with your patterns of behavior and you realize that you've been complacent, which is not the same as happy.
And by you, I mean me.
I've been tearing through dessert once or even twice a day with no regard for my sugar intake.  It's left me feeling a bit cranky, a bit dissatisfied.  I feel soft and spongy.  Yes, I feel spongy, thank you very much.  I'm squishy with nothing substantial on the inside.  How's that for painting a picture?
And then my mom texted me yesterday morning wanting to know if my sugar detox diet plan was on my blog.
Thanks for smacking me in the back of the head, Mom.
What I'm in the need of is a good detox from sugar.
If you remember my last sugar detox, it's more of a plan for elimination of added sugars and some fruit restrictions, than an actual diet or prescribed way of eating. In reality, I should be eating this way 80-90% of the time.  I felt great eating less sugar and concentrating on whole foods last June when I documented my eating.  It's high time I got back to this way of eating and concentrate on making it a priority in my everyday eating.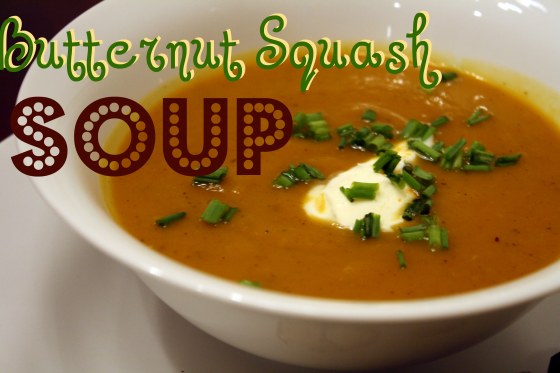 This soup would fit well into my plan. Butternut Squash is a starchy vegetable and has 4 grams of naturally occurring sugar.  For comparison's sake, a large apple has about 23 grams of sugar.
Butternut Squash Soup
This soup is hearty, velvety, earthy, and absolutely delicious.  It just gets better with time and freezes beautifully if you don't eat it all up in a week, like I did.  Did I mention it's incredibly healthy? Well, it is, in case you were wondering. 
1 medium sized butternut squash (about 3.5 pounds)
1 teaspoon grape seed oil
1/2 large yellow or white onion, chopped
6 cups vegetable broth
1 – 1 1/2 teaspoon salt (to taste)
2 teaspoons cinnamon
1 1/2 teaspoons cumin
1/2 teaspoon ground ginger
1/2 teaspoon ground black pepper
1. Cut butternut squash in quarters, remove seeds, and bake on 400 degrees until flesh is tender (45 minutes to 1 hour).
2. Heat oil in a large skillet and add onion.  Cook onion until soft and just beginning to caramelize, turning a light brown.
3. Heat broth on a burner turned to medium high heat.  Scoop butternut squash out of the skin and into the broth.  Add onion as well.
4. Add all spices and stir to combine.  Cook an additional 15-20 minutes.
5. Blend soup using an immersion blender or by transferring soup to a blender or food processor.
6. Spoon into bowls and serve.
Suggested toppings: Greek yogurt and scallions/green onions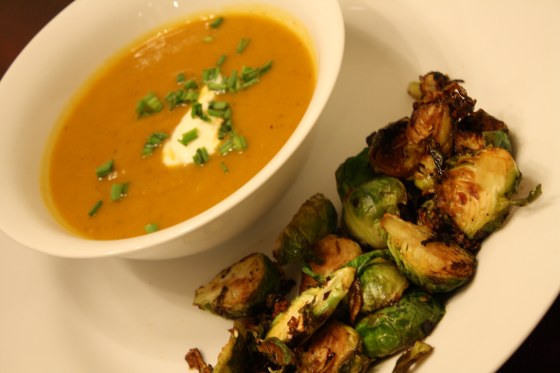 Do you know what goes perfectly with this soup? Caramelized maple brussel sprouts, that's what!
Although I've made this recipe at least ten times, I've never recorded it here in an easy-to-use recipe format.  It's about time, right? I've also made a few tweaks here and there from the first time I've made these.
This is the dish that (I've been told) has turned brussel sprouts nay-sayers into brussel sprout lovers or at least, has resulted in some "hey, that's pretty good!" responses.
I'm just glad my mom likes them.  Coming from someone who used to roll her brussel sprouts in mash potatoes and swallow them whole, a few kind words about my recipe mean the world to me.
Caramelized Maple Brussel Sprouts (serves 3-4*)
1 1/2 pounds brussel sprouts, rinsed and sliced into thirds
1 1/2 teaspoons extra virgin olive oil
2 Tablespoons pure maple syrup
1/4 cup apple cider vinegar
1/2 – 1 teaspoon crushed pepper flakes (to taste)
1/2 teaspoon sea salt
1. Heat oil in a large skillet and add brussel sprouts.  Cook for about five minutes, stirring periodically and flipping the brussel sprouts over so each side is browned.
2. Drizzle maple syrup and vinegar over the skillet's contents.  Sprinkle with pepper flakes and salt.
3. Allow to cook an additional 3-5 minutes, stirring periodically so that brussel sprouts are a a deep brown on both sides.
4. Plate and serve immediately.
*Brad and I love these so we fill half our plate with them.  If serving multiple sides, where a smaller portion is served, this recipe will serve about six people.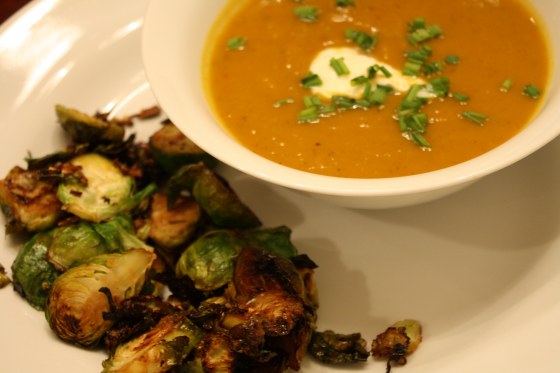 So, in review…
Soup? Awesome!
Brussel Sprouts? Incredible!
Sugar intake? Fail.
Something needs to be done and I think revisiting my sugar detox plan is the way to go.
The question is: how do I share this? 
Please choose as many as you like from the following:
a. I want to see a week's worth of sugar detoxing eats.
b. I want to see sugar detoxing friendly recipes.
c. I want to read your general thoughts and strategies on sugar detoxifying.
d. I care nothing about sugar detoxing.
D. is not a joke. Please choose it if you aren't into knowing more about my experiences with this.  My feelings won't be hurt in the least. As long as you know I might share anyway…