I love the Audrey Hepburn quote "Happy girls are the prettiest girls". 
So I made up my own saying that applies to cooking and such…
Simple recipes are the tastiest recipes. 
I  believe that.
It only takes a few fresh and healthy ingredients to make food pop.
Here are two I recently made to show you what I mean.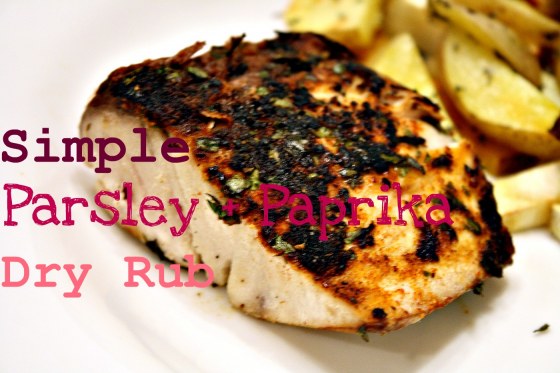 Simple Parsley + Paprika Dry Rub (makes enough for four 4 oz. portions)
This easy dry rub goes great on meaty fish (like Mahi Mahi or Swordfish), chicken, or pork. 
3 tablespoons paprika
1/3 cup fresh parsley, chopped
1 1/2 teaspoon garlic powder
1/2 teaspoon pepper
1/2 teaspoon sea salt
1 pound of chicken, fish, or pork (pictured: Mahi Mahi)
Mix spices and herbs together and place on a flat dish or plate.  Dredge meat through the spices, using your hand if necessary to press the spices on both sides of the meat.
Sautee (with a bit of oil) or grill meat as usual.  Plate and serve.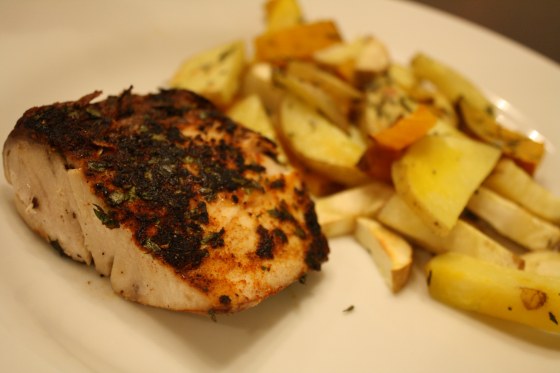 This simple rub dresses up any white meat or fish and goes great with my next simple recipe, but can be paired with almost any basic side dish.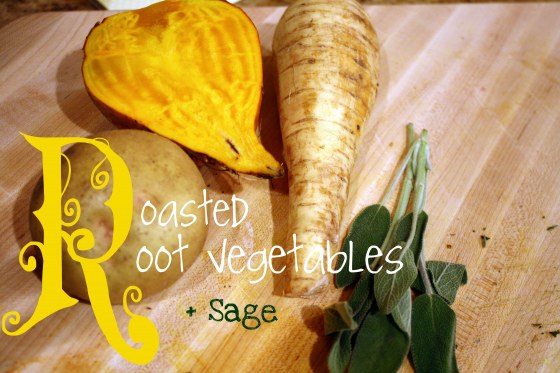 Roasted root vegetables are my favorite easy side dish this time of year when they're in season. There are so many to choose from, you can easily make all kinds of different  textures and flavors, just by choosing different root vegetables.
Choose from:
White potatoes
Red potatoes
Sweet potatoes
Carrots
Parsnips
Turnips
Red beets
Golden beets
Radish
Onion
Garlic
Shallots
Choose any of these three, toss them in your favorite oil, with some fresh herbs, and roast for 25-30 minutes on high heat.
Easy peasy.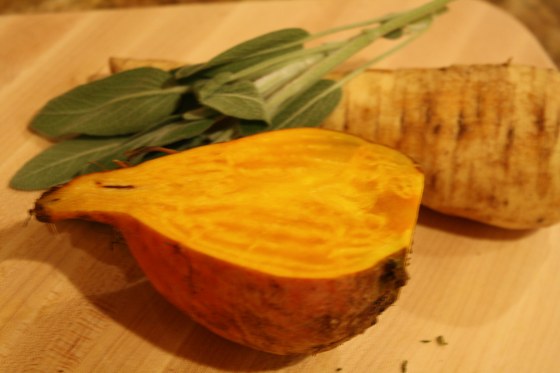 For this particular root veggie roast, I used: white potatoes, golden beets, parsnips, and added some fresh sage.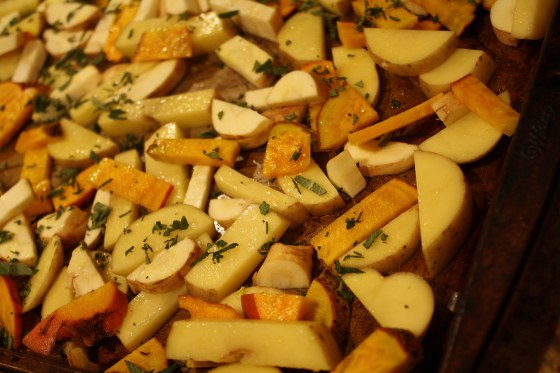 Roasted Root Vegetables + Sage (serves 3-4)
1 white potato
1 large parsnip
1/2 large golden beet
1/3 cup fresh sage, chopped
1 Tablespoon extra virgin olive oil
salt and pepper
Chop all vegetables as uniformly as possible.  Toss in oil and spread out evenly on a large baking sheet to ensure even cooking.  Sprinkle sage over the vegetables.  Generously sprinkle salt and pepper over the entire pan.
Roast on 400 degrees for 25-30 minutes, stirring with a spatula at the halfway point.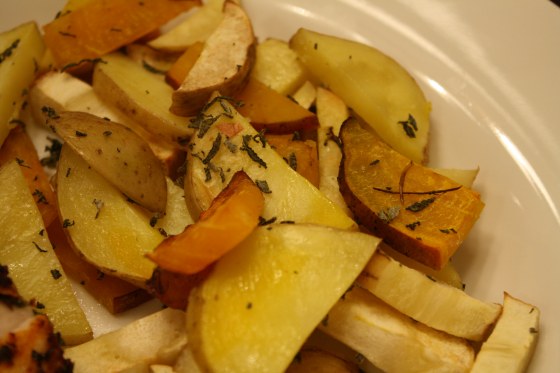 Want some more simple and delicious meal ideas?  Here are a few of my favorites.
Tempeh Quinoa Stir-Fry
Crock Pot Pulled Pork
Green Caprese Salad
Buffalo Chicken Egg White Scramble
Blackened Albacore Tuna Steaks and Tomato Avocado Salsa
Carmalized Maple Brussel Sprouts
Acorn Squash + Maple Tofu Stir-Fry
Simplicity is the ultimate sophistication.  ~Leonardo DaVinci