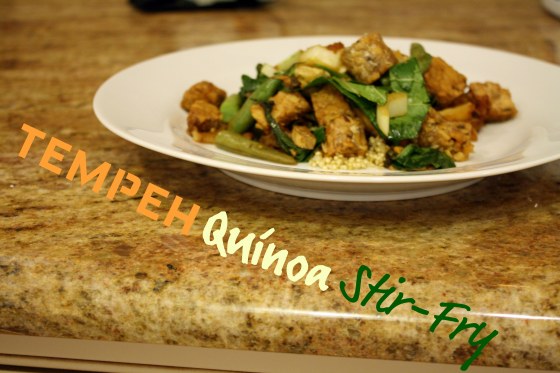 If you're anything like me, you know a thing or two about stir-fries.
You've chopped, sauteed, and whisked up sauces until your hearts content.
You know that a stir-fry is the best way to use up a lot of veggies.
You also know that it's an easy way to incorporate an unfamiliar veggie into a tried-and-true meal.
However, if you're anything like me, you're not quite sure what to do with tempeh.
You've grilled it,
sauteed it,
crumbled it..
…but it's not something you jump to cook with excitement and know-how.
I like to play with food, which is probably why baking isn't my forte.
I like to figure out how to use it and I like to eat it best.
So far, the results have been slightly less than delicious (except for my meatless meatballs), but I think I've found the trick.
1. Boiling the tempeh.
2. Marinating the tempeh.
It's simple and it works.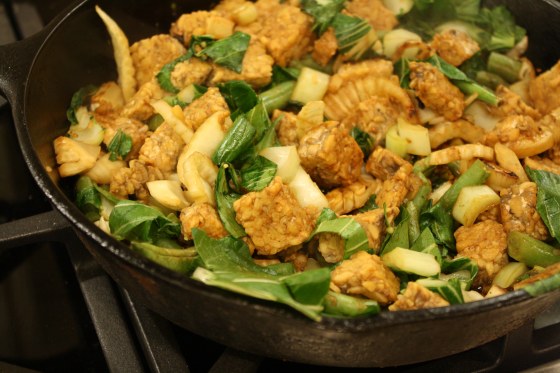 For this particular recipe, I halved the tempeh block, then boiled it for about five minutes.
Meanwhile, I chopped, minced and sauteed, garlic, fennel bulb, bok choy, and green beans.
After boiling the tempeh, I let it marinade in a mixture of soy sauce, fig preserves, and Worcestershire sauce for 15 minutes.
After marinating, I added the tempeh and the sauce to the veggies.
Did I mention there was quinoa?  There was. I brought about 1 cup to a boil and let it simmer until it absorbed all the water but remained light and fluffy.  You could also follow the package directions. I choose to wing it.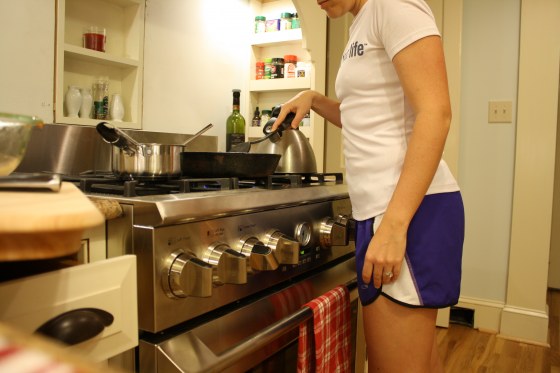 Once you've added your tempeh and sauce to the veggies, stir, stir, stir.
Sweaty running clothes are optional, but enhance the overall cooking process.
Add some more soy sauce, red pepper flakes, and a bit of ground ginger.  Plate your quinoa.  The veggie/tempeh stir-fry goes on top.
Tempeh Quinoa Stir-Fry (serves 3)
The fig preserves help add a touch of sweetness to the tempeh.  If you use vegan Worcestershire sauce, this meal is completely vegan. 
1 6 oz. block of tempeh
1 teaspoon extra virgin olive oil
3 cup bok choy, chopped
1 medium fennel bulb, sliced
2 cloves garlic, minced
1 1/2 cup green beans, halved
3 tablespoons soy sauce
2 teaspoons Worcestershire sauce
2 tablespoons fig preserves
1 cup uncooked quinoa
3 tablespoons soy sauce
1 teaspoon ground ginger
1 teaspoon red pepper flakes
Cut tempeh in half, place in a small pot, cover with water, and bring to a boil.  Turn heat to medium and allow to simmer for five minutes.
Put olive oil in a skillet or frying pan and heat on medium high heat.  Add garlic and fennel bulb.  Cook for five minutes stirring occasionally.  Add green beans and cook an additional five minutes stirring occasionally.  Add bok choy and stir well until bok choy wilts.  Pour tempeh and marinade into the pan and stir to incorporate throughout.  Just before serving, add additional 3 tablespoons of soy sauce, ginger, and red pepper flakes.
Plate quinoa and top with tempeh/veggie mixture.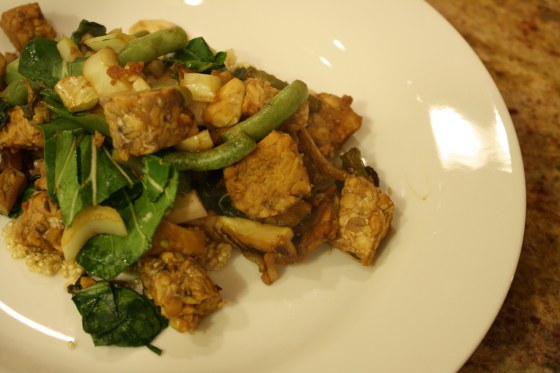 I really loved the sweetness that the fig preserves added to the tempeh.  Tempeh can be a tad bitter, but boiling it and adding a sweet element really improved its flavor.  The combination of fennel bulb and boy choy was also an interesting and delicious flavor combination.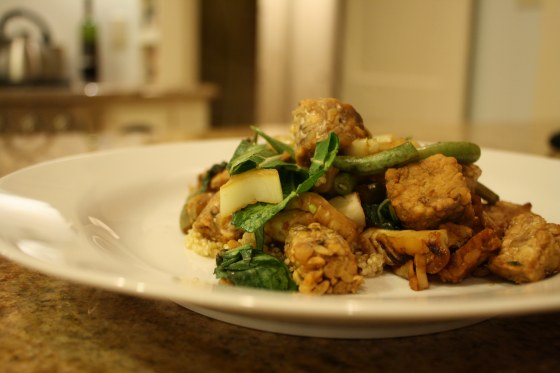 I give this meal two thumbs up — one for taste and one for nutrition.  The quinoa and tempeh alone, has 18 grams of protein and 1/3 of the recipe comes in at less than 400 calories.
So class, what did we learn from this?
1. Boiling and marinading are the keys to success with tempeh.
2. Stir-fries never get old.
What's your favorite way to prepare tempeh?