This year, I celebrated Thanksgiving at my in-laws house. Being that both mine and Brad's families are from NC, a lot of our Thanksgiving traditions are the same.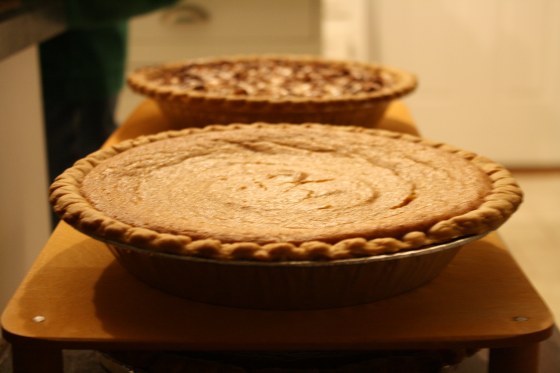 Most importantly, there are pies.
Lots and lots of pies.
Being that there were so many pies, I did not make my classic pecan pie this year.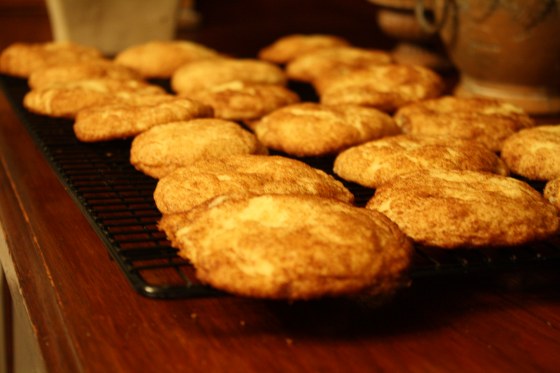 Instead I made Snickerdoodles.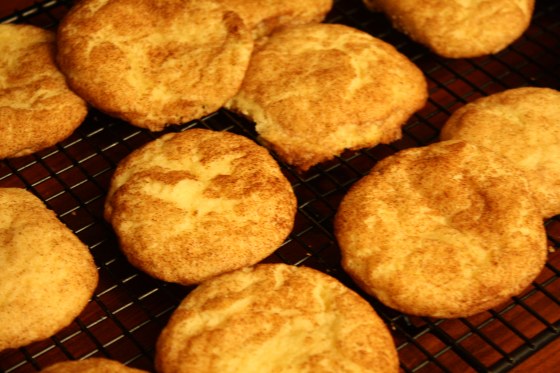 Snickerdoodles are one of Brad's favorites, so I've wanted to give them a try for quite a while.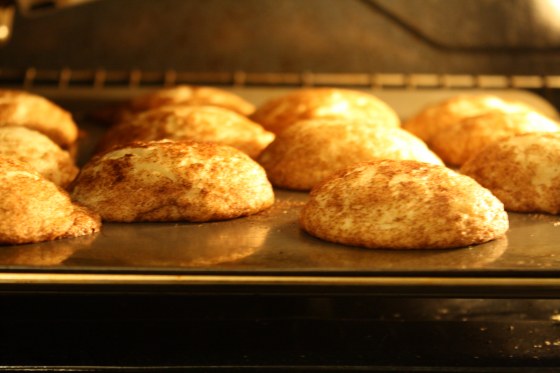 I followed this recipe, and they turned out perfectly!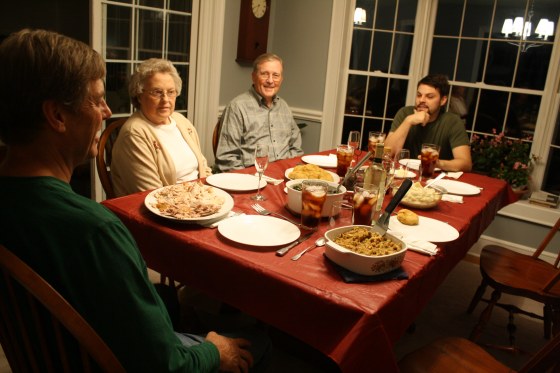 We had a small intimate Thanksgiving gathering with Brad's parents and his paternal grandparents.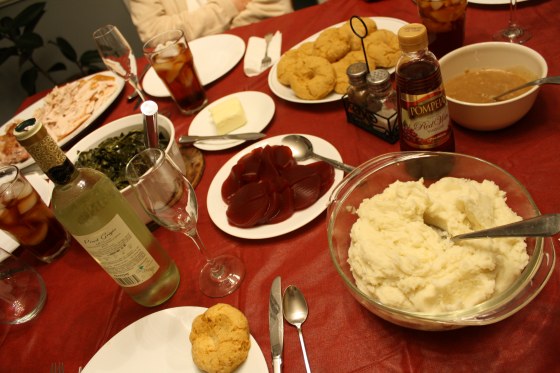 The table was full of yummy things!
Brad's mom Joy really outdid herself. 🙂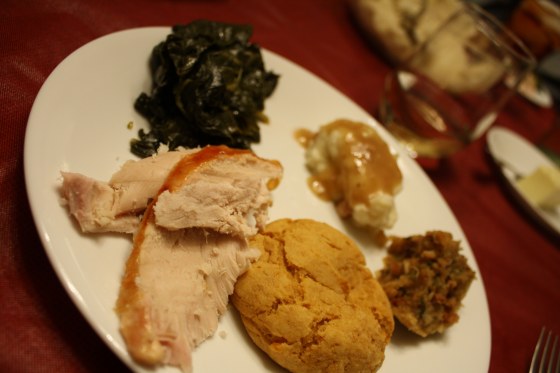 On my plate (clockwise, starting at the top): collard greens, mash potatoes and gravy, stuffing, sweet potato biscuit, and turkey.
The major difference between my plate here versus my plate at my grandmother's house:
1. We eat collards, but not on Thanksgiving.
2. We eat yeast rolls, not sweet potato biscuits (I love them both!)
3. We call mashed potatoes "cream potatoes".
4. My grandfather deep fries the turkey and has been doing it for years — way before it was popular.
5. My grandmother makes homemade chicken and dumplings.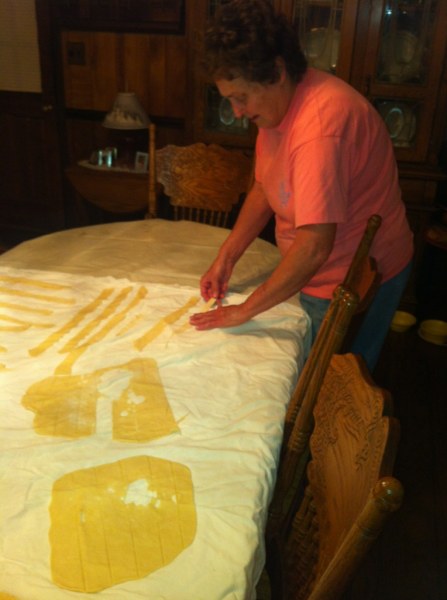 See?
My dad texted me this photo on Thanksgiving Eve.
My grandmother's chicken and dumplings are infamous. 🙂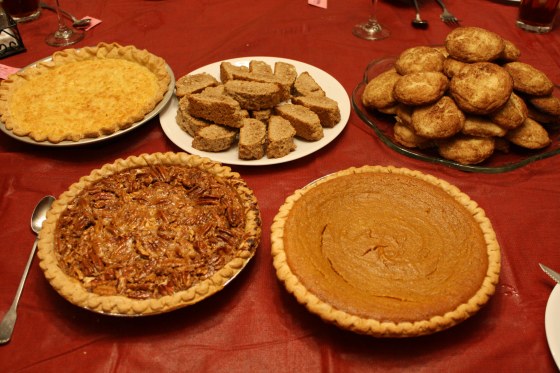 Meanwhile, back at the Davis', we literally almost had one dessert per person.
From left to right: coconut pie, gingerbread biscotti, snickerdoodles, pecan pie, sweet potato pie.
My father-in-law made the biscotti and shared his recipe with me, which I can't wait to share with you soon. It's so incredibly delicious, especially when dipped in coffee.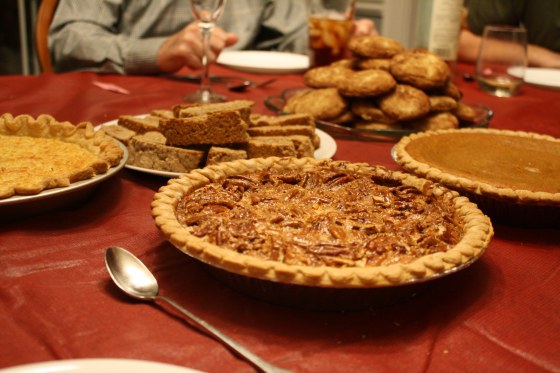 We sat around chatting after dinner.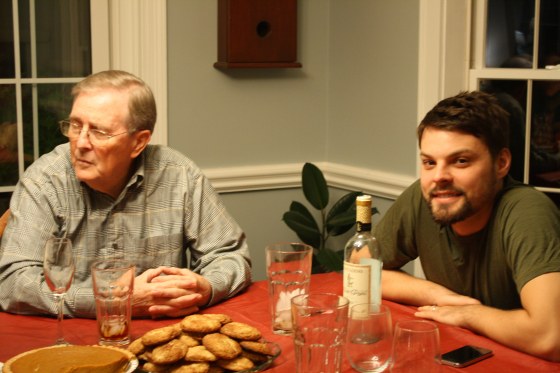 Give us a smile, Brad!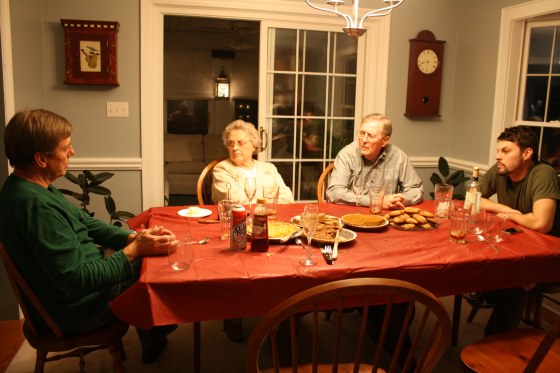 Somehow Brad's mom Joy never made it into any of my photos…probably because she was busy in the kitchen.
During the three days we visited Currituck, I ran every day, although I'm not sure it warded off the holiday weight gain.  My jeans are a bit snug.
But can you blame me for trying?  Look at my beautiful view!
We lazed around the house during most of the visit, but yesterday we managed to get out of the house and enjoy the beautiful day.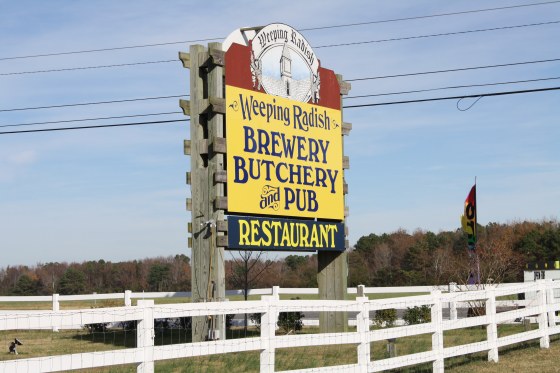 We went to the Weeping Radish Brewery for lunch, which is also a sustainable farm.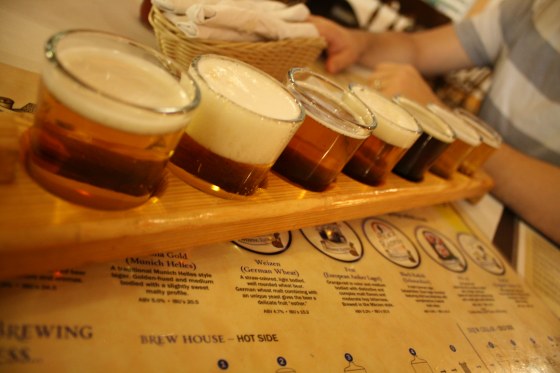 Farm, shmarm.  I was there for the beer.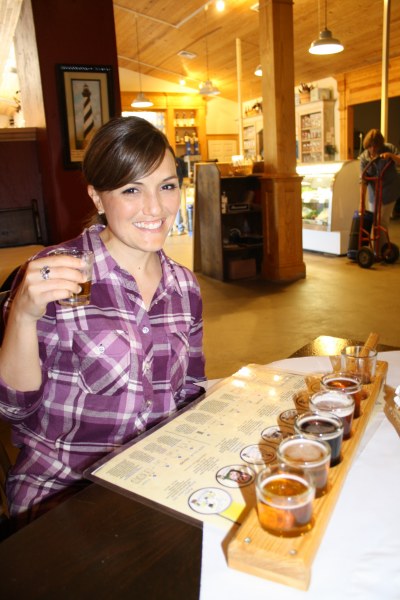 Cheers!
After lunch, we saw the The Muppets (loved it!), checked out my father-in-laws rental properties near the beach, and somehow found our way to a local wine shop who offered to give us a free tasting.
Don't mind if we do!
We ended our day by watching the sun set on the water before heading back to the house for Thanksgiving leftovers.
How did you spend your Thanksgiving holiday?