Good Sunday morning to you! I apologize for being a little MIA since Friday.  All is well here.  I had a successful 20 mile run yesterday, which was wonderful considering my last two long runs have come a bit short.
In celebration of finally getting my marathon training confidence back, I'm featuring the multi-talented Hannah from Hannahviolin today in my I'm a runner series.  Hannah is a violinist who both performs and teaches in St Louis.  She's also in the throws of wedding planning with nuptials planned for early 2012.  And on top of all of that, she's a runner, having trained for quite a few races, including several half marathons.
***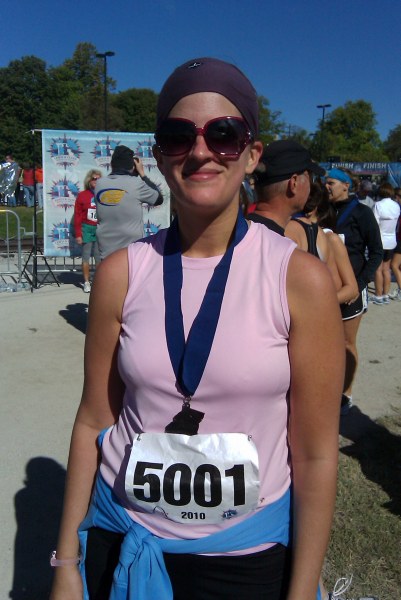 Name: Hannah
Age: 33
Blog: hannahviolin.wordpress.com
1.            How long have you been running?
I started running last summer.  I had been working with a personal trainer and he was encouraging his clients to run/walk a half marathon in the fall.  I had never really run before but knew I'd be able to walk. After I finished that race, I was hooked, and started planning my next races.
2.            How did you begin running?
I began very slowly, with more walking than running.  I still have to take walk breaks now, but I can run much longer.  Generally those walk breaks are more mental than anything, though lately we've had such awful heat they are physically necessary.  I still run pretty slowly though.
3.            In how many races have you competed?
I've completed 4 half marathons, a 10k, a 5 mile race, an 8k, and several 5ks.
4.            What is your favorite pre-run fuel?  
I've been struggling with this lately, but generally I just eat my normal breakfast of a serving of Kashi go lean cereal with a ton of blueberries or other fruit.
5.            What is your favorite post-run snack or meal?  
I don't generally eat afterwards, unless it's a long run, in which case I usually have another bowl of cereal.
6.            Do you like running buddies or do you prefer to run alone?
I started off running alone all the time, but now I love running with a buddy.  If I run alone, I listen to podcasts.
7.           What's your favorite running outfit?  
For the summer I've been loving this: a Moving Comfort Phoebe sports bra, Brooks Versatile 5 inch shorts, and Mizuno Wave Nirvanas.
8.        Favorite place to run?
At home I love running around Forest Park.  There's a great (almost) 6 mile trail that goes all the way around and it's scenic with great people watching.  I recently took a trip to Chicago and LOVED running along the lakefront there.  I'm a sucker for water.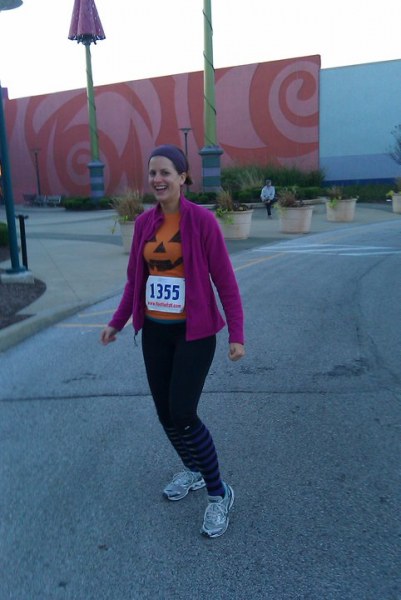 9.          What is the worst race in which you have ever participated?
I'm still mad at the Go! St Louis race I ran in April.  I had trained hard and set my expectations for myself really high.  It got really hot that day and I ended up walking too much and ultimately puking on the course.  I was and still am pretty disappointed.
10.          How many times a week do you typically run?
I usually run 4 times a week, sometimes 5.
11.          What or who inspires you to run?  
My mantra (and I'm not a mantra person) is that you never regret a run.  I just think about how great I'll feel afterwards and that gets me out there. If that fails I think about how I will never get better at running if I don't run, and I'd really love to be better at running.
12.          What's your favorite running memorabilia and why?
I love getting medals!
13.          How has running changed or contributed to the person you are?
Running gives me focus, makes me feel strong, and gives me time to reflect on my life.  I joke that because I run I don't have to worry about everything else that I've failed at in my life, but that's really pretty true…running makes me feel like a success!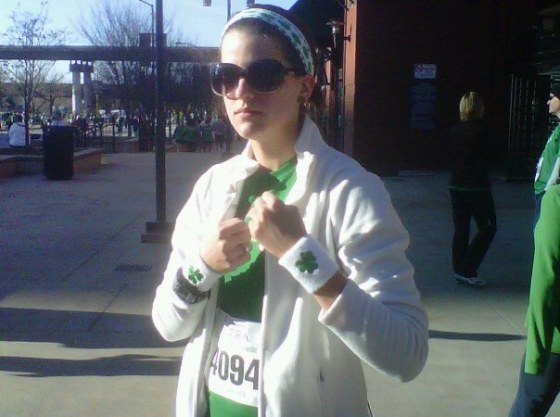 20.          A friend just ran a mile and is inspired to start running regularly.  What words of wisdom or inspiration do you have for them? 
Go for it!  You have nothing to lose and everything to gain.
***
It's funny that Hannah mentioned her mantra "you never regret a run", because I was just thinking the other day that I never regret a workout.  It's easier said that done sometimes, but overall I basically want to have this tattooed to my forehead to remind me that I always feel better breaking a sweat.
Thank you so much Hannah for answering my Q & A.  As a fairly recent bride myself, I have one piece of wisdom to impart on you and any other brides-to-be.  Make time for your workouts.  They will keep you sane. I ran six miles the day of my wedding and it did wonders to help me get ride of my nervous energy and fill with me  with positive endorphins.    Good luck with the wedding planning! You're going to be a beautiful bride.
***
Whether you're a blogger or a reader, been running for years or just started last week, I want to feature you on my I'm a runner series.  If you're interested in participating, please email me at foodiefresh@gmail.com.