I'm so excited to be kicking off another fun weekend of I'm a runner posts!  And I think I've found my blogger twin in this next featured runner.
Just so you know, I like to blog stalk my I'm a runner blogger contributors a bit so I can properly introduce them.  Some of them I already know because I read their blogs and some of them are new to me. As soon as I clicked on Victoria's blog Running Peanut for the first time, I knew I had met a kindred spirit and proceeded to add her to my blog roll.
Like me, Victoria…
– is very short
– is training for her second marathon
– loves the Real Housewives of NY
– has a husband with a wonderful sense of humor and likes to dance 🙂
– thinks Carolina is awesome
– is loving The Hunger Games

Yeah, we're practicially bosom buddies already, which is probably news to Victoria. 😉
***
Name: Victoria
Age: 30
Blog: Running Peanut: scootieshow.blogspot.com
Twitter: @RunningPeanut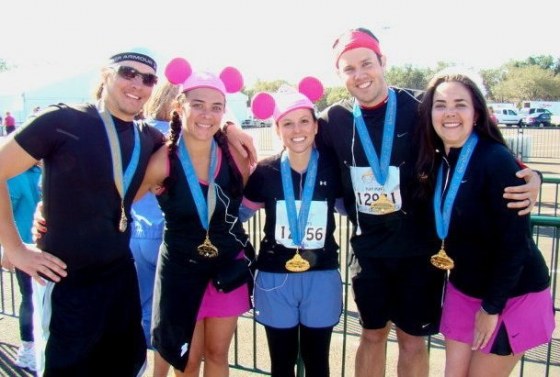 1. How did you begin running?
My sister-in-law signed all of the siblings up to do the Princess Half Marathon in March 2010.  Having never run more than three miles at once, I was somewhat terrified at the idea of 13.                Imagine how surprised I was when I not only finished the whole thing, I actually liked doing it!  After that, I was hooked!
2. In how many races have you competed?
15.  I'm now training for the Marine Corps Marathon
3. What is your favorite pre-run fuel?
I can only eat peanut butter on toast.  It's my default.  I tried to vary it, and the results were not pretty (see #4 below).
4. What is the most embarrassing thing to ever happen to you while running?
I had a group run of 16 miles, and had to stop 11 times.  'Nuff said.  Now I know where all the porta-potties are on our routes.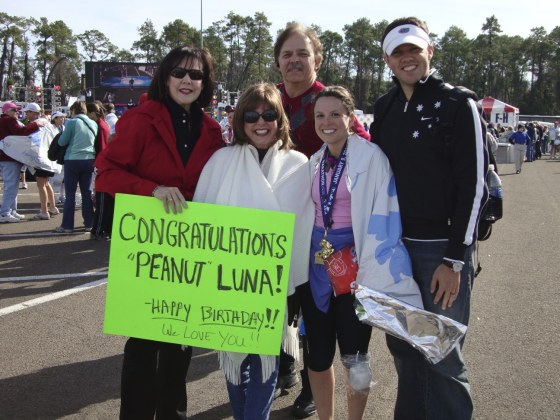 5. Do you like running buddies or do you prefer to run alone? 
Running group all the way!!  I love my group.  They keep it real and keep you moving when you want to stop.  I won't  get up at 4:00 in the morning on the weekends for anyone but them.
6. What's your must-have object on a run?
For a long run, definitely need a fanny pack, i.e., my spibelt.  It usually has shot bloks, my car key, and T.P. (You can never be too careful.  Again, see #4).
7. Favorite place to run?
Well, it's certainly not the "dreadmill."   I love running down Park Avenue in Winter Park.  It's a very ritzy part of town with a lot of stores.  For about half a mile, I can combine two of my loves: running and window shopping for clothes I can't afford.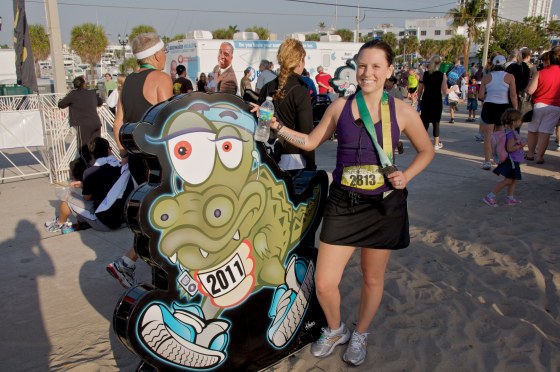 8.  What is the worst race in which you have ever participated?
The A1A Half in Fort Lauderdale.  I got burned out by the pacer and it was really, really, hot towards the end, even for a Florida girl like me.  Plus, I may or may not have indulged in margaritas and Mexican food the night before – not exactly ideal pre-race nutrition.
9. What's your favorite race distance and why?
I don't really have a favorite, but I definitely have a least favorite and that would a 5k.  I may be low to the ground, but I am not built for speed!
10.  How many times a week do you typically run?
Between three and four.  I'd liked to do more, but I just don't have the time.
 11. How has your running or your feelings toward running changed over the years?
When I was in college, I only viewed running as a weight loss tool.  For that reason, it was never any fun.  I remember running on Thursday nights before I went out so I could burn enough calories to drink and eat whatever I wanted.  It was a chore and a necessary evil.  Now, I view running as my sanity saver, the time I spend on myself that makes me happy.  Running isn't a form of exercise to me; it's my freedom.  And if I get to eat a couple extra cupcakes because of it, well, that's just a bonus.
 12. What's your pie-in-the sky running dream?
Like many other runners, I would love to BQ (qualify for the Boston Marathon).  Hey, I only have to take about an hour off my marathon time!
***
Victoria, thanks so much for sharing your running experiences and agreeing to be featured on Foodie Fresh today.  I had a great time learning about your relationship with running and plan to check out your blog more too!
If you would like to be featured as part of the I'm a runner series, please email me at foodiefresh@gmail.com.