Happy Saturday afternoon!
In a few hours, Brad and I will be celebrating our one year anniversary by dining at the McNinch House, a place I've been dying to try since I first set sites on the beautiful old Victorian home.
I'll share our anniversary celebration soon enough, but first, let's get to my second feature this weekend for the I'm a runner series.
Caitlin is a runner, but don't pigeonhole this stylish bride-to-be. She has numerous interests which she blogs all about on The Couture Life.  Besdies delicious and healthy food, style inspiration, and other things she loves,  she also shares her love for the most adorable English Bulldog, Buckley.  I'm a sucker for all things cuddly with waggy tails and knowing how much my brother, Wess, loves English Bulldogs, I had to email him the link to Buckley's birthday post.
Check out her answers to the I'm a runner Q & A below!
***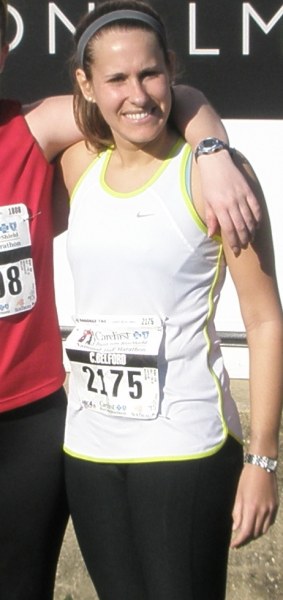 Name: Caitlin M. Belford
Age: 25
Blog: thecouturelife.blogspot.com
1.            How long have you been running?
 Since 1998, I started running in 7th grade.
2.            How did you begin running? 
A good friend encouraged me to run on my middle school cross country team with her. I wasn't great by any means but I loved it and continued to run through high school.  I continued to run sporadically in phases through out college, following graduation I picked running back full time and have been running consistently ever since.
3.            In how many races have you competed? 
1 half marathon, 3 5-milers and 8 5Ks.
4.            What is your favorite pre-run fuel? 
a banana or green apple.
5.            What is your favorite post-run snack or meal? 
an everything bagel or fruit parfait
6.            What is the most embarrassing thing to ever happen to you while running? 
At the moment I can't think of anything embarrassing but that is because when I run I am usually so in the zone or talking myself through the pain I wouldn't notice anything else.
7.            Do you like running buddies or do you prefer to run alone?
I mostly prefer to run alone, to me running is just as much about the mental and emotional time to decompress. My favorite thing to do after a long/stressful day at work is go for a long run.
8.            What's your must-have object on a run? 
My iPod, I usually run with Nike+ Connect as well but music is a must to keep me pumped.
9.            What's your favorite running outfit? 
Reebok Core Running shorts, Champion sports bra, Nike Dri-Fit Running Tank, Nike Pegasus 27 sneakers but I also wore Asics for years and love both.
10.          Favorite place to run? 
On the Washington & Old Dominion Trail (an old railroad turned into a biking/running trail in Northern Virginia)
11.          What's your favorite race distance and why? 
5 milers- I can push myself to run faster through out the race and hold on till the end of the race without loosing steam.
12.          How many times a week do you typically run? 
Typically 3-4 times a week.
13.          How has your running or your feelings toward running changed over the years? 
When I first began running it was to stay in shape and participate in a sport during the fall. I began running again following college graduation again as part of my exercise routine, slowly overtime I realized that after long days working in an office running is what I needed to decompress and relax in the evenings.  Running went from being purely a means of physical exercise to mentally and emotionally therapeutic for me.  There is nothing better than coming home after a long day than lacing up my sneakers and hitting the road.
14.          What's your pie-in-the sky running dream? 
To run the New York City Marathon.
15.          Any running or race superstitions? 
Not so much of a superstition but I feel much comfortable before a race when I am there with only a small group of people.  It allows me to concentrate on how I feel through out the race and nothing else.
16.          What or who inspires you to run? 
I inspire myself and push myself to run, many people support me but the beauty about running is that when you are running it is just you and the road.
17.          What's your favorite running memorabilia and why?  
My medal from the National Half Marathon (my first half marathon) my goal was to run a 9 minute mile and I came in just under I was so proud of myself. I keep it in my nightstand drawer next to my bed.
18.          How has running changed or contributed to the person you are?
It has made me stronger and believe in my own abilities.
19.          A friend just ran a mile and is inspired to start running regularly.  What words of wisdom or inspiration do you have for them? 
The pain is temporary, to push through and you will be so proud of yourself when you are done.  And to never get discouraged you will have good runs, great runs and a lot of bad runs but by getting out there you are overcoming the biggest hurdle.
***
How very true! Getting out there for a run IS the biggest hurdle for me, sometimes!
Caitlin, thank you for sharing a little about your relationship with running on Foodie Fresh, today.  What an accomplishment to have been running for 13 years.  I hope your running journey continues to take you far! 🙂
If you would like to be featured as part of the I'm a runner series, please email me at foodiefresh@gmail.com.