Friday, I've missed you all week long!
Okay, so maybe I didn't care much about Friday on Saturday or Sunday, but come Monday….you know how that goes.
It's Fitness Friday, where I recap all of my attempts at fitness from the week prior.
You already know what I did last Friday if you read last week's Fitness Friday.
Saturday was the my 12 mile long run day…
dum dum duuuuum.
And it was HOT.
How hot?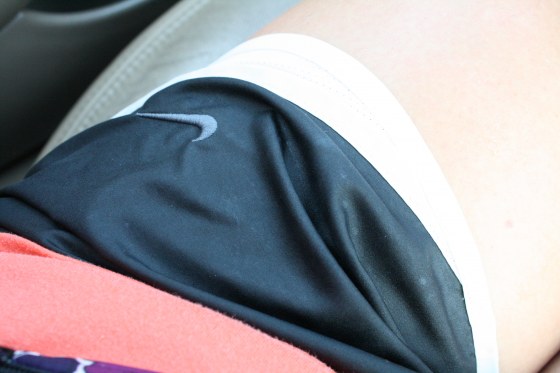 So hot, my shorts were soaked completely through by the end of the run.  I could literally wring them out with my hands and water poured out of them.  Yuck!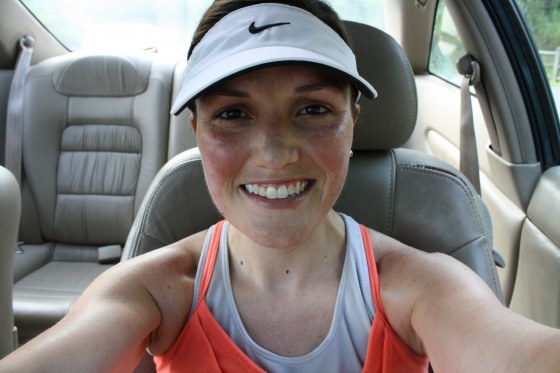 I've said it before, and I'll say it again — my Nike Dri-Fit visor is awesome! It's way better than wearing sunglasses and I swear it keeps me cooler by actually blocking the sun from my face.
I was lucky enough to have a pretty cool running buddy this time around, which made the run so much better than most. 🙂
12 miles done and done.  Not too shabby.
The rest of the week looked liked this:
Sunday – resting poolside
Monday – another hot and sweaty run through the hilly Eastover neighborhood — 5 miles total!
Tuesday – I finally worked my lower body and did three lower body/ab circuits…and man, did I feel the effects of my lower body neglect for the next few days
Wednesday – too sore to do anything but hobble to work and back
Thursday – 5 mile tempo run on the dreadmill, which isn't so dreadful when I think about doing any kind of speed work in the 100 degree heat
1 mile – Warm up @ 10:00 for 3 minutes, then 9:40 for the rest of the mile
3 miles – 8:39 pace
1 mile – 9:40 pace
I have some weird habit on the treadmill where I always warm up for three minutes at 10:00 pace.  I have no idea why,  but I do it every. single. time.
Friday – Upper body/ab circuit
I'm tackling 14 miles tomorrow with a friend and hoping for dry, but cooler weather.   Since Sunday is my one year anniversary with Brad, we are spending the day together, which will hopefully involve some activity like a long walk and/or bike ride.
What are you fitness plans for the upcoming weekend?