…so I was so busy having a good time last Friday that I never did Fitness Friday last week.  Whoops.
So, think of this as the quick and dirty run-down of the past two weeks of Fitness Friday. 🙂
Last week:
Saturday, 7/16 – Ran 10 miles
Sunday, 7/17 – Ran 3.8 miles with a friend
Monday, 7/18 – began marathon training and ran 6 miles on the treadmill
Tuesday, 7/19 – violated my marathon training plan and ran 4 miles with a friend
Wednesday, 7/20 – Temp run: 5 miles total; 1 mile warm up and cool down; 3 miles @ 8:13
Thursday, 7/21 – took the "Rest" seriously on my marathon training schedule and sat by the pool for the better part of the day
Friday, 7/22 – see Thursday and add a few trips to a spa 🙂
This week:
Saturday – delayed my long run day because of traveling, but biked with Brad for about an hour, which was canceled out by a trip to Menchies 😉
Sunday – Long run: 10 really sweaty miles…really really sweaty
Monday – I deferred my next run since it was the day after a long run and did 45 minutes on the elliptical instead and about 10 minutes of upper body.
Tuesday – I was supposed to do 5 miles on Monday, but instead I did 6 this day because I never looked at my training plan.  This was done before work on the treadmill.
Wednesday – Man, I felt bad this day.  I slept really poorly the night before so I skipped my workout in favor of lying in my bed with a book. 🙂
Thursday – Another rest day…I couldn't get out of bed that morning and spent the evening at a granite yard picking out our counter tops.
Friday (today) – I was supposed to do 5 miles of speedwork on Wednesday but decided that since it was the day before a long run, I would skip it.  Instead I did an upper body/ab circuit and ran three miles on the treadmill.
So, as you can see, I've been spending a lot of time here.  Apparently this workout was so tough, my hands were shaking.
My long runs are always outside but it's difficult to get in the others outside because the beasty hot weather we've been having and the fact that it's completely dark until after 6 a.m.
My goal for next week is to get in at least one run outside besides my long run.
Now, for all you iPhone users out there who are also runners, I have to share my latest find.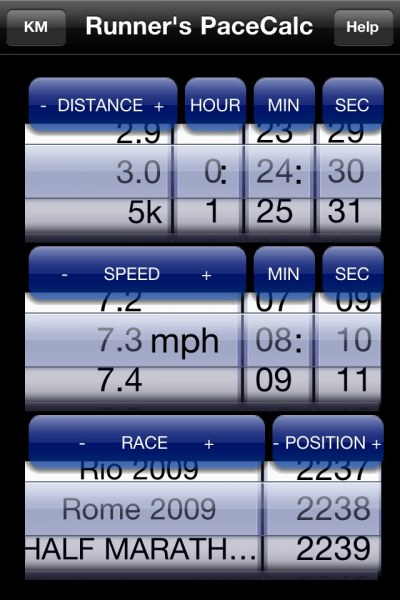 A pace conversion calculator! 🙂
It's called the Runner's Pace Calculator and I've found it to be very handy for figuring out:
– the MPH to run on a treadmill when my training plan calls for a certain pace
– My average pace when I know the time and mileage of a run
I really like it so I had to share.  I just can't keep a good thing to myself.
Fitness question of the day:
How many rest days do you typically take during a week? I usually take 1-2.