Happy weekend!  This post is going up as I'm (hopefully) six miles into a 12 mile run. How appropriate, right?
It's another weekend full of
I'm a runner posts.  
If you missed out on all of the fun last weekend, you can catch up
here
.
I've heard from a lot of you that you find these posts to be really inspirational and that makes my heart smile.  I found them to be really inspirational too and love reading all about how each featured blogger/reader started running and what their running journey has been like, whether it's been over a few weeks or a few decades.
My first
I'm a runner
 features Aly from
This Kat is Krazy
 .  She is truly an inspiration! Even though she's only been running a little over two years, she already has several triathlons under her belt and is training for her first half iron man.  Pretty impressive!
***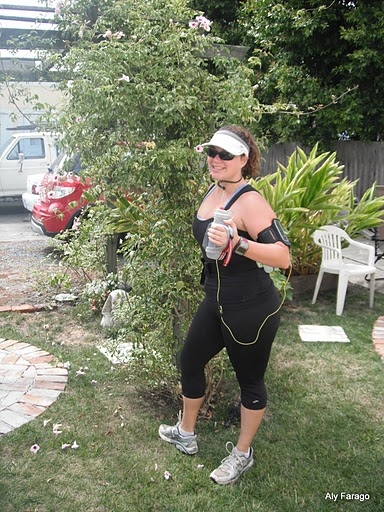 Name: Aly Farago
Age: 25
1.  How long have you been running?
Since June of 2009
2.  How did you begin running? 
I actually never thought I could be a runner because I broke my knee cap when I was 12. I was overweight most of my adolescence and then decided to lose the weight and get healthy a few years ago.  I started working at a fitness clothing store, Title 9, and we started a running group. I was coaxed into trying the running group. I then became really into it and decided to try for an 12k! This was a big jump but I knew I could do it. Shortly after completing the 12k a friend convinced me to try for a triathlon. That was last June. Now I am training for my 3rd Triathlon on July 30th, a Half Iron Man!
3.  In how many races have you competed?
3 5k's, 1 12 K( Bay to breakers for any local SF folks :), 1 half marathon, 2 Olympic distance triathlon's. I am currently training for a Half Ironman Triathlon
4. What is your favorite pre-run fuel?
My favorite for any training is oatmeal with banana and walnuts or almond butter. Yum!
5. What is your favorite post-run snack or meal?
Beer? I swear that I run for beer mainly haha. But a good breakfast omelet is amazing after a long run.
6.  Do you like running buddies or do you prefer to run alone?
I love running with buddies. On occasion I can do it alone but I prefer doing it with people. I guess that comes from being on a triathlon team with team in training.
7.  What's your must-have object on a run?
Water, fuel, and ipod.
8. What's your favorite running outfit?
Running capri's with a tank top and a visor!
9.  Favorite place to run?
Along the beach in San Francisco. it is so beautiful.
10.  What is the worst race in which you have ever participated?
I hate to say that my worst race was in Hawaii when I did an Olympic triathlon. It was actually the run that I had the hardest time with. I was dehydrated and it was so humid! I was trying anything to feel better on the race, I even drank coke a cola for the first time on a race. But I knew that I burned myself out on the bike beforehand so my run was somewhat doomed from the beginning.  I can't believe I finished that race!
11.  What's your favorite race distance and why?
As far as running races go I have to say a 10k is a great distance. It is long enough to feel like a good race but short enough to not take hours to complete.
12.  How many times a week do you typically run?
right now it is about 2 times a week because I am also swimming and biking to train for a half Iron Man.
13. How has your running or your feelings toward running changed over the years?
At first I hated it, I thought it was really hard but I liked how it helped me lose weight. Now I feel like I live to run. I look forward to it each week and love running along the water. It is my moment of Zen almost, no one can take away the feeling I get from running.
14.  What's your favorite running memorabilia and why?
My first 5k Race medal means a lot to me. It was when I first proved to myself that I can push past any limit.
15.   A friend just ran a mile and is inspired to start running regularly.  What words of wisdom or inspiration do you have for them?
Even if it hurts at first and you don't want to keep going. Just go one more step, or one more minute. Keep that up and you will be able to run any distance you want.
***
"…no one can take away the feeling I get from running".  What a beautiful statement! I don't know if I ever heard the beauty of running summed up so simply.  Someone put that on a t-shirt!
Thanks so much for volunteering to be featured, Aly!
I hope you all enjoyed reading her Q & A as much as I did.
If you would like to be featured as part of the I'm a runner series, please email me at foodiefresh@gmail.com.