Hello, my name is Kelly and I am a sugar junkie.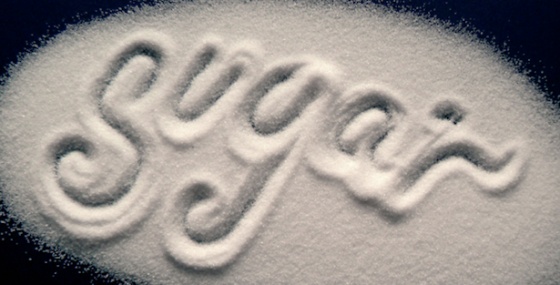 (source)
I've eluded to this before.  I've joked about it, laughed about it, told funny stories about it.
But, it's not funny anymore.
I've been mulling this over in my mind for quite some time and have come to one conclusion: I am addicted to sugar and now I'm ready to do something about it.
Sugar is fine for some people in moderation, but it makes me crazy. Just a bit of something sugary, especially if I'm even slightly hungry, makes me crave more sugar.
Often, I feel really bad after I overindulge in something sugary.  I've always thought this was the guilt from eating too much,, and yes, I do feel guilty.  But I also think that eating too much sugar is making me feel bad emotionally.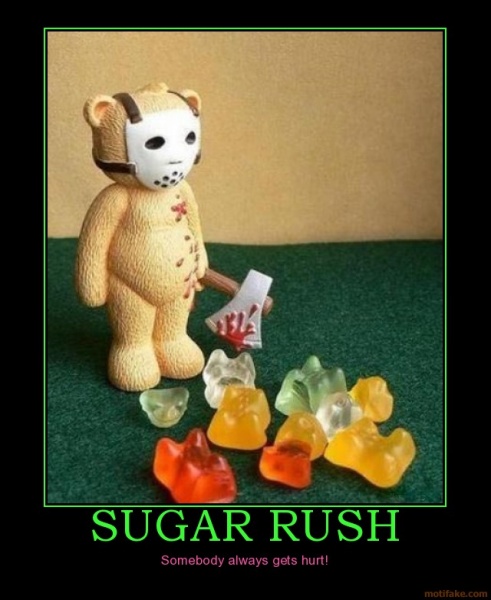 (sugar)
It all seems harmless the way I go about  it.  After all, most of the things I eat are healthy, right? For me, the justifiable sugar comes in the form of baked goods made with whole grains, 'healthy' granola and bars, and cereal, who I sometimes fondly think of as my abusive boyfriend.  Even though I know how it will turn out, I keep going back to it.  I put cereal in my cart less often now, but I've adopted other sugary 'healthy' vices to make up for its absence.
*Please know* that I'm not saying these things are bad for you.  But for me, clearly there is a pattern.  I turn to sugar when I want a pick me up physically and emotionally, when I feel a bit down, and especially when I'm anxious.
I turn to sugar and sugar turns on me.
I've been reading a lot about sugar addiction recently and found Sarah Wilson's 'I Quit Sugar' Series particularly interesting.  In this series she talks about why and how she quit sugar.  In her series she discusses how the body processes various sugars in different ways and also how the body doesn't recognize satiation when consuming sugar in the form of fructose (the sugar found in fruit).
I've read conflicting articles on this. Some state that fructose in the form of fruit isn't meant to be consumed at the level most people eat it.  Fruit was few and far between for our ancestors and consumption of fruit was to give us a jolt of energy, like one might need to hunt down prey.  However other articles state that fructose in whole fruit form is fine.  When fructose is attached to fiber, as is the case with fruit, fiber slows the absorption and our insulin levels aren't affected in the same way as when straight sugar is consumed. This article does a good job at explaining this.
So after doing my homework, considering my own dietary beliefs and needs, I have decided to embark on a week long sugar detox, to better understand what my body feels like when sugar is not a driving force.
My Sugar Detox Plan:
– Eliminate the majority of sugar from my diet.
– Eliminate the majority of processed bread that contains sugar from my diet.
– Eat no more than two servings of fruit per day.
– Eat two snacks per day.
– Amp up my healthy fat intake.
I'm sticking to language like "eliminate the majority of" because we are going out to dinner on Saturday night to one of my favorite restaurant; a tapas restaurant.   We'll be sharing food and I don't want to miss out on that experience.  But I am sticking to my plan to not eat dessert and not much bread since I have no idea what is in it.
These goals might not be as "smart" as my fitness goals for the week, but trust me when I say rigid eating plans and I don't jive well, so I think this type of plan is for the best.
(source)
I'm sure some of you are wondering why I don't just stick to "healthier" sugars like honey, turbinado, agave, etc.
*Please remember* that I'm doing this because I have a strong reaction to sugar. All sugar.  Not just the white bleached processed kind.  In no way am I saying that eating sugary things in moderation are a bad thing.  It's very challenging for me to eat sugary things in moderation, so I need to take a step back and see what it looks like to not give into my cravings and hopefully rid myself of my cravings.  I need to hit my restart button.
And that's the ultimate goal here: to have complete control over what I put in my body; to not feel compelled to eat something or continue to eat something; to be able to stop when I'm satiated and make a healthy choice when I'm not.
By the way, this is my number six goal, I eluded to earlier.  I strongly believe that in my world, fitness and diet are related.  They're not long lost cousins. They're siblings.  When I'm eating what my body wants and needs, I enjoy exercise.  When I'm crashing and burning from sugar overload, I just want to sit on the couch and eat more sugar.
So this is my plan for the next week beginning this  evening at dinner.  No last minute sugar binges allowed! And as a part of this plan, I'm going to hold myself accountable by posting photos of my daily eating here.  For me, this is the ultimate form of accountability.  I'm not going back to "this is what I ate" blogging full time, only for this specific purpose.  It might just look like a bunch of random photos with a short description, and commentary on how my plan is going.  I'll still be posting my regular food (recipes), fitness, and style posts in addition.
Any other sugar addicts out there? Have you ever done a sugar detox and did you follow a plan or just wing it?