If you took a break from blog reading this weekend like I did, you missed out on some awesome guest posts I featured while I was out and about hiking, racing, and Memorial Day partying. 🙂
Here's what you missed:
Kick off summer with these cool dishes
Memorial Day recipes – gazpacho
Southern Girl Style
***
On Friday night, Brad and I got most of our packing done for our backpacking trip in Great Smoky Mountains National Park.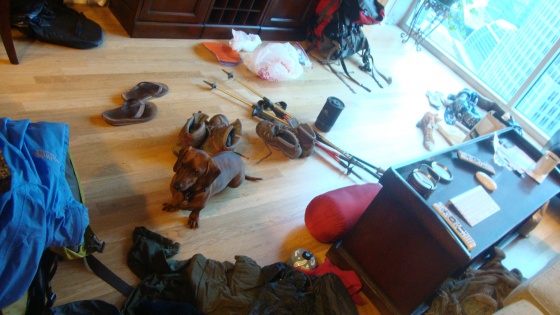 However, Saturday morning our living room still looked like this.  This is a pretty typical mess pre and post hiking trip.  You need a lot of gear when you're not car-camping.  Everything you might possibly need has to go in your pack.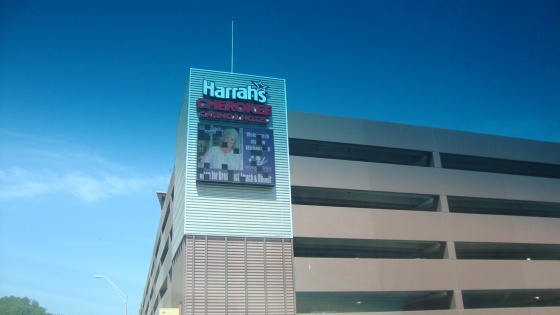 One of the last signs of civilization you see before entering the park: Harrah's Cherokee Casino and a big advertisement for Paula Deen's new restaurant.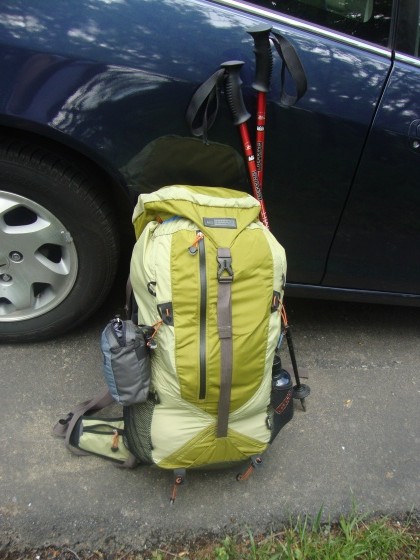 Here is my pack: lime green and weighing in at 20 pounds.  We packed all the food in my pack so I had a progressively lighter load to look forward to after each meal and snack.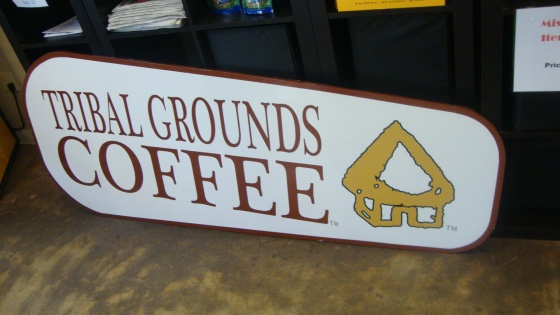 I packed a delicious sandwich, veggies, and fruit for Brad and I to enjoy in the car for lunch, but I completely forgot it in the fridge.  #Fail.  Instead, we had a lunch of compromises: I had a veggie and hummus wrap from Tribal Ground Coffee, while Brad had Pizza Inn.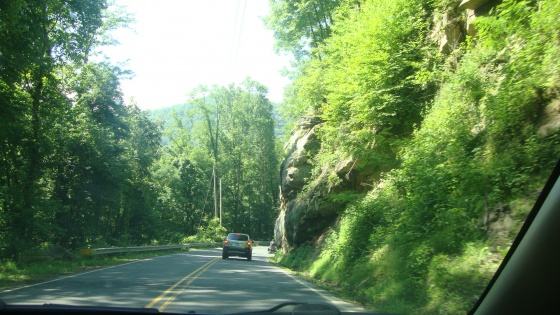 After our quick lunch, we headed down the road that led into the park. The road was winding and we saw a lot of huge rock faces, like the one in the photo above.
We stopped at the park office to check in.  It's important when hiking or backpacking that you fill out a short form with your name and hiking plans (trails, campsites, etc.), so in the event that something were to happen, the park rangers could find you.
Unfortunately, this little stop ended in bad news.  We found that we needed reservations to c amp atop Mt. LeConte, which we did not have.  In the past we have made reservations to stay in their three-walled shelter, but now that we have a two-person tent, we thought we could pitch it anywhere.
Wrong.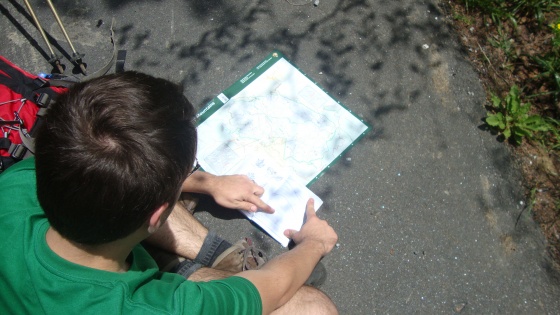 So we got out our park map and plotted a new route.  Rather than hike five miles up Mt. LeConte, than have an easy hike down the following day, we planned to hike down the Noland Divide Trail, then fork over to the Noland Creek trail, a total of seven miles and a 4,000 foot descension, then hike back the following day, another seven miles and now a 4,000 foot ascension back to the car.
This concerned me a little.  Typically we do a hard hiking day, then an easy hiking day.  This time, our hard hiking day would be on the second day – not perfect conditions the day before my Memorial Day 5K; one that I was hoping to be pretty speedy.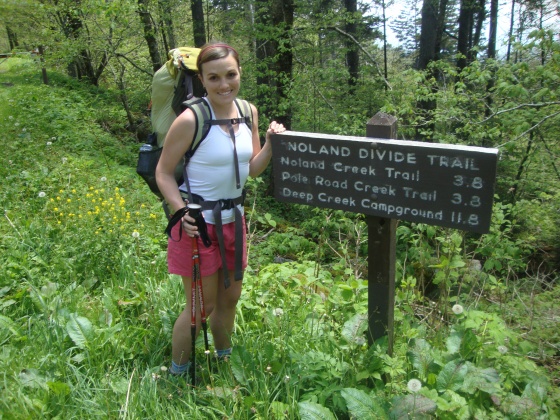 I put this out of my mind and convinced myself that I would get plenty of rest once we returned on Sunday.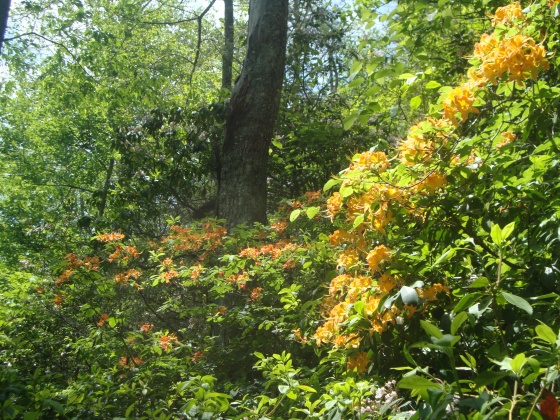 The hike on Saturday was beautiful and so much fun.  The weather was perfect and despite a few nagging bugs, everything went great.  I had one fall when I slipped on a damp log.  Brad had to help me up because it was virtually impossible to stand up with my 20 lb. pack and my trek poles' wrist band twisted around my wrist.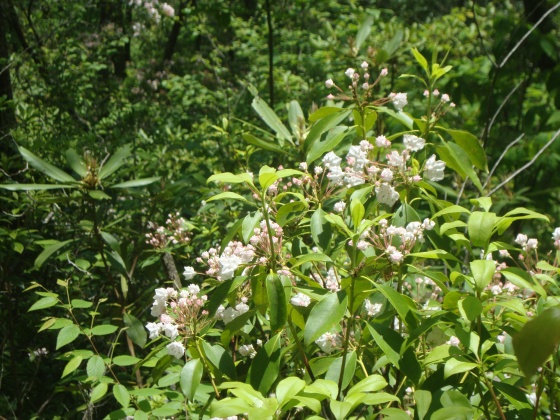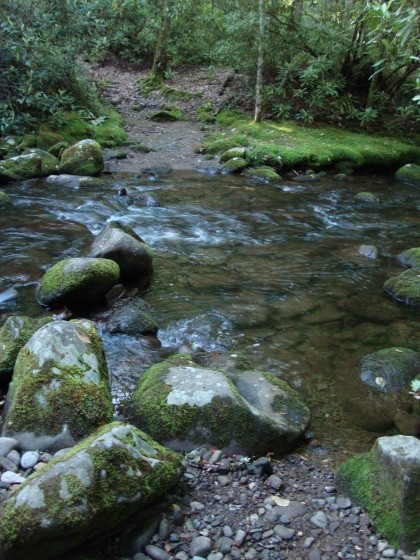 I admit that I was not very happy about having to make this water crossing, but I only grumbled a little, took my boots and socks off, and waded across.  I didn't even fall!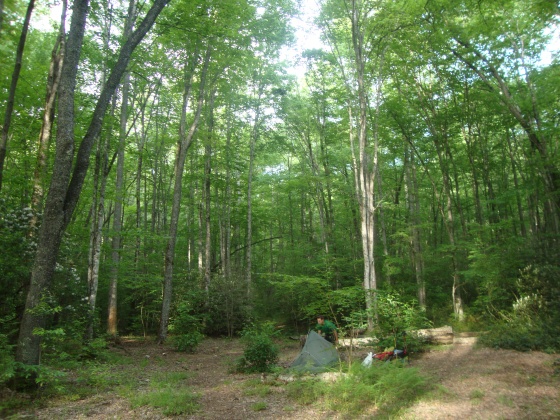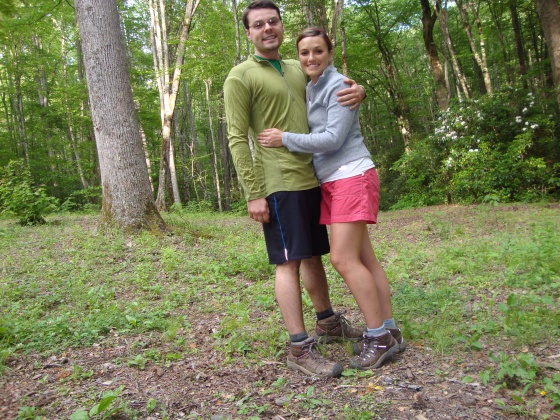 About three hours after our start, we finally found campsite #62.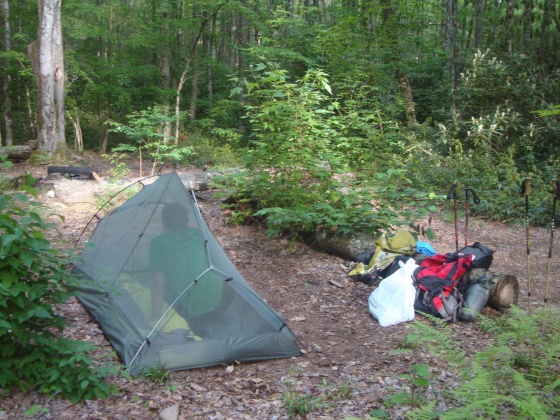 First, we set up our tent, which is actually very easy to assemble although Brad always has to remind me what to do.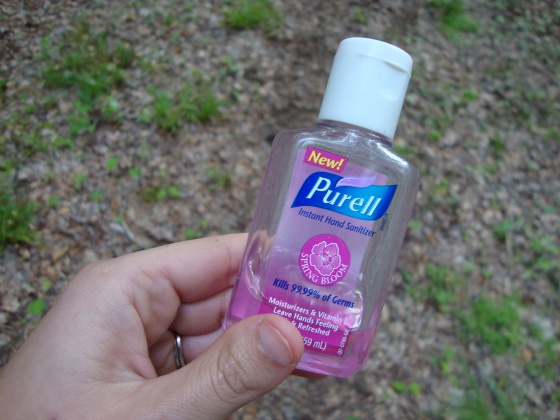 After making some good use of Purell (a backpacking must!)…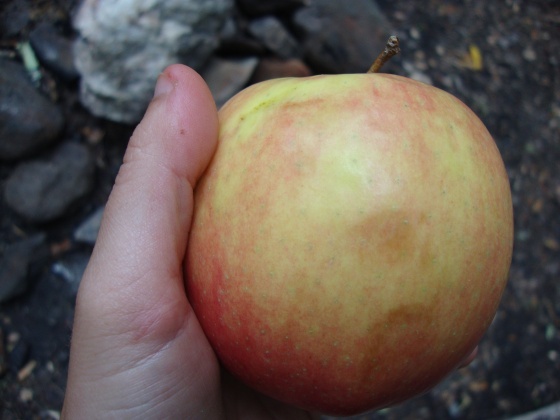 I had an apple, which was our only fresh produce, (fresh produce is heavy and doesn't pack well)…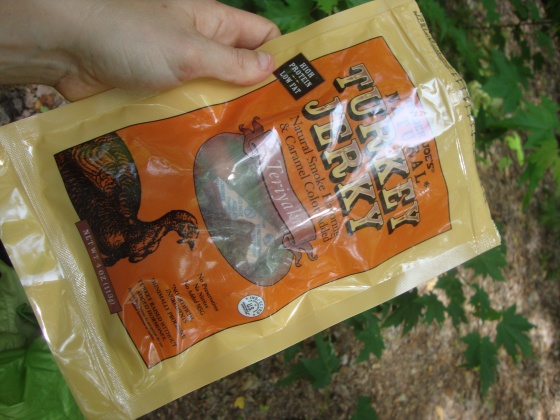 …and some TJ's turkey jerky.  I'm not a huge fan of jerky, but I actually really like this stuff.  I never buy it except for Brad, but every time he opens it, I can't keep my hand out of the bag.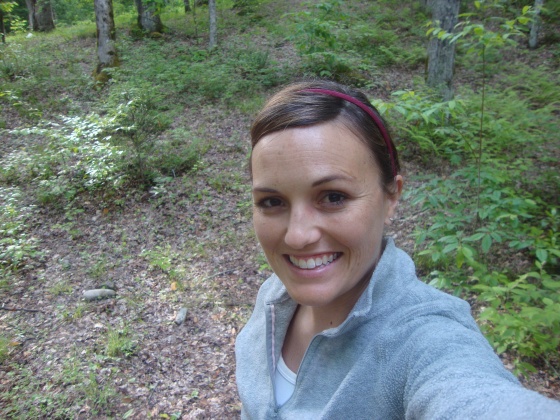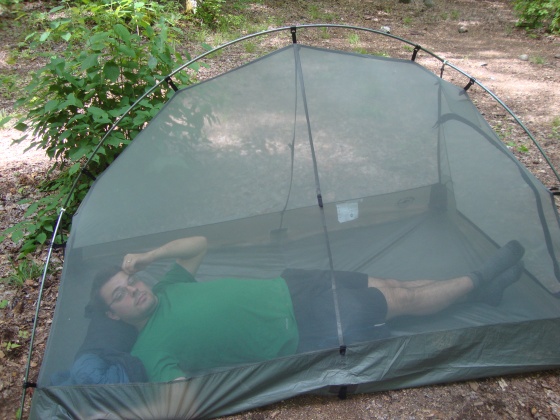 The weather was gorgeous so we left the rain fly off the tent.  I put down my sleeping bag and took a two hour nap with Brad.  Well, I think it was two hours.  Time escapes me when I'm in the woods with nothing to distract me.
Soon, it was dinner time.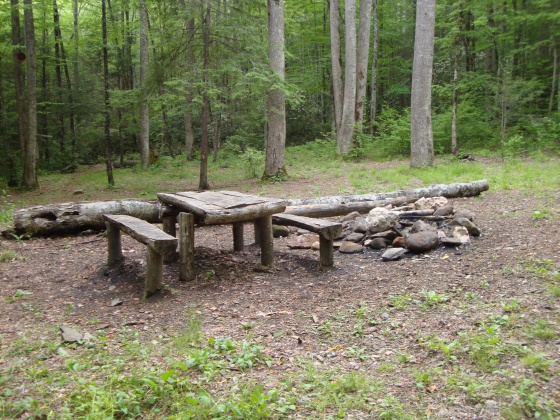 We found this rustic dining table about 75 yards from our tent and set up shop there for dinner.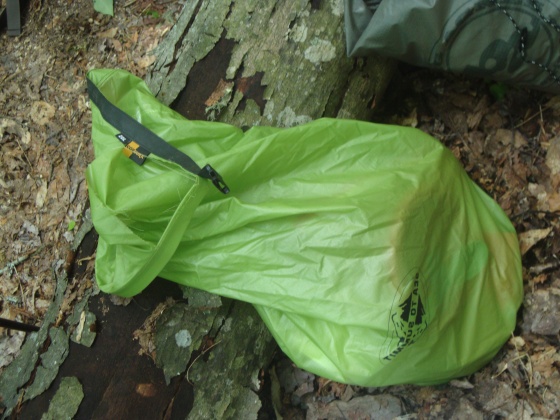 I broke into the food bag.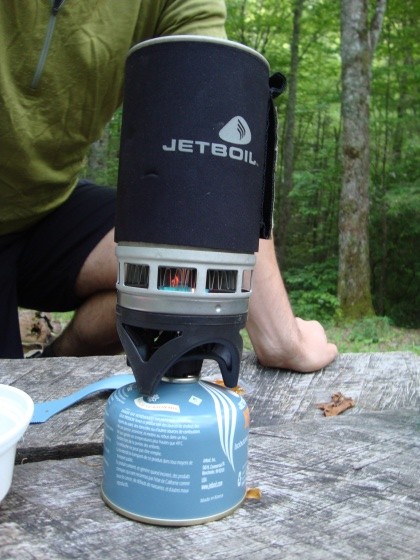 Brad got out the Jetboil, which boils water in about a minute.
Once the water boiled, we were ready to assemble dinner.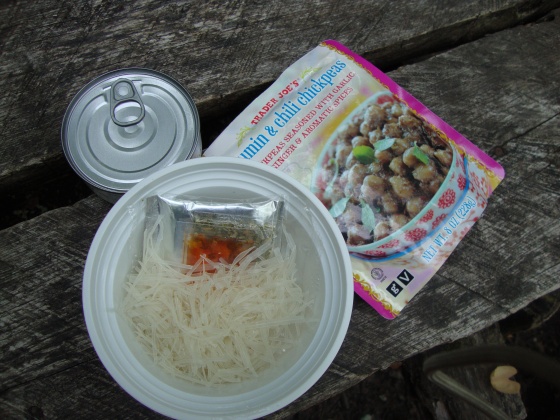 I had packed two TJ's rice bowl with seasoning packets, a package of cumin and chili chickpeas (pre-cooked), and a can of chicken.
Not standard Foodie Fresh fare, but when you pack your food in and pack your trash out, you need food that is extremely simple took and easy to carry.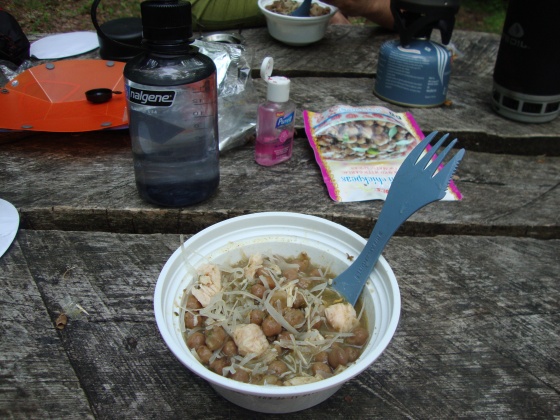 I mixed everything together for a very tasty and filling meal.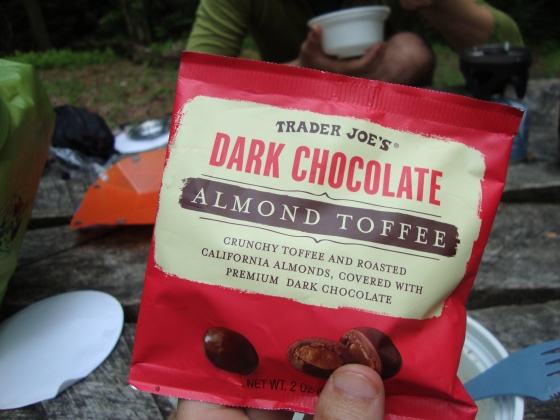 Of course I didn't forget about dessert.  These dark chocolate almond toffee pieces were so yummy!
After dinner, we set around and talked for a while.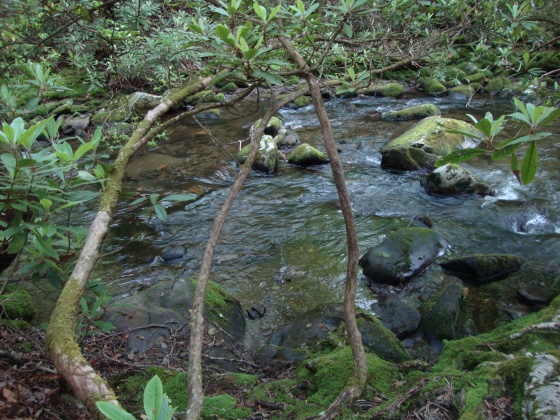 Eventually, we decided it was time to pack it in for the night, so we walked about 50 yards down to our closest water source.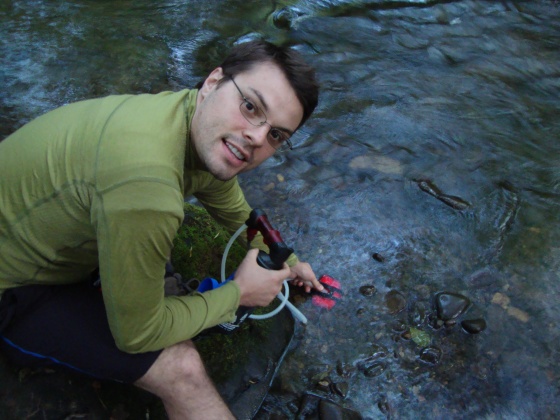 Brad used our water filtration system to re-fill all of our water bottles.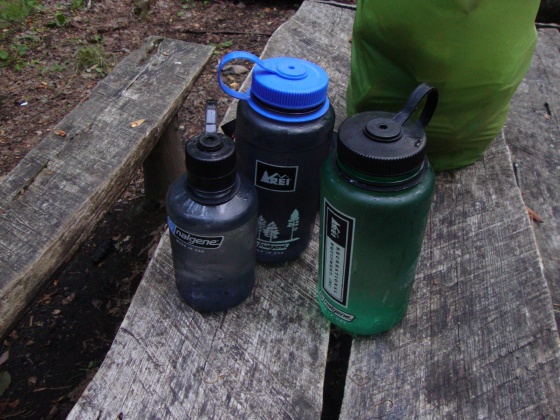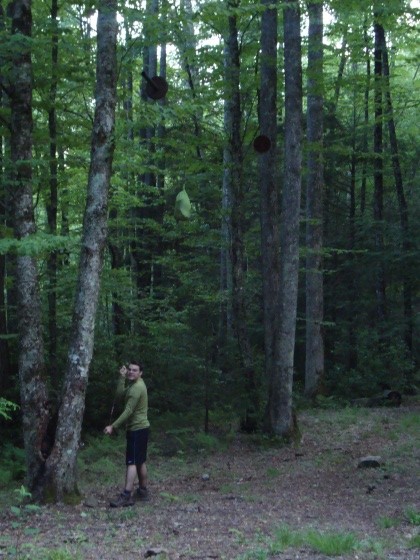 The last task of the night was to hang our food bag in the tree using the bear cables.  The bear cables are bear proof and will keep your food from being eaten by the bears (although this doesn't stop them from trying, according to Brad).  Trust me; you don't want to guard your own food.  You and the food are much safer with it dangling from a cable in the trees.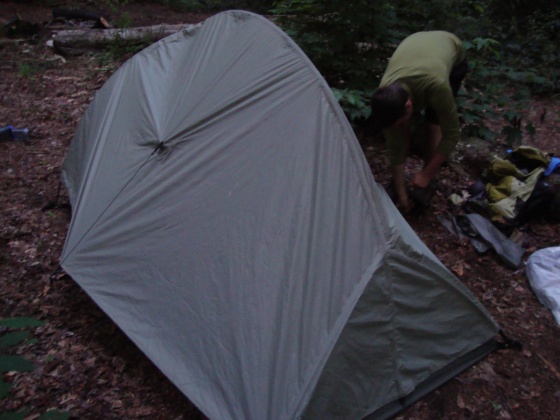 Before turning in, we put the rain fly over the tent, in case it rained or there was heavy dew.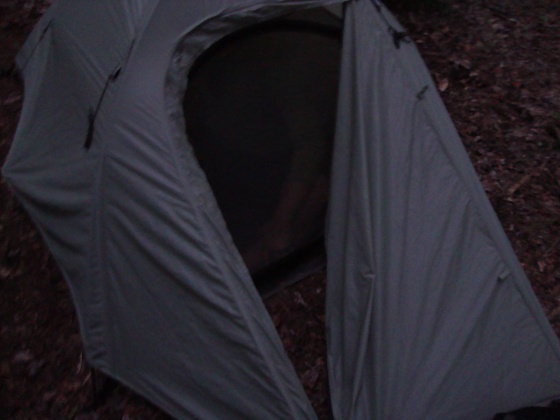 See our little foyer created by the rain fly?  We put our packs and boots there for easy access without using up tent space.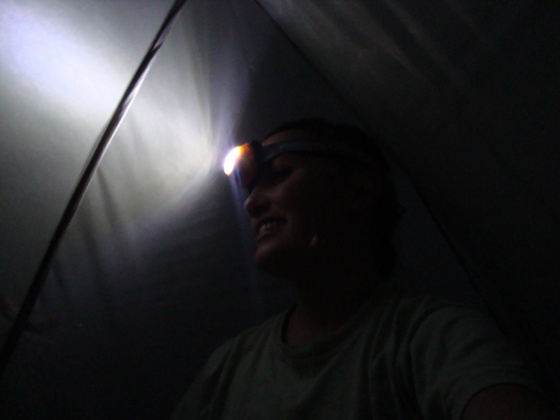 Before we knew it, it was dark, so I got out our handy head light so we could see.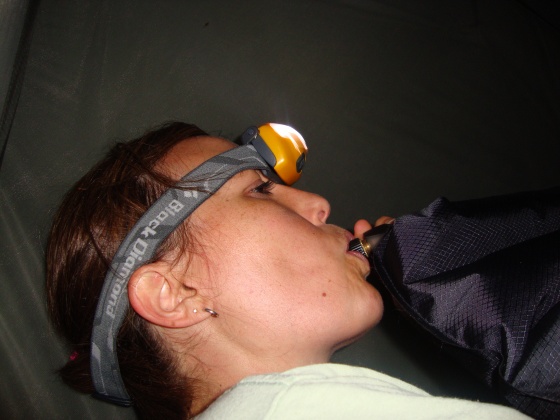 We both blew up our own air mattresses, which were built to fit in a pocket in our sleeping bags.  But it's only necessary to put them in the pocket for extra insulation when it's cold out.  That night, we just laid on top of them.
Before, I get a hundred comments: Yes, I will do a blog post tomorrow on how I did my hair in this photo.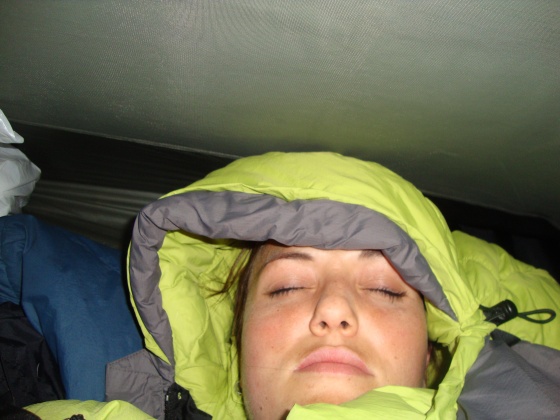 I love my sleeping bag! My Big Agnes Roxy Ann can be used in as low as 15 degrees F (although it get's pretty uncomfortable in the high 20's) and even has a hood like a jacket for when it's chilly out.
We settled in and finally fell asleep, about an hour after it got completely dark (9:30?).
***
Come back tomorrow for the second day of our trip!