I hope your lunch hour is close, or any meal time for my other time-zone friends, because this post will make you salivate for sure.
I had the good fortune to attend not one, but two potlucks this past Sunday.
The first was with the Charlotte Food Bloggers.  I was invited to join the group over a month ago, but my busy schedule hasn't allowed me to attend any of their events until this past weekend.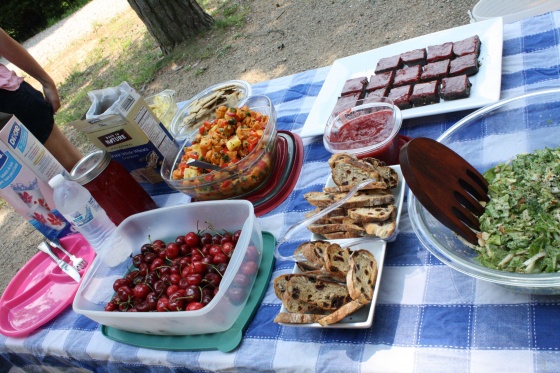 As you might expect, the food was amazing!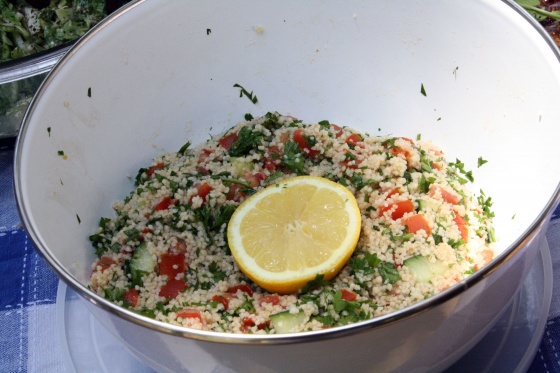 Diana's cous cous tabouleh was super fresh and tasty.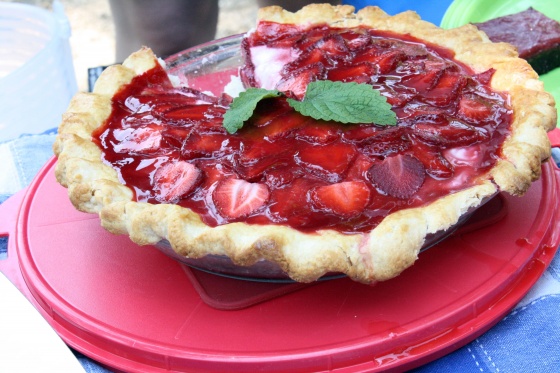 Julie's strawberry cream pie was the perfect seasonal dessert.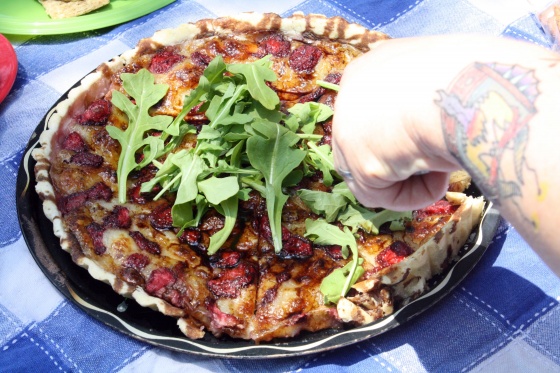 I think my favorite dish there was Julia's strawberry caprese tart.  I love using strawberries in savory dishes.  Julia definitely gets bonus point for creativity – she substituted the strawberries in place of the tomatoes and the results were delicious.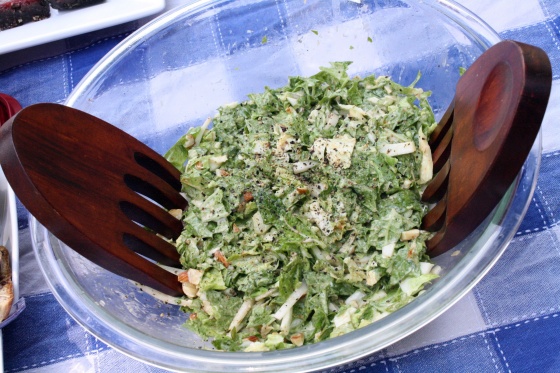 My contribution was a big Asian Nappa cabbage salad that was both tasty and refreshing, plus it allowed me to use up the massive head of Nappa cabbage in my CSA box this week.  #doublewin
You'll have to wait for the recipe tomorrow when I share it on the SavorNC blog.  I'll link to it here as well.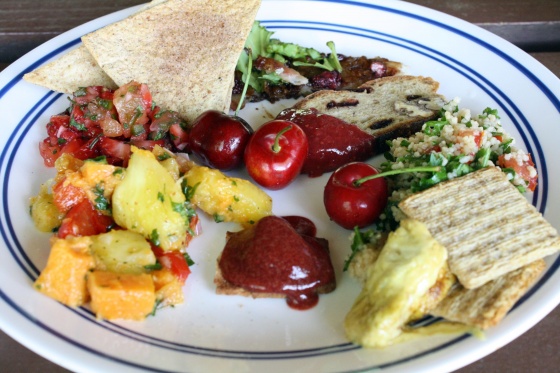 Plate numero uno.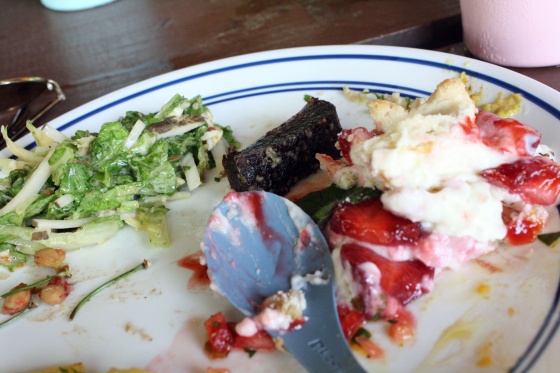 Way messier plate numero dos.
Doesn't everyone eat slaw on their dessert plate?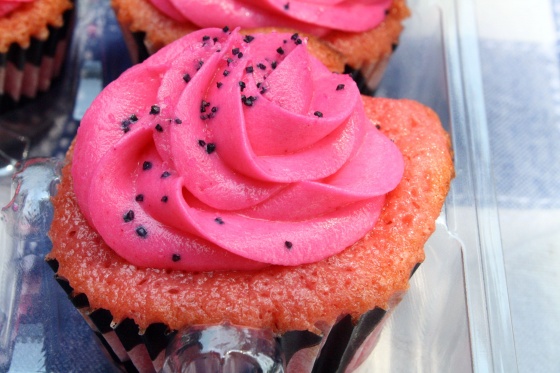 Just as I was hoping she would, Emma from the Southern Cake Queen mobile cupcake truck showed up with strawberry cupcakes.  I love strawberry cake (strawberry was the top layer of my wedding cake) so you know I couldn't turn this down, despite already eating my fair share of dessert.  Thankfully, I remembered the horrors of eating too much before yoga and only ate half.  I like that Emma's cupcakes aren't as big as my face so I don't feel like I've eaten a meal after enjoying one.
Later that evening, Diana and I decided to have a potluck for two…well four, if you count Rascal and Bailey.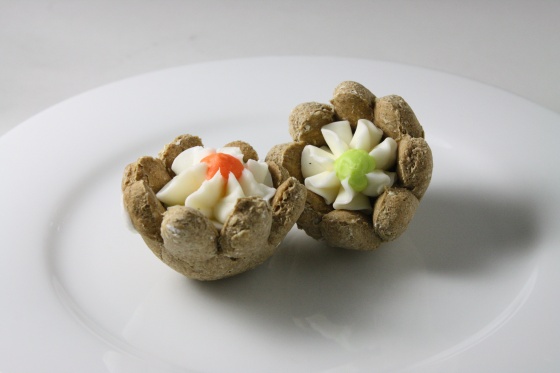 Diana stopped by a local dog bakery to pick up a pup tart for Bailey and picked up one for Rascal too. How sweet!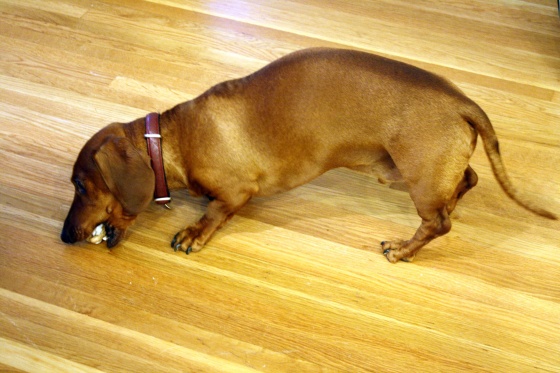 Rascal love it!  Rascal tends to eat way too fast, but somehow the odd shape of the tart slowed his eating.  He had to take it off the plate so he could figure out the best strategy for scarfing it down.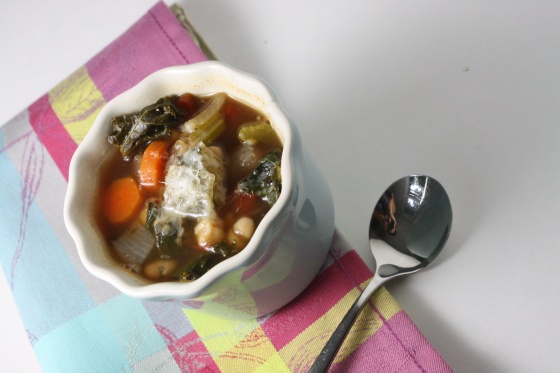 We started off our human meal with a veggie soup.  It was kind of like minestrone without the pasta.  Hearty and chock-full of veggies!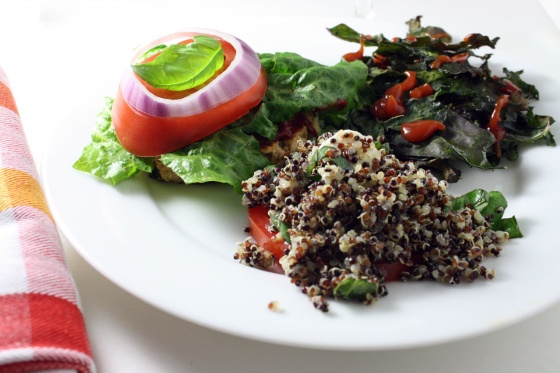 For dinner, Diana made kale chips and an Italian quinoa. I brought the entree: Italian bean burgers.  It was my first time trying out this recipe and I think it was a great success.
Italian Bean Burgers (makes 4 burgers)
1 can cannellini beans, drained and rinsed
3 Tbsp. sundried tomatoes, chopped
1/2 cup fresh basil, chopped
1/4 cup Italian bread crumbs
1/4 cup egg whites (or 2 egg whites – enough to bind everything together)
1/4 tsp. sea salt
fresh ground pepper
1 tsp. extra virgin olive oil
Put beans in a large bowl.  Use a pastry cutter (my tried and true method) or fork to mash beans so that they're still chunky but mostly mashed.  Add the rest of the ingredients and stir well.
Heat oil in a pan on medium high heat.  Use your hands to shape bean mixture into four burger patties.  Place patties in pan and allow to cook until golden brown on one side (~5 minutes).  Flip and repeat for the other side.
Serve with 1 Tbsp. of spicy balsamic tomato spread smeared on top of each patty (recipe follows), romaine lettuce, tomato, and a basil leaf for garnish (I skipped the bun).
Spicy Balsamic Tomato Spread
1 can of tomato paste
1 Tbsp. balsamic vinegar
1 tsp. garlic, minced
1/2 tsp. red pepper flakes
Combine all ingredients and mix well.  Heat spread in a small pot on medium heat for 10-15 minutes so that garlic is cooked through.
This spread is delicious on a sandwich or even as a dip with thick crusty Italian bread.
The highlight of our meal was Diana's vegan single-serve carrot cake.  She hasn't posted the recipe yet, but you should definitely check out The Chic Life to see when she posts the recipe.  You don't want to miss out on it.  It's absolutely delicious!
That makes three times I've said delicious in this post.  Were you counting?
Side note: If you're wondering what gives with the constant change of glassware, dishes, and table linens in my photos – I had a great time "playing" with Diana's food photography accessories.  It's the grown-up food blogger version of playing dress up. 😉
She's definitely given me some great ideas for when Brad and I move into our new house and we have more room for "food photography accessories."
What's your go-to pot luck recipe?
***
I am going out of town this weekend and am thinking about hosting some guest posts.  Please email me at foodiefresh@gmail.com if you're interested in guest posting.