Growing up, we had pancakes before heading off to church most Sunday mornings.  Now on Sunday mornings, I think it's embedded in my heart to cook something delicious – something I wouldn't normally have the time to make on a weekday.
But pancakes aren't the only delicious carby breakfast this girl knows how to cook.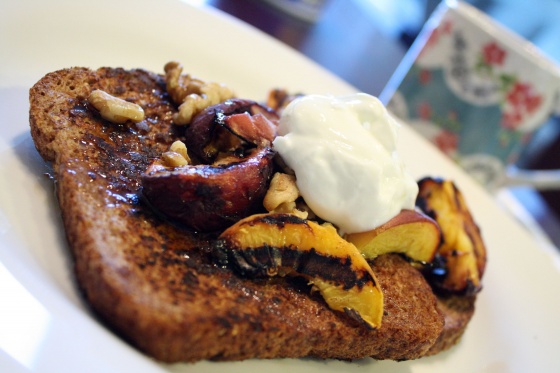 I also make a mean French Toast.  Thankfully, Mother Nature made some pretty awesome peaches to go along with it.
It's like it was meant to be. 🙂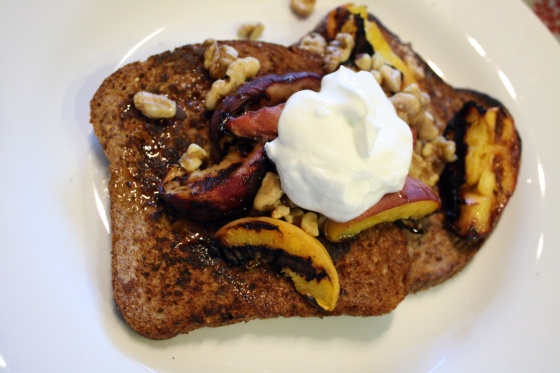 French Toast & Grilled Peaches (serves 2)
4 pieces of hearty bread (I used Ezekiel)
1/2 cup egg whites (or beat two eggs)
2 tsp. cinnamon*
1/4 tsp. real vanilla extract
I serving of Stevia or 1/2 tsp. sweetner of your choice
1/4. tsp. salt
1/4 cup almond milk (or milk of your choice)
2 tsp. oil or butter for cooking
2 large (or 3 small) peaches, pits removed and sliced
1/4 cup walnuts, chopped
Mix together egg, cinnamon*, vanilla, sweetner, salt, and milk.  Heat a pan to medium high heat.  Dip each piece of bread into the batter allowing the batter to seep into the bread and coat the outside evenly.  Flip bread over and repeat.
Cook each piece of toast in the fryng pan with a bit of butter or oil, until bread begins to brown.  Flip and repeat until all of the bread is thoroughly cooked.  Cover toast with alumnim foil on a plate or keep in a warm oven until you are ready to serve.
Put peaches on a griddle or grill pan with a bit of butter or oil and allow to cook until one side has deep char marks (grill line marks).  Flip peaches over and repeat.
Plate French Toast and top with half of the peaches and half of the walnuts.
*Recipes never address this, but don't you hate how the cinnamon always rises to the top of the wet batter?  If you add all of your cinnamon to your  batter initially, the first piece of French Toast turns out very cinnamony and the rest barely taste of cinnamon.  To solve this problem, I do one of two things when making French toast. 1- I add a portion of the cinnamon to the batter and mix well.  After I dip the first piece of toast, I add more cinnamon to the batter, mix, and repeat.  2 – I don't add any cinnamon to the batter.  Instead, after dipping the bread in the batter, I sprinkle each side with cinnamon and then cook.  Use whichever option you prefer.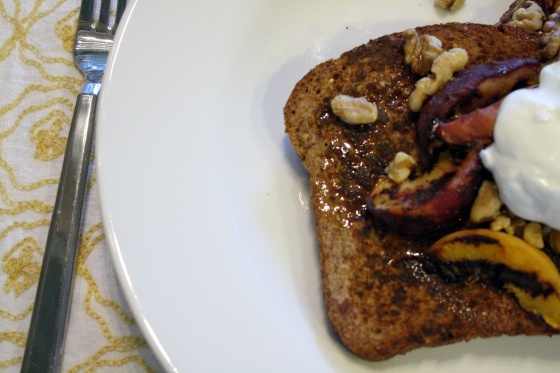 Brad and I both topped our French toast and grilled peaches with a drizzle of real maple syrup and a dollop of Greek yogurt.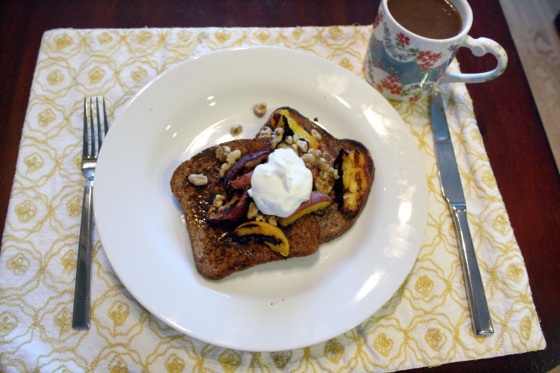 I can't get away from breakfast like this, which is why you only periodically see savory breakfasts here.
I love breakfasts with some type of bread or grain, paired with fruit.  I love topping it with some sort of nut, be it actual nuts or nut butter.  I love adding something just a little sweet to it, like maple syrup.  And then, the addition of the the Greek yogurt adds tartness and creaminess, putting this breakfast over the top.
It's just what Sunday morning calls for.
What's your favorite breakfast to make when you have time to cook?