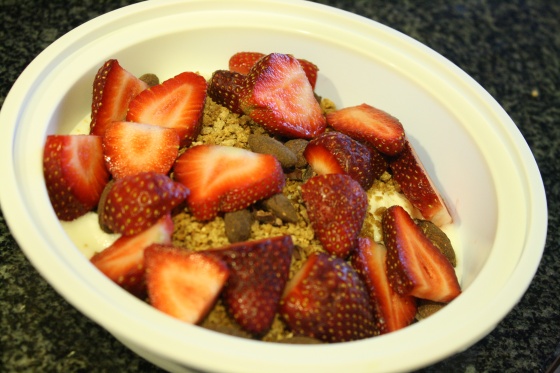 Yummmmmm.  Quite a tasty breakfast on the go. I did 30 minutes on the elliptical to start the day yesterday morning (Hills setting, Level 10), then threw myself together, and rushed out the door with this delicious concoction to enjoy at work.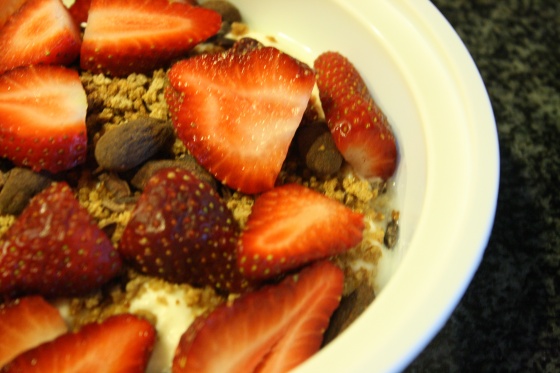 – 1 cup Fat Free Stonyfield Organic Plain Yogurt
– 1/4 cup Grape Nuts cereal
– 1/2 ounce cocoa almonds
– small sprinkle of cacao nibs
– sliced strawberries
I do not like crunchy Grape Nuts so I added them before I left for work.  They were nice and mushy when I ate them a little after 8 am.
Of course I packed my lunch as usual, the night before, so I also snapped my lunch photos that night as well.  I had a very interesting lunch; interesting, but also extremely delicious.  
I have to say that even I don't know where I come up with my meal ideas sometimes, but this lunch was one I would definitely make again.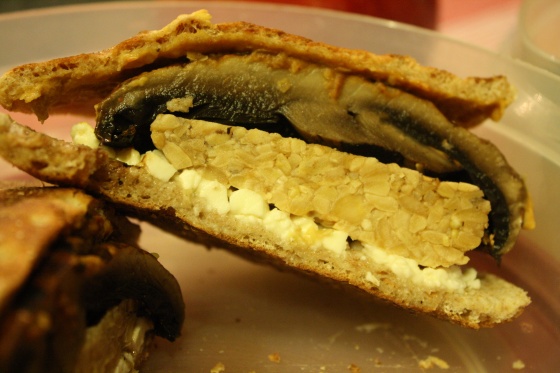 First up was a sandwich made with Arnold's whole wheat sandwich thins.  I brushed some balsamic vinegar and Worcestershire sauce on a portabello mushroom cap and cooked on the grill pan.  On my sandwich I layered feta cheese, toasted tempeh (cooked in the toaster), mushroom, then spicy red pepper hummus.  I also toasted my bread.
So yummy with such interesting flavors working together. 🙂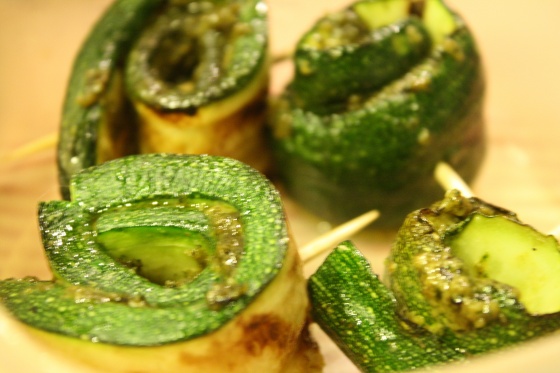 I also sliced thinly some zucchini and cooked on the grill pan.  Then spread a bit of pesto on each and rolled them, up, securing with toothpicks.
A very interesting way to eat zucchini.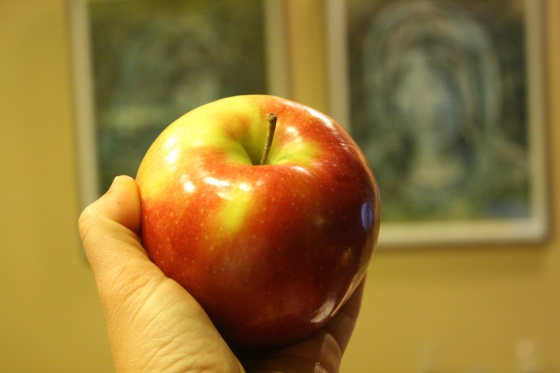 Last, was a very pretty apple.  Pretty enough for the Garden of Eden. 😉
Friday went by in a flash!  We had a great dinner with good friends later that night, but that story will have to wait for later…
Happy weekend!