This morning I ran errands starting off at Trader Joe's where I wanted to pick up some produce .  I also wanted to take back a huge bag of oranges that started rotting two days after I bought them.  Trader Joe's will take back anything that doesn't meet your satisfaction.
It's a good thing too, because my oranges were turning blue and gray.  Gross.
After Trader Joe's I popped into Barnes and Nobles for a new book and Earth Fare for more groceries.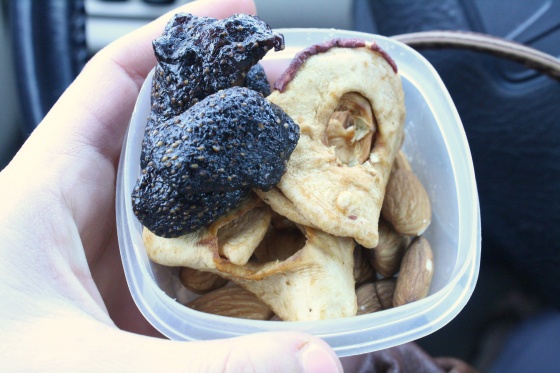 I snacked on this container of raw almonds, dried apples, and dried strawberries before heading over to Y2Yoga for Hot Vinyasa.  Dried strawberries taste just like fruit roll-ups, only better.
Hot Vinyasa was fabulous.  This class is considered "cardiovascular intense", which means we move quickly through the poses.  I really like that style best over holding poses longer.  However, I start to get a little sloppy with my poses the more tired I get.  It's something I definitely need to work on.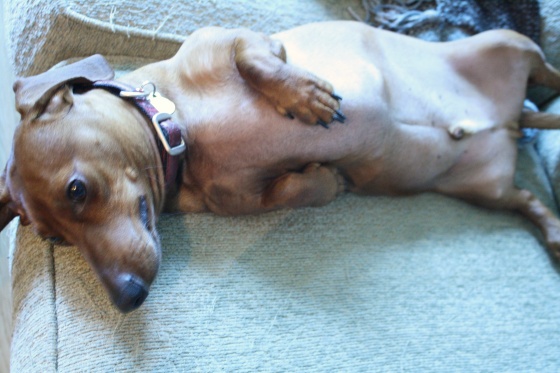 I told Rascal that I was going to kiss him when I walked in the door this afternoon, so he flipped over to show me his belly.  This means, "If you're going to kiss me, kiss me on my belly."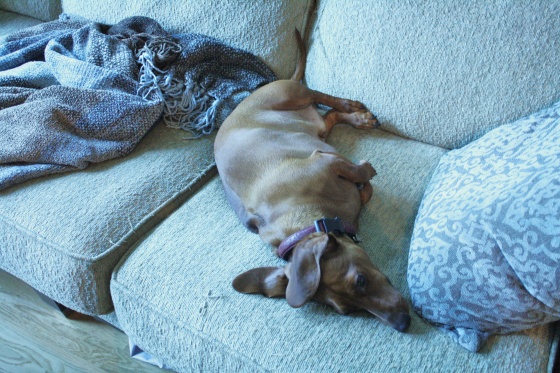 Just another day in the life of Rascal, the laziest dog in the world.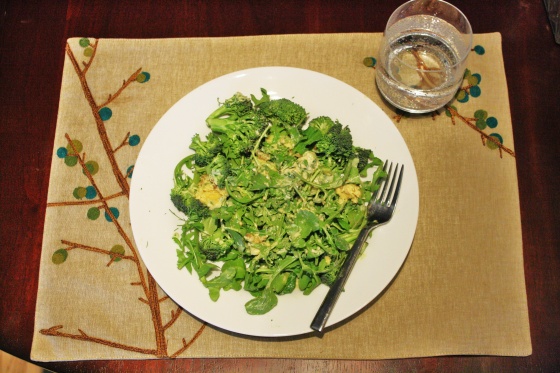 It was 2 pm by the time I got in with all of my groceries and yoga stuff so I was starving.  I whipped together this all-green salad in a jiffy.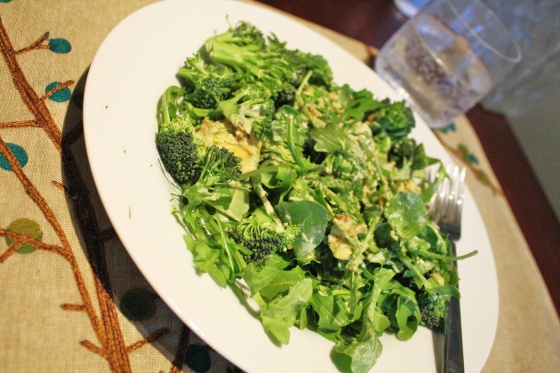 My salad was made up of:
– arugula
– chopped fennel
– broccoli
– 1/4 of an avocado mushed up
– green tahini dressing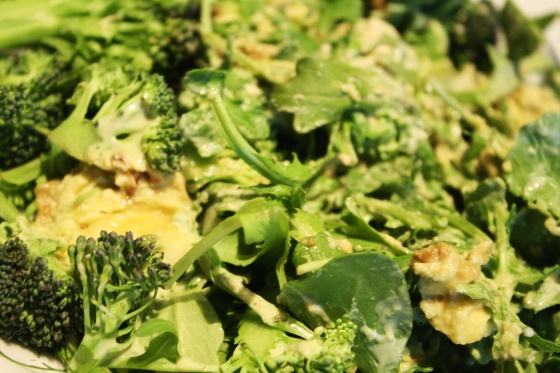 My green tahini dressing was simply:
– 2 Tbsp. tahini
– 1 Tbsp. extra virgin olive oil
– 1 Tbsp. red wine vinegar
– 1 Tbsp. lemon juice
– ~3 Tbsp. fresh parsley
– 2 Tbsp. water
I tossed everything into the Vitamix and gave it a whirl for a while, stopping periodically to use the spatula to make sure the parsley got blended into the rest of the mixture.  If I had to make this again, I would double the ingredients.  Most blenders don't deal well with a small amount of ingredients.
I didn't add salt to this dressing and instead lightly salted the whole salad with sea salt.  I used about 3/4 of the dressing and saved the rest for later.
After lunch, I took a leisurely bubble bath (I never have enough of those in my life) while reading my new book.  Can you think of anything more perfect to do on a day off? 🙂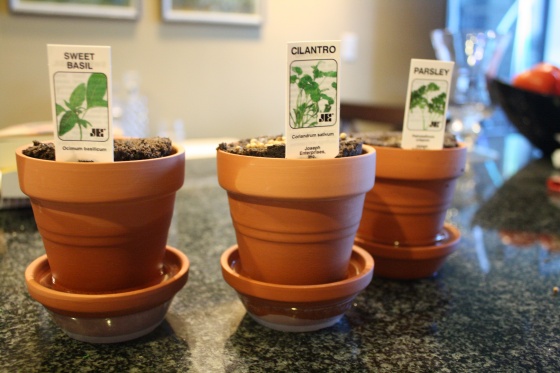 I cleaned up the kitchen a bit once I got out of the bath and then decided to put together the chia herb garden my mother in-law got me when she was visiting a few months ago.  These little kits come with six different herbs, but only enough pots to grow three.  I chose sweet basil, cilantro, and parsley.
Let's see if these little guys make it or meet a slow and painful death due to negligence and dehydration.  😉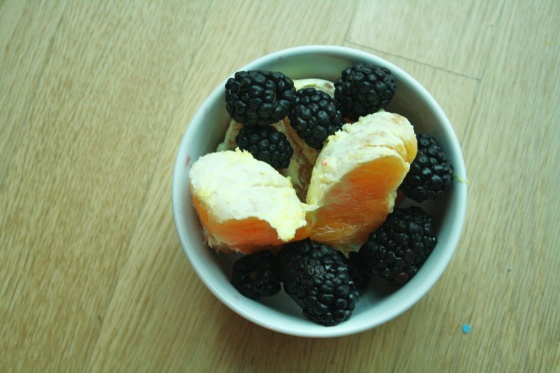 All that gardening worked up an appetite.  🙂
I had one of my non-blue and gray oranges, I received in exchange for my rotten ones, and some blackberries.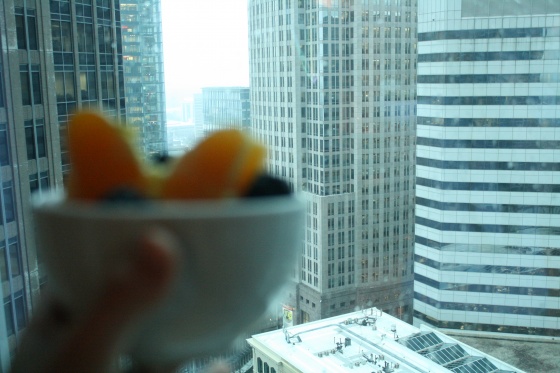 My backdrop was a rainy day.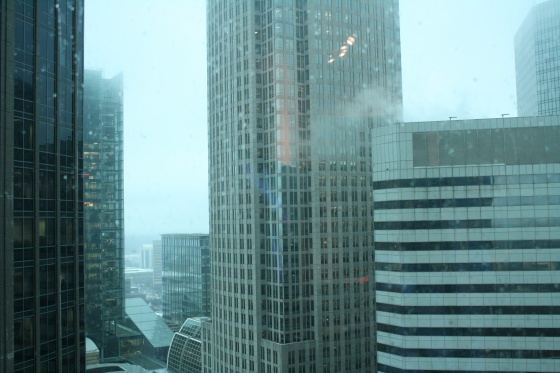 Rascal and I had big plans for a walk.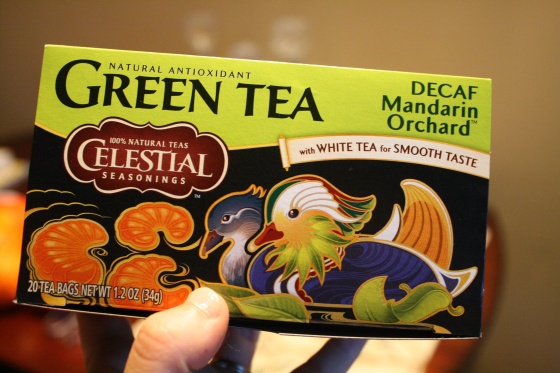 I guess we'll just snuggle on the couch with some tea instead.
You may have noticed that my eats are super duper healthy today.  During my three days off, I'm making a point to treat myself as well as possible.  This means super healthy eating, exercising according to what my mood dictates, a lot of snuggling with Rascal, and leisurely bubble baths.  😉
How would you spend a day off?