Besides my snowy travels, I have also failed to share with you my cooking over the past two days.
I'll spare you the boring parts, the lunch salad in plastic ware and the PB&J I ate for breakfast in the car this morning.
For you, I'll skip to the good stuff. 🙂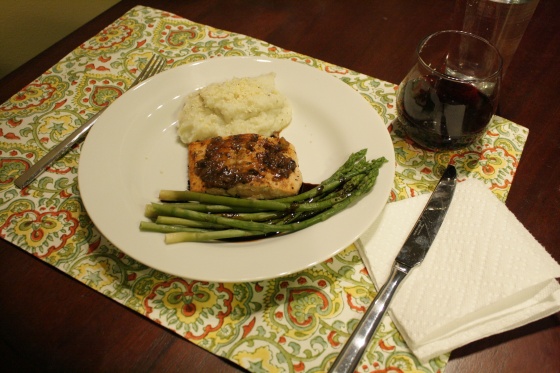 Dinner on Monday night: mashed parmesan cauliflower, brandy glazed salmon, and asparagus in a balsamic glaze.  This may look gourmet, but I swear it only took 20-25 minutes to cook in its entirety.  Cross my heart and hope to die, 20-25 minutes.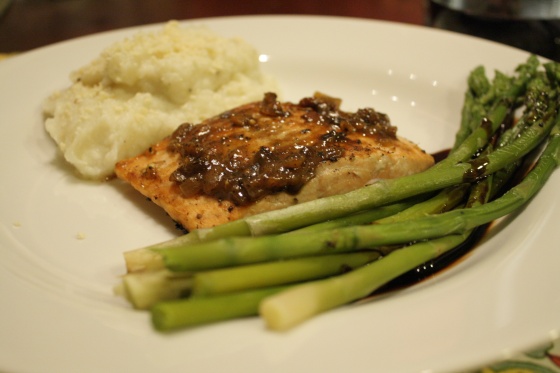 Here's what I did:
Cauliflower:
Put one bag of frozen cauliflower in a microwave safe dish and cover with water.  Microwave for 15 minutes.  Drain water and mash.  I used my immersion  blender, but have also used a food processor in the past.  Stir in 2 Laughing  Cows garlic and herb.  Salt and pepper to taste.  Plate cauliflower and sprinkle some parmesan cheese on top.  Done.
Asparagus:
Boil a bunch of asparagus in a pot of water until tender.  Pour 1/2 cup balsamic vinegar in a small pot.  Turn on high.  Reduce heat when the vinegar starts to bubble.  Cook until vinegar is reduced by half.  After plating asparagus, sprinkle with salt and pepper and drizzle the glaze.  Done.
Salmon:
Sprinkle with salt and pepper and sautee until golden brown on  both sides.  Remove from heat, place on a plate, and either cover with aluminum foil or put in oven on warm setting.  In the same pan you sauteed the salmon, add one large minced shallot.  When they start to brown, add about 1/4 cup of brandy and about 3/4 cup of chicken stock (you could also use vegetable stock).  Scrape the bottom of the pan with a spatula to make sure shallots and salmon remnants are mixed in with the sauce.  Add one tablespoon dijon mustard and about 1/2 tsp. of corn starch.  Stir quickly and well.  Allow mixture to cook until thickened.  Plate salmon and spoon sauce over salmon.  Done and done.
How easy is that?
Yesterday's breakfast featured my lovely new dishes I received for Christmas.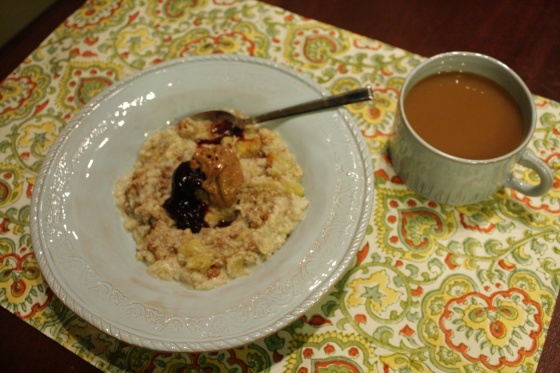 This soup bowl and cappucino cup is actually a part of my Vietri wedding pattern.  I'm still collecting everything I want so I asked for anything off my registry for Christmas.  I still need so much of this stuff, I'm going to be collecting it for quite some time.  At least I'm easy to buy for.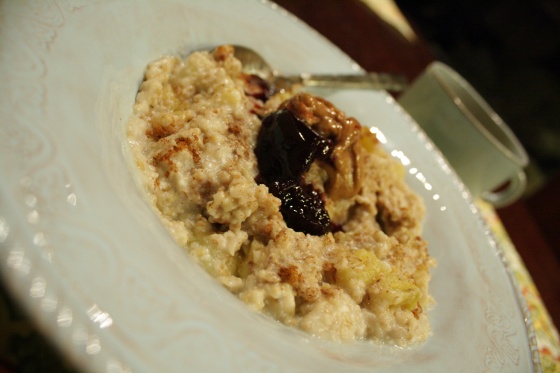 Since I made time to eat at home rather than in the car, I made myself banana/egg white oats with PB&J.  These are instant steel cut oats I bought last year that I somehow keep forgetting about.  I made a pact with myself not to buy any more oatmeal until I finish this off.
To add some protein to your oats, stir in about 1/4 cup of egg whites just as your oats start to boil.  Stir quickly and stir well or else you will end up with egg white bits.  If you do it right, your oats will end up much more puffy and airy than usual.  I stirred in a generous amount of cinnamon on these oats before adding my toppings.
On Tuesday, while I was folding massive amounts of laundry and becoming addicted to the show Weeds on Netflix, I also did a good bit of prep cooking work for the rest of the week from my replenished fridge.
So, on Wednesday night I had a lot of pre-made things to work with for dinner.  I gave Brad the choice of shrimp or chicken and he chose shrimp.  Shrimp stir-fry to be exact.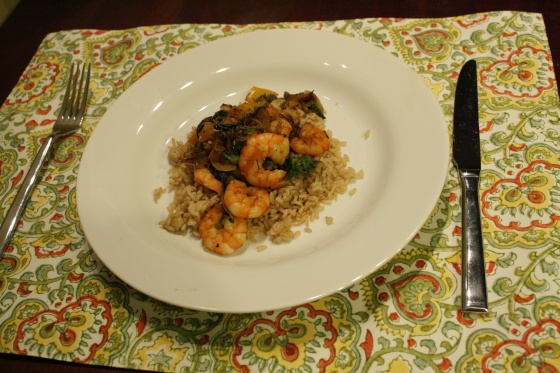 In a skillet with about a Tbsp. of toasted sesame oil, I added 1/2 roughly chopped yellow onion, stalk of celery, and 1/2 yellow bell pepper.  When they softened, I added a big handful of pre-sliced baby portabello mushrooms.  When the mushrooms started to shrivel, I added two chopped baby bok choys.  I added the shrimp, then sprinkled on a generous amount of garlic powder and fresh ground pepper.  I juiced two clementines over the mixture and a grated a little bit of zest.  I doused the whole mixture in soy sauce and red pepper flakes, stirring the entire time.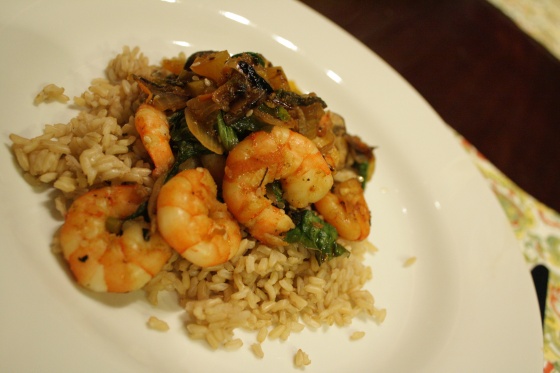 I spooned two portions over pre-cooked brown rice.
Poor Brad was sick (and still is sick) so he could barely taste anything.  This was plenty flavorful for me, but he also added more soy sauce and Sriracha sauce to intensify the heat.
We spent the rest of the night watching more Weeds.  We are now completely addicted to the show and with Netflix within reach, we may or may not get anything done this weekend seeing how we have six seasons to watch.  We also made the decision to completely drop Direct TV and use iTunes and Netflix (via our mini Mac hooked up to our TV) and I am loving our decision.  Cable and satellite are so ridiculously expensive.  Why not pay for the shows we want to watch and take full advantage of all the free streaming already available?
Hopefully this will put us one step closer to being able to start on our kitchen.  We're trying to be extra frugal right now so we can take our dream kitchen and make it a reality.  I'm so excited to document the whole transformation of our house, but especially the kitchen 🙂
What are you saving for?