It is really easy to lose your healthy focus while traveling.  Between sodium filled airplane food, social events, and lackluster continental breakfasts, it can be difficult to maintain a healthy diet and get enough exercise.
Although my diet and exercise is far from perfect (whose is?), I do have a few tricks for making sure I don't go completely off the rail while traveling.
1. Bring some snacks or meal for the trip.
When I travel in the car, I usually pack a meal for myself and Brad (if he's with me).  I'm careful about what I pack so if it needs to be refrigerated I make sure to eat in within two hours or I'll put the perishable items in my lunch box.  For plane trips I usually pack a sandwich in a plastic bag (disposable) and some non-perishables like a piece of fruit, nuts, granola bar, dried fruit, etc.
2.  Scope out the nearest market or grocery store before you leave.  
Before leaving for San Jose, I found a market just a few light rail stops down from my hotel by using Google maps.  However, while visiting my friends in San Francisco I took the opportunity to grab a a few items when we went to the grocery store.  I bought mostly non-perishable items: walnuts, dried apricots, two raw food bars (I like Larabars better!), tea, and rice milk.  I kept the milk chilled by storing it in the hotel ice bucket with ice.  If I had been in a hotel with a fridge, I might have bought more perishables.  I also would have bought breakfast foods if the hotel didn't provide breakfast vouchers.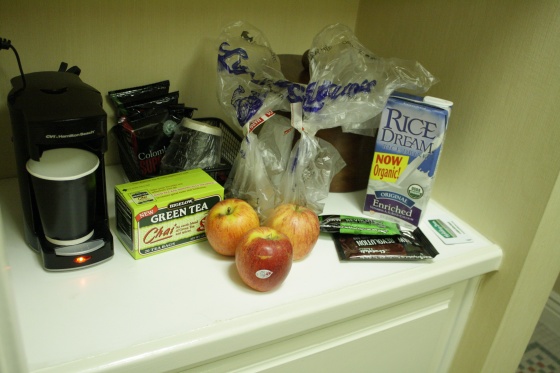 3.  Supplement a continental breakfast with easy-to-pack protein (i.e. nut butters).
One of the things I often find missing from hotel breakfasts is good protein.  This is usually an issue you will have with a continental breakfast.  The eggs are usually powdered and every once in a while you'll get a hotel with hard boiled eggs.  But maybe you don't eat eggs or don't like to eat them every day.  My hotel in San Jose actually had a restaurant that served bacon and eggs, but boy were they pricey! I packed two packets of Justin's individually sized nut butters (almond and peanut) and used half of one each day on oatmeal and toast.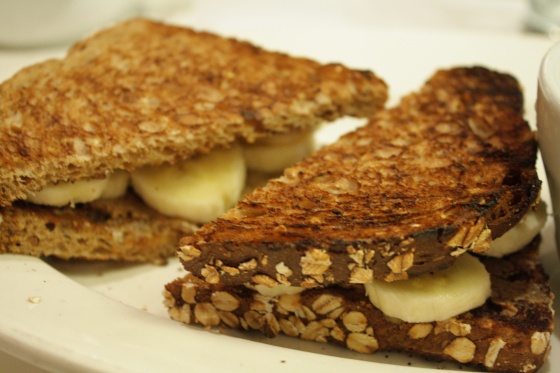 I ordered two pieces of toast, banana, and tea, then used my own peanut butter to complete the meal.
4. Get to know the area before you leave and take advantage of any near-by recreational opportunities.
A little research showed me that San Jose has an awesome trail system and the Guadalupe River Trail was located about a 1/4 mile from my hotel.  When I inquired about the exact location of the trail, the hotel shuttle bus driver offered to drop me off at the trail head.  Score!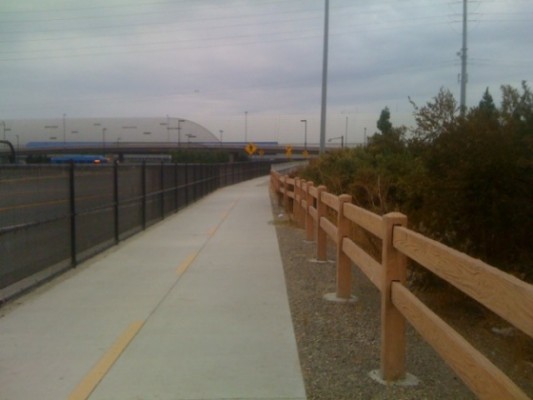 The trail ran around the airport…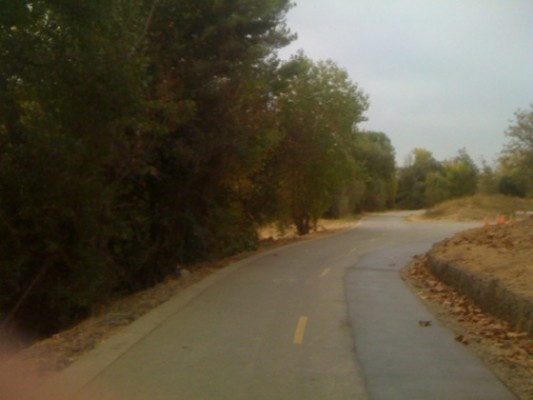 …then through a wooded area where a lot of people were out enjoying the crisp morning.
Why did the rooster cross the street?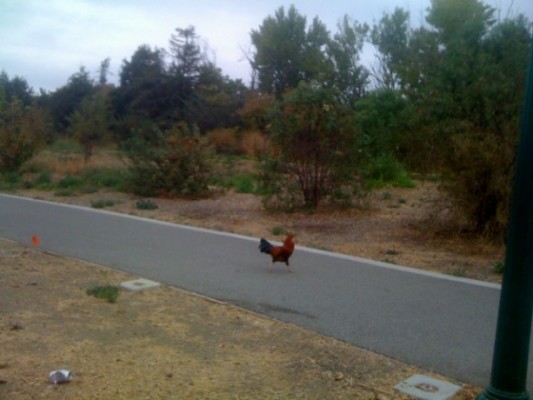 To get away from the crazy running lady trying to snap his picture.
5. Get to know your hotel's gym offering before you leave on your trip.  
Most hotels have gyms on-site, but some do not.  I have also stayed at a hotel adjacent to a gym that required you buy a daily pass.  If your hotel doesn't have a gym, you can always exercise outside.  BUT, this can be difficult if want to strength train and don't know a lot of body-weight exercises OR if the weather is unmanageable for you.  You might not want to pay the fee to purchase a daily pass to the hotel gym.  Or, as it was in my case, your hotel gym might not have little to know strength training equipment.  You have to make the choice that is best for you.
I recommend getting to know some exercises that doesn't require equipment that you can do in your hotel room or in a lackluster hotel gym.  This article provides a lot of great exercises that require no equipment (except maybe a towel to cover the floor or a chair).  If your hotel has free weights and you're a little lost as to what to do with them, this website is a great resource, and even organizes exercises by muscle type.
6. Most importantly, do your best to stick to your usual routine, BUT don't beat yourself up if you stray a little.
Its difficult when you're on vacation and there are a lot of things to do and see, or under obligation to attend work social functions.  Travel is (usually) temporary, so use the time to relax and experience a new place.  This may mean taking a walking tour of the area and forgoing your typical exercise method. Ultimately, you will regret missing the wine tour because you just had to exercise.  However, you won't regret skipping a day of exercise or indulging in a delicious meal, because it might be your only opportunity to experience the area.  Life is short.  Have fun and when you return home, get back on track.
What do you do to stay healthy while traveling?