This morning, I debuted my new French press by La Cafetiere.  I used to use a Bodum until I broke it.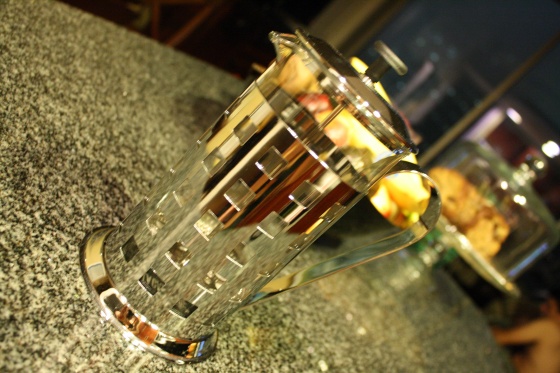 Besides being larger than my Bodum, here is what I like about the La Cafetiere French press.
1. It looks more artsy.
2. It has a sturdier base, which means it won't be as easy to break (although nothing is impossible when I'm close by)
3. You don't have to line the spout up with the holes in the filter to get the coffee to come out.  The opening goes all the way around so you just plunge and pour. 
4. It only costs $14.99, which is half the price of my old Bodum.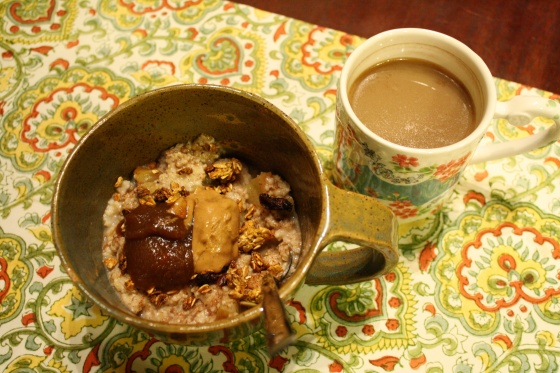 Plus, my coffee turned out perfectly…which also might be attributed to the fact I splurged on Starbuck$ this week.  It was on sale at Target and I couldn't resist.
And for breakfast: baked apple steel cut oats.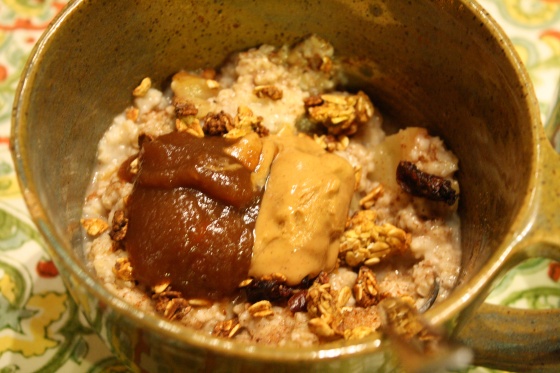 -1/4 cup steel cut oats
-1 small apple cored and diced
-1/2 cup water
-1/2 cup almond milk
-heavy sprinkle of cinnamon
-light sprinkle of nutmeg
Toppings:
-1 Tbsp. almond butter
-1 Tbsp. apple butter
–Pumpkin granola
In a small saucepan, cook diced apples in water.  When water comes to a boil, add oats and almond milk.  Cook thoroughly until oats look soft and creamy (mine took about 10 minutes, then I set the heat on low until I was ready to eat).  Add spices.  Transfer to bowl and add toppings.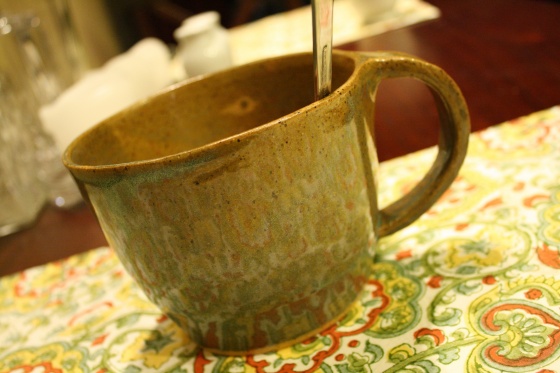 My beautiful glossy mug/bowl courtesy of my friend Jason.  I totally think he should sell his stuff, don't you?
I would buy it. 🙂