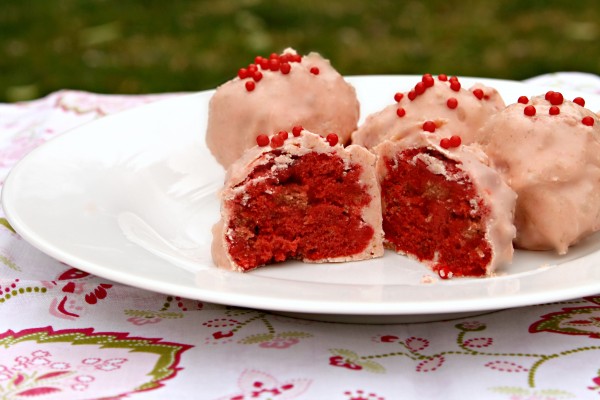 Around any holiday, I get the urge to make something seasonal.  Valentine's Day was no different.  However, typically, I make the recipe just before or on the day of the holiday and then I don't have time to share the recipe in time for you to try it too.  But this time I finally did it.  I made something cutesy and seasonal before the actual holiday.  Go me.
Of course, these red velvet cake balls are calorie free, sugar free, allergen free, and will make you pretty. Four of these statements are a lie.  Can you guess which?
Pretty is what pretty eats and I promise you that if you eat enough of these things, you will become as round as a cake ball.  They're decadent, rich, and sweet enough to make your toes curl. If you're looking for a treat for yourself or your sweetheart, you can't go wrong with these.  They're 34,561 times better than a box of chocolates with mystery fillings (half of which are gross).  Trust me.
This recipe was shared with the following link parties: 
Six Sister's Stuff
The Gingerbread Blog
Red Velvet Cake Balls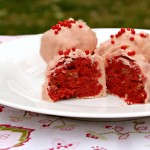 This homemade cake ball recipe is sinfully rich and delicious. With a little food coloring and sprinkles, they're also very worth of a Valentine's Day treat.
Ingredients
CAKE:
1/2 cup (1 stick) unsalted butter
2 1/4 cups cake flour
2 eggs
1 1/2 cups sugar
1 .25 ounce vial of red food coloring (see notes)
2 Tablespoons unsweetened cocoa powder
3/4 teaspoon salt
1 cup buttermilk (see notes)
1 teaspoon baking soda
1 Tablespoon vinegar
1 teaspoon vanilla
ICING:
1 1 lb. box powdered sugar
8 oz. cream cheese
1 teaspoon vanilla
3/4 .25 ounce vial of red food coloring (see notes)
CAKE BALL COATING
Wax Paper
5 6 oz. boxes baking white chocolate
1/4 .25 ounce vial of red food coloring (see notes)
Red Sprinkles
Directions
CAKE DIRECTIONS:
Beat together sugar and butter. Add eggs and mix well. Mix dry ingredients in a separate bowl: flour, cocoa, salt, and baking soda. Make a paste with the cocoa and food coloring. Add dry ingredients to sugar and butter and stir to combine. Add in buttermilk and vinegar and mix again. Lastly, add in the food coloring and cocoa powder and mix well to combine.
Pour into a 9 x 13 inch rectangular cake pan and cook for 40 minutes on 325 degrees or until a knife inserted in the middle comes out clean.
ICING DIRECTIONS:
Beat together all ingredients until smooth. Refrigerate if not used immediately.
CAKE BALL DIRECTIONS:
In a large bowl, crumble cake with fingers until completely broken up. Pour icing directly into the crumbled cake. Stir until icing is completely mixed throughout the cake mixture. Place wax paper over large baking sheets. With damp hands form the cake/icing mixture into ping-pong size balls. Dampen hands again if cake balls begin to be difficult to shape. Place cake balls into the refrigerator for at least one to two hours.
When cake balls are ready to be dipped in the chocolate, break apart chocolate bars and place in a large sauce pan over low heat. Stir continuously until chocolate is completely melted. Add 10 - 20 drops of red food coloring until you reach the desired shake of pink.
Place long strips of wax paper on your counter top and create an assembly line so you can easily move from one section to the next. Pick up each cake ball and place one at a time in the pot of melted chocolate. Spoon chocolate over the cake ball and turn until chocolate thoroughly coats the cake ball. Pick up cake ball with a spoon and place on the wax paper. Sprinkle with sprinkles if desired. Repeat until all cake balls are coated. If chocolate begins to thicken, place the pot back on a low heat and stir until chocolate has melted and proceed dipping cake balls into the chocolate. Allow cake balls to set for several hours until firm to the touch.
NOTES:
You need just shy of 2.25 ounces of red food coloring. The .25 ounce vials are the most common size of food coloring. Usually they come in a pack of four colors (red, blue, green, yellow). One vial is about 100 drops. You can also use the gel food coloring and it's an equivalent amount (1 whole tube for the cake, 3/4 tube for the icing, and just a bit of the icing).
I never use buttermilk, but it is in the ingredients of my grandmother's red velvet cake recipe, which I used to make these cake balls. An easy substitute is to pour 1 tablespoon of white distilled vinegar in a 1 cup measuring cup, then fill the cup the rest of the way with milk. If you do this, you'll be using 2 tablespoons total of vinegar and about 1 cup of milk in the recipe.