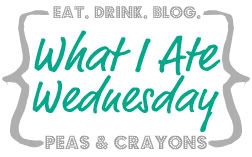 Yay! It's my very first What I Ate Wednesday post.
Boo! I only photographed about 80% of what I ate.  #Fail
It seems I'm completely out of the habit of documenting my daily eats.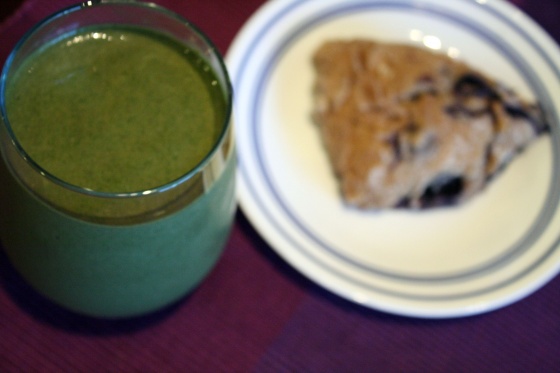 My breakfast has been on repeat now for three days.  I never eat such a repetitive breakfast, but this combination has been so good!  I'll share the details later today but I can tell you that it's a "mini" smoothie and a mystery scone – mysterious because you don't know what's in it aaaaaand because it's blurry.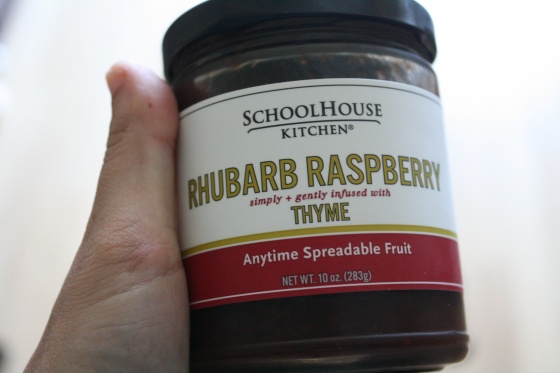 Lunch involved this new-to-me jam I bought at Dean and Deluca.  I'm intrigued by sweet and savory combinations so I had to buy it and try it.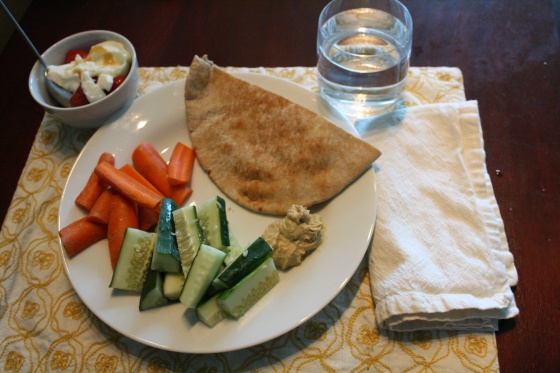 I filled a pita with sliced turkey, light cheddar cheese and a smear of the rhubarb raspberry thyme spreadable fruit.
I was a bit disappointed with how runny the jam was.  I know it's supposed to be spreadable, but when I think fruit, I think chunky.  The taste was great; the lack of chunkiness I can get over.
On the side I also had about 1 cup of frozen strawberries, nuked in the microwave, and topped with a dollop of plain yogurt and a drizzle of honey.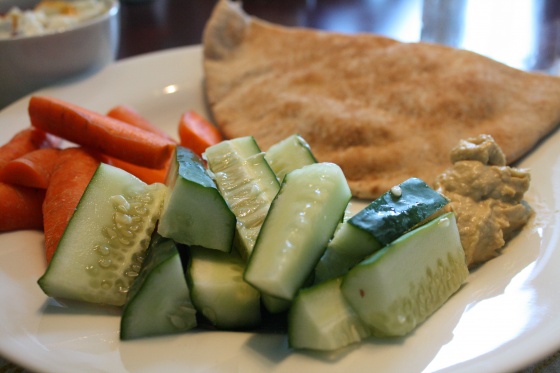 Let's not forget those veggies.  I ate an entire large cucumber all to myself and sliced up the largest carrot I've ever seen in person, all of which were dipped in Sabra traditional hummus.
And here is where it gets ugly.
I did not document my afternoon snack because I snacked without consciousness.  After work is the most difficult part of the day for me, that and after dinner, when it comes to eating mindfully. I was so hungry when I got off from work that I had a meal-sized snack, which consisted of:
– 2 dates with almond butter
– a three minute cookie, made with Stevia and topped with 1/2 Tbsp. of more almond butter
– Luna bar
I can't believe I ate all that! I was out of control with hunger, but in reality, I could have stopped about half way through and been perfectly satisfied.  Sad face :(.
I actually went running after this in the hellacious heat and didn't feel overly full.  Weird, right?
However, my over exuberant snacking meant I wasn't too hungry for dinner.  But it was so hard to pass up a trip to Cowfish that I ended up eating a regular amount anyway.
The best part came first.
I always order sushi here, but Brad wanted to try the sliders of the day which were dressed with sauteed mushrooms and this really delicious white sauce.  The taste of the burger reminded me of the burgers at a steakhouse I grew up eating.  They were incredibly delicious; my favorite part of the meal!
I had one and Brad took care of the rest.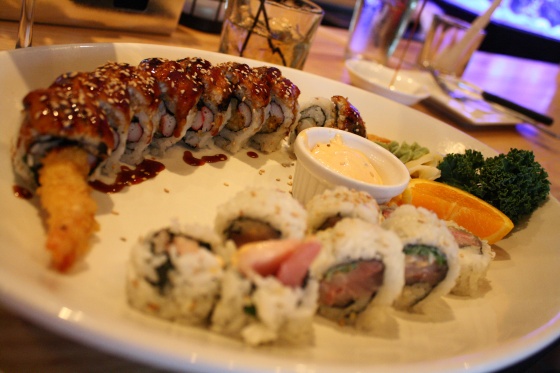 The rest of the meal was all about the sushi.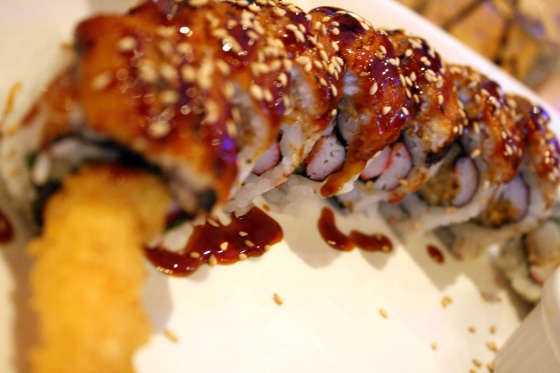 For the meal, Brad and I ordered the Eel Dragon Roll.
Shrimp tempura and kani roll, topped with fresh eel and drizzled with our signature sweet sauce. Served with spicy cream sauce
I ate half of this roll.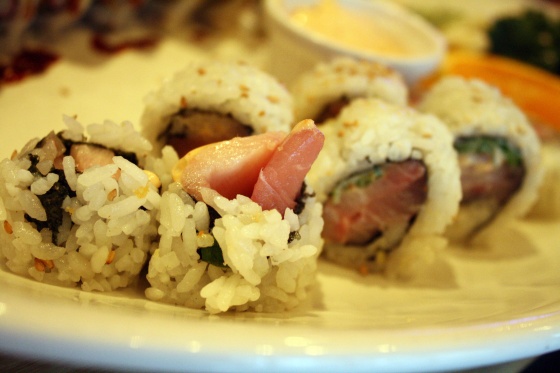 Brad also ordered a spicy tuna roll, of which I had two.
Brad was still hungry after this so he also ordered the Hi-5 roll.  Even though I was very full, I have a hard time turning down trying new things, so I had one of these as well.
Ug. Too much food!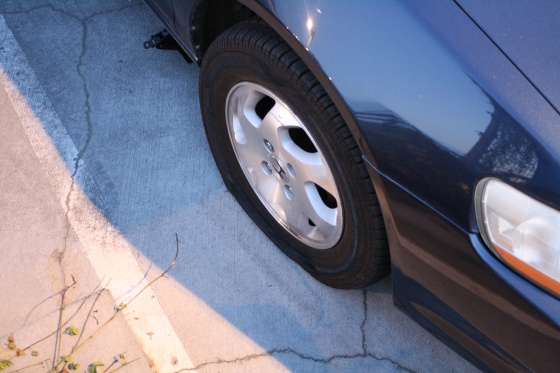 When we got in the car to leave, this happened. Double ug.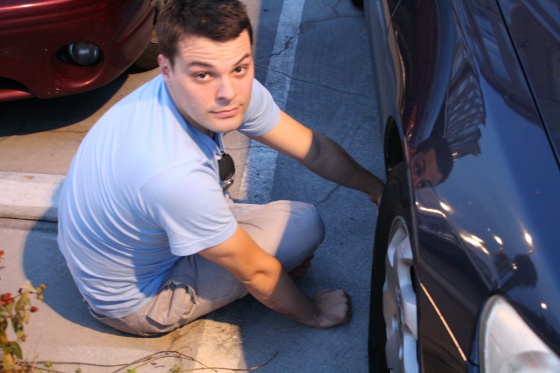 Thank goodness Brad knows how to change a tire!
Okay, enough with the downer, let's move onto something more productive: identifying the problem and determining a solution.
Snacky days come and go periodically for me.  Sometimes I'm realistically more hungry than other days.  Yesterday I may have been more hungry, but my snacking after work was over the top.
Potential culprits:
Not enough fat –  looking back at my lunch and breakfast, it was fairly low in fat)
Dehydration – I've been running a lot and potentially need more water
Anxiety –  I'm a stress eater and an anxious person by nature.  There have been some things weighing on my mind lately and it's possible that I was being hypersenstive to them at the time of my snacking
What I'm going to do about it:
1. Make sure I'm incorporating plenty of protein in fat in my meals.

2. Drink more water and if I think I'm still hungry after a meal/snack, drink a big glass of water to determine if I really am.
3. Try to be more in-tune with where my "hunger" is coming from – my stomach (real) or my head (fake).
This is all easier said than done, but I know if I really follow through with these things, snack monsters are waaaay less likely to happen.
***
Now for something more fun; something involving a giveaway and…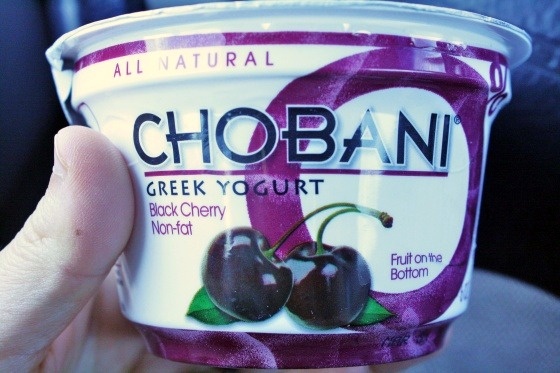 Chobani!
I'm featured today on Chobani's blog!
And in celebration of this, Chobani has offered to give two of my readers free yogurt!
The giveaway is actually for 12 free yogurt coupons, each of which are good for one 6 oz. cup o' Cho.  That's 12 free yogurts for two lucky winners!
You can receive up to three entries by doing the following:
1- Link to this post on Twitter. Don't forget to tag me @foodiefresh on the tweet.
2 – Like Foodie Fresh on Facebook. Yay! I have a Facebook site now!
3 – Link to this post on your own blog.
Please comment here and tell me if you did any of these things for a chance to enter.
I'll pick a winner on Friday afternoon so don't forget to enter!
***
Are you a snacky person even when you're not necessarily THAT hungry?  How do you keep it in check?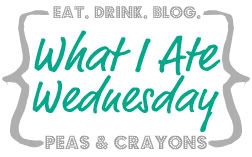 Ingredients
Directions