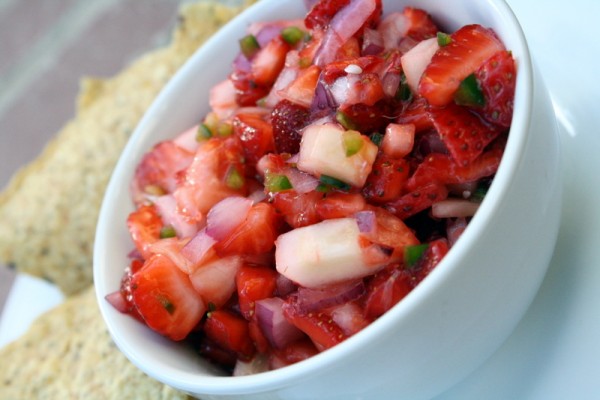 Isn't that pretty?
I know what you're thinking.
Is that really sweet and does that taste weird with tortilla chips?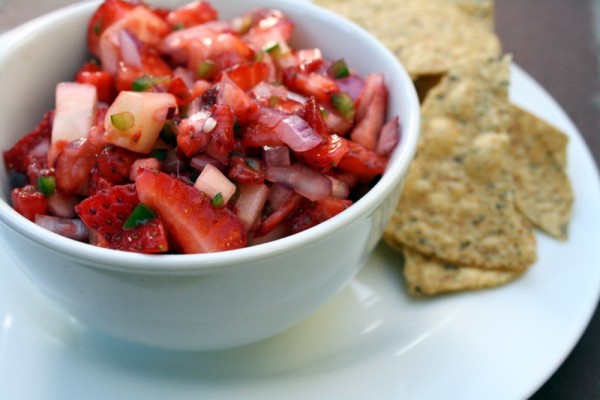 Nope.
Because when you add cucumbers, jalapenos, and red onion to strawberries, you're left with this delightfully sweet and savory combination.
Also, it's not acidic like regular salsa.  It's just plain ridiculously delicious.
I'm still giving Brad a hard time about this conversation.
Me: I think I'm going to make strawberry salsa tonight.  We should maybe put it over grilled chicken or fish.   How does that sound?
Brad: I'm not really in the mood for strawberry salsa.
Me: Okay, I'll make it and we can eat it later.
One hour later and the salsa is practically gone.  And I did not eat it all by myself!
He couldn't help himself.  It's that yummy.
Strawberry Salsa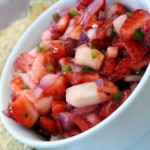 (

Serves 6-8

)
Just sweet enough, but perfect with savory meals. Serve with tortilla chips or over fish or chicken.
Ingredients
1 pint strawberries, hulled and chopped
1 large cucumber, peeled and chopped
1 medium red onion, minced
1 jalapeño, deseeded and minced
juice of 2 limes
1/2 teaspoon salt
Directions
Combine all ingredients in a large bowl and stir. Allow salsa to sit for about 30 minutes to allow flavors to marry before serving.