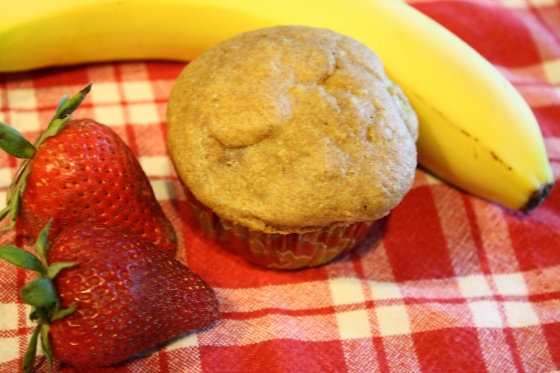 This was all I had on my mind when I woke from a very pleasant sleep this morning.
After staying out half the night on Friday, Brad and I turned in around 10 pm on Saturday evening and I slept a full 9 1/2 hours.  Trust me, I needed it.
I woke up all ready to bake up a storm…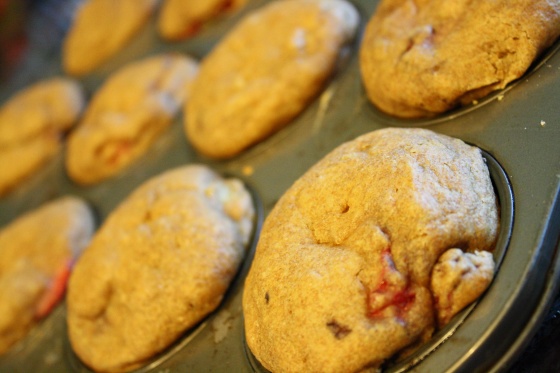 …or at least a batch of strawberry banana muffins.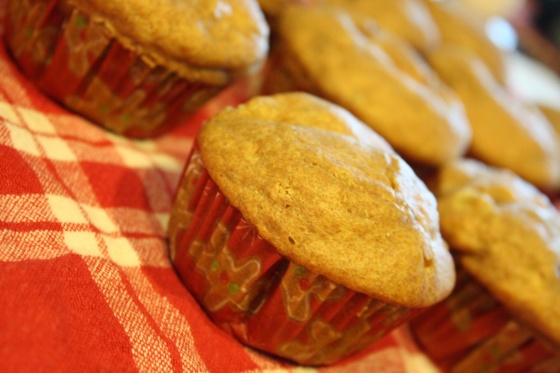 Strawberry Banana Muffins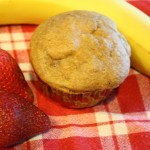 (Serves 12 Muffins)Kelly Davis2011-05-01T16:58:37+00:00PT0H50MPT0H20MPT0H30M
Ingredients
2 cups whole wheat pastry flour
2/3 cup plain low fat yogurt
1/2 Tbsp. baking powder
1 tsp. baking soda
1/2 tsp. salt
1/4 cup agave
2 Tbsp. coconut oil, melted*
2/3 cup almond milk*
1 tsp. vanilla extract
2/3 cup egg white
1 banana sliced
1 1/2 cup strawberries, sliced

Directions
Mix dry ingredients in a large bowl: flour, baking powder and soda, and salt. In a separate bowl combine all wet ingredients: yogurt, agave, oil, milk, vanilla, egg white. Slowly add wet ingredients to dry ingredients. Add bananas and strawberries and mix well.
Line a muffin tin with muffin papers and distribute the muffin batter equally into each paper. Bake at 350 degrees for about 30 minutes or until the tops of the muffins turn golden brown and a toothpick inserted into the center comes out clean.
*substitute with the oil (or butter) and milk of your choice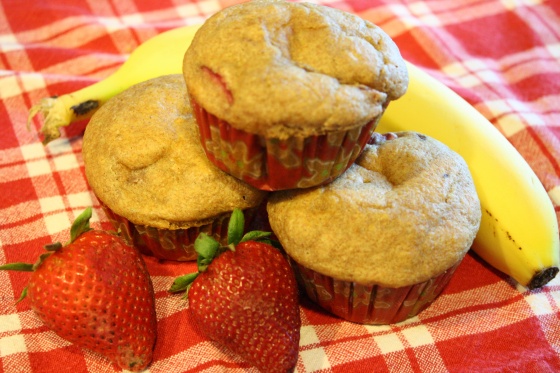 Subtly sweet, moist, and very tasty – these muffins don't need a lot of extra sweetner because they're naturally sweetened with fruit.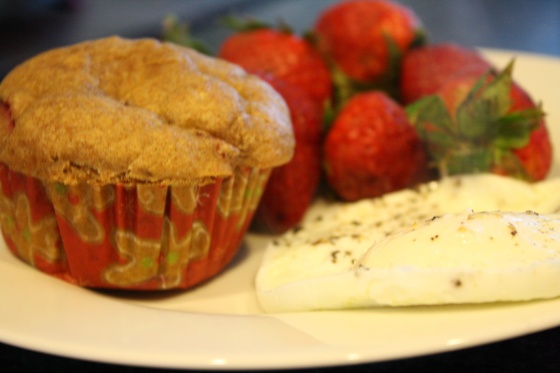 These muffins are incredibly delicious and allowed me to get use up the last of my gigantic shipment of strawberries, which were starting to look not-so-fresh.  Yes, I have gone through 9 pints of strawberries in one week.
Brad helped a little.
I helped a lot.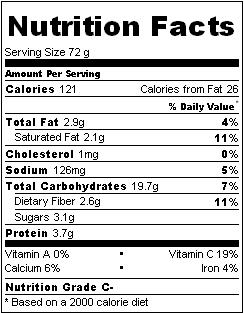 Here are the nutrition facts for one of my strawberry banana muffins.  121 calories, only 3.1 grams of sugar and 19% of your Vitamin C for the day; not too shabby.