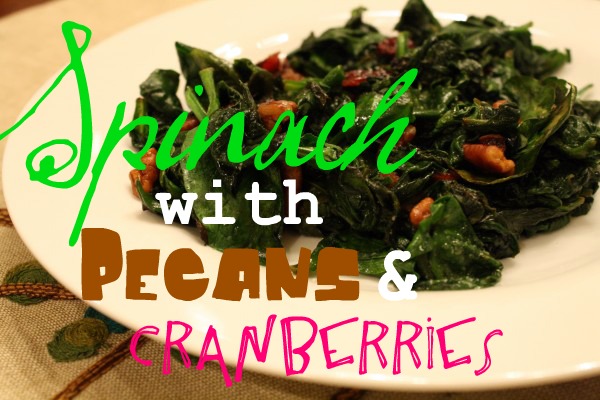 Yummmm.  I don't think I've ever loved a green dish quite as much as this dish.
Could it be the addition of butter?
It's possible…
Spinach with Pecans and Cranberries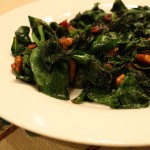 (

Serves 1 - 2

)
Yes, one person can eat a whole bag of spinach when it's this delicious. You'll be amazed at how the spinach cooks down to just a fraction of its size when raw.
Ingredients
1/2 Tablespoon real butter
4 cups raw baby spinach, tightly packed
1 1/2 Tablespoon chopped pecan pieces
1 1/2 Tablespoon dried cranberries
1/2 teaspoon brown sugar
1/4 teaspoon sea salt
1/4 teaspoon dried rosemary
Directions
Heat butter in a large skillet. Add spinach, stirring often with a spatula, until spinach has wilted to half its size. Add pecans, cranberries, sugar, salt, and rosemary. Continue stirring until spinach is completely wilted and reduced to about 1 1/2 cups (eyeball it).
Serve immediately.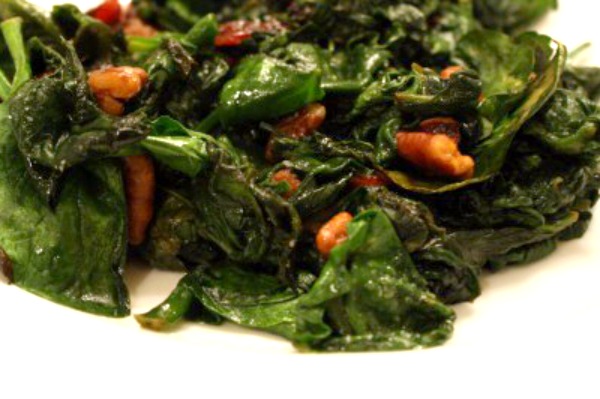 Oh. my. stars.
If you don't like anything green, I dare you to try this.  Of course, how could you not like anything cooked in a bit of butter, sugar, and salt?
Serves two? How about one?
I've made this twice in less than 24 hours. That's two bags of spinach, my friends.
My iron level is wonderful.  Thank you for asking.