So maybe I'm not a single gal, but I sure am eating like one this week.  Brad is at a conference in Boston until Friday and I am cooking and eating solo for most meals.
You know the one tried and true way to make sure your husband misses you (or at least your cooking) while he's away from home?
Make delicious meals using his favorite condiment.
That's right, I broke out the Texas Pete.
Texas Pete might as well be the official hot sauce for North Carolina.  Despite it's misnomer, the sauce is actually made in Winston Salem, NC.  You can find it on the shelf of any grocery store in N.C. and also in most restaurants.
It's often used as a base for buffalo sauce.
See where I am going with this?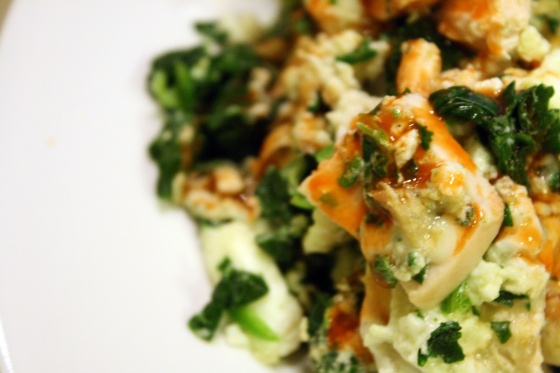 Buffalo Chicken Egg White Scramble (serves 1)
3/4 cup egg whites
3 1/2 oz. skinless boneless chicken breast, precooked and chopped
1 cup frozen spinach (you can substitute 2 cups of fresh spinach)
1 oz. crumbled blue cheese
3 Tbsp. Texas Pete (or hot sauce of your choice)
salt and pepper
extra virgin olive oil
In a pan, on medium heat, add about 1 tsp. of olive oil or use a Misto to spray thoroughly.  Add egg whites and top with spinach (thawing not required).  Use spatula to scrape the egg whites off the bottom of the pan and toss with spinach as they cook.  Once egg whites are just cooked through, add chicken and blue cheese.  Sprinkle generously with salt and pepper.  Plate and top with hot sauce.   Add more or less depending on your spicy preferences.
The flavor combinations in this scramble were spot on.  I much prefer an assortment of flavors in my food than one singular flavor (unless that flavor is dark chocolate) and there were so many good things going on in this dish.
Diet alterations: This scramble could easily go vegetarian if you subbed in tofu for chicken.  Apparently there is also a vegan blue cheese (Sheese brand) that you could use along with tofu, sans egg whites to make a vegan version of this dish.
On the side, I had a sliced pink lady apple with a generous sprinkling of cinnamon.  If you love baked applies, this is definitely something easy and delicious to try when the weather starts to grow warmer.  The apple + cinnamon taste is still there, but it's a light and refreshing snack or dessert.
I have a feeling Brad is going to be requesting this when he gets home.
Ingredients
Directions