While I was pounding through my first ever speed workout on a track yesterday evening, an idea for dinner came to me.  Sometimes I see recipes that spark ideas and sometimes the monotony of life (i.e. a track workout) inspires me to be a bit creative.
Side note: I took a track workout out of Runner's World and it wasn't long before I realized that I was not at the right level of running fitness to actually be able to complete this workout.  Instead, I did about an 1.5 mile warm-up run, then alternated between sprints of 8:00-8:30 mph for anywhere between 200-400 meters.  Between sprints, I ran slowly except for about five times when I stopped to walk.  I kept this up until I reached the 3.7 mile mark, then ran around the track at an easy pace for a cooldown until I reach 4.0 miles.  It was beastly hot with the track being directly in the sunlight. Lesson learned: all runs can't be winners…I actually learn this lesson on a regular basis.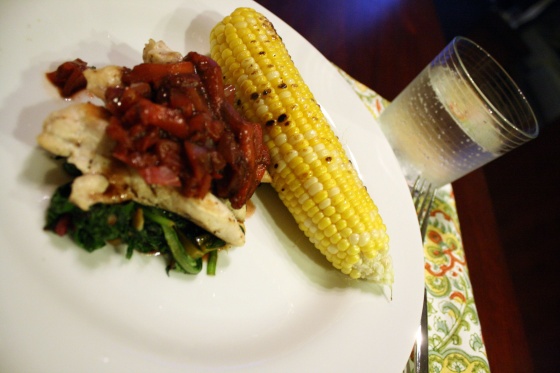 Now, where were we?  Oh yes, dinner.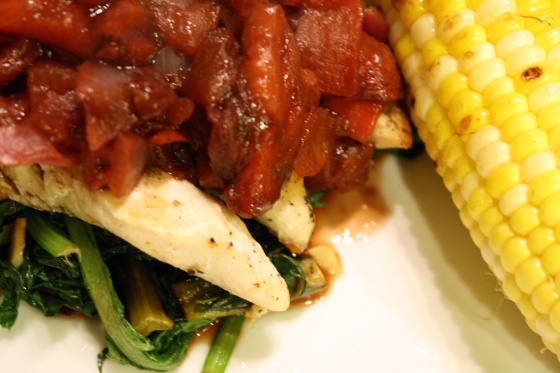 Savory Strawberry Chutney over Chicken and Chard (serves 2)
1 1/2 cups sliced strawberries
1 vine ripe tomatoes, chopped
1/2 cup chopped red onion
1/4 cup balsamic vinegar
1/2 tsp. salt
8-10 oz. chicken breast
salt and pepper
2 cups rainbow chard (or swiss chard), chopped
2 cloves garlic, minced
1/4 tsp. salt
extra virgin olive oil
In a medium pot on medium high heat, combinie strawberries, tomatoes, and onions.  Allow to simmer for about 15 minutes.  Add balsamic vinegar and allow to simmer another five minutes.  Add salt and stir.
Sautee chicken in a pan sprayed with a bit of olive oil on medium heat after sprinking generously with salt and pepper.
In a pan sprayed with olive oil (or 1 tsp), sautee garlic until it begins to slightly brown.  Add chard, stirring and flipping the chard often with a spatula.
Plate half of the chard on each plate.  Add a portion of chicken to each plate.  Top with a 1/4 cup of chutney each.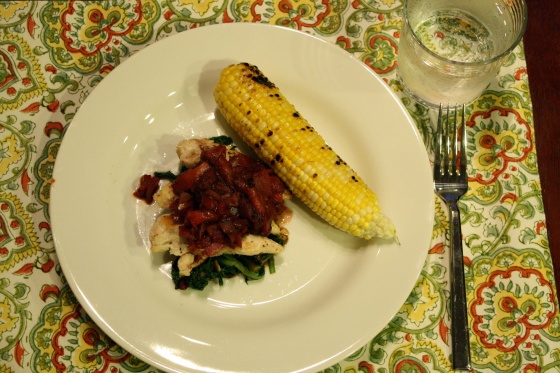 I served this with corn on the cob that I cooked on our grill pan. I only dressed the corn with a bit of salt and pepper.  It was so sweet it didn't need anything else.
The strawberry chutney was a delicious and unique addition to the chicken.  I wasn't exactly certain of how this would turn out but I was pleasantly surprised at how much I liked it.  We have a bit left over that I think it would be delicious stirred into a bit of brown rice or smeared on a turkey and brie sandwich.  The chutney is just subtly sweet so it could be used in a variety of ways.
***
The delicious stew I made last Sunday and enjoyed for lunch yesterday and today is up.  Check out my SavorNC blog post to get the recipe for Adzuki Bean, Sausage, and Kale Stew.
***
What typically sweet things (like strawberries) do you enjoy in a savory way?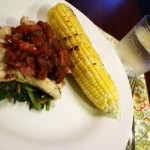 Ingredients
Directions