I've heard and read a lot about the pitfalls of gaining weight after getting married.  And I know all too well that this is a danger for anyone.
You're in a happy place in your life.  You're trying to impress your new husband with your culinary abilities.  Plus, you probably feel the pressure to create "manly meals"; heavy, meaty type fares.
In my opinion, it's really important to understand correct portion sizes when cooking for two.  Men need more calories (i.e. more food) than women, so this is something I consider in meal planning.  Single dish meals are easy (soup, casseroles, stews, bakes, etc.).  You just dish out a smaller portion.  Multi-dish meals are a little bit trickier.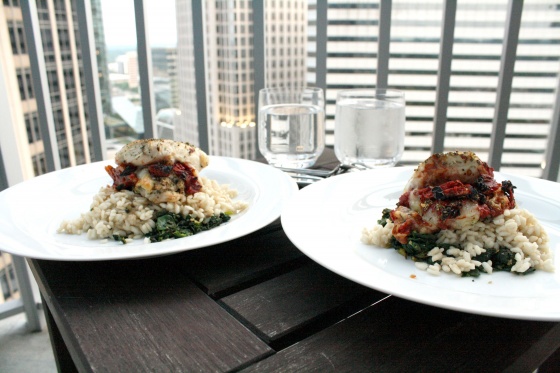 Here's an example of how I create a perfectly portioned meal for two: one man (Brad) and one woman (me).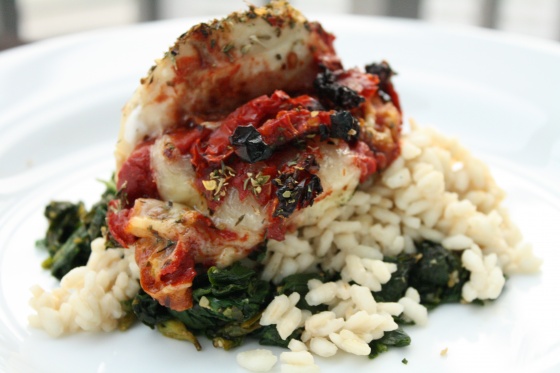 Sundried Tomato and Manchego Stuffed Chicken with Risotto and Sauteed Spinach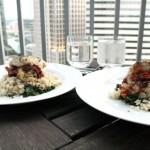 (Serves 2)Kelly Davis2011-05-02T05:06:29+00:00PT0H45MPT0H15MPT0H30M
Ingredients
1 six ounce chicken breast
1 four ounce chicken breast
2 Tbsp. tomato paste
1.25 oz. manchego cheese
2 Tbsp. sundried tomatoes
1 Tbsp. oregano
1 Tbsp. parsley
4 cups fresh spinach
2 Tbsp. garlic, minced
1/2 cup arborio rice
1 1/2 cups almond milk
1 Tbsp. garlic powder
salt and pepper
1 Tbsp. extra virgin olive oil

Directions
Cut a deep slit horizontally into each piece of chicken. Stuff each with tomato paste, manchego cheese, and sundried tomato. The larger chicken breast should receive about 2/3 of the ingredients, while the smaller receives the remaining 1/3 (eyeball it). Sprinkle each stuffed chicken breast with oregano, parsley, salt, and pepper. Seer in a skillet, flipping, so that each side is browned. Put in a baking dish on 425 degrees F and cook for about 20 additional minutes or until chicken is cooked through thoroughly.
Sautee arborio rice in 1 tsp. of olive oil in a medium sized pot on medium heat until rice begins to become translucent with a small white dot in the center. Add half of almond milk and garlic powder, stirring often. Once almond milk is completely absorbed, add the rest and cook until al dente. Salt to taste.
In a pan on medium high heat, add remaining olive oil and minced garlic. Add spinach. Stir often until spinach is completed wilted.
Plate spinach, then risotto, then stuffed chicken. Serve immediately.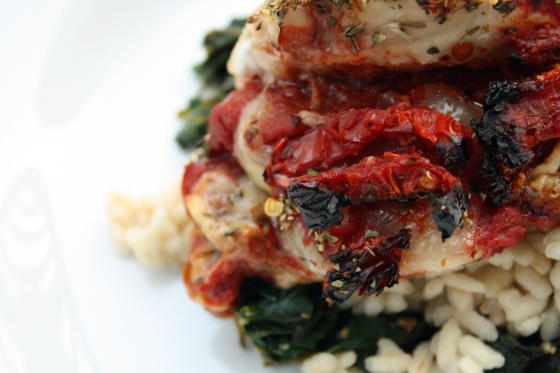 The flavors in this dish compliment each other so well.  I especially love the way the sundried tomatoes become a little charred on the ends while the chicken bakes.  Tomatoes and spinach are one of my favorite flavor combinations.  Sundried tomatoes add an extra oomph of deliciousness.
When plating, I gave each of us equal amounts of spinach, but gave Brad a larger portion of the rice — about 2/3 of the portion, while I take the 1/3 portion.  Of course, I give him the 6 oz. portion of chicken while I take the 4 oz. portion.
There are other ways to control portions when cooking for two different appetites.  Some ladies are really good at eating until they're comfortably full, then leaving the rest on their plate.
That's not me.  I'm a member of the clean plate club most days, so I have to be very careful of portion sizes.  I rarely go back for seconds, but usually eat all of the food I plate for myself, unless I'm eating at a restaurant where I'm very mindful that regular entrees are usually much too large.
I find it helpful to think about what I want to make and how I can make sure Brad and I both are fed enough, but not too much.
Here's some simple rules of thumb to follow when cooking for husband and wife:
– Cut meat (or veg proteins) into correct portion sizes prior to cooking (4 oz. + 6 oz. is my standard for meat).
– When cooking just enough grains for two, think about how much you will each eat, before you begin and measure, measure, measure!  Sometimes I make more grains, then measure or eyeball the amount I plate.  One cup of rice makes two one cup portions.  Typically, I eat less than a whole cup of rice so I'll eat about 1/3 of what I made in this case.
– When veggies are made in very healthy ways (i.e. not super cheesy or fried), make equal portions for both.  I can always use more veggies in my diet so I don't skimp here.
Married or not, how do you control portion sizes?