One of the really cool parts about being a Foodbuzz Featured Publisher is being able to participate in the Tastemaker Program.
A few times a month, I get an email to participate in sampling a new product or taking part in a cooking challenge.  When I received an email requesting participation in the New Belgium beer pairing challenge, I jumped right on it.
New Belgium makes a huge variety of beers, but having only tried Fat Tire (an amber ale), I was curious to try another variety.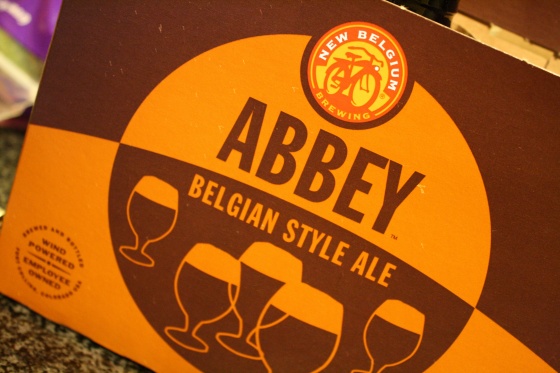 Brad and I both decided to try the Abbey, a Belgian Style Ale.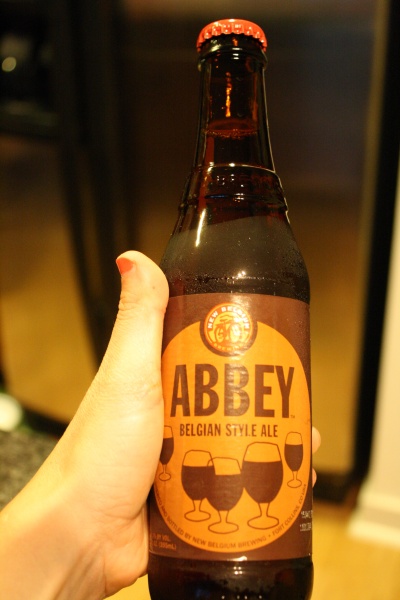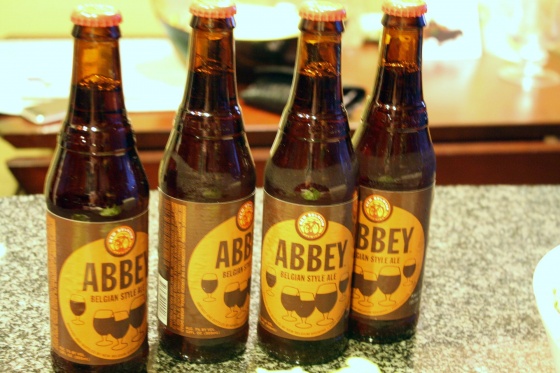 Now what to pair it with?
For me, nothing goes better with beer than tacos.  But this wasn't a light citrus beer to eat with my favorite fish tacos.  The Abbey is more malt flavored and a bit heavier.  With it's mahogany color and flavor to match, I knew it would need something slightly heavier for its pairing.
However, I didn't want to compromise my favorite beer + taco combination…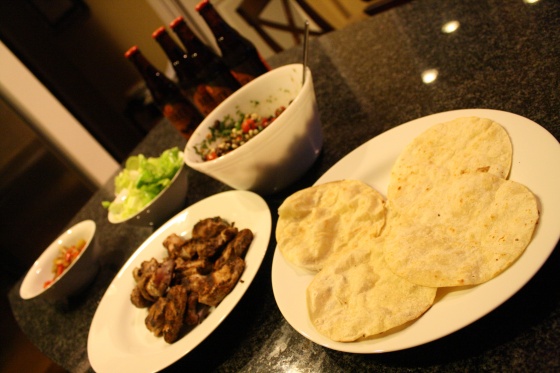 So, I got creative and made spice rubbed carnita tacos.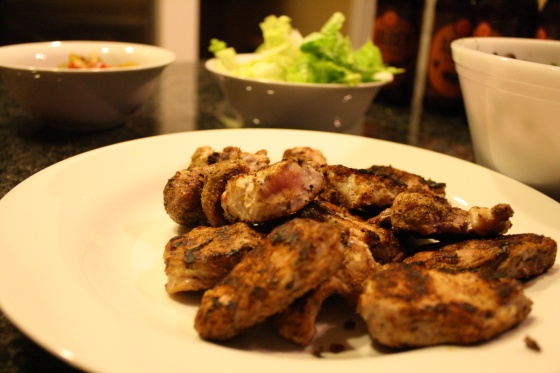 Spice Rubbed Carnita Filling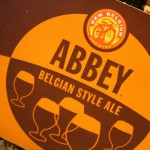 (Serves 4)Kelly Davis2011-04-23T09:17:03+00:00PT0H25MPT0H10MPT0H15M
Ingredients
1.25 lbs. lean pork tenderloin
3 tsp. cumin
1/4 tsp. salt
1/4 tsp. black pepper
1/4 tsp. cayenne pepper
1/2 tsp. garlic powder
1/2 tsp. onion powder

Directions
Slice tenderloin as thinly as possible. Heat a grill pan (or a grill) to medium high heat. If using a grill pan, use a bit of oil on the pan. Mix all spices together in a bowl. Dip each piece of pork into the bowl and flip so that spice rub sticks to each side. Place each piece of pork on the grill and cook until one side has dark brown grill marks. Flip each piece of pork and cook until there are dark grill marks on the second side as well.
Keep carnita filling warm while preparing the rest of the meal by placing on a plate and covering tightly with aluminum foil.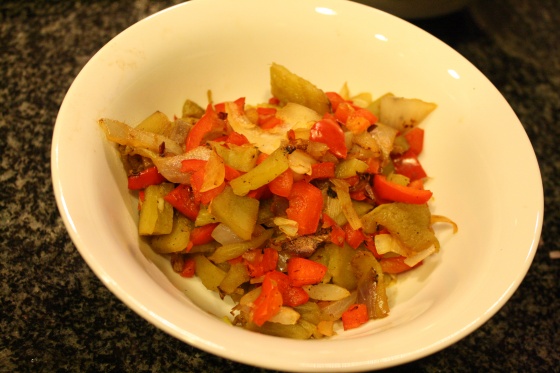 Next, I made a taco veggie filling to go along with the carnita meat.
Pepper Saute
1/2 chopped red onion
1/2 chopped red bell pepper
1 can of diced hatch peppers
1 tsp. extra virgin olive oil
Heat oil in a pan on medium high heat.  Add onion and red bell pepper and saute until vegetables soften.  Add hatch peppers and cook until veggies start to brown slightly.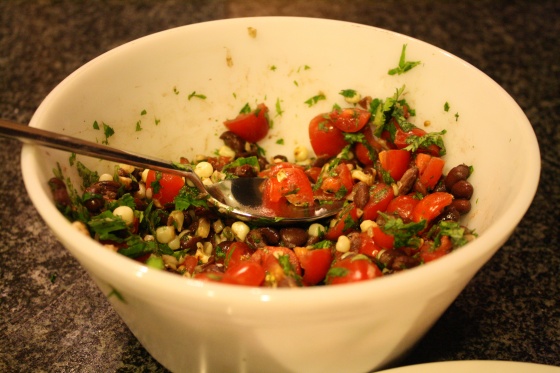 I also made my black bean corn salsa, except I used cherry tomatoes (because they were on sale) and I also used fresh corn which I roasted in a pan.
Just cut fresh corn from the cob and sautee in a pan with a tiny bit of oil.  Yum, I love roasted corn!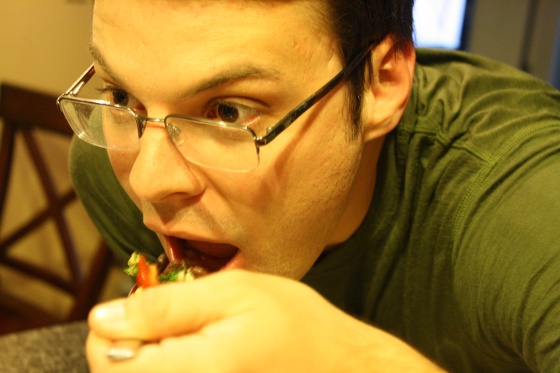 Then try to keep your husband from eating the salsa while you make the rest of the meal.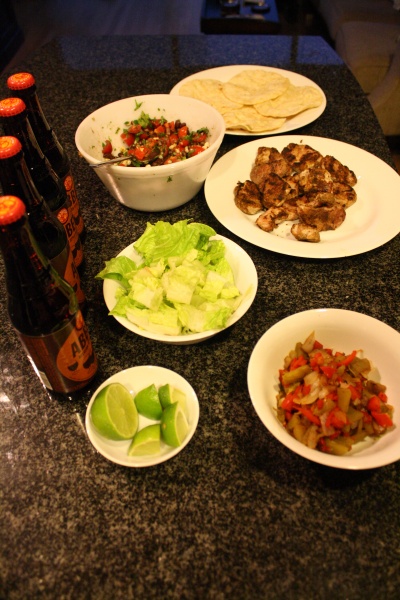 Chop up some romaine lettuce, warm some corn tortillas, and slice some lime wedges and you're ready to party.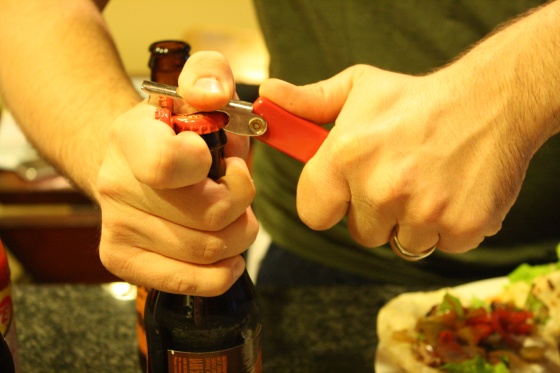 Actually, now you're ready to party.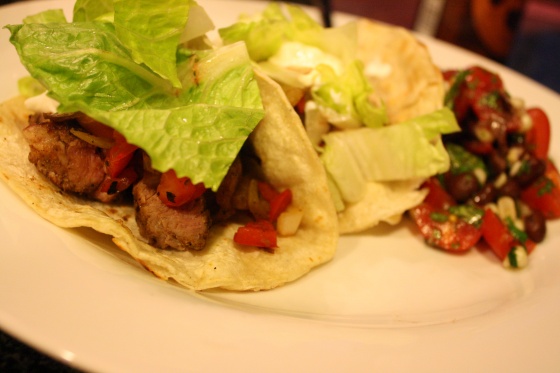 Assemble your tacos: place carnita filling + pepper sautee + romaine lettuce + a dollop of sour cream on each corn tortilla.  Squeeze some lime juice on top, if you wish.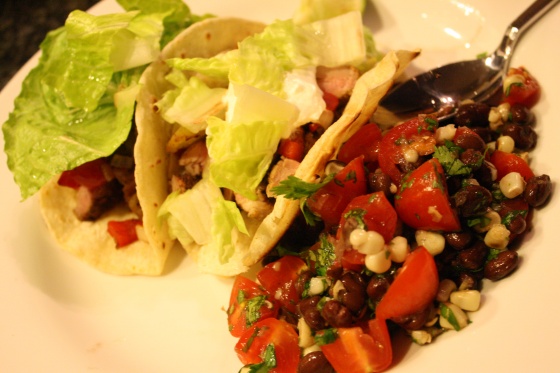 Dish out some black bean corn salsa as your side.
This went great with New Belgium Brewing Company's Abbey.  The heartiness and spicy flavor of the pork complimented the beer so well.  I'm glad I branched out and tried something besides the Fat Tire.  Dare I say, I like the Abbey even better?
Thanks New Belgium and Foodbuzz for making this meal possible!
*I am obligated to say that although I wasn't paid to give a review of New Belgium Beer, I was compensated for the cost of the beer.  All opinions expressed here are my own.  I always promise to give my complete and honest opinion when reviewing products, regardless of whether they are free or I buy them myself.
What's your favorite beer + meal pairing?