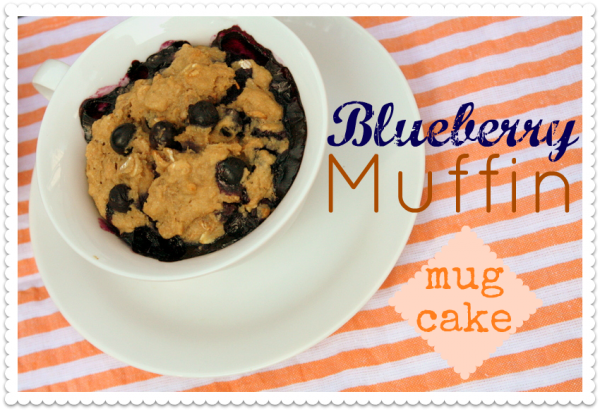 Now that it's the work week, I find myself dreaming about the weekend, especially this past weekend.
Somehow I've found that since moving into our new/old house, I have less leisurely weekend mornings, and more MUST GET THINGS DONE mornings.
It's quite sad really.
There's always plants to plant, laundry to do, dishes to wash, and on and on and on.  It's not like things have changed all that much since moving from our condo to our house…maybe I just feel more responsible now that Brad and I have a "grown-up" home.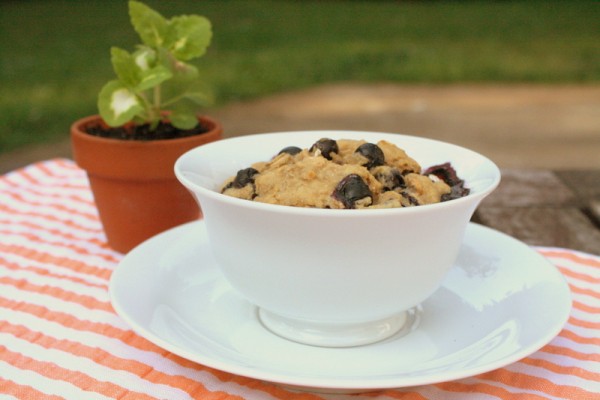 But this past weekend, I took a bit of a different approach.
I slept late….all the way until 8:30 one morning.
I sipped coffee slowly, like it was bought with the last two dollars on my gold Starbucks card…I obviously spend too much time at Starbucks.
Brad and I watched the Sunday morning news,which I adore and realize that makes me seem like a very old lady, but I don't care.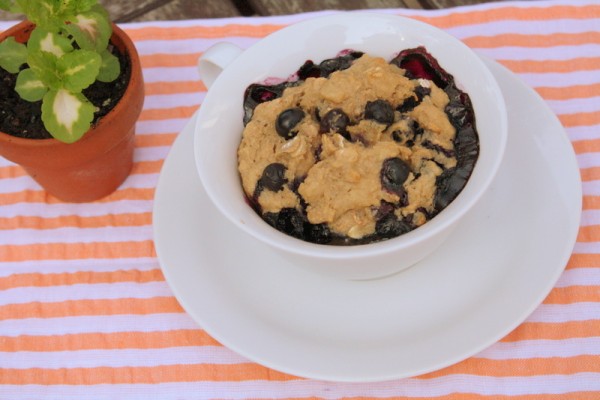 And, I made individual blueberry muffin mug cakes.
I love anything individually sized and baked in something unique, like a tea cup.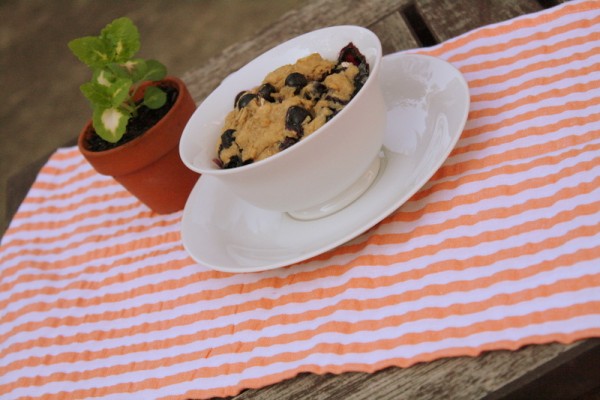 It turned out just right.  Light and fluffy with tons of sweet blueberries; slightly caky with a bit of bite from the addition of rolled oats. It was just perfect for a leisurely weekend.
We picked blueberries at Brad's parents' house last weekend. This is a July tradition of ours, which I have documented in the past.  We've been eating them by the handful, pretty much every time we open the fridge.  I have a hard time using super delicious and freshly picked berries in baked goods, when they're so good as is.  But I didn't regret this blueberry muffin mug cake one bit.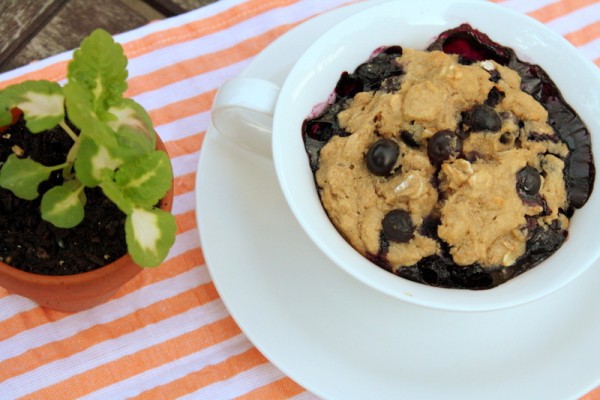 Mug Cake: Blueberry Muffin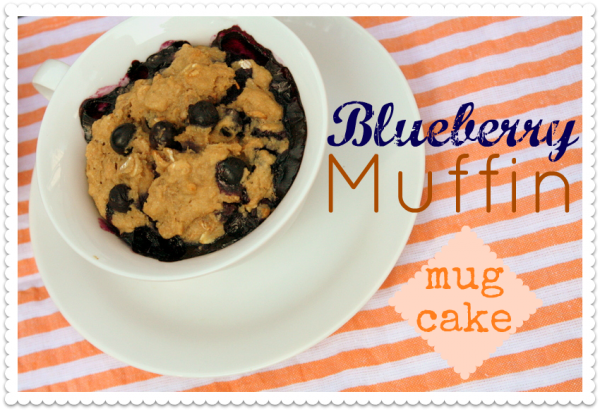 (

Serves 1

)
Ingredients
3 Tablespoons whole wheat pastry flour
3 Tablespoons rolled oats
1/4 teaspoon baking powder
1/8 teaspoon. salt
1 1/2 Tbsp. honey
3 Tablespoons applesauce
2 Tablespoons egg whites
1/2 teaspoon grapeseed oil
1/4 cup blueberries
Directions
Preheat oven to 350 degrees F.
Combine dry ingredients: flour, oats, baking powder, salt, and honey, and mix well. Add the remaining ingredients: applesauce, egg whites, and oil. Stir in blueberries. Pour into a mug or teacup. Pour batter into mug or cup.
Cook for 30-35 minutes or until an inserted knife comes out clean.
Note:
Grapeseed oil can be substituted with any mild tasting oil such as canola or vegetable oil.
How do you spend leisurely weekend mornings? 
This recipe was shared with the following link parties:
The Best Blog Recipes
Home Styled
Rattlebridge Farm
Not Your Ordinary Recipes