But first…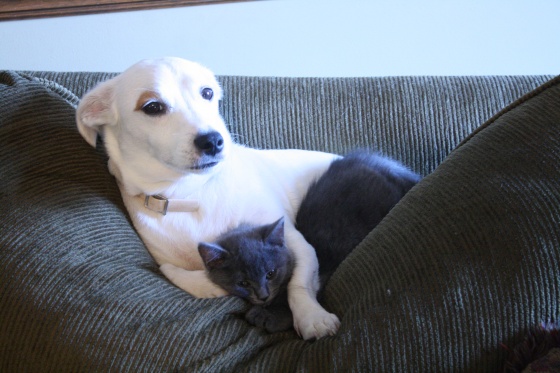 …meet dog mama and cat baby, the Jack Russell and gray kitten that are obviously a little confused but are still very sweet.
Dinner had to be super quick because I had big fro-yo plans in at the self-serve TCBY in South Charlotte.  Don't be jealous that we have the only self-serve  TCBY in the country.  😉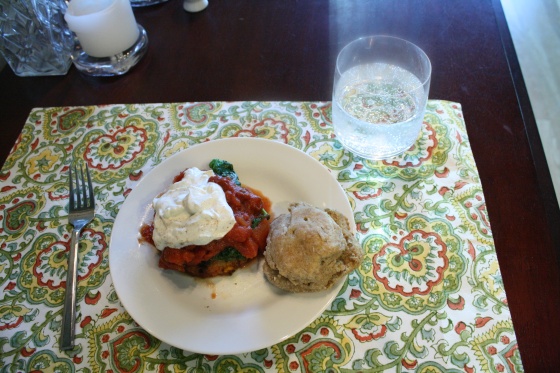 I made Instant Indian: my version of a really quick Indian meal + a whole wheat biscuit, which is definitely not Indian.
– Saute spinach in a bit of olive oil or non-stick spray
– Mix together 2 heaping Tbsp. of diced tomatoes + 1 heaping Tbsp. of tomato paste + generous shake of garam masala, garlic powder, and salt.  Nuke for 40 seconds.
– Microwave one TJ's Masala burger and broil for 5 minutes on 500 degree F (if you have time)
-Mix together one heaping Tbsp. of Greek Yogurt with a generous shake of red curry powder
-Assemble: burger, spinach, tomato mixture, curried yogurt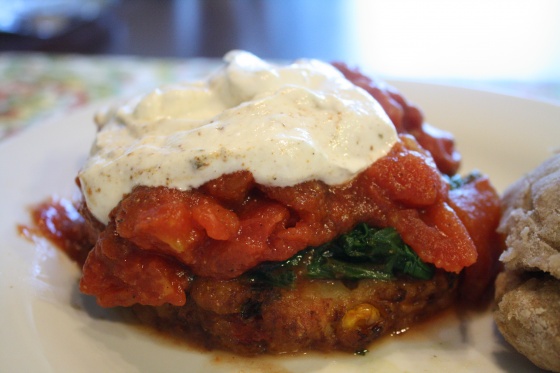 Oh so delicious.  This totally scratched my Indian itch.  Even if it wasn't technically "authentic", the flavors were there.
I think this is the first time I have ever had an Indian itch.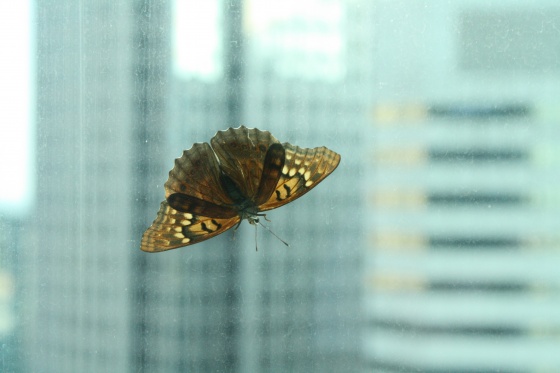 This little guy flew 23rd floors up just to say hello and watch me eat dinner.  We don't get bugs up here very often so I'm easily amused.
After dinner I hurriedly changed into "play clothes" and dashed down to South Charlotte for some fro-yo lovin' and to tell Emily goodbye.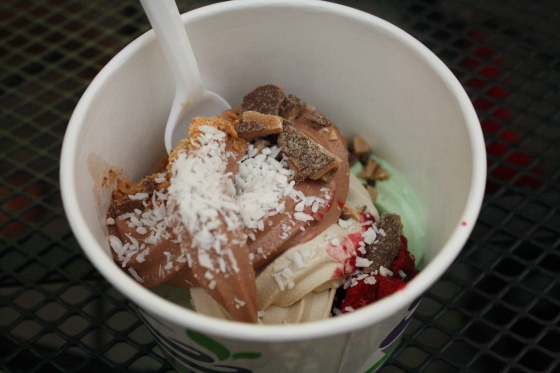 The best part of self-serve is that I can get a little bit of a lot of different things…my favorite way to eat.
I had pistachio, PB, and chocolate fro-yo with just a bit of raspberries, coconut, and Butterfinger.  In my attempt to sample just a bit, I probably could have went a little more heavy handed on the yogurt.  My total was $2.46 (you pay by the ounce).  I'm pretty sure I was hungry for at least $3.50 worth.
Other people had quite the fro-yo masterpieces.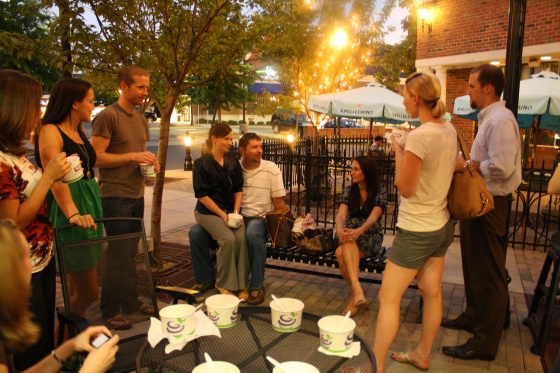 Lots of good conversation.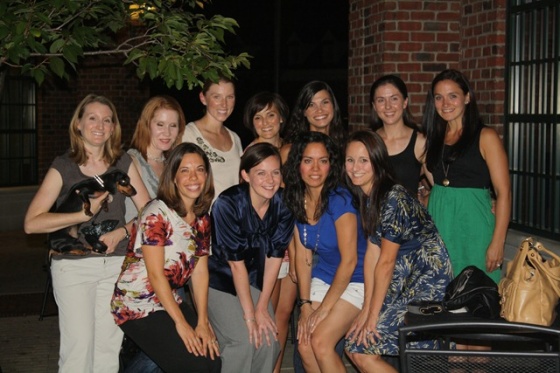 Us gals got together for a group shot: Brittney, Ann, Jen, me , Jen, Lori, Emily, Brittany, Michelle, Diana,and Caitlin
Another blogger leaves Charlotte (but hopefully not without a lot of visits), but new ones are popping up everyday. Emily, you will be missed!  I hope you love living in D.C. and that you visit often.  🙂
My light dinner and my under-consumption of fro-yo (it IS possible) left me a little unsatisfied when I got home.  I guess my body still wanted that afternoon snack I denied it earlier today (because of no food, not because I don't snack).  So I broke open the box of Cinnamon Puffins, which I had a bowl of with half a banana and skim milk.  I think my camera ate the photo.
Blog Update: My sister in-law Jen said something to me last night that gave me the idea to start a "quick meals" section of my recipes page.  These will be super fast go-to meals when you have 20-30 minutes total to cook and eat, plus lunches that warrant a place on the recipes page.  Look for that soon.
So many people have asked me about honeymoon and wedding photos.  Brad is creating a way for me to put photos in galleries.  As soon as we figure all that out, I'll start recapping the wedding and the honeymoon.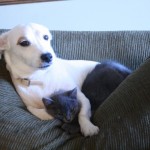 Ingredients
Directions