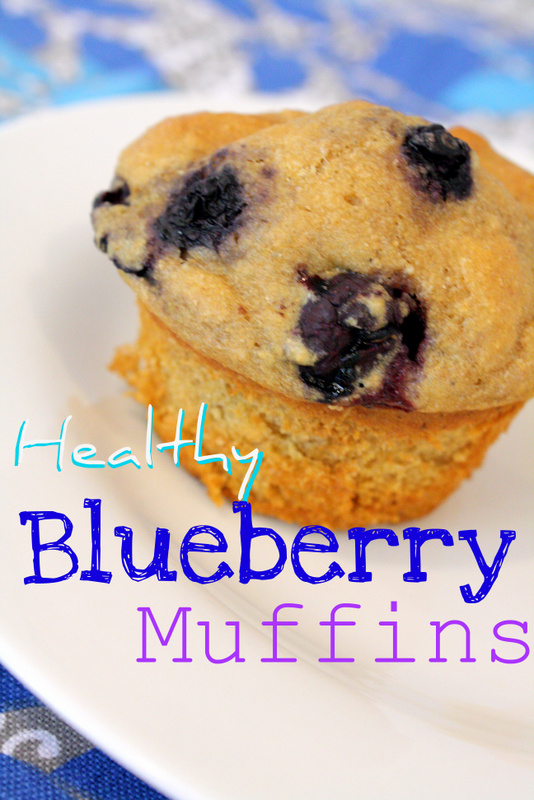 My dad, my aunt, and my aunt's best friend came over for breakfast yesterday morning.  I owed my dad a birthday breakfast and my aunt had yet to see my completed kitchen, so I invited them over.
I like to think that I'm a weird composite of my dad, my my mom, and my aunt (my dad's sister) who claims me as her own child.  She calls me her "first unborn".  Ha. She's definitely my third parent.
One of the ways that we're a lot alike is that we've had the same best friend since high school.  It would never be strange for Candace to attend a family function of mine.  She's like an extension of the family, just like Leanne, my aunt's best friend is also an extension of our family.
You know your best friend is a part of your family when she and your uncle fondly call each other "Ugly".
"Where's Ugly?" they'll ask about each other.
You have to be able to joke to get along with my family. You also have to be able to share food.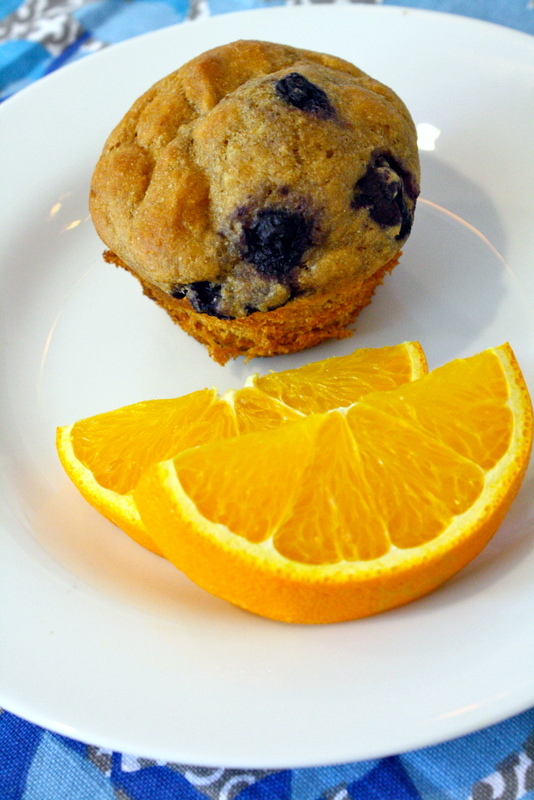 When people come to eat at my house and I don't know their taste preferences, it can cause a bit of anxiety for me.  These days everything causes a bit of anxiety for me, but I'm working on that.
To keep things simple, I decided to serve my breakfast guests blueberry muffins, scrambled eggs, and grapefruit and orange slices.
After all, you can't go wrong with eggs and muffins.  Almost everyone likes them.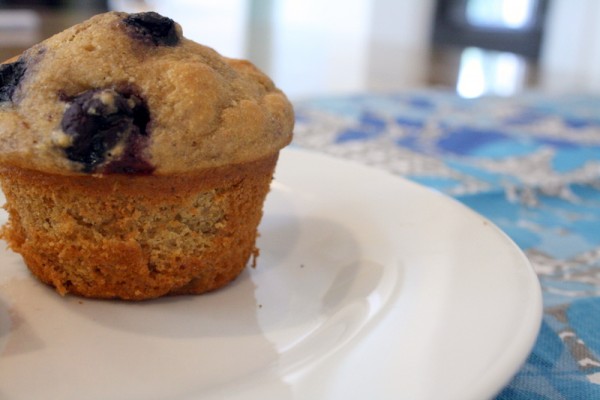 I've made blueberry muffins several times in the past.  They have turned out fine, edible, maybe a bit flat at times, but never have they ever turned out perfectly.
I like my muffins on the healthier side.  I don't want to ingest a bunch of sugar at breakfast, if I can help it.  So I took a look at some of my old recipes (posted here and here) and came up with a recipe that I thought everyone would love.
They're fluffy, light, subtly sweet, and everything I love about blueberry muffins.  Because I subbed in Greek yogurt with just a bit of butter and Stevia with just a bit of molasses, these muffins are definitely healthier than most.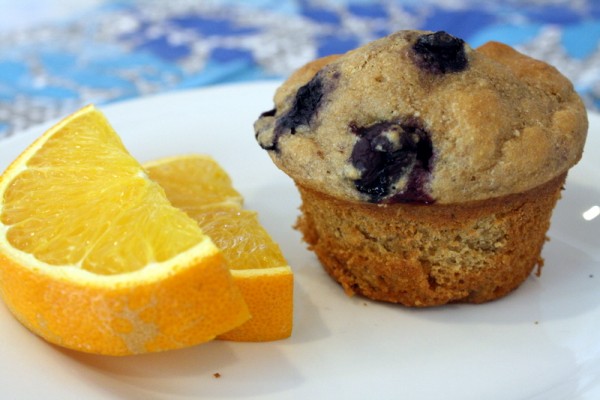 Healthy Blueberry Muffins
(

Serves 12

)
These classic blueberry muffins are just as tasty as a traditional recipe but are lighter due to a few healthy substitutions.
Ingredients
2 cups white whole wheat flour
1/4 cup NuNaturals Stevia Baking Blend (or plain sugar)
1 Tablespoon baking powder
1/2 teaspoon baking soda
1 cup yogurt
1/4 cup egg whites
2 Tablespoons butter, melted
2 Tablespoons molasses
1 cup skim milk (or milk of choice)
1 cup blueberries
Directions
In a large bowl, combine dry ingredients: flour, stevia/sugar, baking powder, and baking soda. Stir well.
Add wet ingredients: yogurt, egg whites, butter, molasses, and milk. Stir well. Add blueberries and stir well to mix them thoroughly throughout the batter.
Spray muffin tin with oil or cooking spray, or line with cupcake liners. Pour about 1/4 cup of batter into each muffin tin.
Bake for 30 minutes at 350 degrees F.
Notes:
White whole wheat can be found at Trader Joe's, but whole wheat pastry flour or 1 cup whole wheat flour + 1 cup white flour would work too. I have also made a similar recipe with spelt flour and it turned out great.
If you like your muffins on the sweeter side, add two additional tablespoons of sugar/stevia.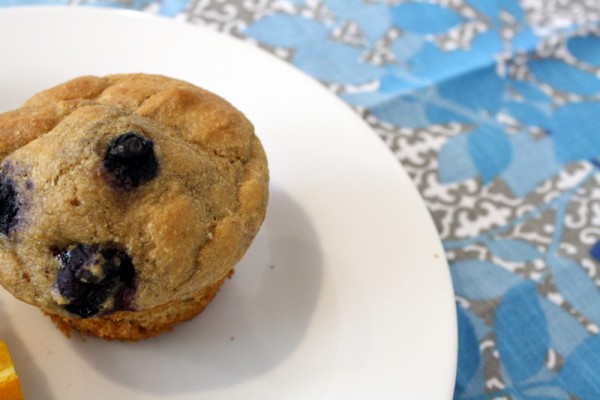 These muffins were delicious and my company loved them.  Some recipes really need some fat to make it taste good, but these ingredients only need a touch of butter to shine.
Along with our breakfast we enjoyed some extremely dark coffee.  I always use a French press for Brad and I so when I break out the big Cuisenart coffee maker when we have guests, I seem to forget the basic math of making coffee.  Doh.
Hopefully, these muffins redeemed me.
If not, Rascal balancing a treat on his nose while standing up made up for it.  If this blogging thing doesn't work out, he and I are going to join the circus. I have no redeeming talents, but maybe I can carry a whip and call myself the dachshund tamer.
Ha.
Enjoy the last few minutes of your weekend.  I'm off to an Oscars party where and I'm taking a batch of edamame hummus and champagne.