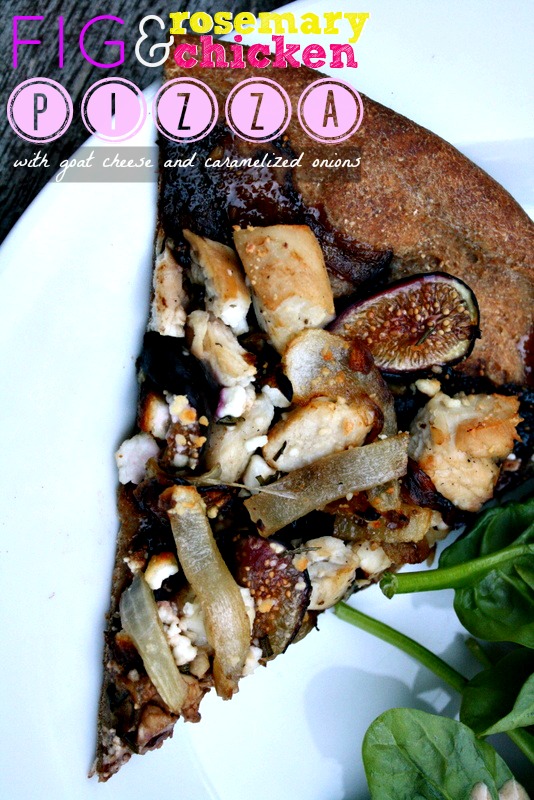 I don't like to toot my own horn, but I'm so proud of myself for adding another fig recipe to my repertoire.
However, I'm not proud of the fact that it took me three tries, and finally resorting to spell check to write the word repertoire correctly.
You win some, you lose some.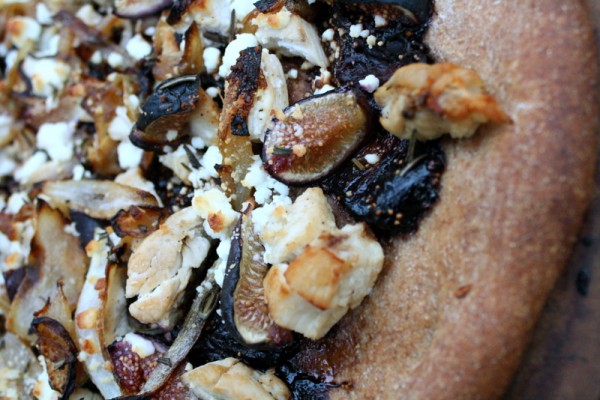 I definitely won with this pizza.
My love for marinara runs deep, but I abandoned my traditional red sauce based veggie pizza to try something new. And boy am I glad that I did.
The ingredients are simple — slightly sweet meets savory.  The sauce comes together effortlessly.  Just boil and stir.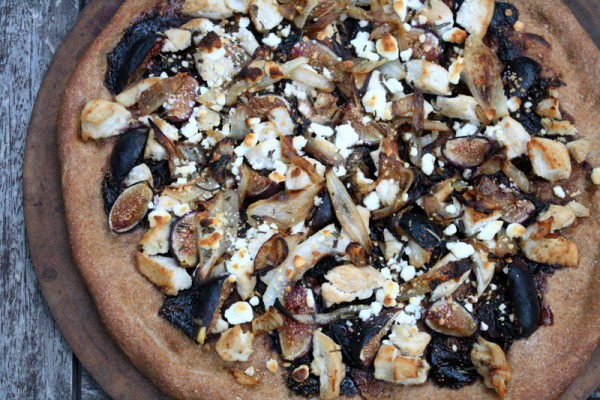 The goat cheese and caramelized onions really set off the flavors of this whole wheat pizza.  But the shining star is the balsamic fig sauce with its complex subtle sweetness.
Fig season comes and goes so fast, so add this to your "must make now" list before all the figs are gone.
And by that I mean, before I buy them all up to further my new fall obsession.
Fig and Rosemary Chicken Pizza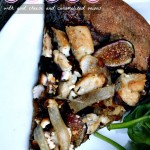 (

Serves 2-3

)
With goat cheese and caramelized onions
Ingredients
3 cups fresh figs, de-stemmed and quartered
1/2 cup balsamic vinegar
1/2 teaspoon salt
1 Tablespoon extra virgin olive oil
3/4 cup white onion, cut in thick slices
8 ounces chicken breast, cut into small chunks
1 whole wheat pizza crust*
2 ounces goat cheese, crumbled
2 Tablespoons fresh rosemary, chopped finely
1/2 teaspoon garlic powder
Directions
Preheat oven to 425 degrees F.
In a medium sauce pan bring 2 cups of the figs, balsamic vinegar, and 1/4 teaspoon of salt to a boil on high heat. Continue to cook, stirring often, until vinegar has reduced by half.
Heat 1/2 tablespoon of oil in a medium pan on medium heat. Add onion and stir often, cooking until onion is fully softened and browned. Remove onion from pan and set aside. Add the last 1/2 tablespoon of olive oil to the pan and the chicken. Cook until chicken is cooked through.
Place whole wheat crust on a pizza stone or baking sheet and use hand to spread pizza dough to the outer edges of the pan (or until desired thickness). Spoon fig/balsamic sauce evenly over the dough, leaving 1 inch of dough on the outer edge sauce-free.
Layer the onions, chicken, and remaining 1 cup of quartered figs evenly over the dough. Sprinkle the goat cheese, rosemary, and garlic powder evenly over the pizza.
Place pizza into the oven and bake for 25-30 minutes or until whole wheat crust has browned.
*Per usual, I used Trader Joe's whole wheat pizza dough. I'm going to make it a priority to develop a good pizza dough recipe for you guys, but at 1.99, it's hard to pass up good ol' reliable TJ's.
Enjoy this pizza with a simple green salad and/or an Oktoberfest beer.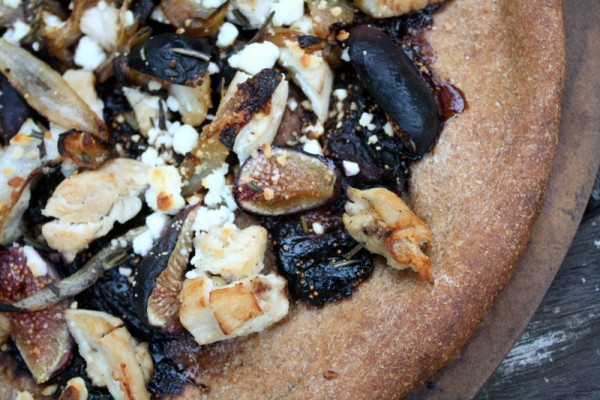 This pizza is so very fall.  And I did it without an ounce of pumpkin.
***
I couldn't end this post without remembering where I was 11 years ago today — an 18 year old college freshman who had been "out on my own" for three weeks, making September 11 a very confusing and scary time for me. I know everyone experienced it in their own unique way, but for me, it was one of the first times the world around me just completely stopped making sense.  My thoughts and prayers go out to everyone who was affected by that day and I hope you will take a moment to remember.