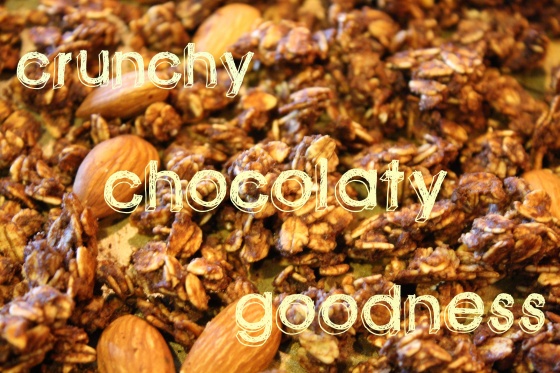 Oh yes.
I did it.
I made chocolate granola.
And yes, it is super chocolaty.
I officially declare May 14, Super Chocolaty Day.  At least, it is over here at the D- household.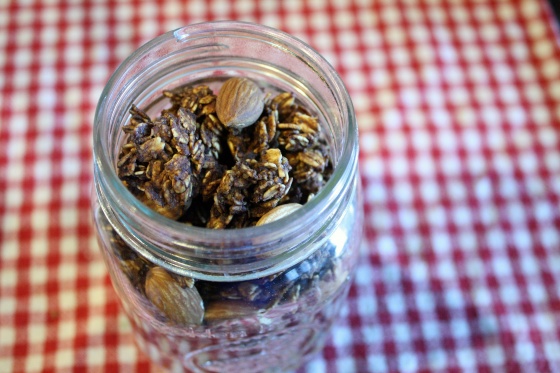 But although it's super chocolaty, I must warn you, it's not very sweet. Sweet granola = sugar crazed overload.  In other words, I'll eat the whole batch in a day if I don't limit the sugar I use in the recipe.
Granola is for crunch-factor.  Cupcakes are for sweetness.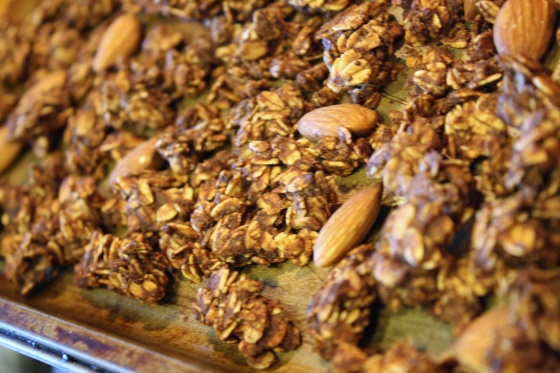 Chocolate Almond Granola
2 cups old fashioned rolled oats
2 Tbsp. flax meal (ground flax seeds)
3/4 cup apple sauce
1/4 cup organic sugar*
2 Tbsp. unsweetened cocoa powder
1/2 tsp. almond extract
1/2 cup whole raw almonds
1/4 tsp. sea salt
Combine all dry ingredients: oats, flax, sugar, cocoa, and salt.  Mix well.  Add apple sauce and stir well.  Add extract last and stir well,  one more time.
Oil a large baking sheet.  Spread granola out as thinly and evenly as possible.  Bake on 350 degrees for 20 minutes.  Remove from oven and stir.  Sprinkle almonds over the granola.  Bake for an additional 15 minutes.  Remove from oven and stir, breaking apart the large clumps of granola.  Lower heat to 250 degrees and cook for an additional 10 minutes.
*If you love sweet granola, add an additional 2 Tbsp. – 1/4 cup of sugar.  Sweeten to taste by adding a bit, stirring, then tasting and adding more to meet your preference.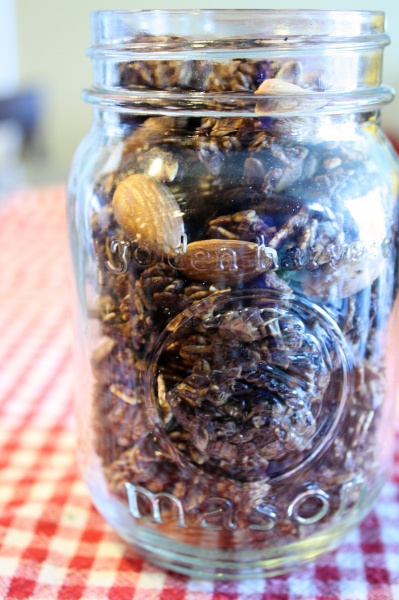 Store in an airtight container and this stuff will last a long time.
Who am I kidding? This granola will be lucky if it makes it through the week!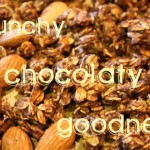 Ingredients
Directions