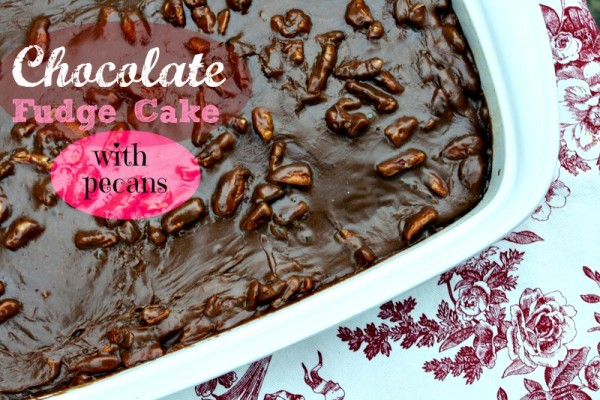 This cake.  Oh, this cake.
It reminds me of my aunt.  Because even though it's my grandmother's recipe, I remember my aunt usually making it.
Some of you might remember when I told you about my grandmother gifting me her cookbook for Christmas last year.  Everyone knows my grandmother and aunt (my dad's mom and sister) make the best cakes.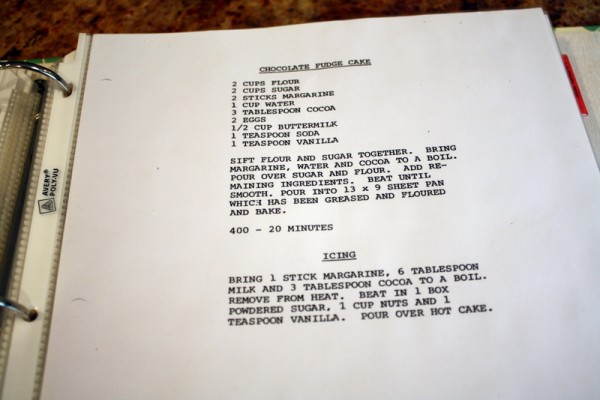 So when I want to make something decadent, I flip through these familiar recipes and choose whatever my nostalgia desires.
And yesterday, my nostalgia wanted some chocolate fudge cake.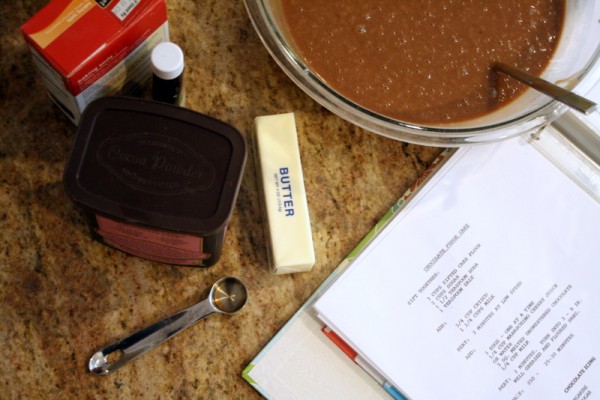 I walked to the store to pick up, what else but butter.  It seems I never have enough butter in the house to accomodate my grandmother's recipes.
She's like the original Paula Deen.  And it's starting to make more sense to me why she loves Paula so much.  They have a similar philosophy when it comes to cooking — more butter and more love = wonderful food.
How much is more?  Well, take how much you think you need and add more.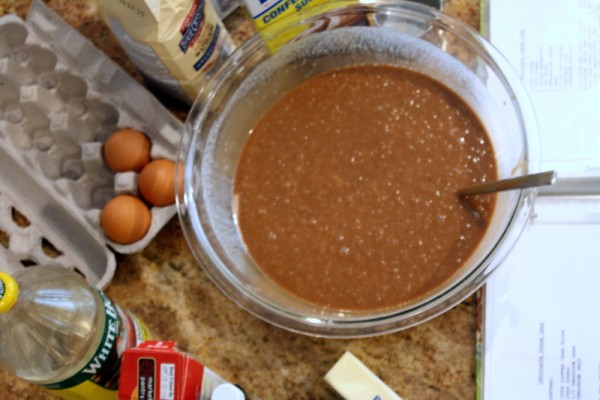 This recipe is very simple, like most things that I made.  It comes together so easily that I didn't even use my stand mixer.
Another thing that makes it super easy is that you pour the icing over the cake, while it's still hot so you can make this cake in a jiffy with no waiting around for it to cool.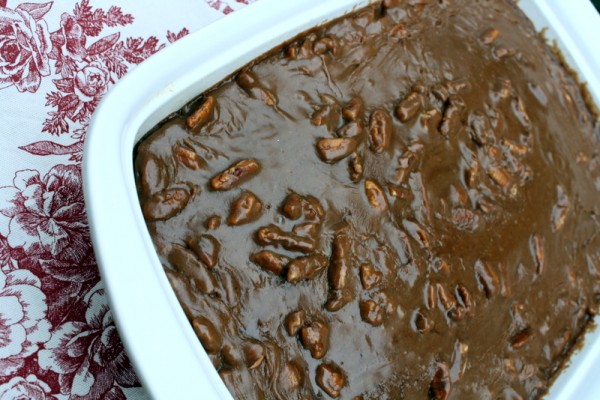 This cake isn't the stuff that healthy cook books are made of, but it is the stuff that dreams are made of.
I took this cake to an election party last night where most of the people in the room voted differently than I did (the others weren't U.S. citizens). And although I'm very middle of the road and don't typically affiliate myself with one particular political party, I left with a bit of a bad taste in my mouth for one person who continued to put down her party's opposing side with elitist comments.
I've been known to have a sharp tongue if provoked, but for once in my life, I remembered to smile sweetly and pass the cake. There's no arguing with people like that.  And maybe a bit of southern hospitality will do them some good.
Kill them with kindness chocolate fudge cake.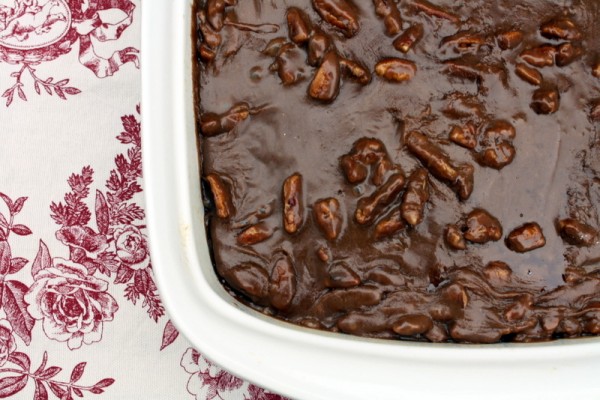 Chocolate Fudge Cake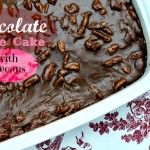 (

Serves 12-16

)
This rich and decadent chocolate cake is one of the easiest cakes I've ever made, but it's also one of the most delicious.
Ingredients
Cake Ingredients:
2 cups unbleached all purpose flour
2 cups sugar
2 sticks butter (1 cup)
1 cup water
3 Tablespoons cocoa powder
2 eggs
1/2 cup buttermilk
1 teaspoon baking soda
1 teaspoon vanilla extract
non-stick spray or butter
extra flour for pan
Icing Ingredients:
1 stick butter (1/2 cup)
3 Tablespoons cocoa powder
1/4 cup + 2 Tablespoons milk
1 (1 pound) box powdered sugar
1 cup pecans
1 teaspoon vanilla extract
Directions
Cake Directions:
Preheat oven to 400 degrees F.
Sift flour and sugar together into a large bowl.
Bring butter, water, and cocoa to a boil in a medium sized pot. Stir well to combine once butter has melted.
Pour butter and cocoa mixture over the flour and sugar mixture. Beat eggs in a separate bowl.
Add buttermilk, baking soda, and vanilla to bowl, and stir well to combine. Add eggs to the batter last and stir well.
Grease a 13 x 9 baking dish with non-stick spray or butter. Sift a small amount of flour (<1/4 cup) evenly over the baking dish. Pour batter evenly into dish and bake for 20 minutes or until a knife inserted into the center comes out clean.
Icing Directions:
In a large pot, bring butter, milk, and cocoa powder to a boil, stirring well to combine once butter has completely melted. Remove from heat and add powdered sugar, stirring well to combine. Add nuts and vanilla and stir well. Pour over hot cake.
Notes:
I used 2% milk because I've never seen anything less than whole milk at both my grandmother's and aunt's houses. Instead of buttermilk, I poured 1 Tablespoon of white vinegar into a 1/2 cup mixing up, then filled it the rest of the way with milk. It set for about five minutes before I added it to the recipe. This can be used anytime as a substitute for buttermilk.
Also, make sure you don't make the icing too soon because it needs to be hot to properly pour over the cake. Wait until the cake is done or almost done before starting on the icing.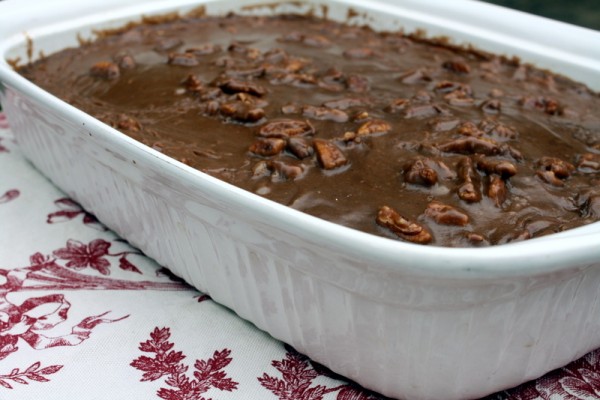 I would like to add that this cake goes perfectly with a nice tall glass of cold creamy milk.  Also, to cut this cake prettily, it needs to cool.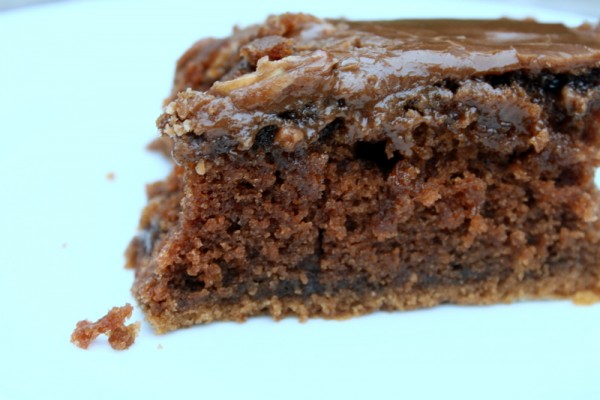 Who am I kidding, this cake is so buttery, it's just not going to cut into pretty cake pieces.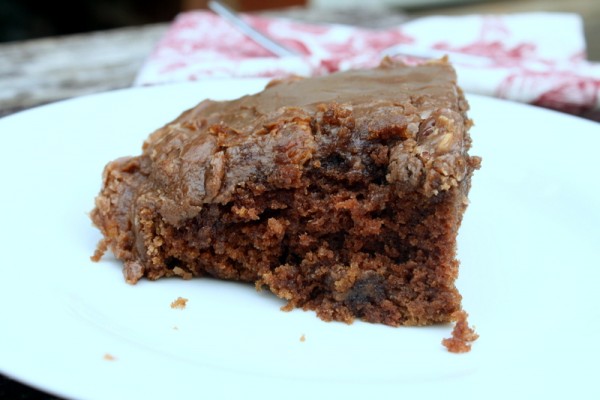 But something tells me you won't mind.