Pulled pork is a North Carolina tradition.
People get mighty opinionated when you bring up the subject, especially if you get an Eastern North Carolinian and a Western North Carolinian in the same room.
Pulled pork is typically made from a pork butt, and while it's perfectly fine in moderation, it's definitely not the leanest of meats.
My husband especially, has an affinity for pulled pork.  Even though he's Eastern bred and loves his vinegar based sauce, he is pretty fond of the sweet and smoky Western sauce as well.  Brad is basically an equal opportunest when it comes to pulled pork.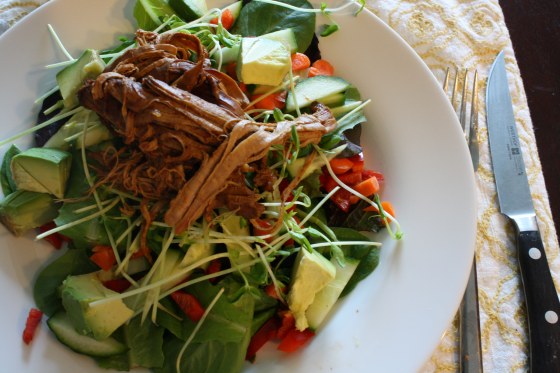 He often mentions how much he loves pork…
…and will I please buy some at the store?
…and will I please make it in the slow cooker?
…and will I please make baked apples to go along with it like my mother-in-law does?
This past weekend I said yes to all of these requests and last night we enjoyed barbecue pulled pork with baked apples and caramelized maple brussel sprouts.
How very autumn of us, don't ya think?
But because a pork tenderloin can feed two people for several meals, we also enjoyed our pulled pork in a way you don't often see…
…on top of a salad.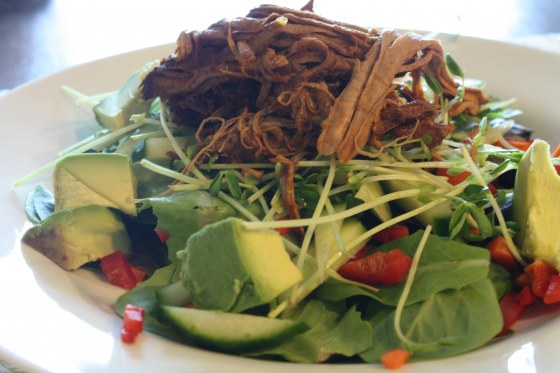 Crockpot Pulled Pork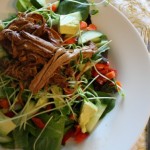 (Serves 4-5)Kelly Davis2011-09-07T11:10:57+00:00PT8H10MPT0H10MPT8H0M
This pulled pork is so easy, a child could do it. But it's lick-your-fingers good on a bun or on a salad.
Ingredients
1.25 pounds pork tenderloin
sea salt
1/2 large onion, chopped
1 1/2 cups barbecue sauce
1/4 teaspoon ground mustard
1/4 teaspoon cayenne pepper
1/4 tsp. ground ginger

Directions
Place tenderloin in a crockpot and sprinkle generously with sea salt. Cover with onion. Put barbecue sauce in a bowl and add mustard, pepper, and ginger. Stir to mix well. Pour barbecue sauce with spices over the pork and onions. Turn crockpot on low and allow to cook for at least eight hours. If you have less time, put crockpot on high and cook for four hours.
Before serving, take two forks and shred the pork by stabbing with one fork and pulling the meat with the other fork until it is completed shredded.
Note: I used Stubb's Original Barbecue Sauce, but feel free to substitute with your favorite brand.
**To ensure your recipe is gluten free, make sure to use GF barbecue sauce (Stubb's is GF).**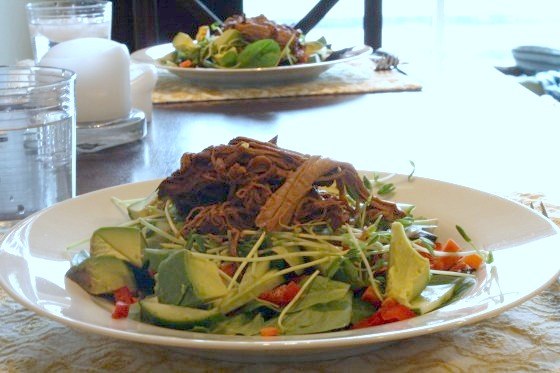 Brad and I enjoyed this on Labor Day for lunch with a salad of mixed greens, pea shoots, avocado, red bell pepper, and carrots.
No dressing is required when you've got a saucy topping and no bread is required when you have delicious veggies.
And just like that, I'm reminded of the wonderfulness that is the crockpot.  I can guarantee you will be seeing more crockpot meals in the near future.