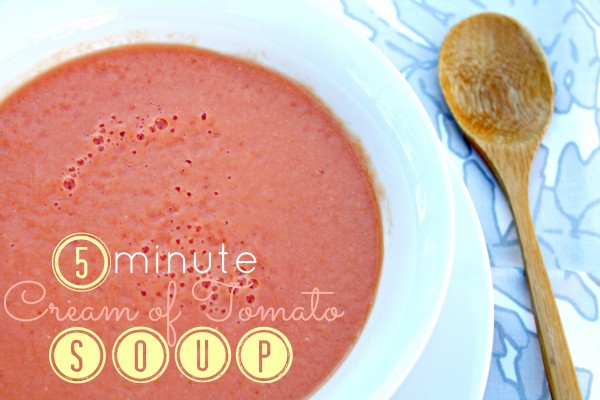 If there's one convenience food for which I've always been a sucker, it's canned soup.  Growing up, our family's pantry was always well stocked with a wide array of Campbell's Soups: chicken noodle, tomato, cream of chicken. We almost always had those three flavors.
To this day, I still reach for a can of soup when I have no desire to cook but want something comforting and warm.
My favorites right now are Trader Joe's Split Pea Soup and their Red Pepper Bisque. But the other day I found myself reaching for a can of Campbell's Tomato Soup.
I've been in one of those moods lately where I am wanting to eat things from my childhood. I haven't reverted back to my high school breakfast of peanut butter M&Ms and a Sundrop, but I  have been reaching for comfort foods. Grilled cheese and tomato soup just happen to be one of my favorites that fit into this category.
My mom taught me that instead of using water, I should use milk to make it creamy. The first time I made it this way for Brad, he loved it, and I couldn't get over that he had never made it with milk.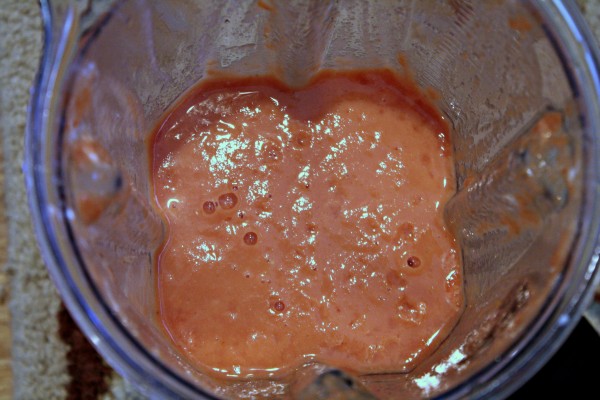 But as much as I love good ol' Campbell's Tomato Soup, making it myself takes about five whole minutes in the blender.  You simply dump the five ingredients in the blender, give it a whirl, and nuke in the microwave for a minute or two or heat it in a pot on the stove top.
You really could make this simple soup with three ingredients, but I added two more (red pepper flakes and garlic) to give the soup an oomph Campbell's just doesn't have.
But the secret ingredient that is oh so necessary is fat free Greek yogurt (I used Chobani, of course). It makes this soup so rich and creamy with no weird thickeners.
I'm looking at you monopotassium phosphate.
Also, did you know Campbell's version has wheat flour in it as well? I thought you gluten free gals and guys should know. My version is 100% gluten free.
And did I mention it tastes better?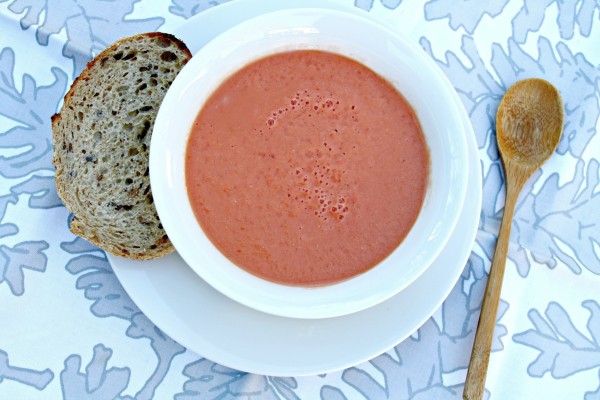 5 Minute Cream of Tomato Soup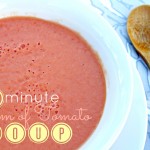 (

Serves 2-3

)
Why on why would you eat condensed soup when this version is so much better? It's creamier, more flavorful, and lacking in weird ingredients.
Ingredients
1 28 ounce can diced tomatoes or 3 1/4 cups fresh diced tomatoes (with juice)
1/2 cup fat free yogurt
1/4 - 1/2 teaspoon garlic powder
1/8 - 1/4 teaspoon red pepper flakes
1/2 teaspoon salt
Directions
Combine all ingredients in a blender or food processor and blend until smooth. Cover and heat for 1 1/2 - 2 minutes in the microwave, in a microwave safe bowl or heat on the stove top.
Notes:
I gave ranges for the two spices because you should adjust to meet you own taste preferences. I myself used the higher amount of the spices, resulting in a deliciously garlicky soup with a kick. Adjust to the lesser amounts if you like a more bland or less spicy soup.
I used canned diced tomatoes but if you have fresh or homemade canned tomatoes on hand, 3 1/4 cups will work great.