As promised…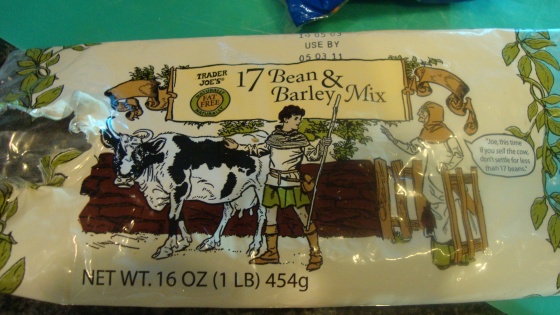 I picked this bag of 17 bean and barley mix from TJ's a couple of weeks ago, knowing I would use it to make a bean soup and last Sunday night, I finally did.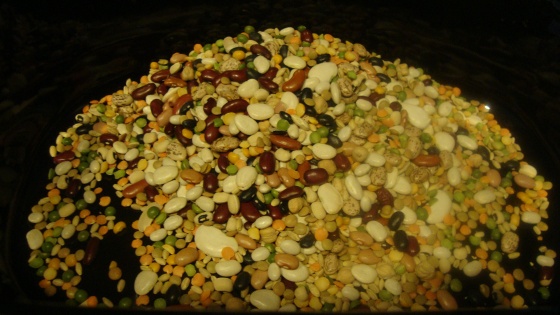 Beans in the crockpot
Do you see all 17 varieties of beans?  I'm just going to take their word for it.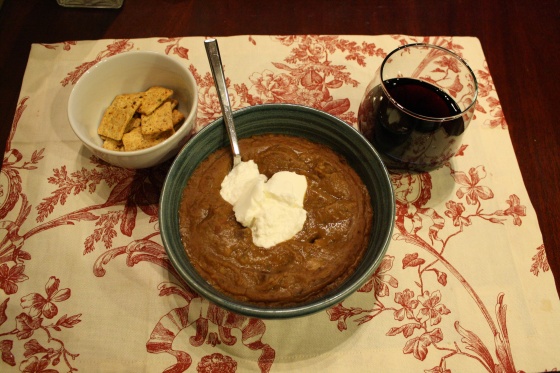 17 Bean & Barley Soup
TJ's 17 Bean and Barley Mix
8 cups vegetable broth
2 carrots, chopped
3 stalks of celery, chopped
1/2 large yellow onion, diced
1 tsp. salt
1 tsp. Garlic Gold
1 tsp. dried oregano
1 tsp. dried parsley
1 tsp. dried sage
1/2 tsp. white pepper
1/2 tsp. red pepper flakes
In a crockpot, combine all ingredients and stir a few times.  Turn heat to low and allow mixture to cook for 12 hours. (You could cook on high for less time, but you would need to soak the beans before hand.)  Puree with immersion blender or a few cups at a time to a food processor or blender.
Serve topped with Greek yogurt or sour cream…cheese with jalapeno would be really good too.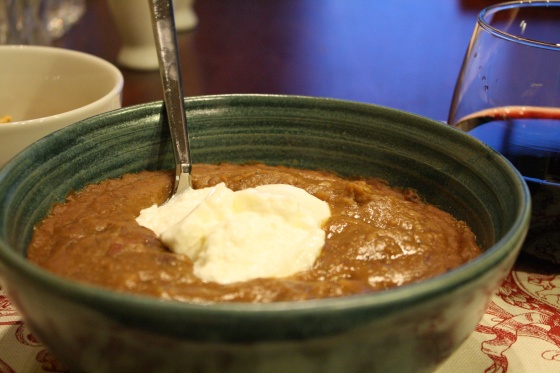 I love cooking beans in the crockpot for a long time.  You don't have to soak the beans and then cook them, which saves a step.  Plus, by allowing the soup to cook with the herbs and vegetables for a long time, the flavors really get to amalgamate (one of those $3 words that stuck with me from the GRE).  In other words, the flavors really settle in and marry well together.
The small amount of red pepper flakes add just a hint of warmth.  If I was making this for Brad, I would add more as a garnish, but it's just right for me.  The soup is really thick, almost like refried beans, which is just the way I like my soups.  Feel free to add more stock if you like your soup a bit thinner.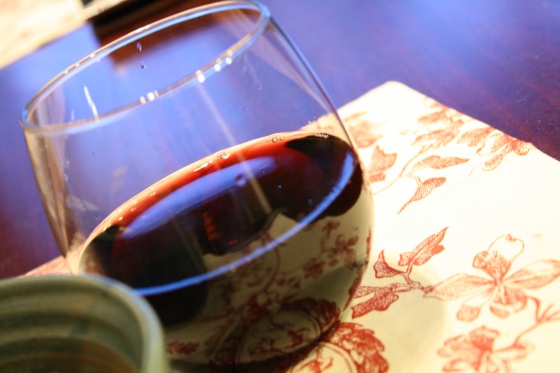 I topped mine with Greek yogurt, with some Kashi crackers and some of the wine from last Friday night.  Hearty bean soup calls for red wine, no?
There will be a reappearance of this in my lunch box today…
…minus the wine of course.  😉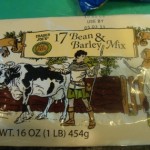 Ingredients
Directions