This is a post I wrote about my pregnancy when I was 11 weeks pregnant before I had announced it here. 
***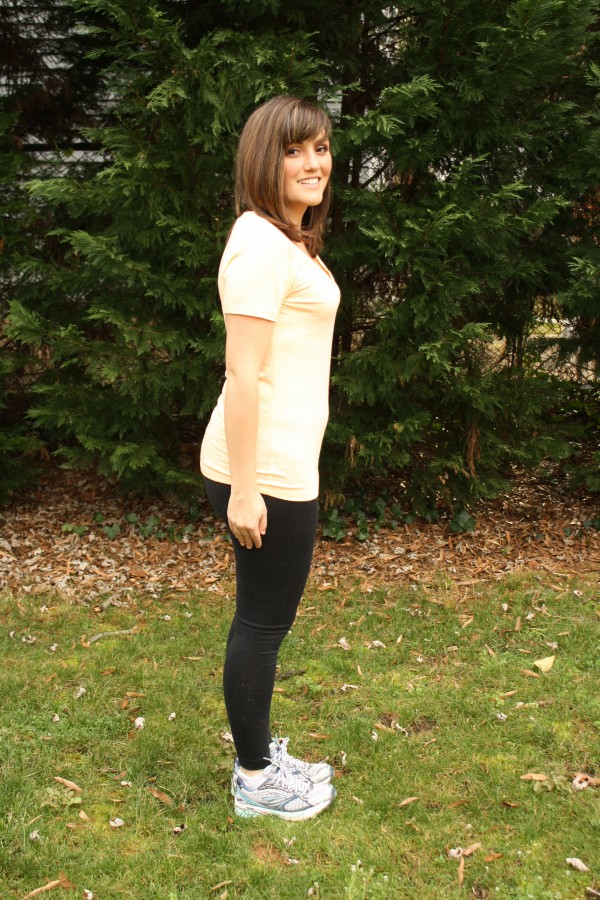 I'm so excited to be in week 11 and almost be at week 12, when I decided we can finally let it out of the box to everyone that we're pregnant.
To be perfectly honest, Brad and I haven't been great about keeping our secret.  Most of our friends who have seen us in the past month or so know.  But we haven't done a lot of calling around to tell people that we haven't seen. A lot of our friends live outside of Charlotte so it will be fun for them to finally know.  Plus I know my family is chomping at the bit to tell people.
Symptoms:
A lot of my symptoms are starting to dwindle, just as my stomach is starting to poke out a bit. My stomach has seemed fuller (not in a food sense but in a general feeling and the way it looks sense) for the past few weeks and now I feel like it's starting to really stick out. Almost all of my pants (except my fat jeans) won't button so I've taken to wearing my Be Band so I can continue wearing my regular pants.  I really don't want to spend a lot of money on maternity pants.  I don't even really like pants.  So I hope I can get by with this a while until it's warm enough to break out my more forgiving dresses. This is the part of pregnancy where a lot of people will tell you that they just felt fat, but didn't actually look pregnant.  I'm definitely there.
My nausea this week was almost non-existant and my energy level in the evening continues to be better and better, although I don't see this need for nine hours of sleep going away any time soon.
I actually woke up last night and couldn't go back to sleep, but unlike most times this happens, I was able to go back to sleep after only an hour.  Hip, hip, hooray!  I hosted my friends Casey and King this morning for brunch so I didn't have time to sleep in this morning.
Other than that, I'm feeling good, albeit a little rounder than usual.
Cravings:
My cravings still seem to be centered around a lot of the foods I enjoyed when I lived with my parents oh so many years ago. When I get something in my head, I just can't shake it and I have to have it.  Brad has been really sweet and indulges me pretty much every single time.
On Friday this meant Mellow Mushroom pizza and on Saturday night this meant Indian takeout.  I really wanted some kind of curry and naan.
Cereal has been the breakfast of choice for the past couple of week.  I've gone from shredded wheat with banana to Puffins and bananas, and now I'm on Whole Food's Raisin Bran.  I like it because the raisins don't have extra sugar like traditional raisin bran. I think it's just another excuse for me to drink milk. One morning I had a bowl of raisin brain with milk, then three hours later, I had a snack of Greek yogurt and a glass of milk.  Dairy is one of my biggest cravings.
I've also been loving sandwiches with cheddar cheese, turkey bacon, and just a little Duke's mayonnaise. This was my favorite sandwich in high school and now it's back with a vengeance.
Fun Stuff:
I heard several months ago that Mothers of Multiples sales are great opportunities to score some baby stuff for very little, so I set off early Saturday morning to attend one in Charlotte.  A friend of mine with a two year old went with me and she was a HUGE help.  We paid the $2 to get in at 7:30 (at 8:30 it was free).  It was so worth it.  Everything was completely picked over after 30 minutes or so, but I got some great stuff for very little. Here's what I bought.
So all in all, I only spent $170 and saved a lot of money by buying consignment. I'll definitely be checking out some more consignment sales, especially after I find out the sex of the baby and can hit up the clothes as well.