I shared a lot of Dole products via social media outlets during my time at the Dole Summit and a lot of you were curious to know more about the products you saw on Twitter, Facebook, and Instagram.  
Here are all the juicy details. Pun intended. 
***
Learning about recipe makeovers was a lot of fun, mainly because we did a lot of sampling as we went (thank goodness for a light breakfast!).
But then it was time to move on to sampling Dole products.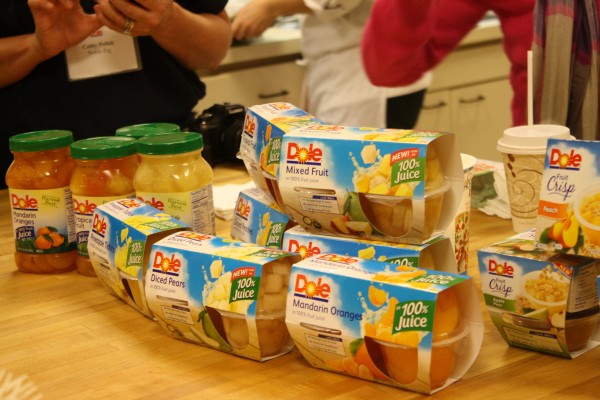 First up was a product with which you're probably already familiar — their fruit cups. To the right is a new product called Fruit Crisp which is basically like a healthy dessert and comes in apple and peach with an oatmeal topping.
I had a bite of the apple and thought it was really yummy.  I often make these for myself at home, but can see how these would be something good to have on hand when you're not at home and are maybe at the office or in the car.  It sure beats raiding the snack machine.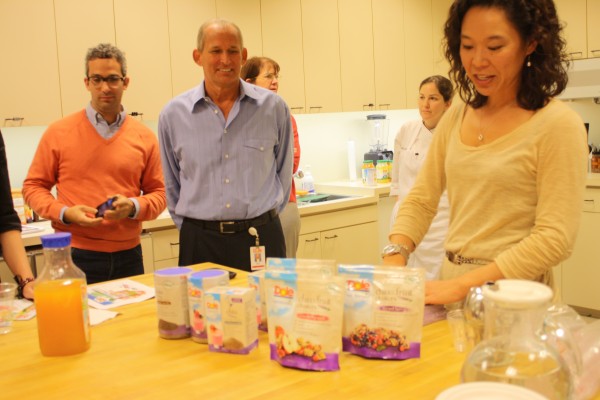 Next up, we tried Dole's new line of chia products.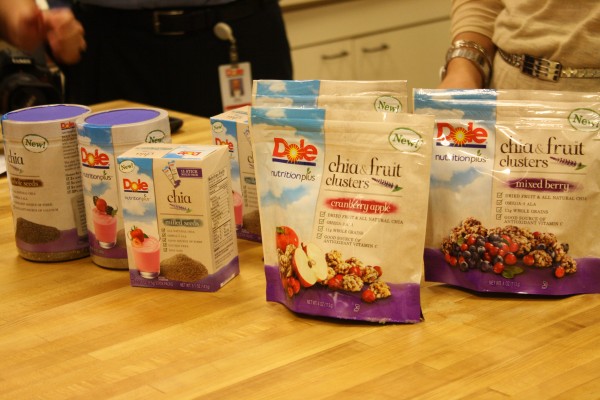 Besides milled  (ground) chia seeds, they also offer snacks with chia seeds already baked right in.  I liked the little chia packets that you can take with you on the go to add to your food.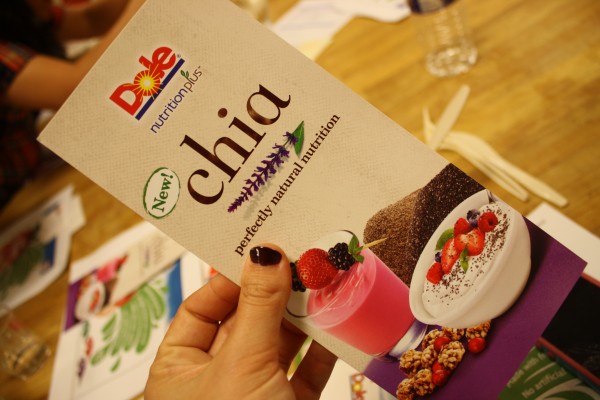 I found it interesting that the chia seeds are sold milled since I've been eating them whole this entire time, sprinkled onto (usually) my breakfast.
The bag of chia seeds that I use specifically says that they do not need to be milled to be digested, unlike flax which our body can't digest unless milled.  However, I did a bit of investigating and while most sources say that seeds do not "need" to be milled, a few sources say that milling them unlocks the omega 3 properties.  So, from this I've deduced that these seemingly conflicting sources mean that while we can digest whole chia seeds, we can't get the full benefits of the omega 3's without milling them first.
However, if anyone had any conflicting information about this last statement, please let me know in the comments.  I'm no expert so I can only make inferences based on what I've read.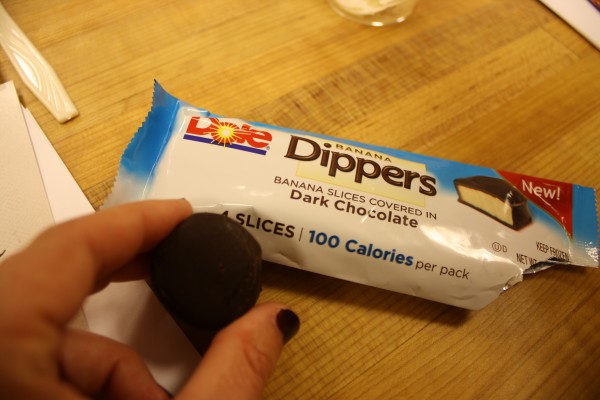 One of my favorite Dole products that I tried was their 100 calorie banana dippers. Usually I don't buy into the whole 100 calorie snack packs because they're just a bunch of processed crap (to put it nicely :)).
However, this snack is really only frozen banana and dark chocolate, plus a few of the random ingredients you typically find in chocolate, even the good organic stuff (trust me, I checked) and ascorbic acid (the chemical name for Vitamin C).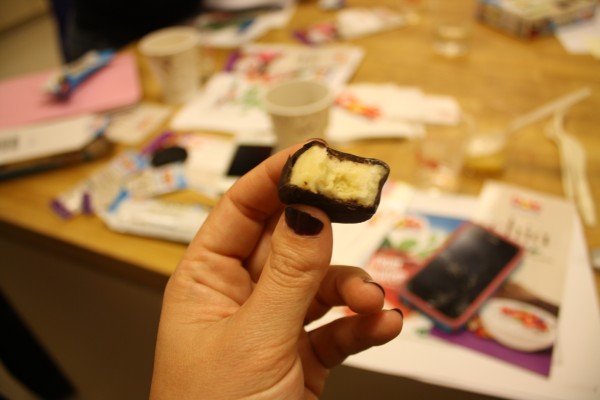 Yum!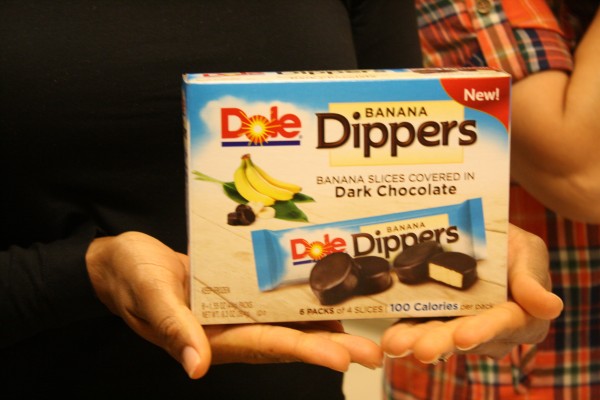 I think these would be wondeful for taming a sweet tooth in a healthy way.  Now, I just have  to figure out where I can buy these in Charlotte.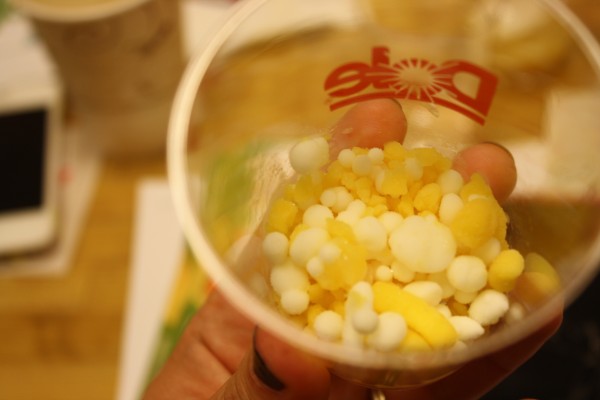 We also tried some of Dole's Smoothie Shakers, which is basically tiny balls of fruit and yogurt that are ready to be mixed with your choice of juice.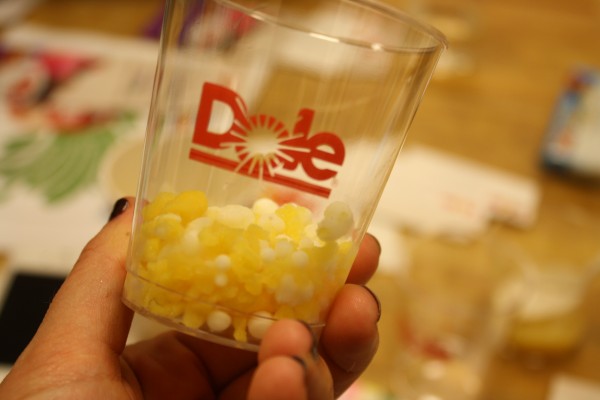 They come in a much larger container than what I'm showing here.
Basically, you just shake the container to knock the fruit and yogurt loose, add your juice, and then shake again to combine.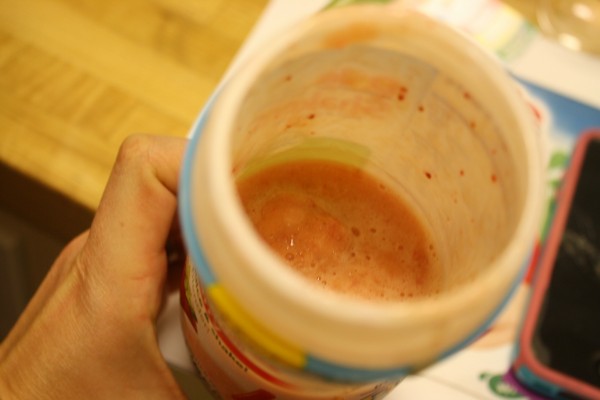 And this is what you'll get.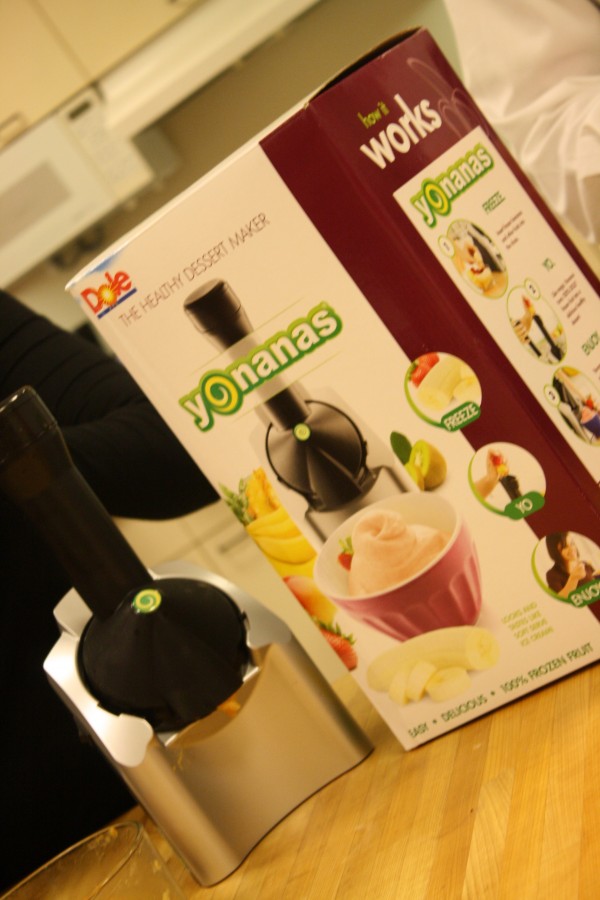 Did I say the banana dippers was my favorite product? Okay, maybe they are my second favorite product, because (in no attempt to avoid sounding super nerdy), I thought this appliance was really neat.
The Yonana is basically an appliance that takes making frozen whipped banana and makes it super easy.
If you've never heard of frozen whipped bananas, it's basically a method of making healthy "ice cream" by freezing bananas and whipping them in a blender or food processor.  It tastes just like banana ice cream! And you can add all kinds of other ingredients to change the flavor.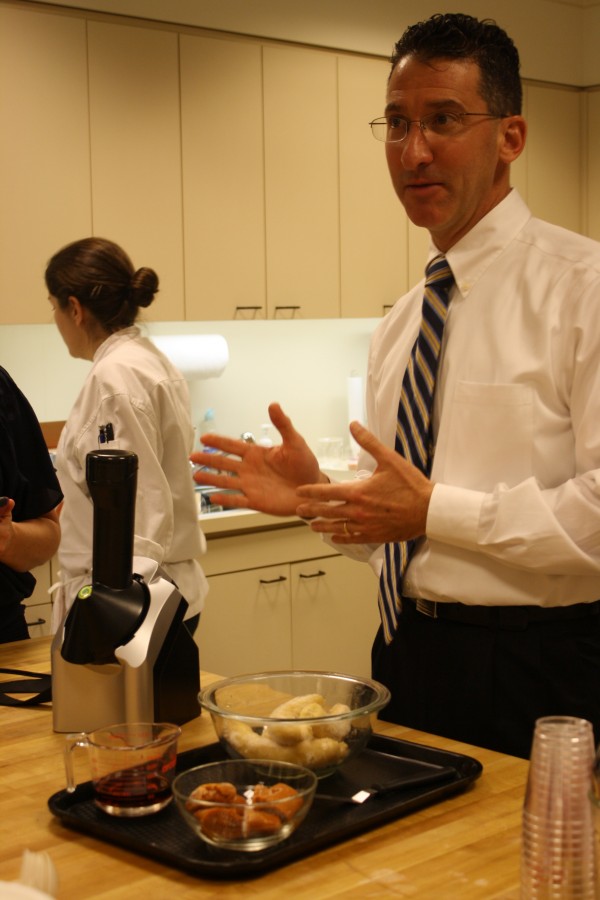 For the demonstration, frozen pumpkin and maple syrup was added to the frozen bananas.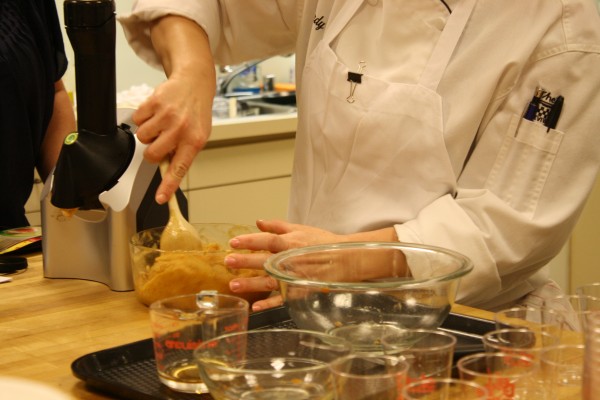 The pumpkin went in the Yonana with the banana, and then the maple syrup was added once everything was well blended.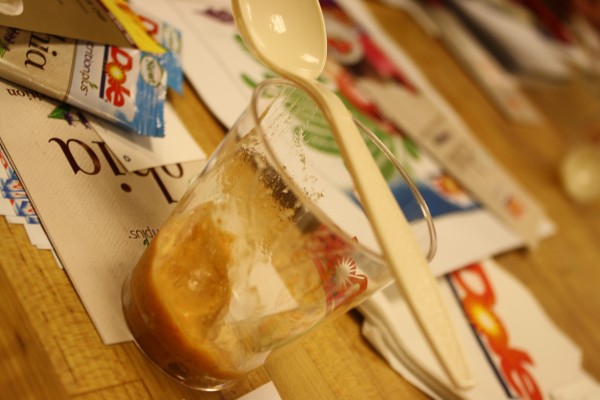 It was so good!
You're probably wondering why you need an additional appliance when the same thing can be achieved in a appliance you already own. I thought the same thing too until I remembered what a pain the butt it is for me to make this treat in the food processor.  In fact, I haven't made it in forever because it can be a bit of a tedious process.  You know how big and bulky a good food processor is to get out and put together.  And then on top of that, you have to use a lot of bananas to really get the "ice cream" creamy and smooth without a bunch of banana lumps.
Of course, I haven't used this product (yet!) so this is all based on the demonstration we were shown.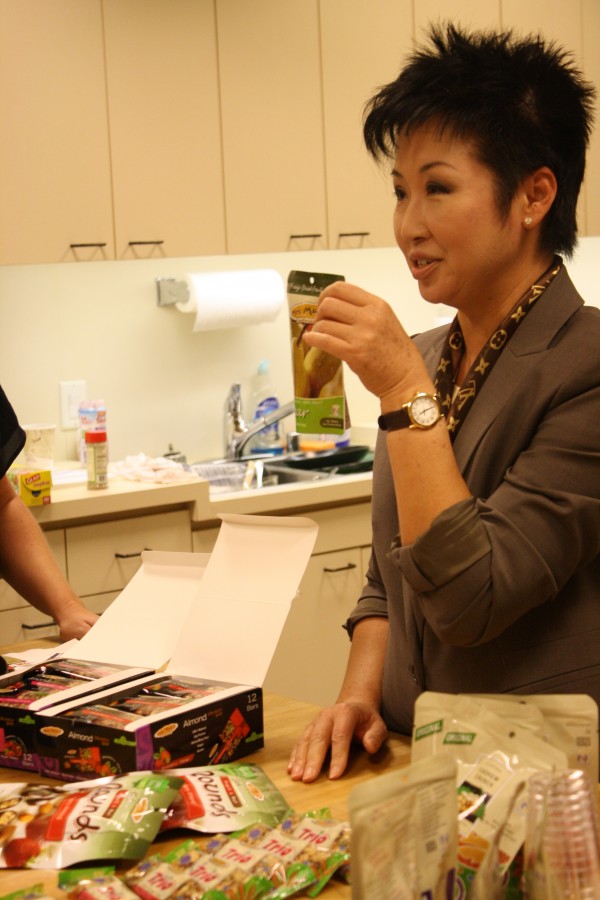 We also learned about Mrs. May's products and the really cool story behind this little company which is now owned by Dole.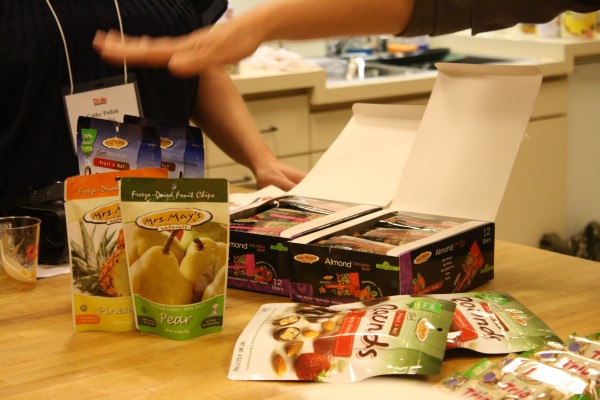 Mrs. May's has all kinds of snack products like granola bars, such as their almond crunch bars (black box in the back)…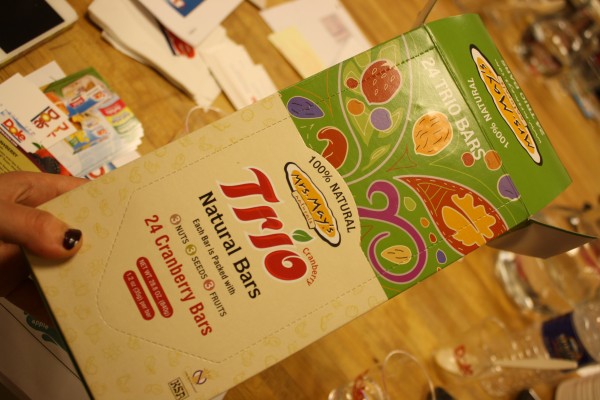 …their trio bars, which I sampled and found to be slightly sweet, crunchy, and overall a great snack, plus several more varieties of snack bars.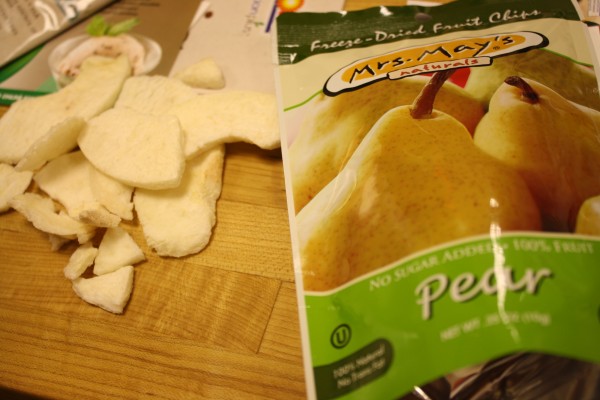 My favorite  of the Mrs. May's products were the freeze dried pears.  There are several other fruit flavors as well, but I'm partial to the pear.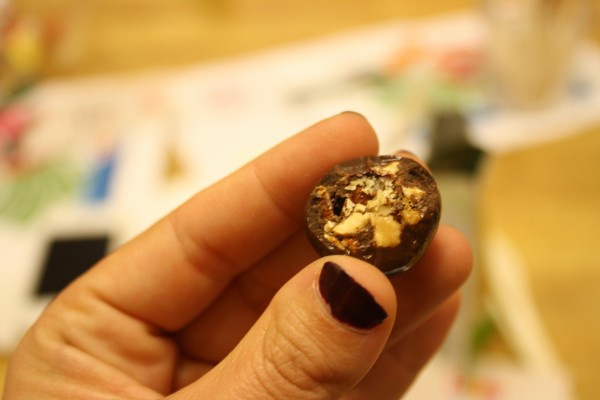 These decadent little chocolate rounds were also really delicious.  Basically it's their original product, the Classic Crunch covered in chocolate.
The Classic Crunch is mostly nuts (almonds, cashews, walnuts) that have been dry roasted with a bit of sea salt and sweetness from evaporated cane juice.  Most of the Classic Crunch varieties only have four ingredients and all of the Mrs. May's products are gluten and dairy free.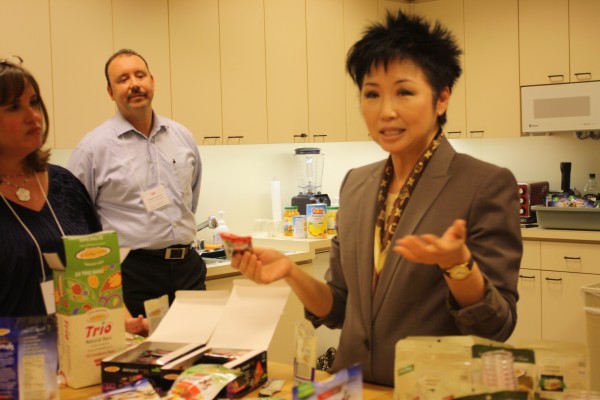 The co-founder of the company isn't named Mrs. May.  Mrs. May was her grandmother's name.  She use to make her grandmother's recipe for the Classic Crunch for her children and before long the parents of her children's friends were asking her to make them some.  The demand for the snack passed down from her grandmother became so great that her brothers founded the company named after their grandmother.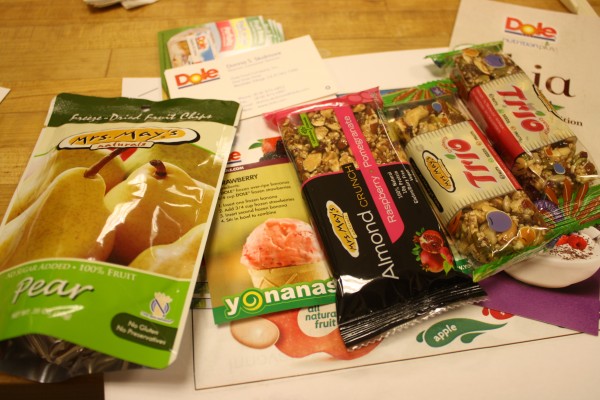 I loaded up on a few free goodies.  Don't mind if I do.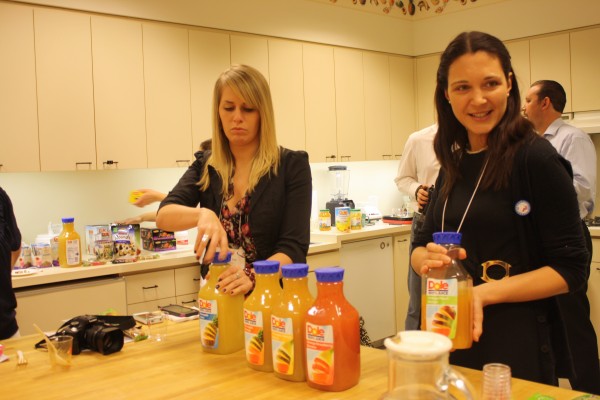 Last, we learned about Dole juices and how they went from being packaged in a carton to their current plastic containers.  I love learning about marketing strategies so this really interested me.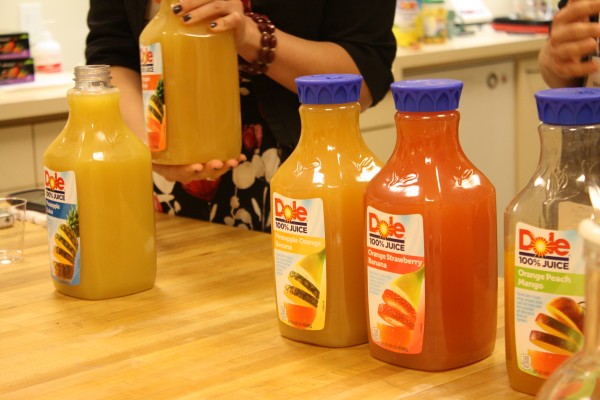 To be completely honest, I'm not a huge juice person.  I might take a few sips of orange juice if a waiter pours some for me without asking at a breakfast out. But I would definitely use these for mixers for cocktails when I throw parties (like the cocktail recipes from Dole that I'll post soon on my Facebook page). And I learned about using juices as marinades and as a base for sauces.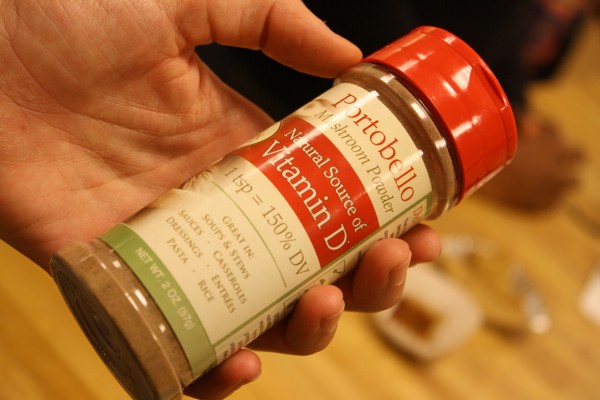 Last, but not least, we learned about the benefits of the Portobello Mushroom Powder, which is a natural source of Vitamin D.  If you follow dietary news, you probably already know that there are so many people who ar deficient in Vitamin D.  If this is the first you're hearing about this, you can read more here.
This product is a way to increase the amount of Vitamin D you consume everyday from an all natural source. This product is made from mushrooms, which are a good source of vitamin D.  The mushrooms are dehydrated so they're concentrated, then ground until they're a fine powder and mix easily into any food.
Side note:
I know this post probably sounds like a commercial from Dole, but I was genuinely surprised by a lot of the products Dole showcased during this session and fully intend on purchasing many of them for myself.  So of course, I want to share it with you guys, who usually get just as excited about learning about new food products as I do.
***
Don't forget that to get access to the many many light and healthy recipes that were given to me at the Dole Summit, simply like me on Facebook where I will continue posting recipes daily.
**
**Dole picked up the tab for my involvement in the Dole Summit and all travel costs.  However, I was not compensated for my time there and am not being compensated for any related posts. All opinions (as always) are my own.**