Brad and I are traveling through France using Rick Steve's Guide to France, 2012 edition. You can read about the first day of our journey here.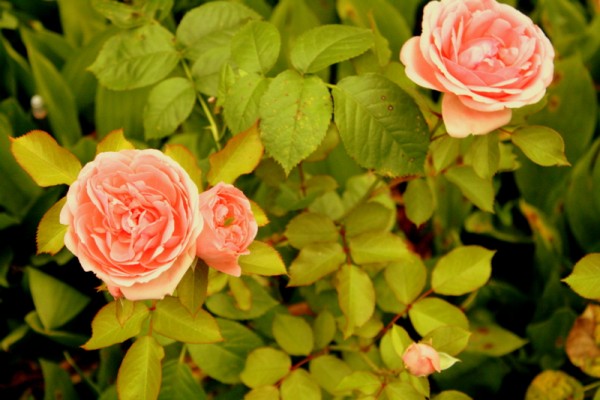 Good morning and welcome to day 2 of my French adventure. These gorgeous roses are in the courtyard, right outside of Hotel de Clos d'Amboise.
After breakfast yesterday, Brad and I set out to see the town of Amboise on foot.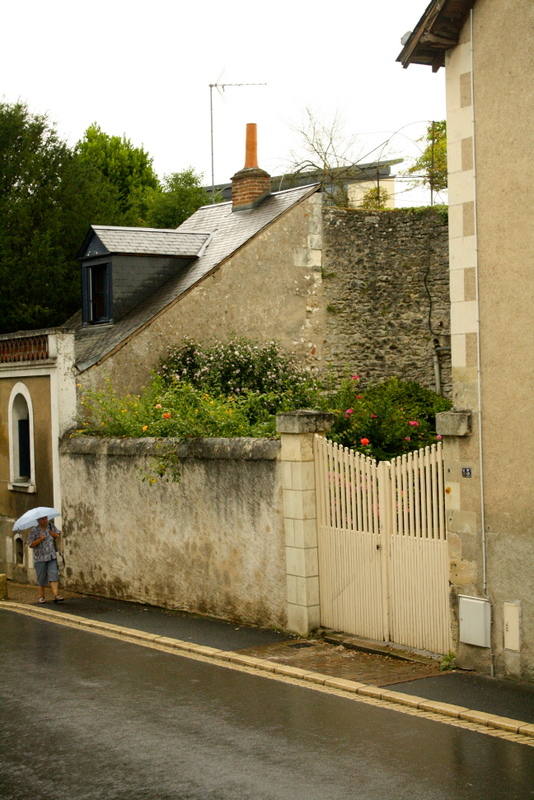 It seems like everyone here is a gardener. Every house and apartment, no matter how small or simple, has the most beautiful flowers, either in their yard or in their window boxes.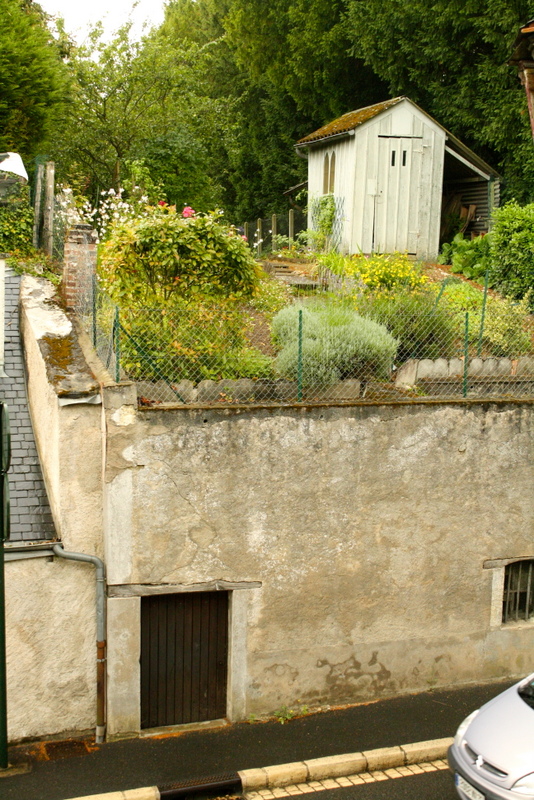 Some gardens are even on top of the houses.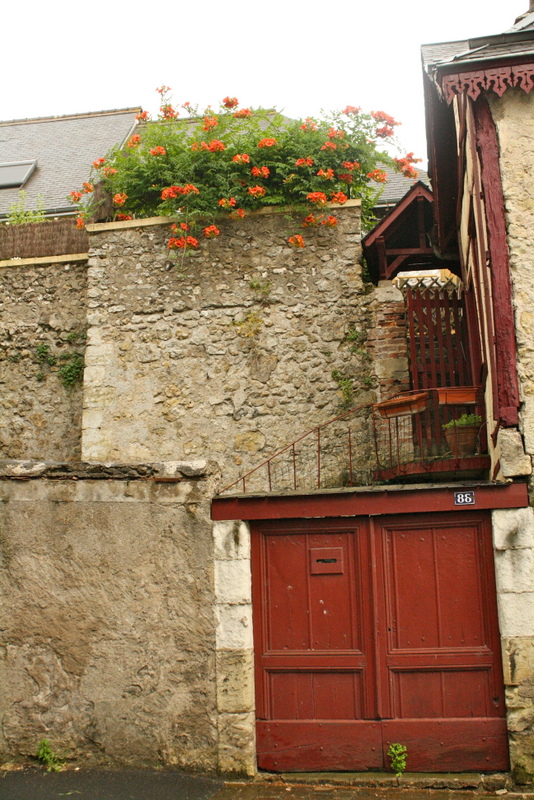 It drizzled off and on all morning, but luckily I thought to bring an umbrella. It was quite pleasant after the rain brought the temperature down into the low 80's.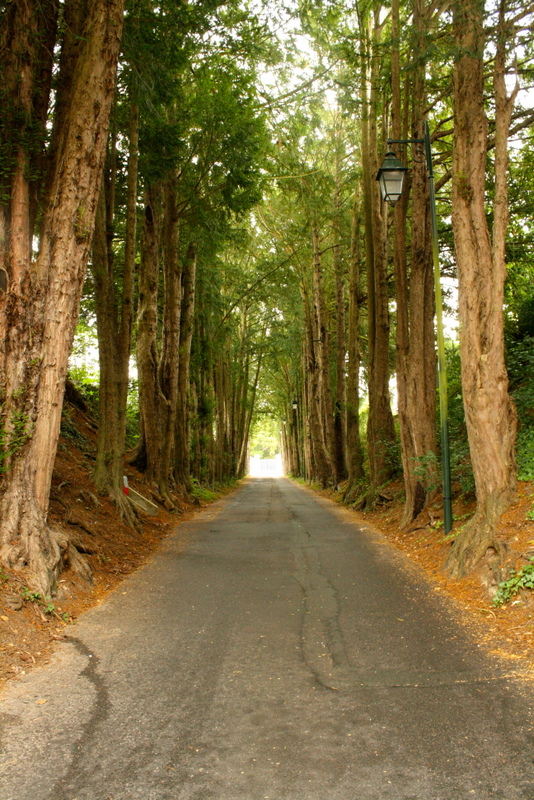 When traveling, I sometimes feel pressure to do what the guide books tell us to do, but Brad and I have a lot more fun when we give ourselves time to see an area at a relaxed pace.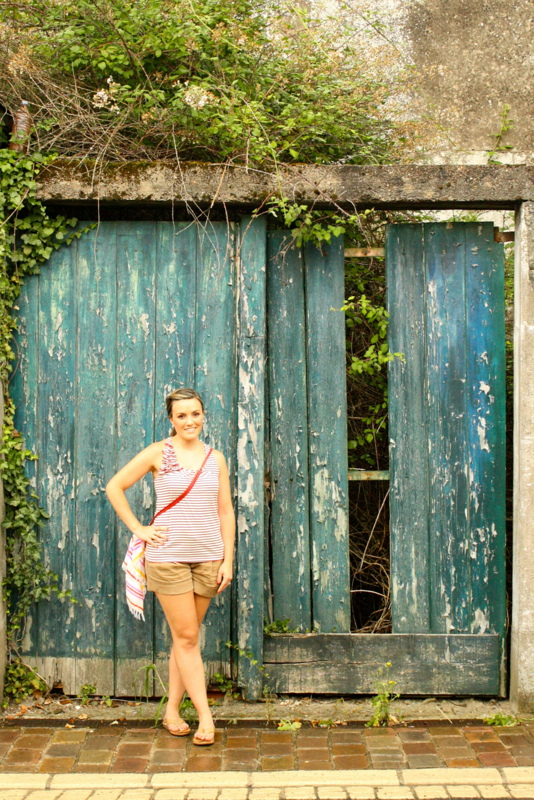 We had a wonderful time taking in the culture of the town, even if we didn't stop by any of the must-see sights all morning.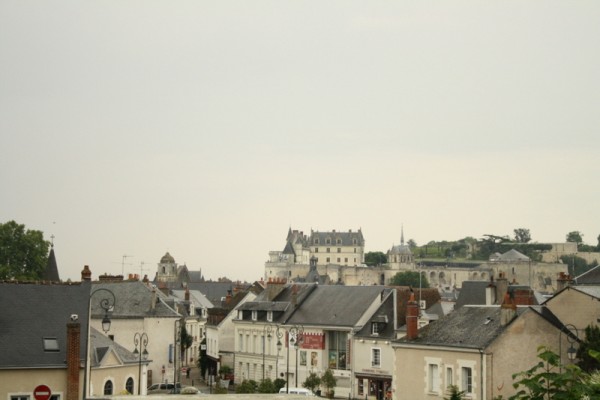 Eventually, we found ourselves at the top of a hill overlooking the town of Amboise.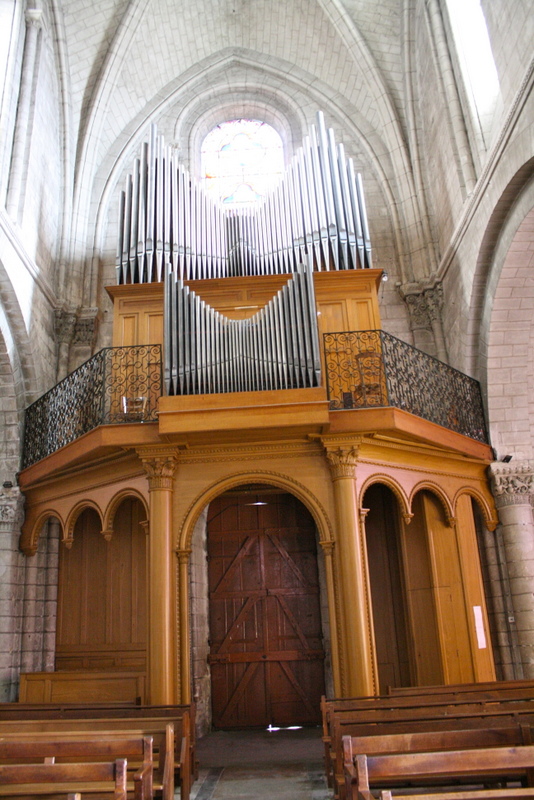 On the hill was the Church of St. Denise, a Romanesque church that dates back to the 12th century.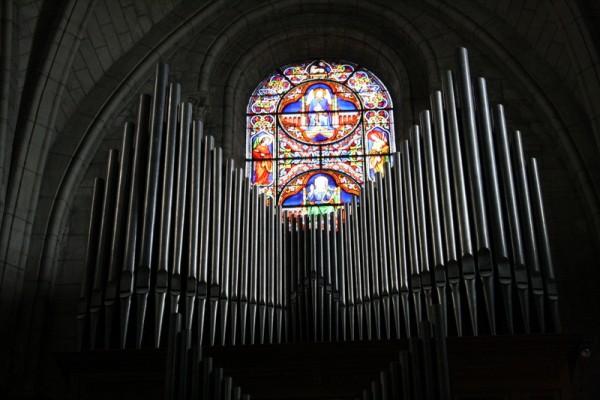 The stain glass is actually from the 19th century. It was replaced after most likely being destroyed during the French Revolution.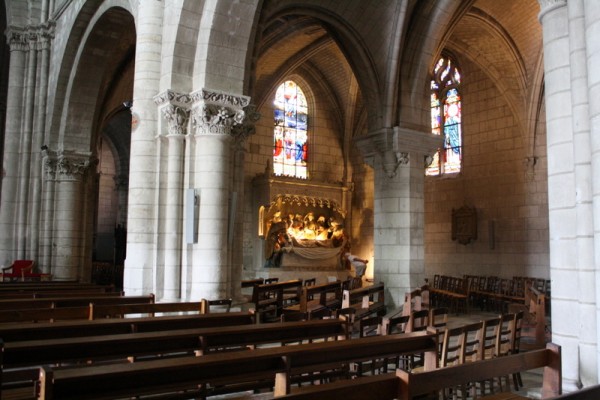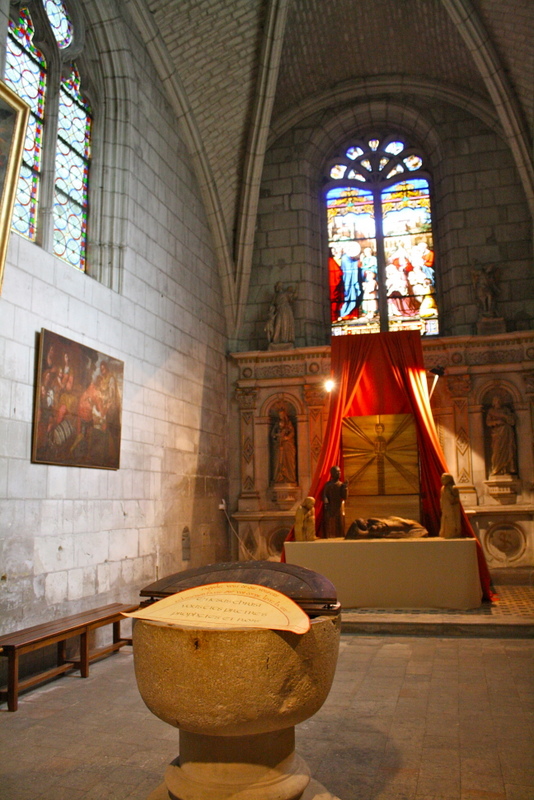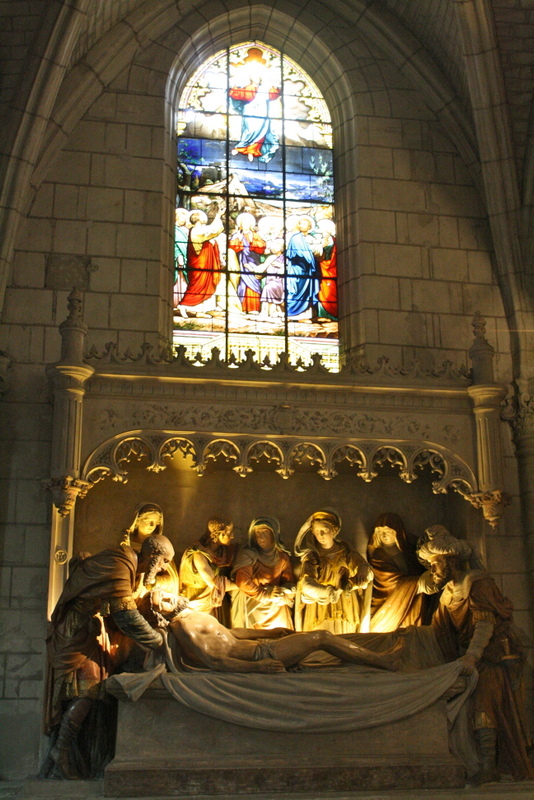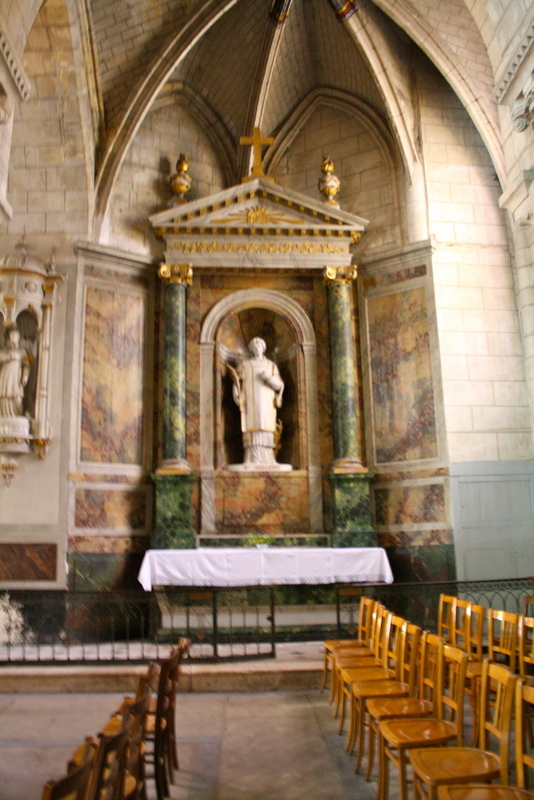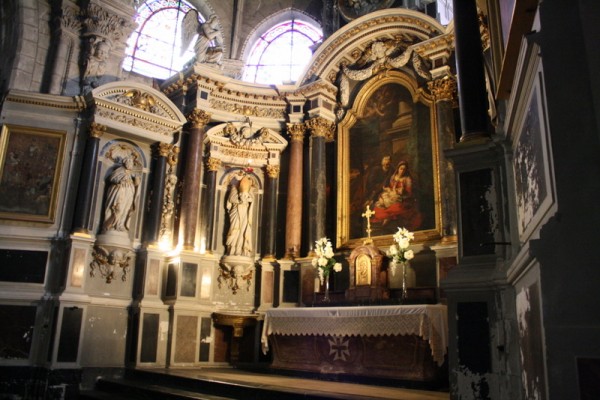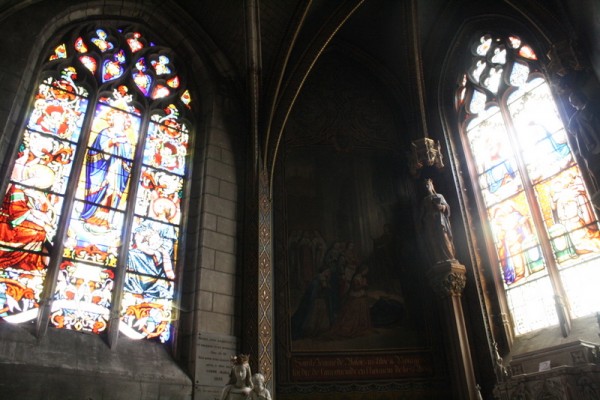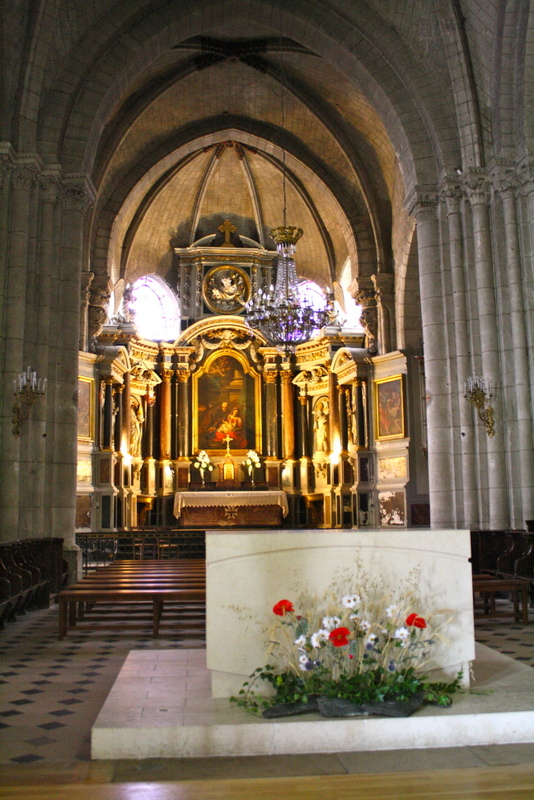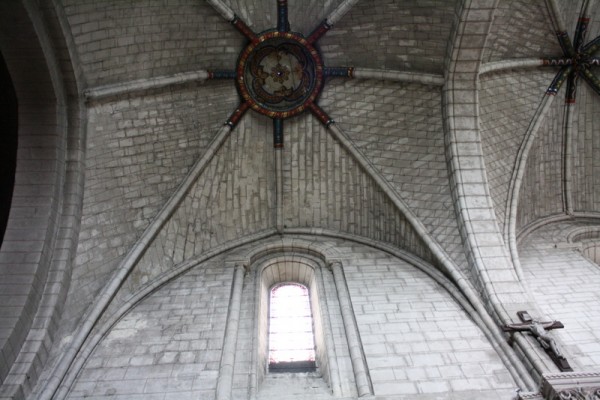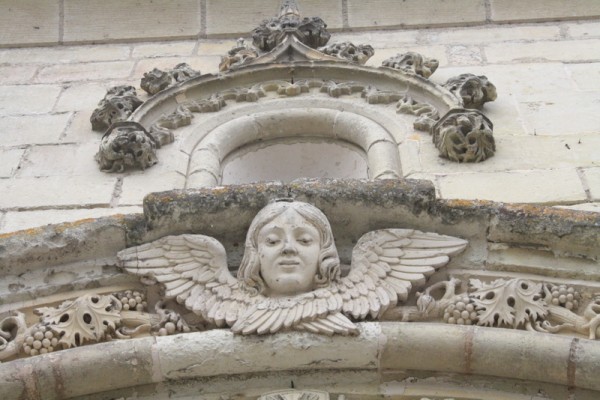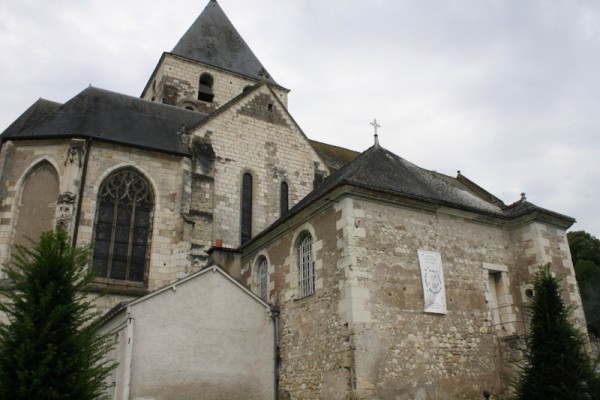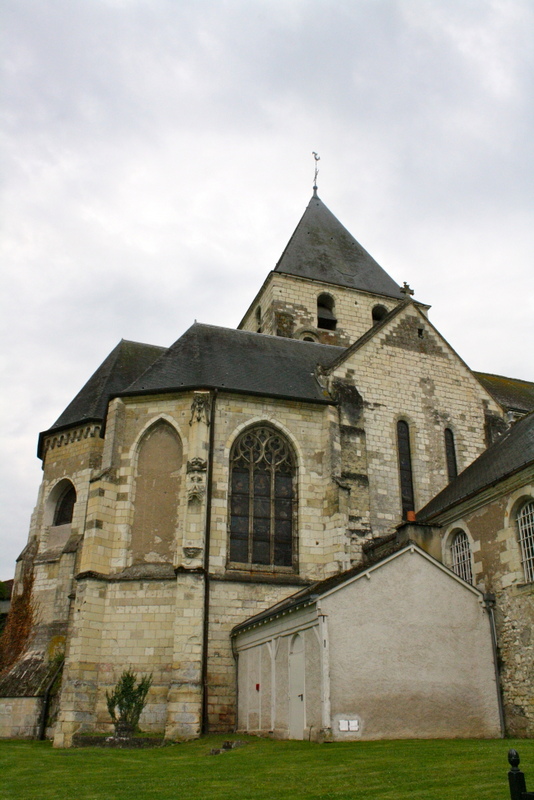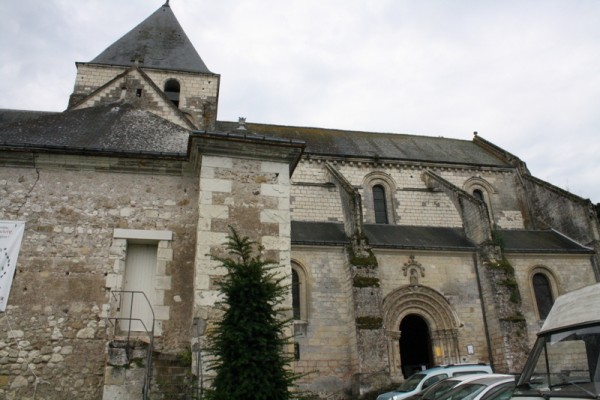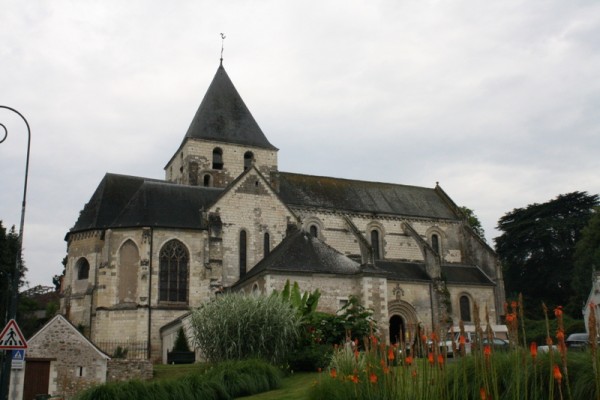 After leaving the church, we headed back down into the town and then found ourselves at a public market.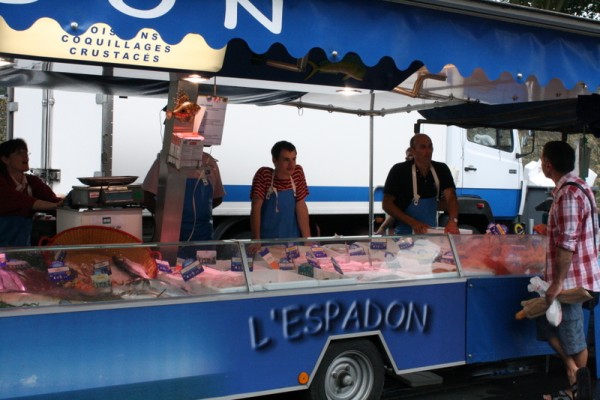 French markets carry a lot more seafood and meat than American markets and Brad and I loved looking at all the things for sale, especially seafood that seems exotic to us like skate.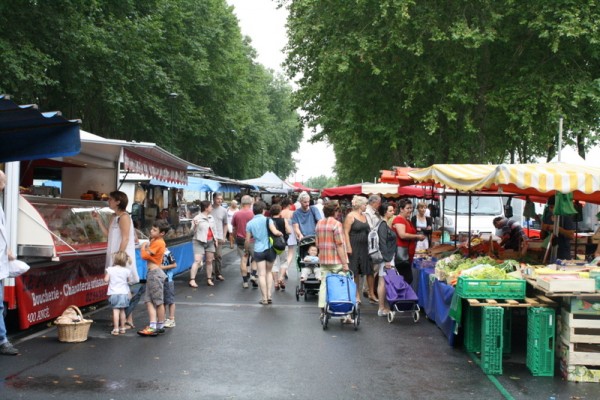 By this time in the day, we were getting a bit hungry so Brad and I picked up some things for lunch.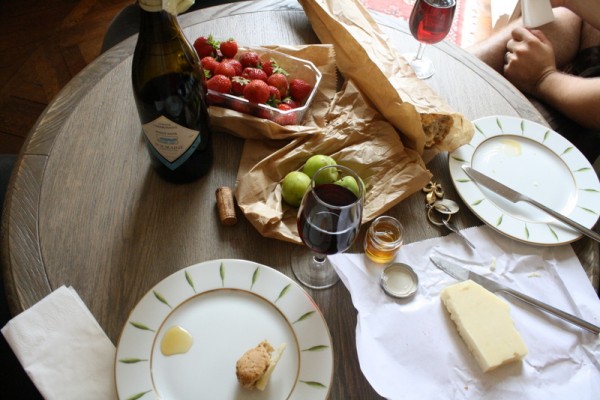 We took our food back to our hotel and enjoyed lunch in the salon. We ate *mild* cheese, a baguette, strawberries, green plums, leftover honey from breakfast and part of a bottle of Pinot Noir we bought from a local wine shop.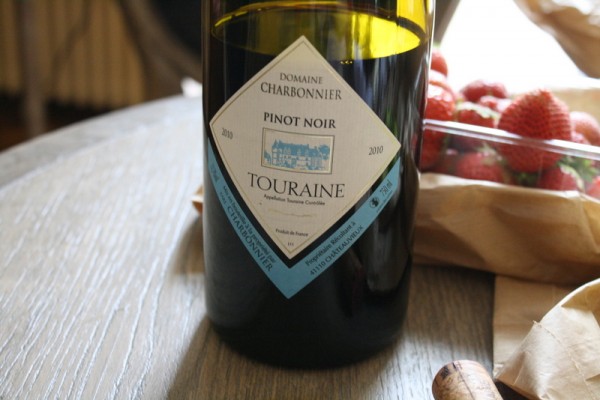 The Pinot Noir was local to the area, but not one of my favorites. I like more fruit forward dry wines, but this one was just plain dry.
After lunch we set out to rent bicycles to travel to a local chateau. Somehow, taking photos on our bike ride escaped me, probably because my bike seat was a bit too high and so I avoided stopping at all costs.
The owner of the bike store gave us a map to Chateau de Chenonceau (which you'll also see spelled as Chenonceaux), the grandest chateau in the region, which is about 13 Kilometers (8.08 miles) from Amboise. I led the way on our ride. Just outside of Amboise, we met the most ghastly hill. If I had had the lung capacity, I would have cursed it all the way to the top.
My bike was a five speed, but unfortunately only the highest and lowest gears worked. I made do and eventually we arrived at the Chateau.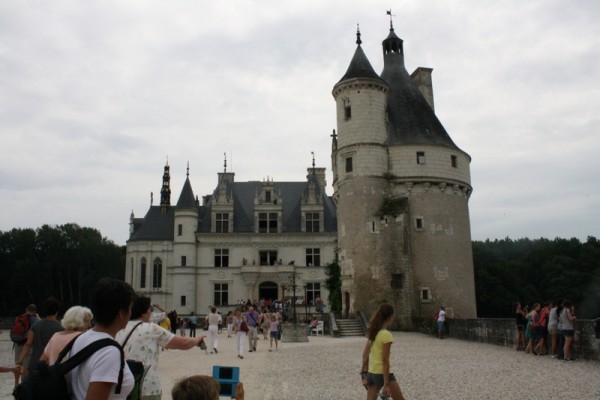 The chateau is breathtaking. If you've ever really studied European history or read any of the Phillipa Gregory Books, like The Other Boleyn Girl, (guess which category I fall into), then you know that once a queen had her first baby, she typically retired to her own estate while the king stayed at court.
This chateau was used for this very reason. The chateau was built in the 16th century and was originally given to the favorite lady (i.e. mistress) of King Henry II, who was later thrown out by his widow, Catherine de'Medici. From then on, several ladies lived here.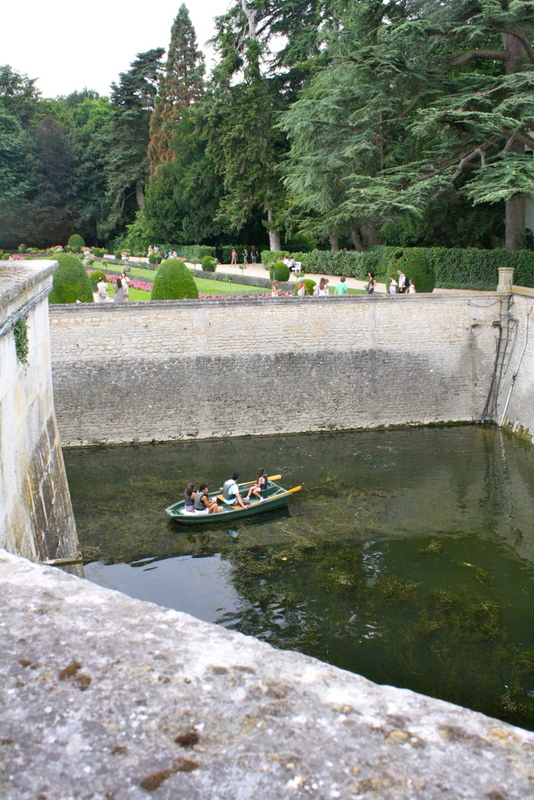 The chateau is built on top of a river and you can rent boats to paddle around in the water surrounding it.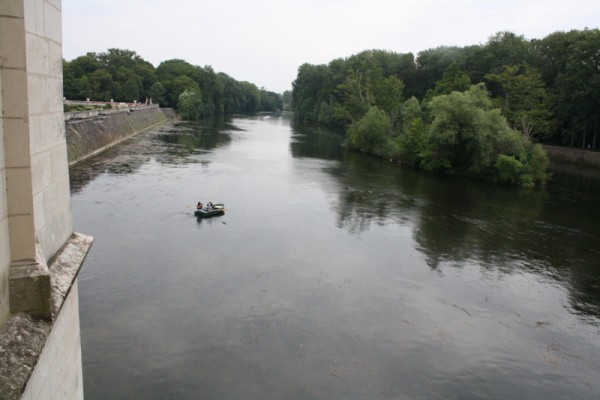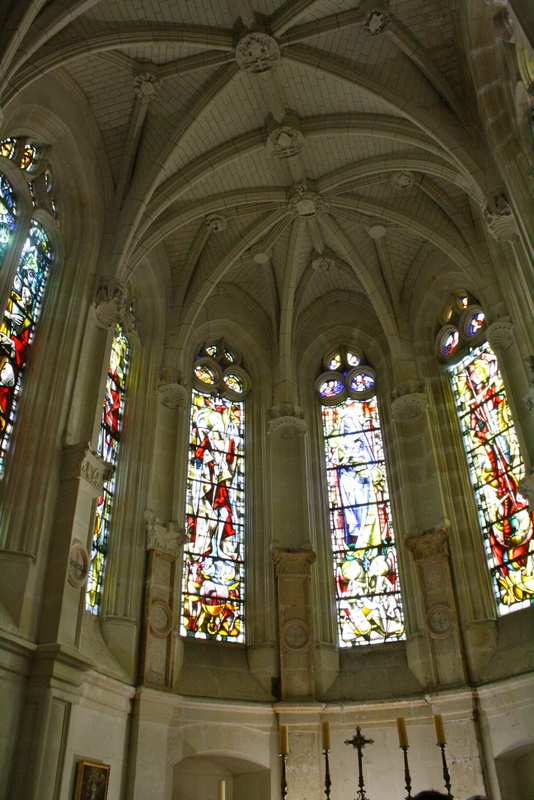 It has its very own chapel.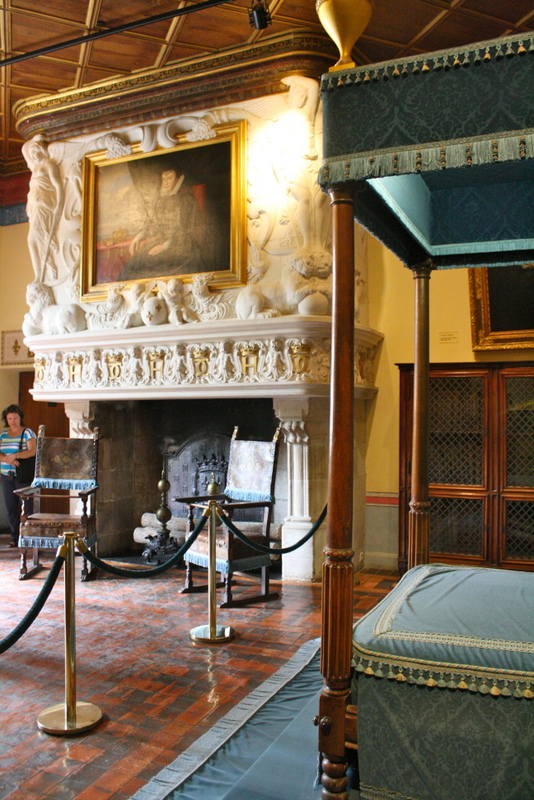 The whole place is pretty spectacular.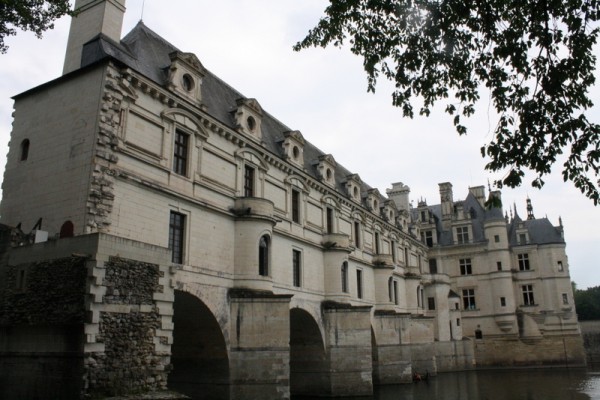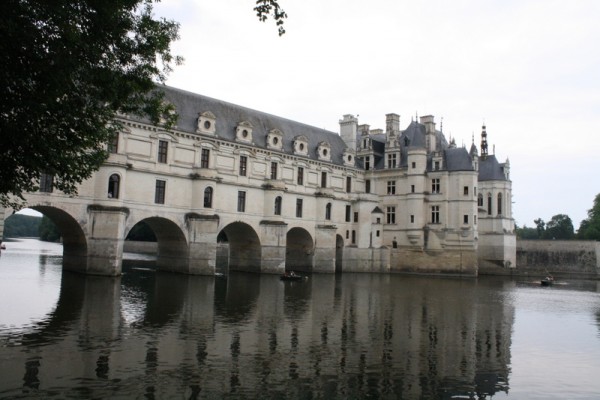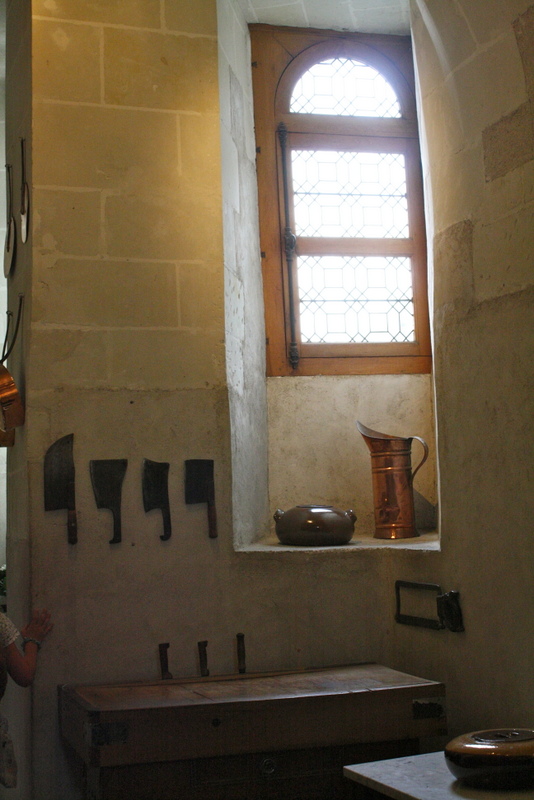 We toured the whole house except for a few bedrooms being refurbished on the top floor.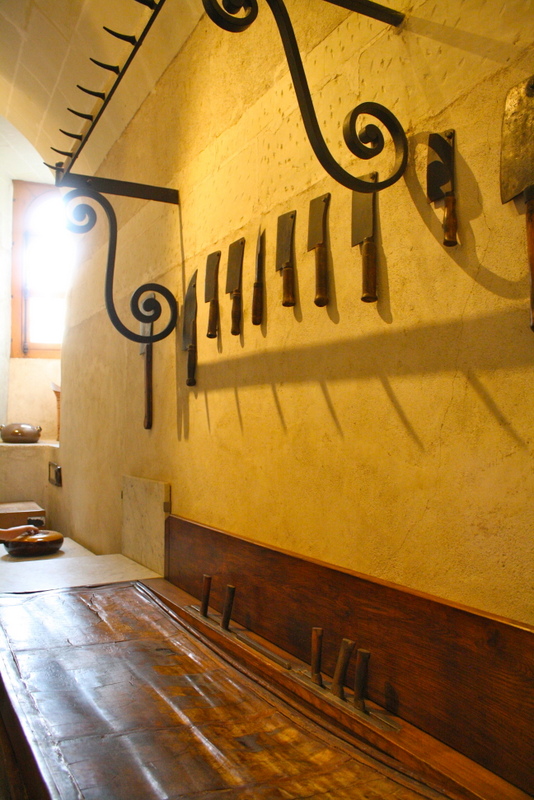 The kitchen took up most of the basement.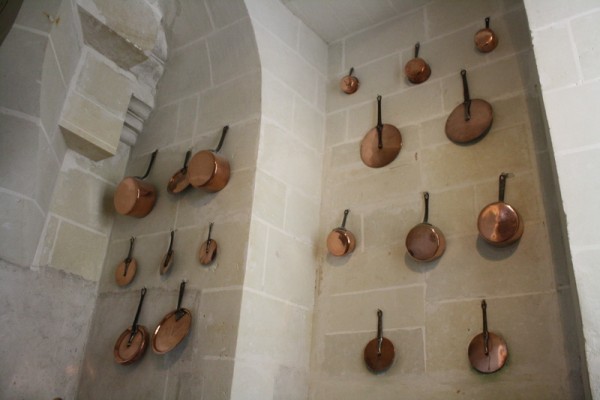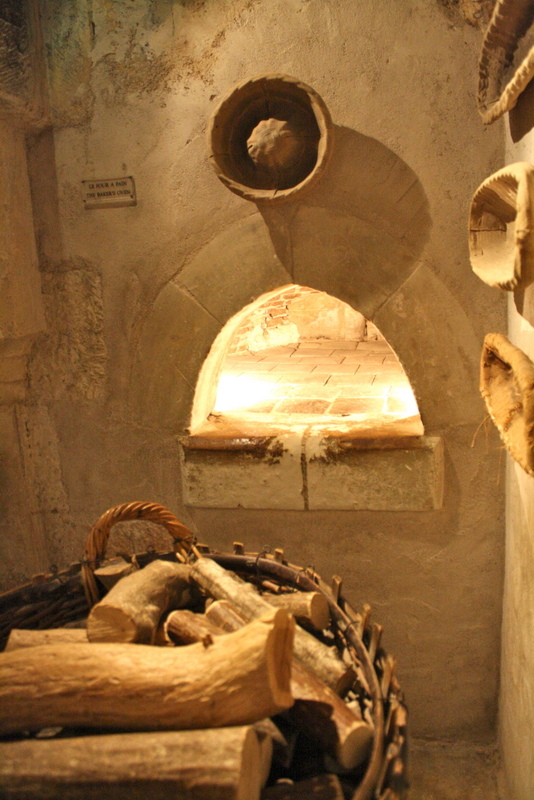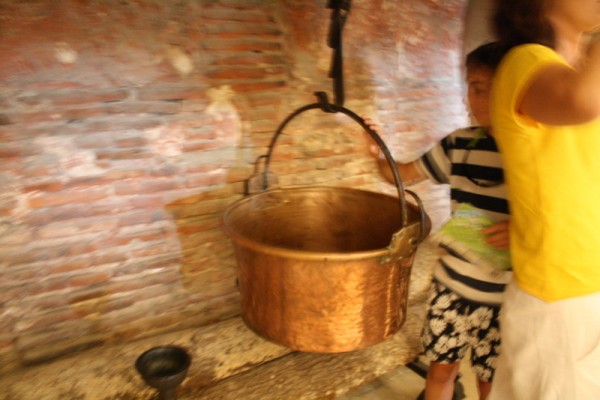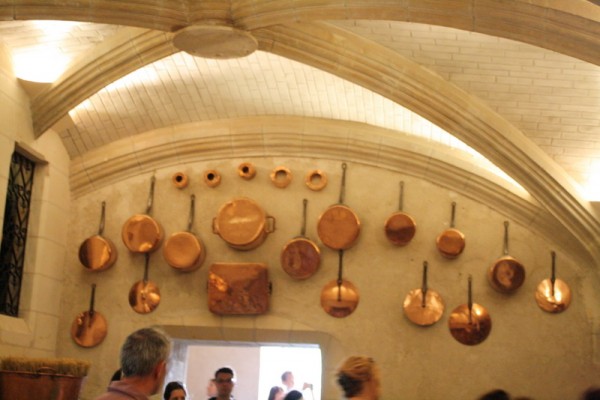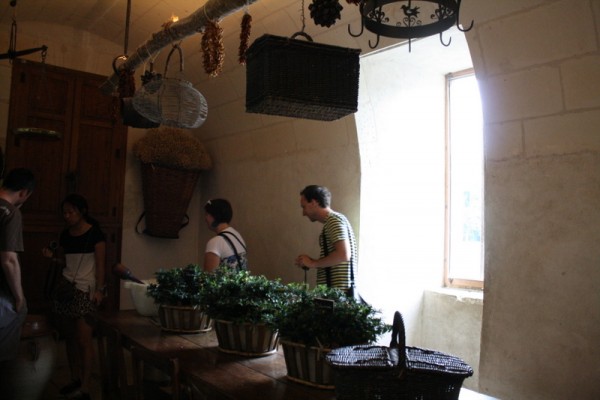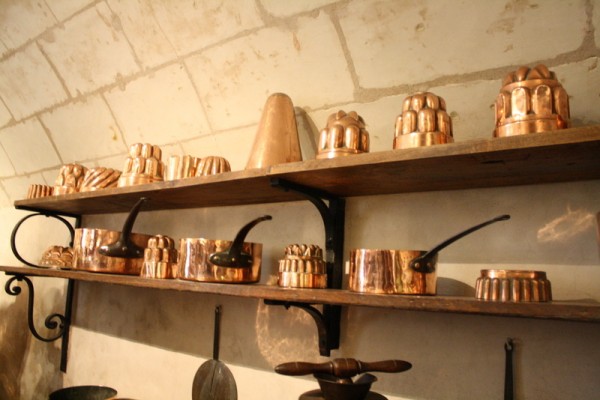 Check out those bundt pans.
This is more than double the size of my big oven at home.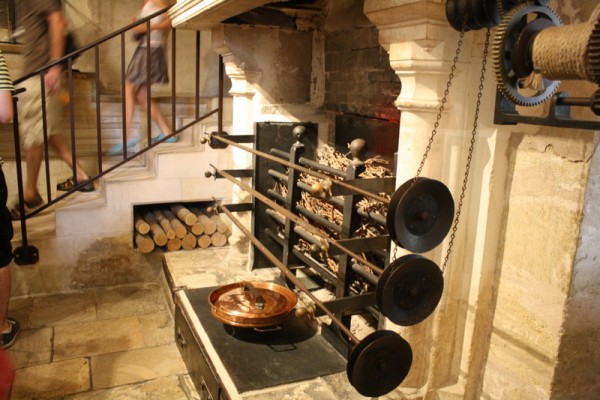 Gigantic rotisserie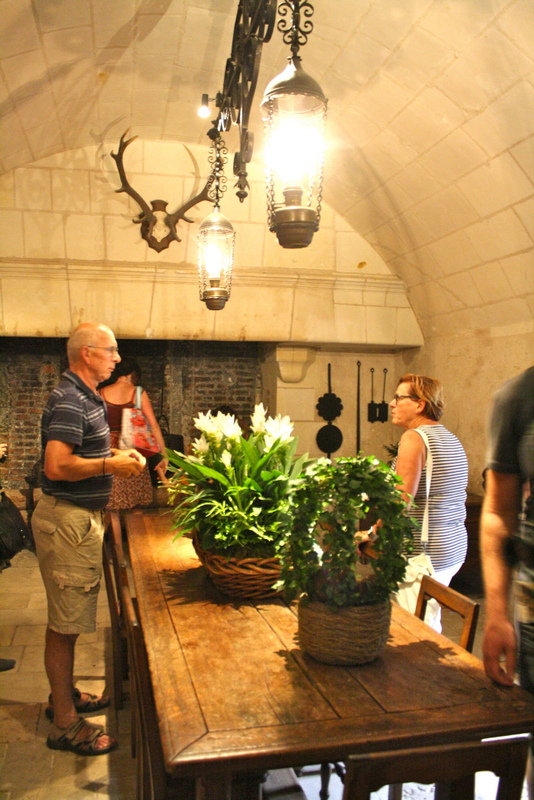 A second dining area
It's virtually impossible to get a photo in the chateau without also photographing the other tourists. This is because this chateau is extremely popular and has loads of people in it at all times, according to the person who rented us the bikes.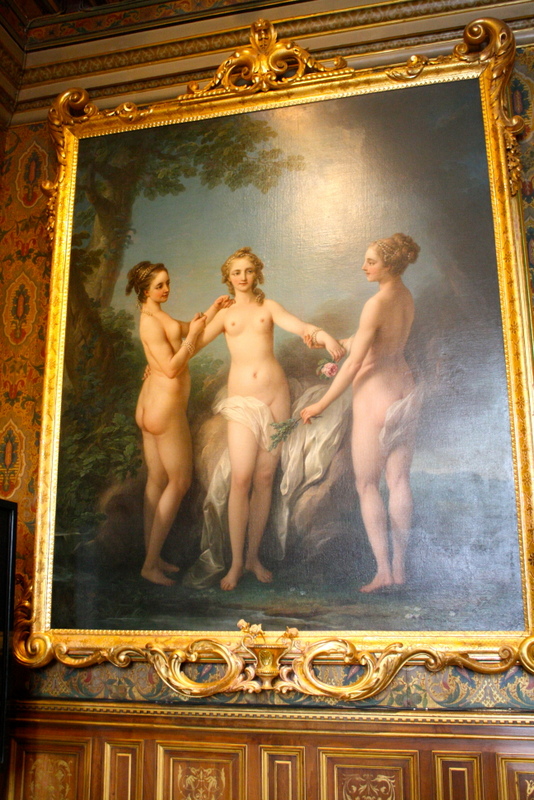 The framed art is enormous — much taller than I.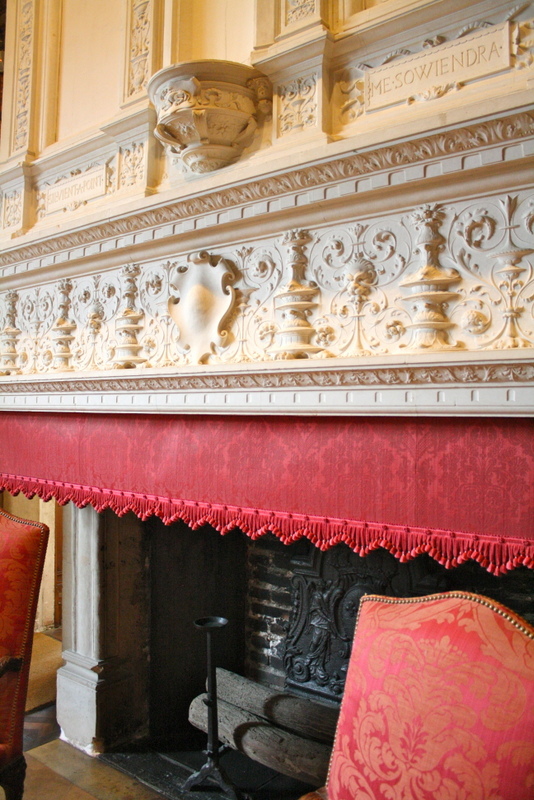 I named this gold creature over a fireplace the "dachshund monster".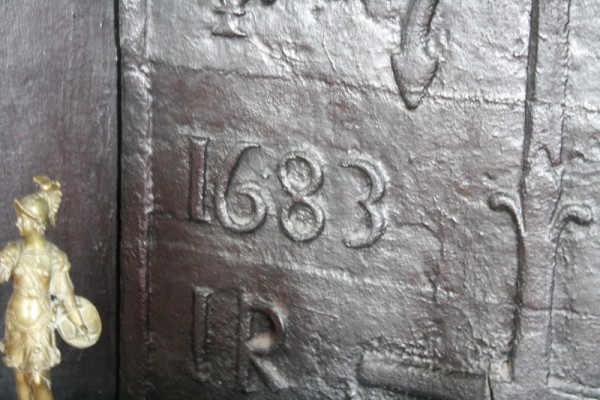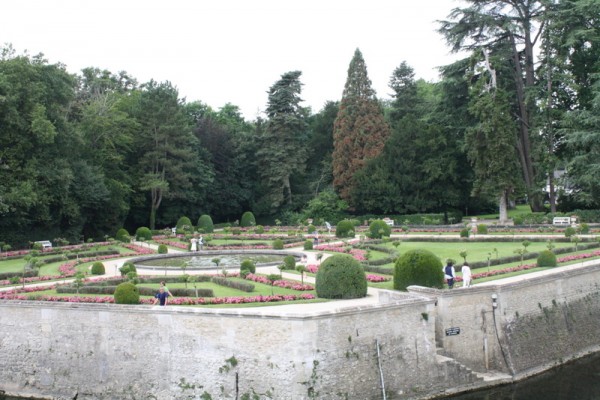 There are different levels of pricing for the chateau depending on how much of the grounds you want to tour. We got the cheapest tickets, knowing our short attention spans, which was 10.50 Euros and granted us access to the house and garden.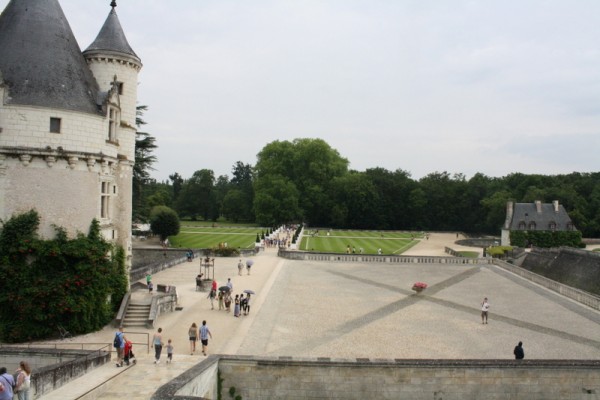 However, when we exited the house, it started to rain quite a bit so we decided to wait out the rain and forgo the gardens for the time being.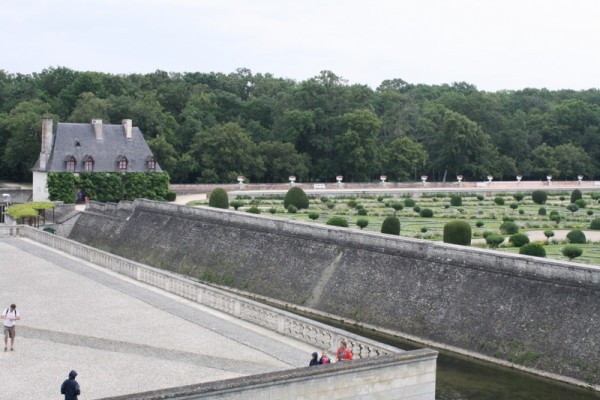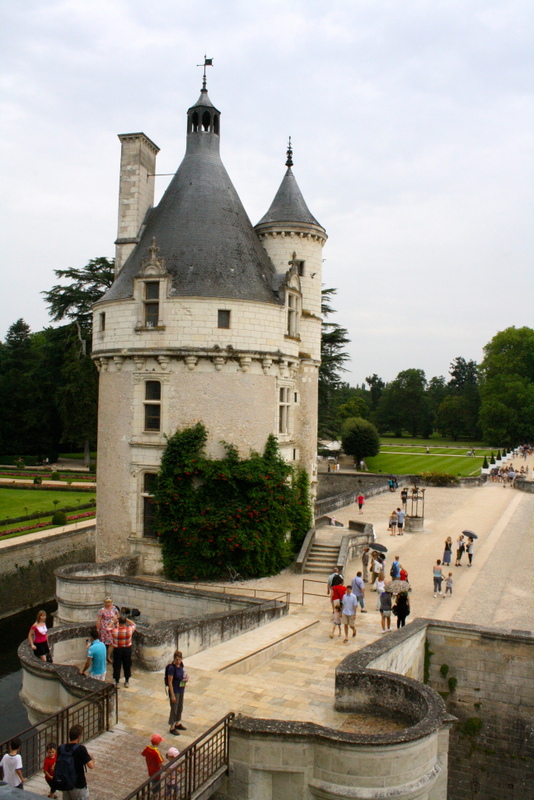 Instead, we decided to share an ice cream cone (not pictured) at a terrace outside the stable houses (also not pictured). After some time, we decided to brave the rain and ride back regardless of the weather.
We got quite wet the first two kilometers, but then the rain stopped and we managed to dry off the rest of the trip. The trip back was much much easier.
About two kilometers from Amboise, we came upon a crossroads. I tried to stop using my right break, which also decided not to work at the exact same moment. I almost careened right into another biker. I saw what was happening in slow motion and put my right foot down while saying, "I'm sorry! I can't stop!" I just barely bumped into her, thank goodness. The woman was American and very friendly, and we laughed about it for a good five minutes before going on our way.
We really enjoyed riding bikes to travel to another town. Besides renting a car, another option was to participate in shuttle tour, ranging in price from 104 – 230 Euros for two people. The bikes cost 18 Euros total (for a half day), we got some exercise, and really experienced the sights, smells, and sounds of the country side. I highly recommend it over the pricier options. Also a benefit — we went where we wanted at our own pace. Tours drag you to multiple chateaus and you're at the mercy of their time constraints (i.e. possibly no leisurely enjoyment of an ice cream cone).
Once we got back to the hotel, we took our time showering and getting ready for dinner. The French eat dinner much later than Americans typically do so we didn't plan to eat until well after dark. After having a "just okay" experience the night before, we planned to find our own restaurant instead of looking at the guide. The night prior we asked our concierge to make our reservations and he said getting a table would be no problem because it was a week night. We took this to mean that a reservation wouldn't be necessary for most restaurants. We found a restaurant that we wanted to try and walked the five blocks to it around 9 pm without thinking to check to see if the restaurant required a reservation.
They did and we were very disappointed. However, we saw another menu that looked pretty good the night before at L'Alliance, which also happened to be recommended in the guide book.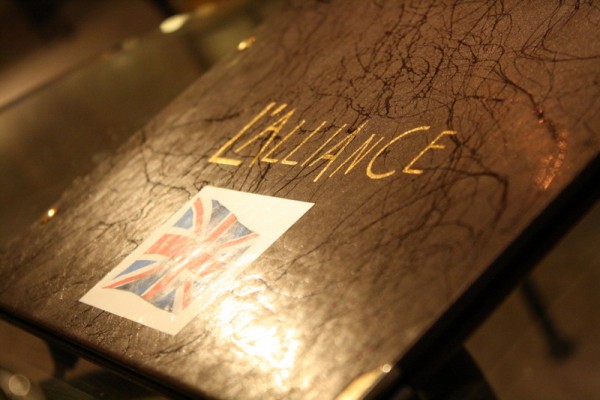 L'Alliance welcomed us and sat us immediately. It seemed to be a no-frills family-friendly restaurant. They asked us if we preferred the menu in French or American, much to my delight. Our waiter (who we think may have been the owner) was happy to make recommendations and explain, as best he could, what exactly went into the preparation of each dish and where the ingredients came from.
Most of their menu (except the fish) comes from the local area. My kind of restaurant. 🙂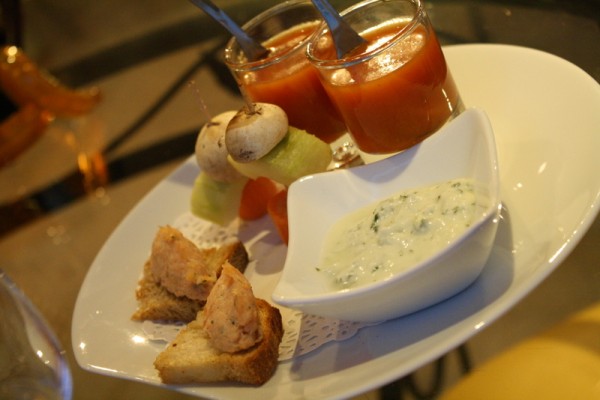 They immediately served us bread and some small tastes: bread with salmon mousse, skewers of raw veggies and creamy herb dip, and gazpacho. It was very nice and took the edge off my hunger.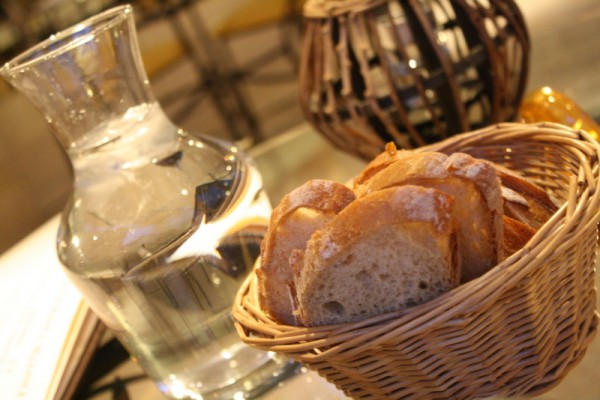 Brad and I looked over the menu and perhaps for the first time ever, wanted to order the exact same thing.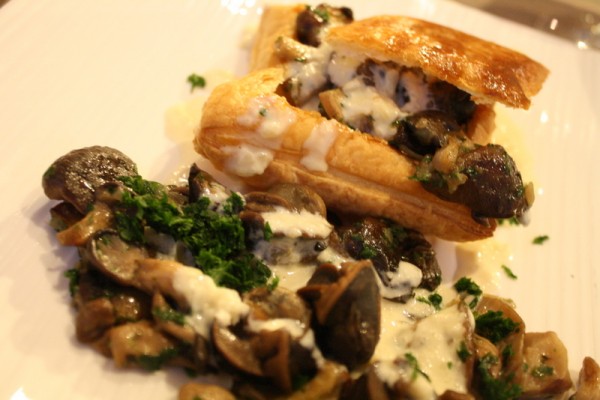 We started with feuillete with mushrooms and snails in a garlic sauce.
From what I can tell, feuillete is puff pastry. This was delicious and although I still would rank the escargots the night before as the best ever, I really enjoyed this dish.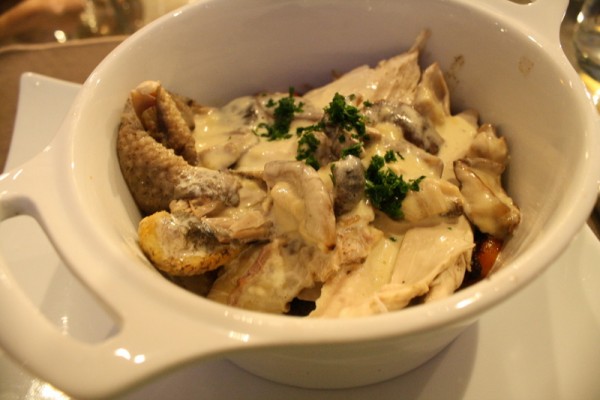 Our second course was hotpot of Geline de Touraine, truffled salt and seasonal vegetables.
The "geline" is local chicken (from Touraine) and was delicious. Basically this dish is seared chicken (with the skin on and bones) that is then cooked in a crock of cream, vegetables, and seasoned with truffle salt with a bit of parsley. I would have preferred a tad more salt, but otherwise it was incredibly delicious and something I want to recreate for a fancy dinner night at home.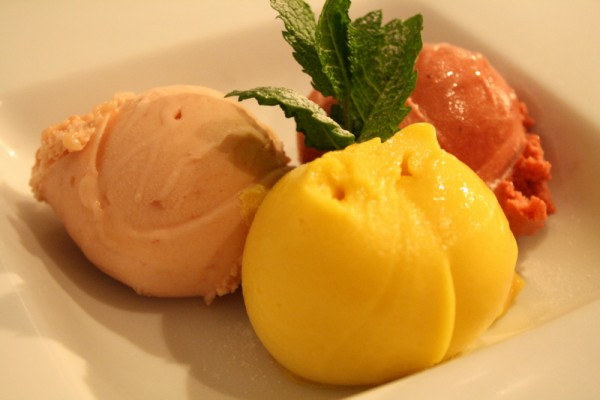 Brad and I both ordered the trio of sorbet/ice cream, but he ordered the sorbet and I ordered the ice cream so we could try them all.
From left to right: pale pink – peach, yellow – mango, dark pink – raspberry.
The fruit here tastes different and it was difficult for us to figure out the flavors without help from our very gracious waiter. If I had to describe the difference in taste it's that the fruit tastes more "flowery".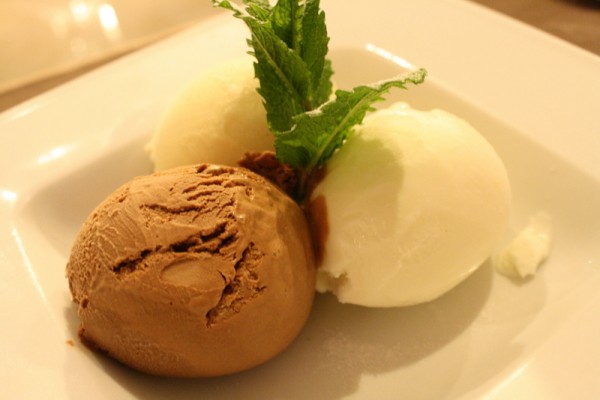 I had no trouble identifying all but one of my ice cream flavors.
From left to right: brown – chocolate, cream – vanilla, white – cottage cheese.
Yes, I said cottage cheese. Brad and I thought it might be a very subtle goat cheese, but we were wrong. It was delicious and as soon as we found out it was cottage cheese, the flavor became unmistakable.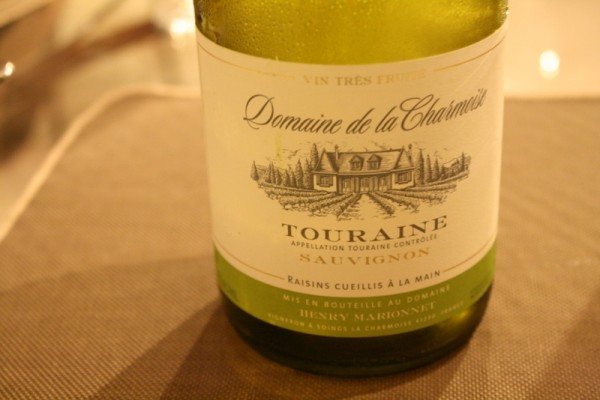 The local wine we selected for the evening was a Sauvignon Blanc (Brad's favorite) and it was very good – tart and crisp.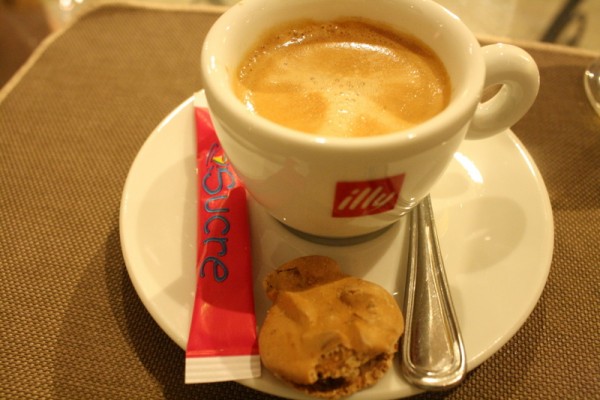 At the end of the meal, I ordered a decaf coffee with milk, but there was a bit of a misunderstanding and I ended up with decaf espresso. While honeymooning in Italy, I learned that I do not like espresso. That stuff will put hair on your chest.
But the staff at L'Alliance was so nice, I didn't want them to think I was displeased, so I downed my espresso like a shot of tequila. I was well awarded for my efforts with a glass of complementary sparkling white wine.
At this point in the evening, Brad and I were stuffed to the gills. So we called it a night and headed home, very pleased with the food and service of L'Alliance. I feel the need to point out two dissimilarities in our experience from that recorded in the guide. Rick Steve's guide calls the indoor dining area formal, while I didn't find it to be so, especially for France. The dining was simple and not stuffy in the least. Also, this was just our experience, but we did not find the service to be slow as stated in the guide. The dining room was less than half full, which may explain the different times in service, but I found the service to be much more attentive and just as quick if not more quick than our service the previous evening. Overall, I would highly recommend this restaurant.
***
Brad and I are now on the second of three trains we are taking to reach Sarlat, which is in the Dorgdone region.
Au revoir!