Last weekend…or was it the weekend before that?…I don't remember.
Let's start over.
One weekend, Brad and I invited friends over for a potluck.  There were no rules, no suggestions.  For all I knew, we were going to end up with nine desserts and a cheese plate.
But no, our friends came through as always with plenty of delicious and creative dishes that ran the gammut from appetizer to dessert, healthy to decadent — heavy on the decadent.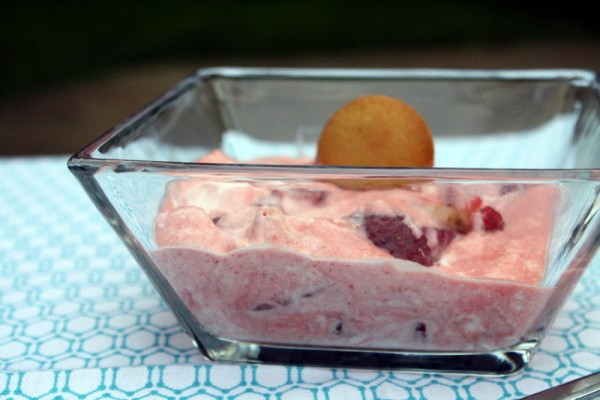 Meanwhile, I had been working all day.  Working at my full time job and working at my part time job as a freelance writer. You see, for the past month or so I've been working on an article for the next issue of SavorNC Magazine.  It's about a topic near and dear to my heart so I may have put in about 12 hours of unnecessary obsessiveness. But I'm so pleased with how it came out and when it's said and done, I don't think I really wasted any time obsessing over it. It is definitely my favorite writing assignment to date.
Now where was I?
Oh yes, the potluck.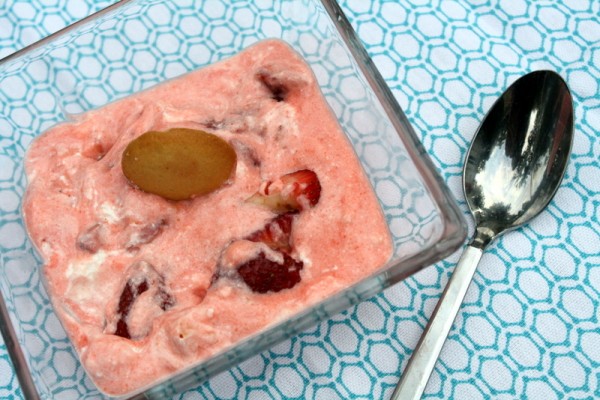 After working all day I had about two hours to grocery shop, straighten the house, make my contribution to the potluck, and did I mention I hadn't showered all day long?
This is the stuff I Love Lucy episodes were made of.
Lucky for me, Brad works well under pressure and we have several food tricks up our sleeve that taste amazing and require minimal prep and absolutely no cooking.
So in those two hours, we accomplished it all and ended up with a spread of:
– Brad's pimento cheese + crackers;
– Sliced and toasted baguette with goat cheese, red pepper jelly, and scallions;
– Prosciutto wrapped cantaloupe cubes on mini scewers;
– and strawberry pudding.
Now, I must preface this recipe with the following disclaimer:
This recipe is very retro — think 1950's housewife.  It has Jello and Cool Whip in it, for Pete's sake. When do I ever "cook" with that kind of stuff?  Apparently only when I'm in a frenzy and am trying to hold onto my last piece of sanity before my dinner guests walk in on me cubing melon in a bathrobe.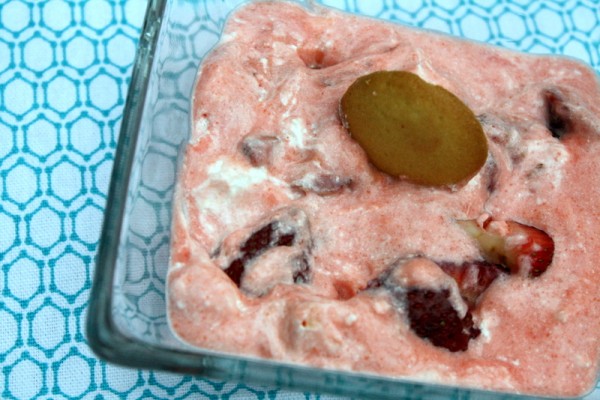 STRAWBERRY PUDDING (serves a crowd)
1 large package vanilla Jello pudding (5.1 oz. box)
3 cups fat free milk
1/2 package strawberry Jello (3 oz. box)
1 8 oz. tub whipped topping (like Cool Whip)
2 pints strawberries, sliced
3/4 box vanilla wafers (8 oz.)
In a large mixing bowl, combine vanilla pudding and milk.  Whisk well until pudding is fully mixed with milk.  Add strawberry Jello and whisk again.  Set in the refrigerator for 10 minutes.  Remove and add whipped topping, strawberries, and wafers.  Stir well to combine and allow to set in refrigerator for at least 30 minutes to soften the wafers.  Serve chilled.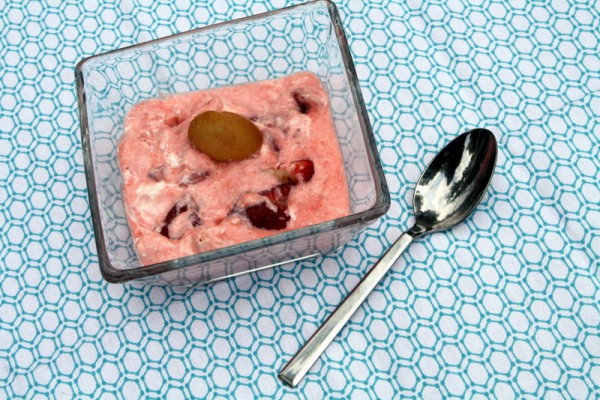 This may be an out-of-the-ordinary dessert when compared to my typical recipes, but it's great when you're in a pinch. This came together effortlessly while I chatted with my friends and broke into the wine. It's light and summery and could definitely be spruced up a bit with homemade whipping cream instead of the Cool Whip.  Plus, it's simply delicious, disodium phosphate and all.
What's your go-to dessert when your short on time?