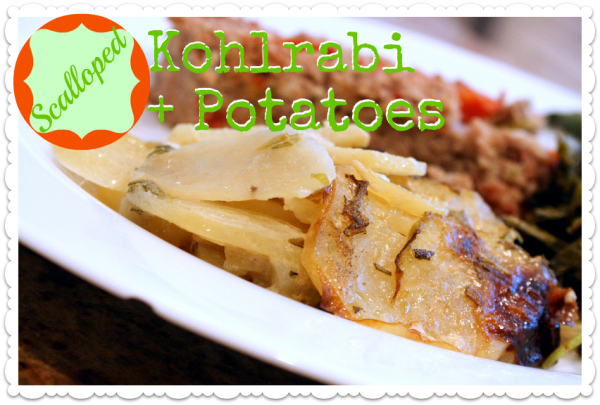 Last year was the first time I had ever seen a kohlrabi plant. My first thought when I saw it was, "Gracious! That is a strange looking vegetable.  What the heck do I do with that?"
My relationship with kohlrabi went through several stages.
Stage 1: Avoid, avoid avoid.
Stage 2: Attempt to roast it — the tried and true method of cooking almost any vegetable — then deciding it was rubbery and gross.
Stage 3: Pass it off to my CSA partner for the rest of the kohlrabi season.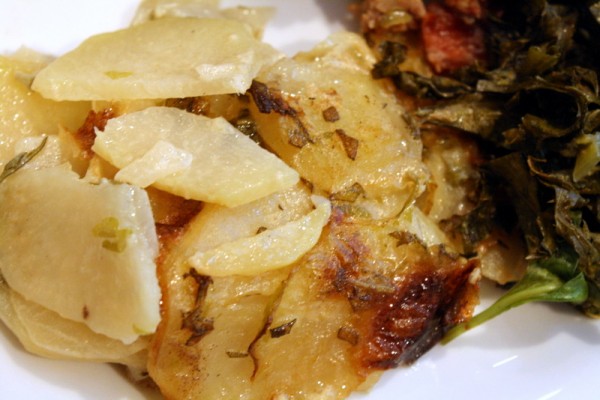 I'm sad to say that I wasn't very adventerous with this strange little plant.  When people ask me what a kohlrabi looks like, I say "like a martian with leaves." And I treated it like a second-class citizen vegetable.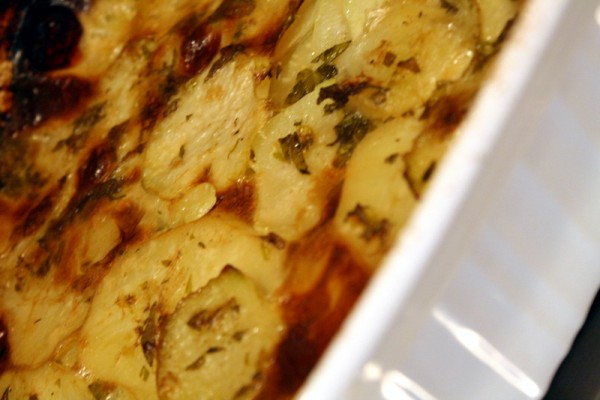 But this spring, when my CSA share started to come in each week from Cold Water Creek Farm, I swore this year would be different.  I would find some way to enjoy kohlrabi.  It wouldn't wilt in my refrigerator then become a means of bartering for more arugula.
As God as my witness, I would cook kohlrabi and I would enjoy it.  I would make it into something delicious.
Way to be melodramatic, Kelly.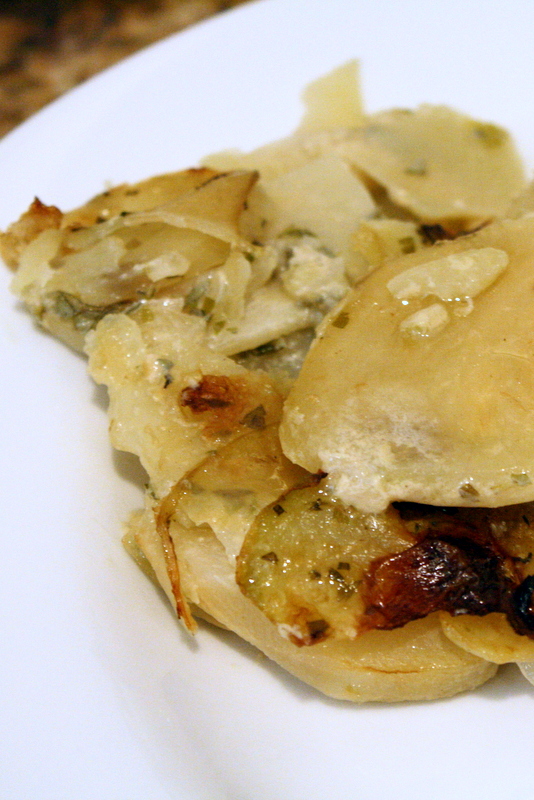 SCALLOPED KOHLRABI AND POTATOES (serves 6)
1 large russet potato (1 lb.)
4 kohlrabi bulbs
3/4 cup sweet yellow onion, chopped
4 Tablespoons butter, cut into thin slices
1/3 cup assorted fresh herbs, chopped*
1 cup skim milk
1/2 teaspoon sea salt
1/4 teaspoon ground pepper
Preheat oven to 400 degrees. Peel potato and slice into evenly thick slices (about 1/4 in thick each).  Peel the hard woody layer off of the outside of the kohlrabi and slice into equal sized slices as the potato.
In a 9×9 casserole dish, layer 1/2 of the potatoes and kohlrabi.  Layer the onion over the potatoes and kohlrabi.  Sprinkle the vegetables evenly with half of the herbs.  Place half of the butter slices on top of the herbs. Layer the rest of the potatoes and kohlrabi in the casserole dish and top with the remaining herbs, then the butter slices.
Pour milk over the contents of the casserole dish. Cook until milk is absorbed about 1 1/2 hours.
*I used sage, thyme, and parsley, but any herb will work great…well, except mint.  For the love of Pete, do not use mint.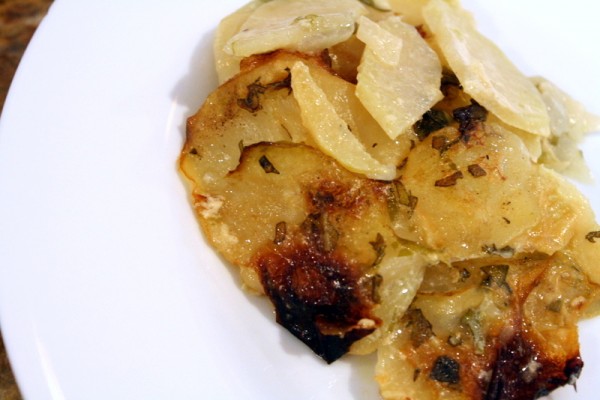 I served this side dish piping hot with something equally comforting: my Caprese Meatloaf.
When the tough exterior of a kohlrabi bulb is removed and it's cooked until tender, it tastes so much like a potato. My dinner guests didn't know what a kohlrabi was nor that there was any in this dish.
Buttery, tender, with just a bit of complexity from the assortment of herbs.
This dish was a real winner and it's all due to me finally giving kohlrabi the attention it deserves.
Have you cooked with kohlrabi before?  I'd love some more recipes if you're willing to share!