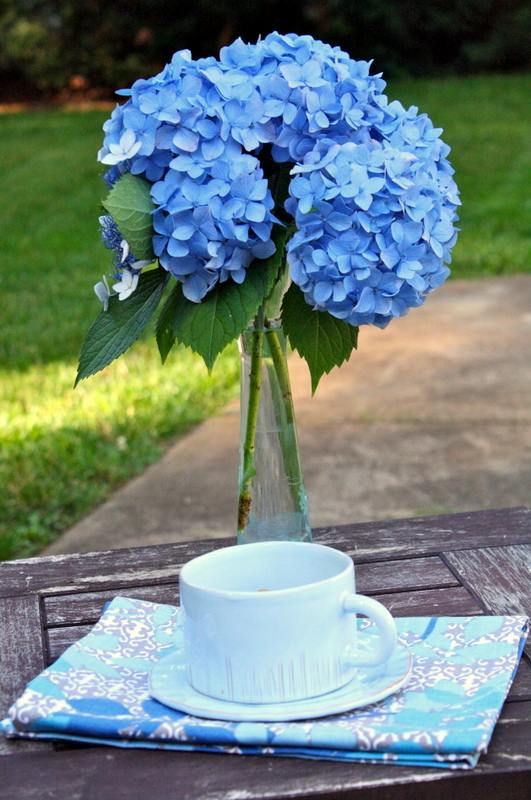 Is that a cup of tea I'm enjoying outside on a gorgeous spring morning?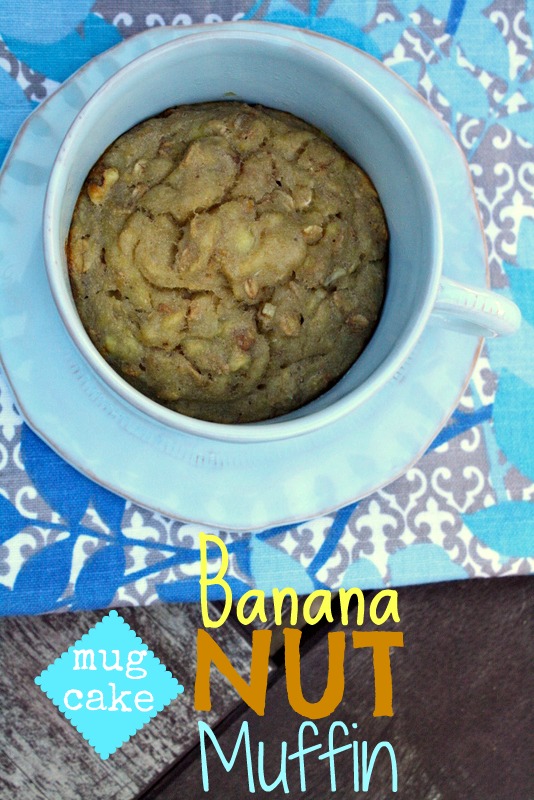 Fooled ya!
There's no tea in my cup, but there is a mug cake — a banana nut muffin baked into a pretty little mug.  Well, in this case, it's actually a cappuccino cup.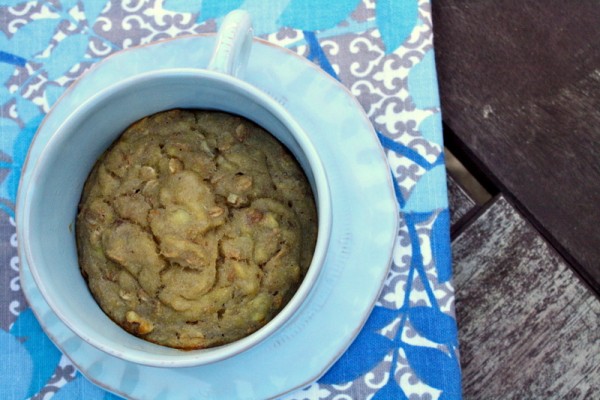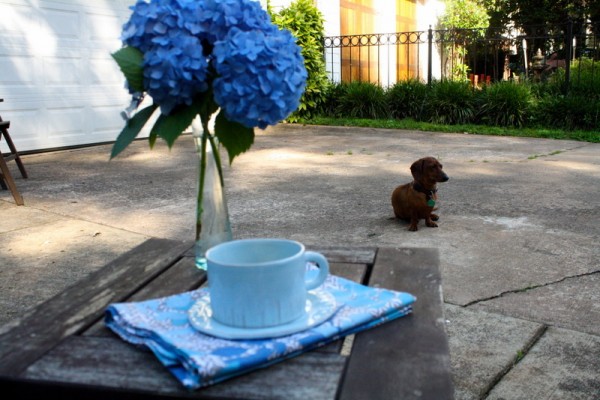 This little mug cake was the perfect component of a great weekend that only got better…okay, being honest here…it got a little rough at the end.
On Saturday morning I met up with Keia in the beautiful little town of Davidson.  It was my first time visiting, even though it's only about 30 minutes away from Charlotte.  We ran the (very hilly) trails, ate breakfast, and poked around some of the super cute shops in downtown Davidson.
I've been a little down in the dumps lately, but hanging out with Keia was just what I needed.  We talked shop — blogging, writing, photography, and food — and I drove away feeling inspired and way more motivated that I've felt in a long time to get back to being creative.
Saturday was filled with sweaty laundry washing/folding/putting-away.  Sweaty, because we have no AC.  Yes, it's miserable and yes we are currently doing something about it.  But these things take time, my friends, and although I'm perfectly comfortable at night, I'm awfully miserable in the afternoon.
Brad says I wouldn't have made it 100 years ago.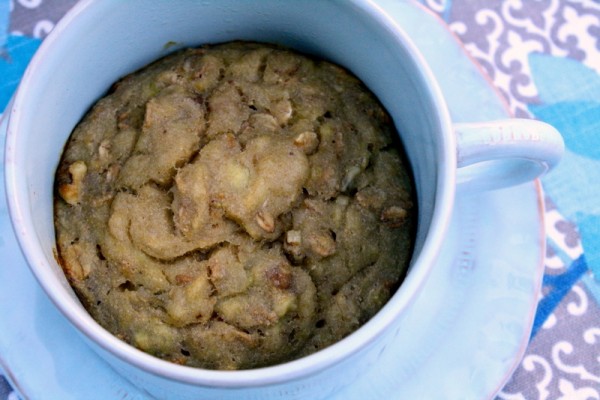 I enjoyed this little mug of perfection on Sunday morning and also baked a pound cake (recipe coming soon) for a Memorial Day cookout.  I laughed, I sipped wine, I played reverse charades (which might be the funnest game ever) — a good time was had by all.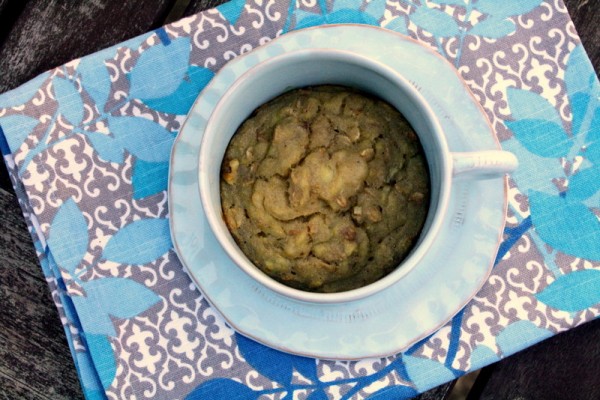 Monday was both wonderful and awful.
Brad and I recently bought plane tickets to….
FRANCE!!!
I'm so excited it hurts.
Monday was spent figuring an outline of our itinerary, while sneezing, blowing my nose, itching, and just being a huge allergic mess. Brad had the wonderfully awesome idea to finish our task at a local coffee shop (in the AC!), which was much more bearable.  By the end of the day, I was feeling pretty awful and took my snotty-self to a drug store for anything that would make me feel better.
Today, I'm feeling much better.
So let's concentrate on the highlights of this past three-day weekend, one of which was this mug cake.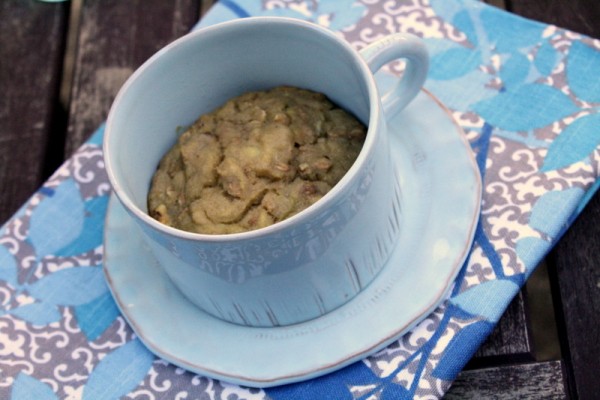 Mug Cake: Banana Nut Muffin (serves 1)
2 Tablespoons whole wheat pastry flour
2 Tablespoons rolled oats
1/8 teaspoon  baking powder
1/8 teaspoon. salt
3/4 Tablespoon Nunaturals Stevia More Fiber Baking Blend*
1/2 very ripe banana, mashed
1 1/2  Tablespoons applesauce
1 Tablespoon walnut pieces
1/2 teaspoon oil
Preheat oven to 350 degrees F.
Combine dry ingredients: flour, oats, baking powder, salt, and sweetner, and mix well.  Add the remaining ingredients: mashed banana and applesauce. Stir in walnut pieces.   Oil a mug or teacup.  Pour batter into mug or cup.
Cook for 30-35 minutes or until an inserted knife comes out clean.
*The thing I like most about Nunaturals Baking Blend is that it is a 1:1 ratio for sugar, so feel free to substitute the sweetner of your choice like sugar or honey.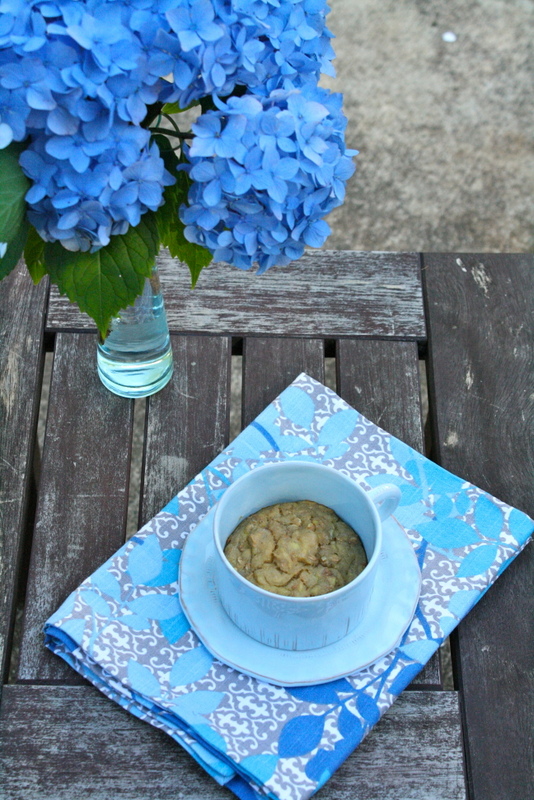 Enjoy alongside some beautiful flowers or at least on a beautiful morning.
Air conditioning optional.