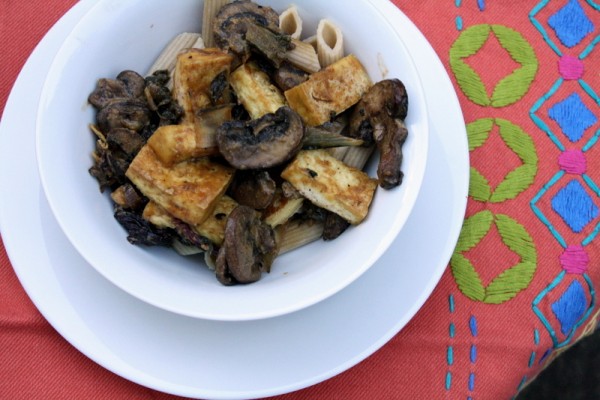 Sometimes I put together some weird combinations that turn out incredible.
Sometimes I put together weird creations that turn out horrible.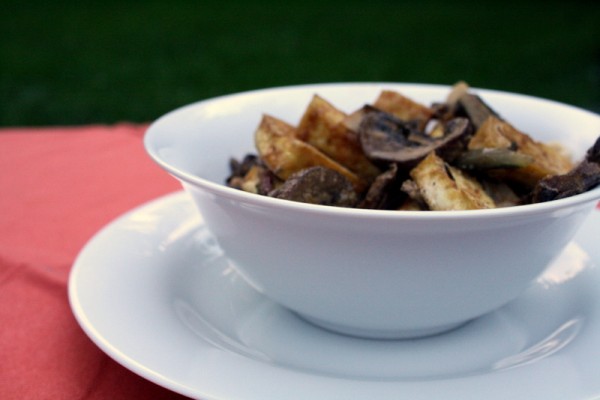 Care to guess into which category this dish fell?
I hope you guessed incredible, because surely I wouldn't share a horrible recipe.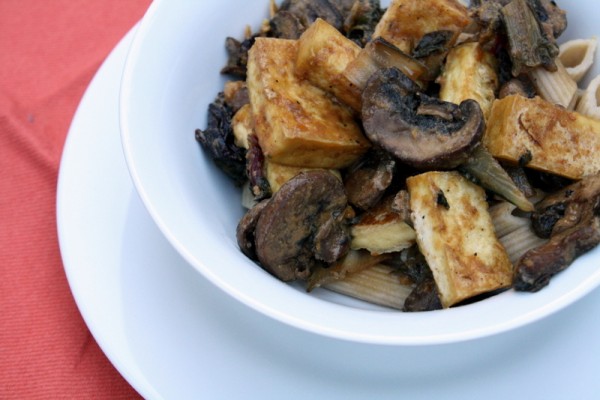 I made this meal intermittently between doing P90X abs and avoiding doing P90X abs.
Brad and I started P90X last week and I did 4 out of 5 workouts (yoga doesn't count because participating in a Toni Horton led yoga is masochistic) and 1 out of 3 Ab Ripper Xs.  I hate Ab Ripper X. With an undying passion.
I also hate the chest and back video, which mainly consists of pushups. I skipped that yesterday.
But today I got up and did the plyometric video (which I actually like) and after belly-aching and complaining, I finally got through the ab workout tonight. Clearly, I'm not as committed to this plan as I was the last time around, but overall, I'm doing a lot better at incorporating weight training than I was a month ago.  I just need to clean up my eating a bit.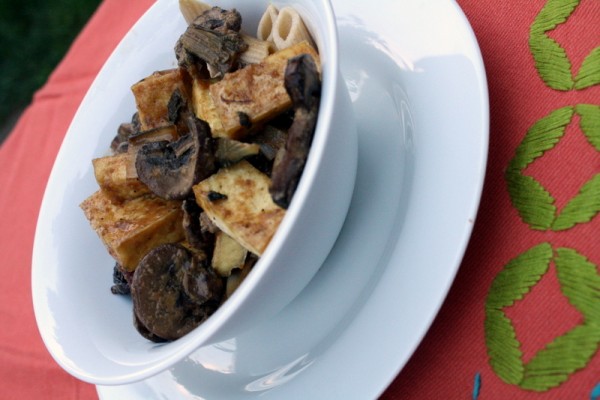 This meal is pretty clean, if you ask me. Completely vegan and practically gluten-free (not that I'm vegan or gluten-free), this is a very healthy meal.  If you are gluten-free make sure you use a GF soy sauce.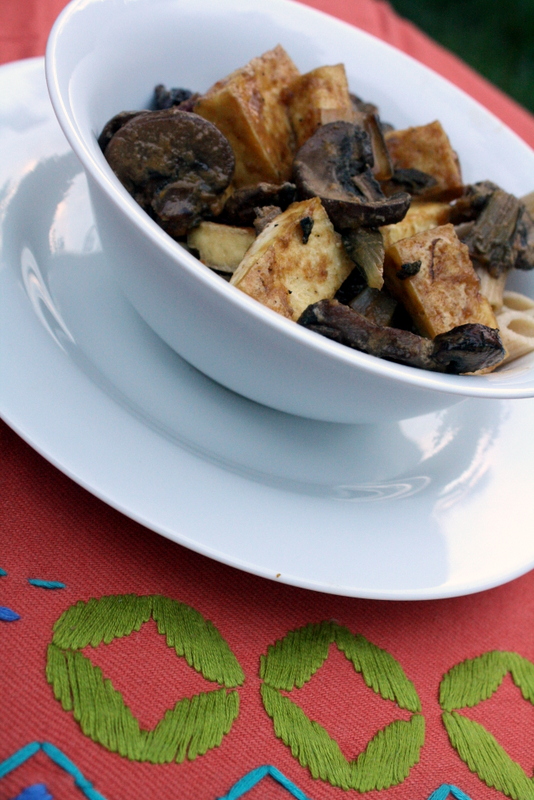 Tofu and Mushroom Pasta with Orange Tahini Sauce (serves 3)
The flavor combinations in this dish are so unique and delicious. I love the citrus paired with the richness of the tahini and the slight spiciness of the chili sauce (Sriracha). I hope you love it too. 
1 block of tofu
2 teaspoons extra virgin olive oil
1 teaspoon garlic salt
3 garlic cloves, minced
6-8 leaves chard, chopped
2 cups portobello mushrooms, sliced
juice and zest of one orange
1/4 cup soy sauce
2 Tbsp. rice wine vinegar
1 teaspoon of Sriracha sauce (or more if you like spicy food)
2 1/2 Tablespoons tahini (sesame seed paste)
6 oz. brown rice penne pasta
Preheat oven to 350 degrees F. Press the tofu, the cut it into or cubes (more detailed instructions can be found here). Grease a baking sheet with 1 teaspoon of oil.  Place tofu on the baking sheet and sprinkle lightly with garlic salt. Once oven is preheated, add tofu to oven.  Cook for 20 minutes, flip tofu, and cook an additional 15 minutes or until beginning to crisp on the edges (cooking time will differ based on the size of your tofu cubes).
Heat 1 teaspoon of oil in a large pot over medium heat.  Add  minced garlic to pot and cook until soft (not browned). Add chard and mushrooms to pot.  Cook for about 5 minutes or until chard is wilted, stirring often.  To the pot, add orange zest and juice, soy sauce, vinegar, and Sriracha sauce.  Stir well to combine.  Cook for 10 minutes, stirring regularly so vegetables absorb the sauce.  Add tahini and stir well.  Cook for an additional 5 minutes.  Add tofu to vegetable and sauce mixture and stir well to combine.
Boil penne pasta in 2 1/2 cups of water for 8-10 minutes or until slightly softer than al dente. Drain well.
Plate pasta and spoon 1/3 of the vegetable, tofu, and sauce mixture over the pasta.