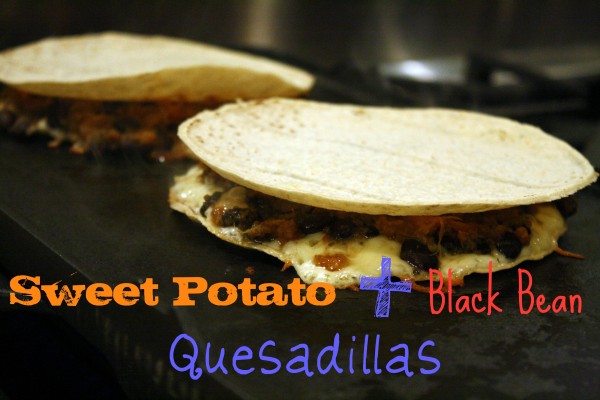 I've been dreaming of making sweet potato and black bean quesadillas for over a year.
I have good ideas.  Sometimes it take a lifetime for me to execute them.  These babies were long overdue.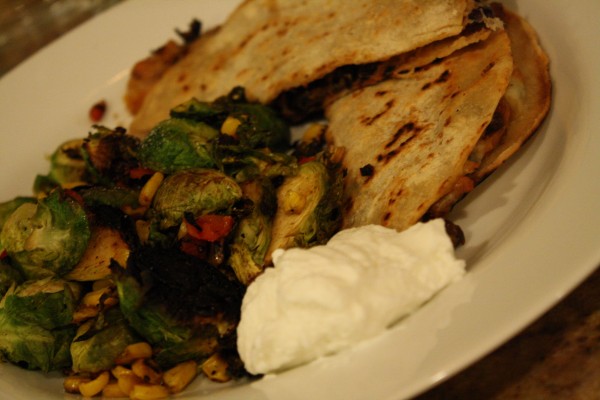 And the side I paired with them was pretty delicious too.  Actually, it was very delicious.  A perfect pairing.
This quesadilla recipe is ridiculously easy. Besides the time it takes to cook the sweet potatoes, the whole meal came together in less than 30 minutes.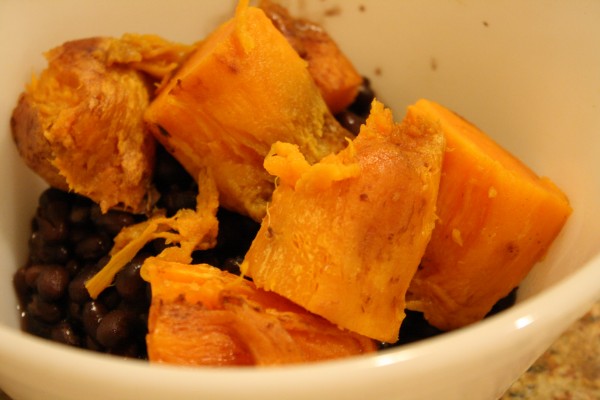 First, you bake your sweet potatoes.  I used three tiny sweet potatoes, but 1 large one would have sufficed.  You're going to need about 2 cups total, so bake more than you think you'll need and save the rest for a sweet potato smoothie.
Remove the sweet pots from their skins and mash them with a can of black beans and 1/4 teaspoon salt.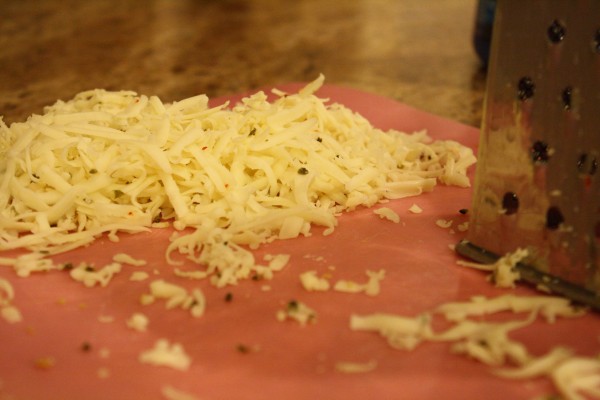 Shred your pepperjack cheese.  Shred a little more if you just ran 6 miles and are ravenous.
Shove a few bites in your mouth to get you threw the cooking process.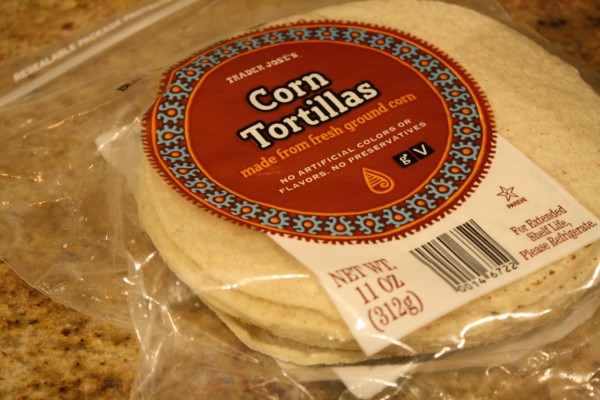 Get your corn tortillas ready by taking a few out of the bag or by making them yourself.
Now, build your quesadillas.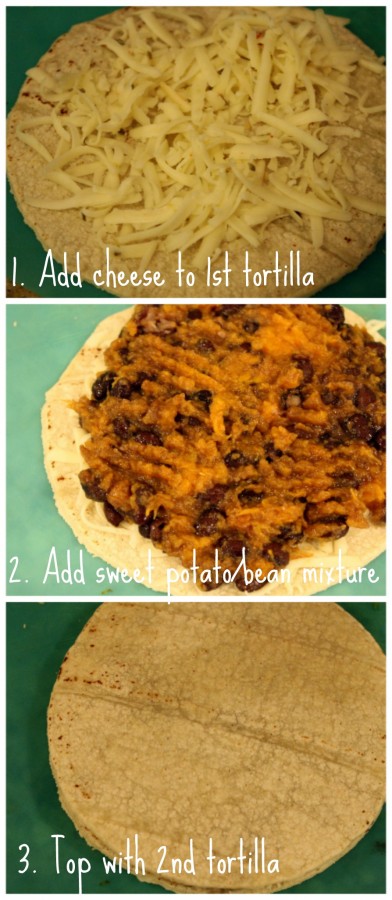 Easy enough, right?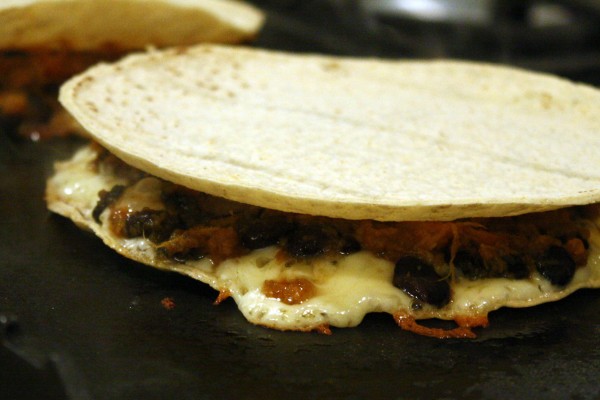 Now you just have to cook your quesadillas on both sides and you'll all set!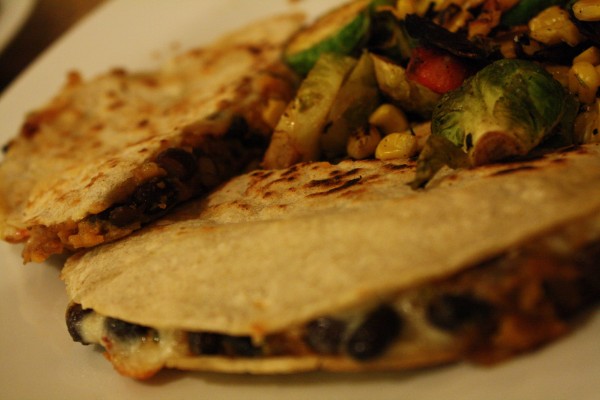 Sweet Potato and Black Bean Quesadillas (makes 4 quesadillas)
These are so simple, but so yummy.  The Pepperjack cheese adds a tiny bit of spicy but you could amp up the spiciness by adding a tablespoon of mined jalapeños or 1/4-1/2 teaspoon of cayenne pepper, depending on your spice tolerance.  
2 cups sweet potatoes, baked and removed from skin
1 15 oz. can black beans, drained
1/4 teaspoon salt
1 cup Pepperjack cheese, grated
8 corn tortillas
1-2 teaspoons extra virgin olive oil
Combine sweet potatoes and black beans.  Add salt and mash and stir with a fork until mixture is thoroughly combined.  Put 1/4 cup of cheese on one tortilla.  Layer about 1/2 cup (1/4 of the mixture) of the sweet potato and black bean mixture, flattening it with a fork over the cheese.  Top with a second tortilla.  That's one quesadilla.  Repeat until you have four quesadillas.
Put about 1 teaspoon of olive oil on a pan heated to medium heat.  Place quesadillas in the pan.  Cook quesadillas 5-7 minutes or until beginning to brown.  Flip and cook on the other side.  If you're skillet does not hold all four quesadillas, keep the finished quesadillas in a warm oven until all four are done.
Cut into halves or fourths and serve immediately.
But wait.  Don't we need a delicious side to go with our quesadillas? Maybe something healthy and green?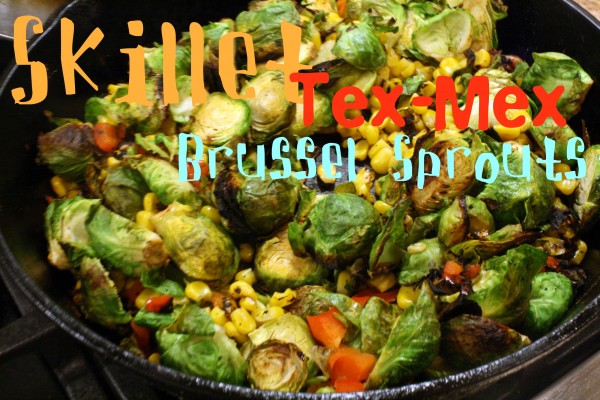 You're precisely right!  That's why I made Skillet Tex-Mex Brussel Sprouts.
Skillet Tex-Mex Brussel Sprouts (serves 4)
2 Tablespoon garlic, minced
1 teaspoon grape seed oil (or extra virgin olive oil)
1 red bell pepper, chopped
4 cups brussel sprouts, sliced into thirds
1 teaspoon cumin
1/4 teaspoon cayenne
1/2 teaspoon salt
1 cup frozen corn kernels
In a large skillet, heat oil on medium high heat.  Add garlic and cook for two minutes.  Add red bell pepper and brussel sprouts.  Stir to combine and continue stirring periodically. Cook vegetables for five minutes.  Defrost corn in the microwave, or in a pot on the stove top on medium heat.  Add spices and corn, stirring well.  Continue cooking and stirring periodically until brussel sprouts are well browned.
Serve immediately.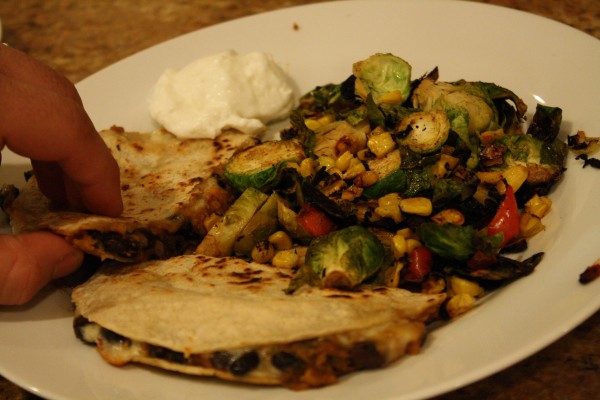 This dinner made such a pretty picture, full of colors and beautiful textures.
And someone (although I won't say who) had some trouble keeping his fingers off of dinner, while I took the obligatory photos for the blog.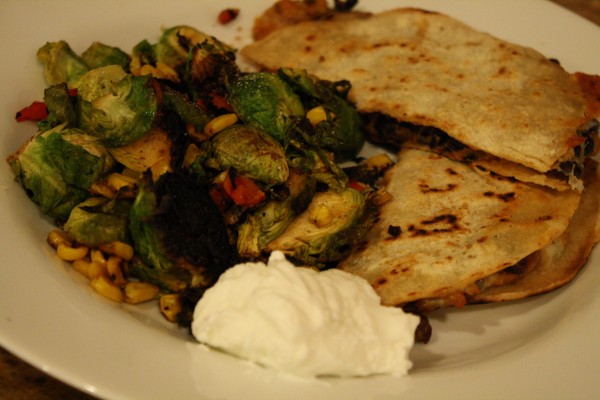 You can serve the quesadillas with Greek yogurt like I did (subbing in for sour cream), or guac would be yummy too.
I've been on a southwestern kick lately and I don't see any reason to turn back now. This meal was just so incredibly easy and tasty.  One for the books, my friends!
***
In other news, Brad and I finally finished cleaning out our condo yesterday.  After living in the new house since October 30, the condo is almost ready to go on the market. It just needs a deep cleaning job.
If anyone is looking for a one bedroom one bath condo in Uptown Charlotte with an amazing view, I'm your girl.  I will hook you up.
I might even throw in a quesadilla or two. 😉
***
And in one more "other news" commentary…if you like my style posts and haven't already "liked" Foodie Fresh on Facebook, here's a reason to do it. I'm trying something new.  I'll be uploading some style photos exclusively to Facebook.  There's just not enough room here for all the style I want to share and discuss.  So, "like" Foodie Fresh on Facebook to not miss any of the fun questionable fashion choices.