Brad and I are on the road, traveling from Charlotte to Raleigh as I type this post. I <3 Brad's internet air card. 🙂
I attended Charlotte's Fashion Week last night (more on that in a post to come), stayed up way too late watching Grey's Anatomy, and then was up super early to work a half day.  Now we're trying to make it on time to a friend's post-wedding party.
While I'm on the road, I'd love for you to check out Maria, fabulous mom to two precious little girls, deli owner, blogger, and of course, she's a runner!  Get ready for some really inspiring words of running wisdom and some pretty cute photos of two little Marias.
***
Name: Maria Sparks
Age: 32 years old
Blog:  www.realfitmama.com
1. How long have you been running?
I started running in 2005. I began working at a health club here in St Louis and one of the perks was a free membership to the gym. Many of the people I worked with were in great shape and they helped push me to get more into my fitness regimen. I would go into work early so that I could workout before all the "gym groupies" would get there. That's what we all called the "stay at home moms" who would hang out at the gym for most of the afternoon drinking sports drinks while their children played in the childcare room.
I began training in late 2006 for a marathon that was happening in October 2007. Then, on Valentine's Day of 2007, I found out I was pregnant. My due date was October 16th. The marathon was only a couple weeks after. I knew the marathon was out, but running through my pregnancy helped keep my weight gain down and my labor and delivery was so much easier than with my older daughter. I am a firm believer in staying fit even while pregnant!!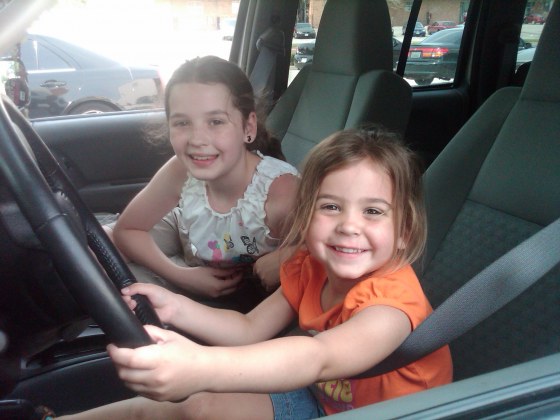 2.  Do you like running buddies or do you prefer to run alone?
I definitely prefer to run alone. Running is my alone time! I pop in my headphones and head out for some much needed unwind, de-stress and mellow out time. I am the mother of two young daughters who can (at times) make me just a bit crazy with all their fighting and screaming and drama. So when I head out for a run, long or short, it is my time to just be.
3. How many times a week do you typically run?
Typically I like to run 4-5 times a week. And most of the time those are quick 3 mile runs. Occasionally I will do longer runs on a weekend, but having a family often means getting my workout in (whatever it may be) as early as possible that way it's done and out of the way before the girls ever even wake up. I tend to make 5:00 the absolute earliest I go outside for ANYTHING!
4. Favorite place to run?
As much as I like to piss and moan about the city I live in (St Louis) it really can be a runners delight. There are tons of park trails to run on in Forest Park and my neighborhood is great for running with sidewalks on every street, a good mix of flat terrain and hilly side streets and many equal minded people out running at crazy hours of the day!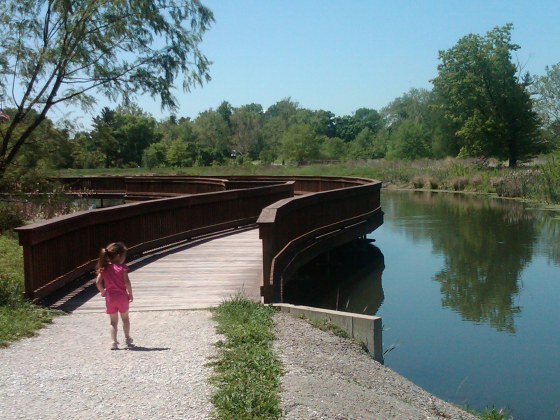 5. How has your running or your feelings toward running changed over the years?
I was always one of those "I'm not a real runner" kind of people. I thought that because I wasn't running marathons and clocking speedy fast times that I "didn't count" as a runner. I guess as I've gotten older my mindset has changed in many ways … running being one of them. To me, if you feel like a runner, then you are one.
6. What's your must-have object on a run?
I have fallen in love with my Saucony Kinvara running shoes. They are a minimalist shoe and the most comfortable things I've ever put my feet in (besides a nice pair of fuzzy socks)! I cannot run in anything else since buying them.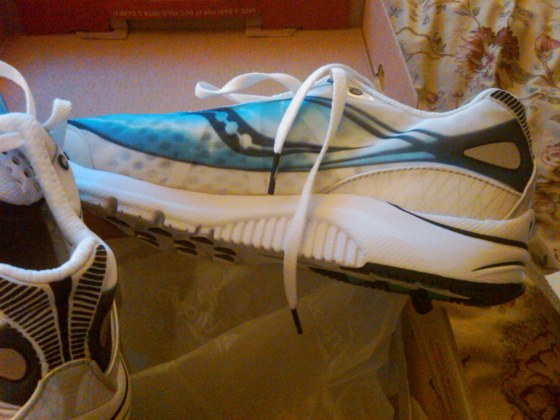 7. What or who inspires you to run?
I always say that my daughters inspire every single thing I do and running is no different. My efforts to stay healthy by eating well, exercising and basically living a healthy lifestyle all boils down to the fact that I want my daughters to see me living what I preach to them. It's definitely not a "do as I say, not as I do" thing. They both know that fitness and healthy eating is very important in out house.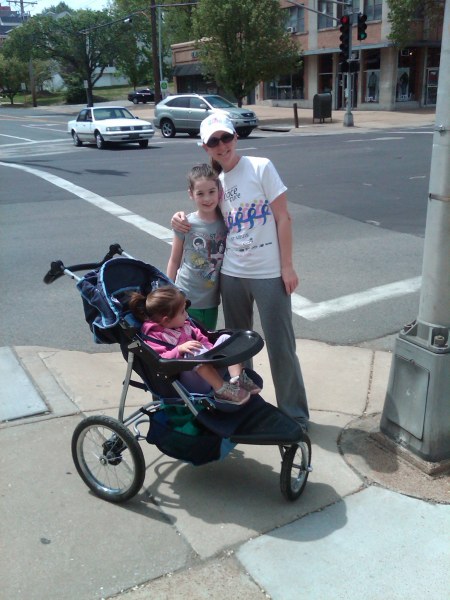 8. In how many races have you competed?
I've run in a ton of 5k races, a 10k race with my daughter, Linsey, and a half marathon with my husband, Jason. I honestly think that my race days are probably over. These days I enjoy running for me and not for time. Of course, I do love the feeling of the 5k charity runs. I will probably always do those!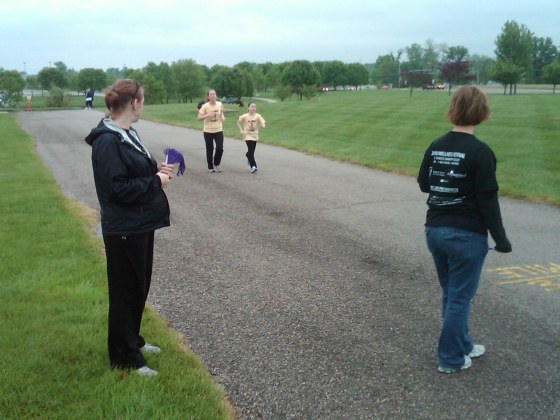 9. What's your favorite race distance and why?
I know so many people talk about the intensity of the marathon and half marathon, but for me I love the community feeling of the 5k. It's always for a local charity or a well known charity to the area and people are there to help raise money for a cause rather than prove something. I almost always manage to run into someone that I know while running and that is great feeling of camaraderie and togetherness.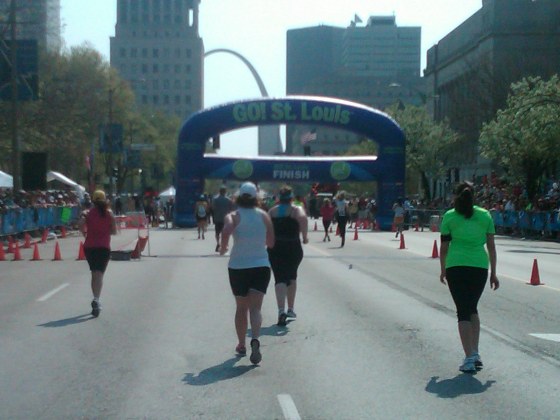 10. How has running changed or contributed to the person you are?
Because of running I am less likely to let someone else make me feel inferior because they are better at something than I am. We all have different levels of ability in every aspect of our lives. If we all ran the same pace, distance and mileage than who would we look to for that little oomph to push us past our comfort zone? How would we be inspired?
I love learning new things about the world and myself as often as possible. Running has allowed me to learn that I don't have to be the fastest to be a runner. I don't have to run the marathons to be a runner. And I don't have to be the best to be good. Being me, at my skill level, is exactly where I should be … in running and life.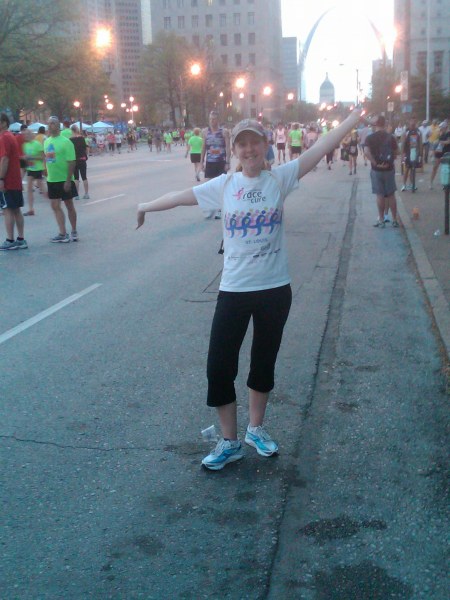 A vigorous five-mile walk will do more good for an unhappy but otherwise healthy adult than all the medicine and psychology in the world. ~ Paul Dudley White
***
Maria, your love for running is contagious and I love how you talk about fitting it into your busy life.  I can't tell you how happy it makes me to hear more and more about running moms-to-be. Thanks so much for volunteering to be featured on my I'm a Runner series.
Please check out Maria's blog Real Fit Mama!
***
If you would like to be featured in the I'm a Runner series, please email me at foodiefresh@gmail.com.  Whether you've been running for 10 years or 10 weeks, I want to help you share your running story.