Guys, I just learned how to spell hors d'oeuvres this week, so I'm trying to include the word wherever I can so I can retain my new knowledge.  I've always been a pretty decent speller, but there are some words I just can't wrap my brain around.  Modern technology and the ability to google everything has only encouraged this handicap.
I didn't learn how to properly spell "restaurant" until halfway through college. No lie.
But this post isn't about my inability to spell certain words, it's about food.
Recipes to be exact.  Recipes from my pre-party on Saturday night.
You know, the one where we wore honey badger shirts, stuffed our faces, had a few cocktails, and danced the night away?
Yeah, that party.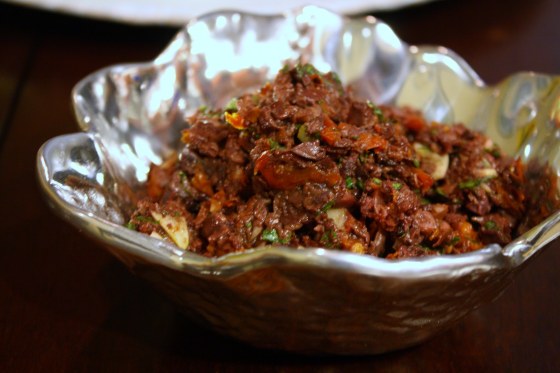 Sun Dried Tomato Tapenade
An Italian spin on the classic tapenade.  
3/4 cup Kalamata olives, pitted
1/2 cup basil, chopped coarsly
1/4 cup sun dried tomatoes (not packed in oil)
light sprinkle of salt (olives are already salty)
Put all ingredients in a food processor and pulse until roughly chopped.  If you continue to process, the tapenade will be more like a paste, which is up to your preference.
If you know me, you know I ate olives, so I can't tell you this tapenade was anything but nasty according to my taste buds.  I made it because we had olives that needed to used and I thought it would be an easy dish to fix.  My guests said it was delicious, so please take their word for it.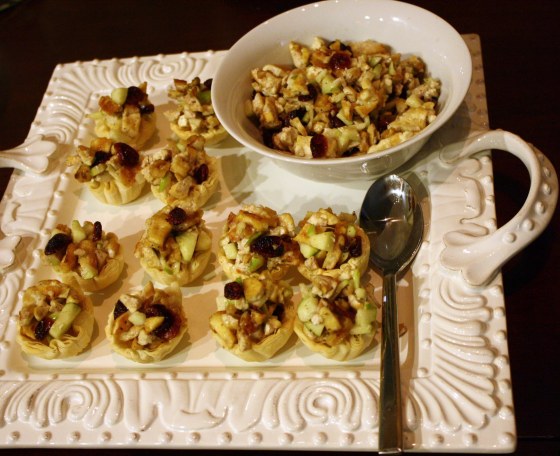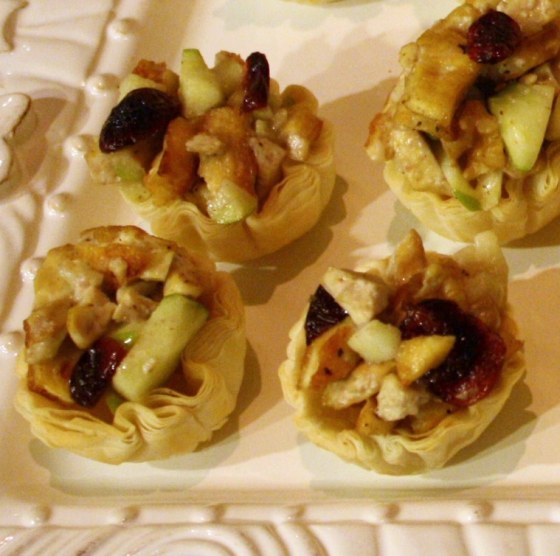 Faux Chicken Salad (serves 4 as a meal, and a herd of honey badgers as an hors d'oeuvres)
I like my chicken salad a bit on the "dry" side.  But if you like yours more "wet", just add a bit more mayo. M'kay? 
Prep time: 25 minutes
Cook time: 25 minutes
1 block of extra firm tofu
1/4 cup walnut pieces
1/2 cup  green apple, chopped finely
1/4 cup dried cranberries
1/4 cup vegan mayonnaise
1/4 tsp. sea salt + more to taste
fresh ground pepper
(optional) vegan mini fillo cups I used The Fillo Factory's)
1 tsp. extra virgin olive oil
Preheat oven to 425 degrees F.  Press tofu to remove water for at least 15 minutes. Slice tofu into thin rectangles (about 1 cm thick). Grease baking sheet with olive oil (or spray with a Misto).  Place tofu on baking sheet, making sure none of the pieces overlap.  Bake for 15 minutes.  Flip tofu slices and cook for an additional 10 minutes.
Remove from oven and allow to cool as you chop the apple.  Chop walnuts as well if the pieces are large. Remove tofu from pan and chop as finely as possible.
In a medium sized mixing bowl, combine tofu, apple, walnuts, cranberries, and mayo.  Stir well to combine.  Add salt and more to taste, if you like.  Add a few turns of fresh ground pepper (I turned my pepper mill five times).  Stir once more to fully combine all the ingredients.
Spoon into fill cups, serve with crackers or over mixed greens, or use as the filling in a sandwich or wrap.
I'm not exaggerating when I say that this faux chicken salad was pretty dang delicious.  It made up most of my dinner on Saturday night and then I polished off what was left upon returning from the bar at 2 am Sunday morning.

And I'm not the only one.  Two out of two food bloggers can't be wrong.
If you're looking for more meat-free options, check out my post on vegetarian appetizers.