Quinoa is one of the many things opened up to me by the world of healthy living blogs. It's as versatile as it is healthy and I love how quick and easy it is to prepare. It's considered a pseudocereal because it's not actually a member of the grass family.  In fact, it's actually related to beets, spinach, and tumbleweed (source).
Although I regularly pronounce quinoa like qui-no-a in my head, the correct pronunciation is keen-wah.  When you eat quinoa, you are actually eating the seed of the quinoa plant.  Apparently, the leaves are also edible but not sold commercially.
Quinoa is gluten free and a really easy way for vegetarians and vegans to get plenty of non-animal protein.  And it cooks up so easily!  While rice takes ages until it's ready to eat, quinoa cooks up lickety split.
(source)
Nutritional stats:
Serving size: 1 cup (185 g)
Calories: 222
Fat: 4 g
Saturated Fat: 0 g
Cholesterol: 0 g
Sodium 13 mg
Total Carbohydrate: 39 g
Dietary Fiber: 5 g
Sugars: 0 g
Protein: 8 g
Here are a few of the important nutrients found in quinoa:
Iron (15%) – essential nutrient that helps carry oxygen from the lungs to muscles and organs; iron deficiency may result in fatigue, irritability, and headaches
Protein (16%) – important in the makeup of every cell in the body, builds and repairs tissues; protein is a macronutrient which means the body needs a large amount* of it to perform properly; the body cannot store protein
Folate (19%) – Aids in making new cells and is extremely important for pregnant mothers because it can prevent birth defects
Copper (18%) – helps the body use iron, promotes the health of bones and tissue, helps the body produce melanin (a pigment), helps protect nerves
Magnesium (30%) – helps maintain a healthy blood pressure, keeps bones strong, and promotes a healthy heart
Phosphorus (28%) – creates strong bones and teeth, excrete toxins from the body, promotes reproductive healthy and aids in digestion, may lessen the chance of getting certain types of cancer
Manganese (58%) – – Strengthens bones, keeps blood healthy, and may lessen the symptoms of PMS
*We actually need less than what most Americans consume.
Now let's get to the fun part!
How do I cook quinoa and what can I do with it?
Cooking quinoa is easy! You simply boil it.  Most quinoa has already been pre-rinsed, but a brief rinsing is usually recommended to eliminate all of the saponin, a natural covering that protects quinoa from birds and insects and has a bitter flavor if not removed.
Cook quinoa in a 3:4 ratio of quinoa to water.  So for 1 cup of quinoa, use 1 3/4 cup of water.  For 3 cups of quinoa (that's a lot!), use 4 cups of water.
Once your quinoa is cooked, the possibilities are endless for what you can do with it.  Here are some of my favorites!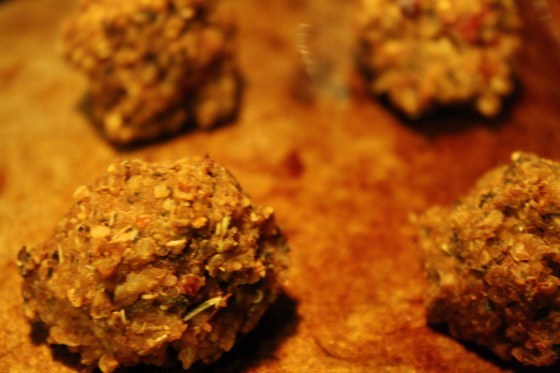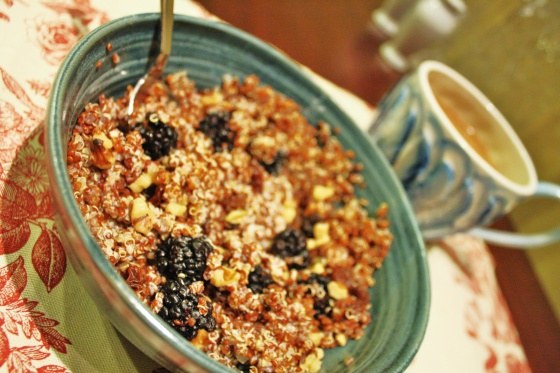 What I love about quinoa is that it's such a great base for other random ingredients you have lying around your kitchen.  Here's a few quinoa uses of mine that were a bit "random"  but still just as delicious as the the recipes above.
Italian Quinoa
Yellow Tofu Scramble + Quinoa
Quinoa with Nutty Spicy Tofu and Roasted Broccoli
Quinoa with an Egg and Veggies
All in all, these ideas are pretty tame.  I clearly need to step it up in being creative with one of my favorite quasi-grains.  Here are a few I'm dying to try!
Spabettie's Seven Layer Dip with Nacho Cheese (*hint* – quinoa is one of the layers!)
Heather's HEABlet Bars
Sarah's Thai Fried Quinoa
Carolina's Quinoa Stuffed Tomatoes