Happy long run day to ya!  That' s what I've come to think of Saturday anyway.  While you're reading this I'm a Runner post, I'm busy doing my long run of the week — an 18 miler.  Eek.
I'm so happy to feature my friend Bobby in today's I'm a Runnerpost.  I first "met" Bobby on the interweb when he emailed me to ask if I would participate in the No Fizz Challenge.  Bobby is the founder and Executive Director of No Fizz USA, a nonprofit that promotes hydration by challenging people to give up soda and drink at least 60 oz. of water daily for 30 days.  Since then, I've met Bobby in real life and have been interviewed by him on his podcast The 7 Day Challenge.
Obviously, Bobby is all about challenges so this time I've challenged him to answer my I'm a Runner questions.
***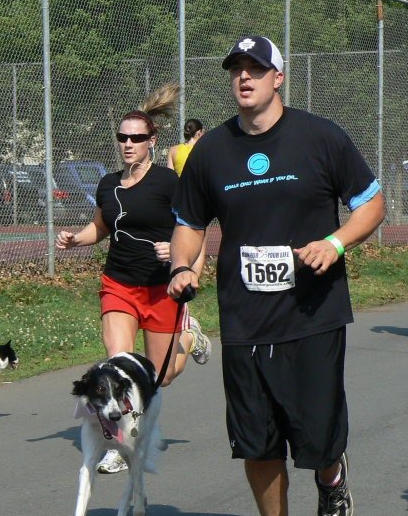 Name: Bobby DeMuro
Age: 25
Blog (if applicable): I blog as part of my non-profit organization, NoFizz America – http://nofizzusa.org
Twitter: @bobbydemuro
1. How long have you been running?
10-12 years
2. How did you begin running?
Baseball! I played college and professional baseball, and as a pitcher, it's imperative you run between pitching days. I got into the habit of running nearly every day because of that, and never looked back.
3. In how many races have you competed?
Oooh… 20?
4. What is your favorite pre-run fuel?
Peanut Butter sandwich and a bottle of water!
5. What is your favorite post-run snack or meal?
I hate to admit it, but it's definitely a QDoba burrito. Some would say I'm addicted. But I also really like having a protein shake, a few almonds, and a bunch of broccoli.
6. What is the most embarrassing thing to ever happen to
you while running?
Easy question (unfortunately). One day, I was running in South Charlotte. If you're familiar with Charlotte, I was running south down Scott Avenue, and I was at the weird intersection where Scott and Kenilworth combine to become Park Road (in Dilworth near Freedom Park). I was alone, and it was in the middle of a Saturday; I thought to myself as I was running through the intersection, "man, this intersection is really busy, even by its standards, for right now. Why are there so many cars here?" The second I let that thought out of my head, I tripped over uneven pavement. Legs went this way, arms that way, iPod one way, pride the other. In front of maybe 100 cars. But, like a 'G,' I got up, kept running like nothing happened, and finished about two miles later. I didn't realize it at the time, but the entire length of the end of my run, my leg was covered in blood (it looked pretty gnarly!) from scrapes. I'm sure people thought I was tough!
7. Do you like running buddies or do you prefer to run alone?
I can go either way. But most of the time, I'm in my zone, and I prefer to run alone and listen to music.
8. What's your must-have object on a run?
iPod. I won't make it ten feet without music.
9. What's your favorite running outfit?
Any clothing that has the University of Memphis on it!! (I'm a grad student at Memphis and very proud of my school – Go Tigers Go!)
10. Favorite place to run?
Jetton Park in Cornelius NC and Freedom Park in Charlotte NC are both very very nice, and Queens Road in Charlotte is ridiculously nice and pretty. But without a doubt, my favorite place to run is on the east side of Denver, CO — head west down 1st Avenue from Hilltop District and Monaco Boulevard, all the way past Colorado Avenue and into Cherry Creek North District. The views of the Rocky Mountains overlooking the city of Denver are ridiculously amazing!
11. What's your favorite race distance and why?
I'm up for whatever!
12. How many times a week do you typically run?
5-7 times a week!
13. What's your pie-in-the sky running dream?
The Mount Mitchell Challenge. Google it – 40 miles, across Mount Mitchell in the Appalachians. Serious stuff!!
14. Any running or race superstitions?
Nope!
>15. What or who inspires you to run?
I do it for the chicks, man! (No, seriously, as a single guy, I've gotta stay fit and lean. Am I right, ladies?)
16. How has running changed or contributed to the person you are?
I don't know – I haven't really thought about it. Good question!
17. A friend just ran a mile and is inspired to start running regularly. What words of wisdom or inspiration do you have for them?
Hydrate, hydrate, hydrate (NoFizzUSA for life!). But also, find a reason to do it. I'm not talking about wanting to lose 20 pounds, or wanting to finish a race, or wanting to get a six pack. Those reasons are fine, and they might work – but find a reason to run that is so guttural, so authentic, that if you DON'T run one day, or one week, it's gonna eat you alive and you almost won't be able to sleep. That's the motivation to keep going! Beyond that, pace, distance, speed – don't sweat the small stuff, man. That will all come in time! Just remember that motivation is part of the movement!
***
Bobby, thanks so much for being such a good sport and answering all of my nosy questions.
Please check out Bobby's blog at No Fizz USA and perhaps even taking part in the No Fizz Challenge.
If you would like to be featured as part of the I'm a runner series, please email me at foodiefresh@gmail.com.