Brad and I had a wonderful time celebrating our anniversary Saturday night and yesterday.  Thank you all so much for the congratulations. 🙂
Unfortunately, I wasn't able to take one photo of the multi-course dinner we enjoyed at the McNinch House on Saturday night.  It's just not the kind of place where you whip out your camera and start photographing your food.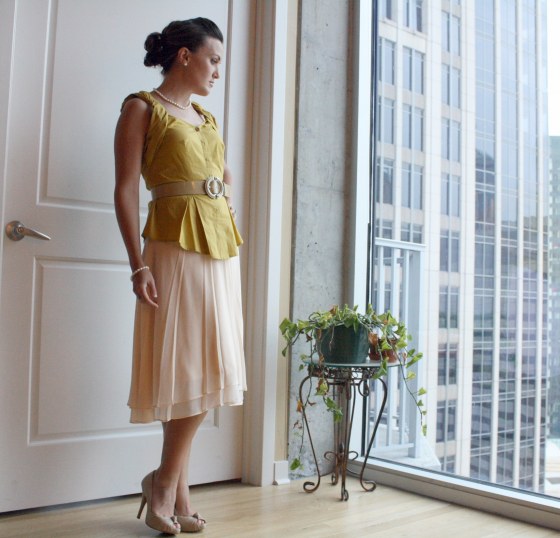 I did, however, snap a quick photo of what I wore to our fancy dinner. Complete with the pearl necklace, earrings, and bracelet Brad has bought me over the years.
He gave me the necklace for our first Christmas, the bracelet for our most recent Christmas, and the earrings were a birthday/wedding gift. My birthday/wedding gift to him were monogrammed silver cuff links.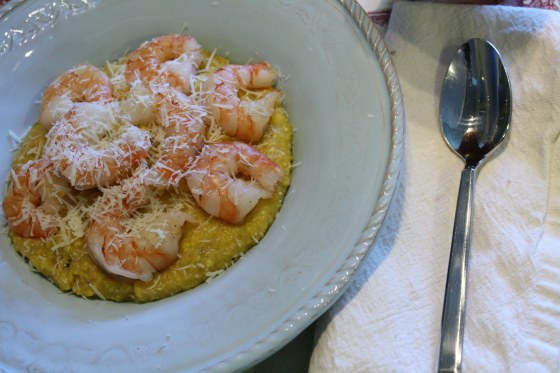 On Sunday morning, I made a special celebratory breakfast of shrimp and grits after we took Rascal on a walk and stopped by Starbucks for our fix.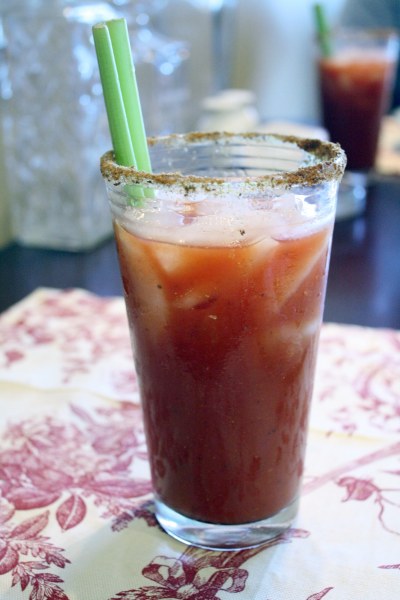 I also made spicy bloody marys.  Both of the recipes are coming soon!
After breakfast, we set out on a bike ride for an hour and returned home just in time for me to change clothes and grab my yoga mat.
I've wanted Brad to try yoga, ever since I found out how incredibly flexible he is and yesterday he agreed to join me!
Of course, he was wonderful.  He is so flexible!  He even got into crow on his first try.  I may be a bit jealous, because I can't do anything cool. But I'm really glad he liked it so we can go together sometimes.
After yoga, came the really fun part….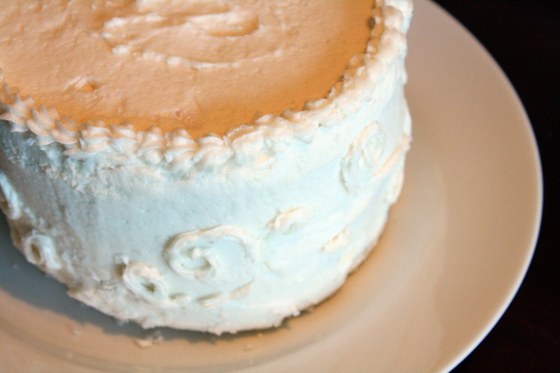 The cake!
Even though it was an entire year old, the cake was in great shape after being preserved in my aunt's freezer who also made the cake.
Our wedding cake's top tier was strawberry with buttercream frosting.  Our bottom tier was chocolate and our middle tier was carrot cake, all with the same frosting.
My aunt also made a strawberry sheet cake to be served at the reception as well because I wanted our guests to be able to try it.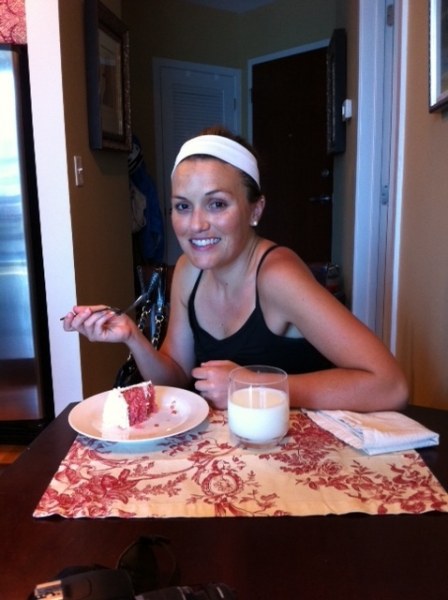 Yum! Cake! It was still delicious!
Did you know cake is the perfect post yoga snack? 😉
We spent the rest of the day being lazy.  Brad and Rascal napped for a bit while I finished the last book in The Hunger Games trilogy.  I should have snapped a photo of them, they were so cute curled up together.
Later that evening, we went to see Page One: Inside the New York Times, a documentary about the NY Time's struggle to keep up with the changing landscape of media.  Brad loves documentaries and I usually like them too; coupled with the fact that we're both media junkies,  this movie was a win with us.  We both were engrossed with the documentary and spent much of the car ride home discussing it.
It's especially interesting for bloggers, who are changing the way people receive their news by offering an alternative to traditional media.  Well, maybe not bloggers like me, but you know…more important bloggers that write about more important stuff. 😉
I had wedding cake piece #2 when I got home and it made the piece above look teeny tiny.  I had a very indulgent and fun weekend celebrating my one year wedding anniversary with Brad.
What did you do for your one year wedding anniversary? 
Or, tell me about your wedding cake…what was it like OR what will you choose for your future wedding?